Acer C720P Touch Chromebook Review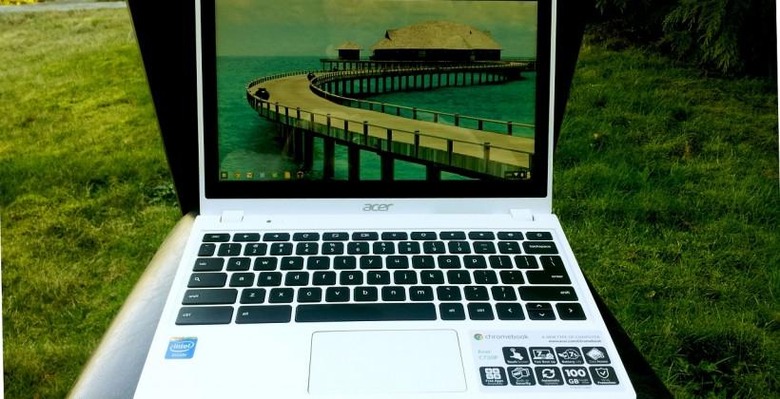 In October, we reviewed Acer's C720 Chromebook, a Haswell-harboring notebook with excellent battery life and performance to match. The one thing it lacked, however, was a touchscreen, something Acer has addressed with its latest Chrome OS offering: the Acer C720P Touch, a similarly-designed laptop with a touchscreen display. We've got our hands on the Chromebook to see how it holds up compared to its non-touch brethren, which we've detailed for you in our full SlashGear review.
Hardware
With the Acer C720P comes a somewhat thick body with a textured feel that greatly resembles the C720 — the biggest difference, in our case, is that we've got our hands on a white model this time rather than the grey one, though that color is available for the touch model as well. The lid has the same familiar design as the Acer Chromebooks before it, with an off-center Acer logo and Google Chrome stamp in the corner.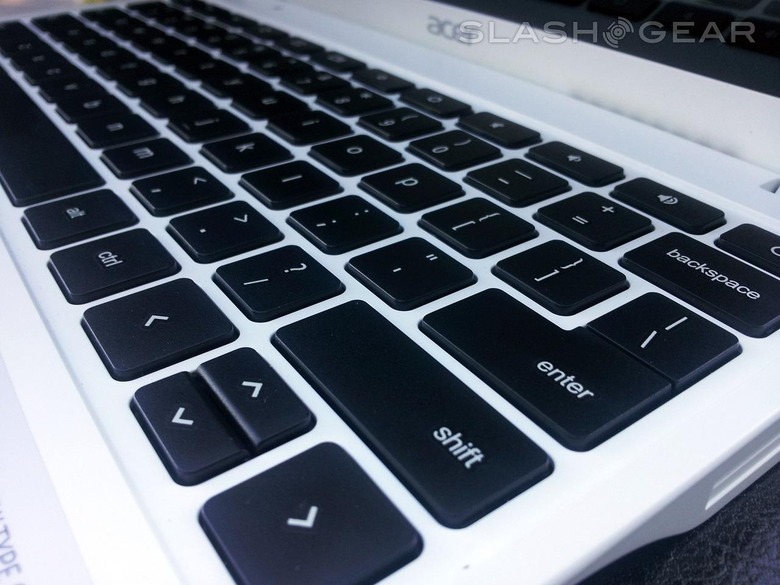 The keyboard is a low-profile offering with the same slightly textured feel of the chassis, and — a bonus, in my opinion — the keys have a very solid near-mechanical feel to them when typing. Those who do a lot of typing will find it meets nicely on the crossroads between solid and silent (though not completely silent, there is some clickety-clack to it); typing fatigue isn't likely, despite the Chromebook's small size.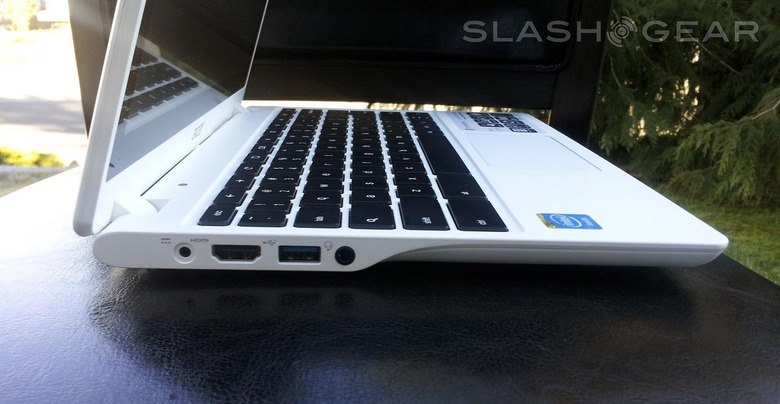 As far as ports go, the Acer C720P comes with a single USB 2.0 and a single USB 3.0 port, as well as a full-size HDMI port, which is convenient for those using an external monitor. There's Bluetooth 4.0 compatibility, 802.11 a/b/g/n, and all of it is complemented by an integrated VGA-resolution webcam and an 11.6-inch 1366 x 768 touchscreen display.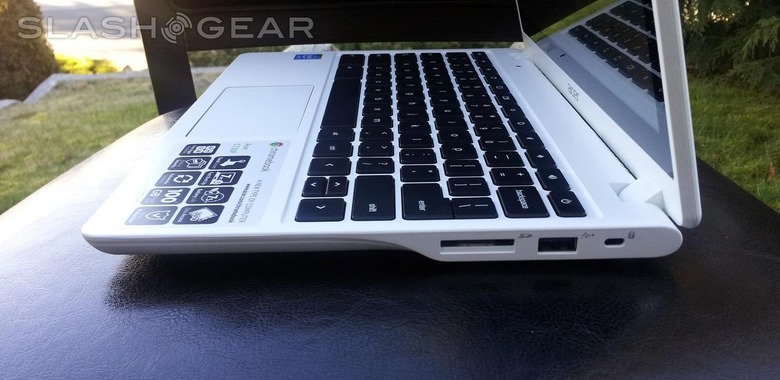 The audio port is a combination headphones/microphone jack, and is accompanied by an SD card slot and lock. Overall, the number — and type — of ports is excellent for such a small and inexpensive laptop, and those performing business or anything more than casual usage will have enough spots to connect their various wired devices. In total, the Acer C720P weighs in at 2.97 lbs and is 0.78-inches thick.
Software
As far as software goes, what you get with the C720P is the same as you get with the C720 and any other Chromebook — Chrome OS and 100GB of Google Drive storage to complement the 16GB SSD drive that's on board. Those new to Google's services can also sign up for the 30-day free trial of Google Play Music All Access, which, thankfully, plays perfectly smoothly while browsing, unlike with the HP Chromebook 11.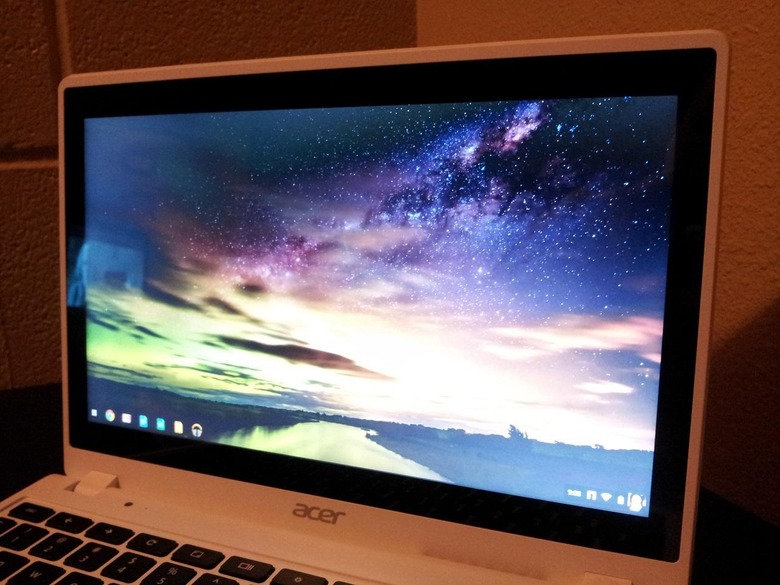 Touchscreen
The touchscreen is a wonderful addition to the Acer Chromebook, and makes for expedited browsing and similar activities, as well as enabling finger-painting — something those who buy the inexpensive laptop for a child will appreciate. The display itself works wonderfully, registering touches without any issues or hiccups, flowing smoothly down pages and across apps. I tried it out with various activities ranging from drawing to browsing, and it performed like a champ through them all.
Visually, those who are used to working on high-quality monitors or displays will notice the panel isn't very high in the quality department — it would be disappointing for photographers looking for a cheap laptop to download and review images on while out and about, for example. I compared the color in photographs to that of high-quality displays, and it skews towards presenting yellows as reds — nothing noticeable or bothersome for any casual browser, but something to keep in mind for those with more particular needs. When compared to its fellow Chromebooks in the same price range, the HP 11 is still at the top when it comes to the display (though none of them compare to the Chromebook Pixel, obviously).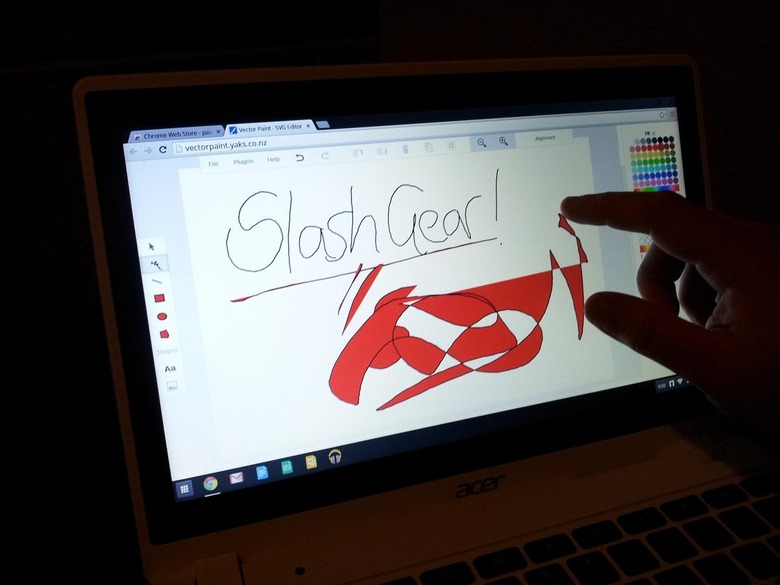 Wrap-Up
There was a lot to like about the Acer C720, and there's even more to like about the C720P. The laptop is very solid when held, and though plastic from top to bottom, it doesn't necessarily feel like a machine that costs $299 USD. The touchscreen is a wonderful addition, enabling functionality that the Chromebook lineups have generally been missing and allowing users to forgo the small track pad (though, it should be said, the track pad is of quality).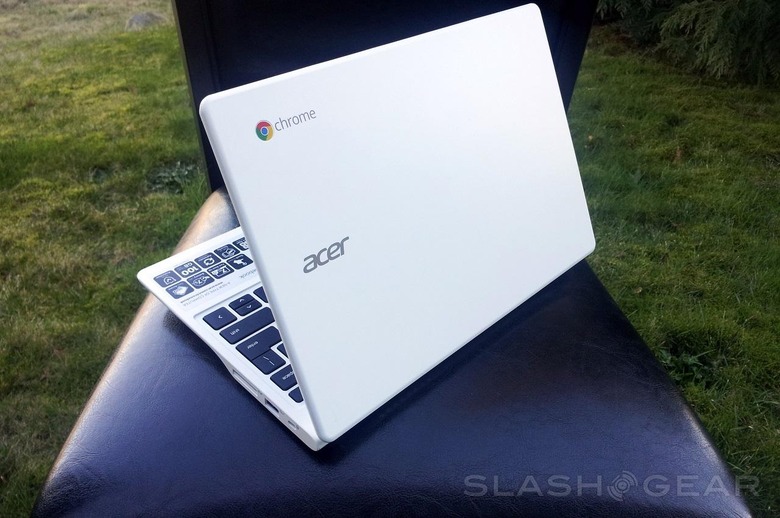 As with the previous model, the C720P has excellent battery life. When using it for near-constant browsing and occasional music, we pulled in over 6 hours, and when used carefully (reduced display brightness and such), you can get it over the 7 hour mark. In summary, it is small, light, and inexpensive, three markers that make it appeal to many varieties of users. Those who have been holding out for an inexpensive Chromebook with a touch display will find the Acer C720P to be an excellent choice, doing all the things a Chromebook does best.