Google Chromebook Pixel Review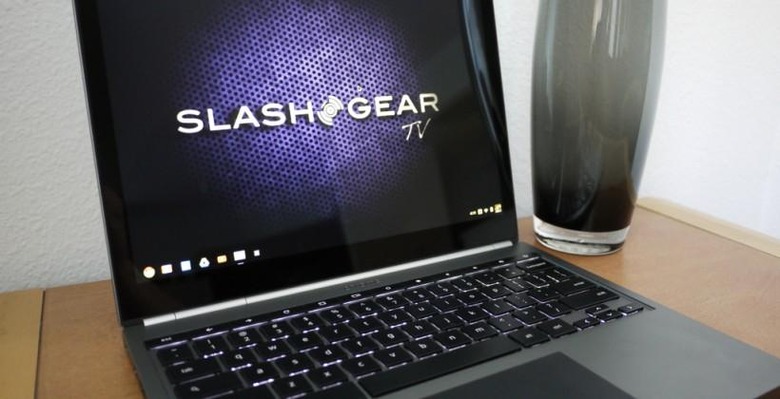 Google certainly put on a spectacle when they announced the all-new Chromebook Pixel, and the display is truly wonderful. Everything about this new Chromebook is top notch. The design is elegant, the screen is crisp and beautiful, but we still have what many would probably agree is a love-hate relationship with the Chrome OS. Add in a touchscreen for our smartphone accustomed brains and we could really have something here. However, read on to find out if the $1,299 price is worth the risk.
Google's Chromebooks have all been budget devices that match perfectly with their web-focused streamlined user interface, but this is different. The Pixel is in a category all by its lonesome self, and shows Google knows how to make some serious hardware that could truly contend with the competition. Well, the hardware can at least.
Hardware & Design
The design and elegance of the Pixel truly is a winner. It won us over the minute we laid our eyes, and hands on it. The same way we felt when Apple went to the unibody design for the Macbook Pro is how this device makes us feel – and it should. If you're going to go from offering $249 laptops to a full out $1,299 Chromebook it better WOW. This certainly did exactly that. We've long been using the MBP for a benchmark to compare laptops in terms of quality, and the Chromebook certainly lives up to that benchmark.
The Pixel just completely screams "premium" when you touch and use it. The pictures and video truly don't do this machined aluminum and anodized unibody device justice. With a dark gunmetal finish (although a bit fingerprint happy) you'll instantly notice the amount of precision and time that went into making the Pixel. The design isn't radical and instead everything is squared off, tapered when needed, and just smooth and simple – but in a good way. There's absolutely no flex or creaks to the body, the display is as durable as can be, and all the squared edges have a nice rounding off to keep it comfy. Oh and did we mention the keyboard is a joy to use. The keys are a bit stiff, but Google's certainly got the keyboard right – even if we'd like some options for the backlight.
It just feels right. The Pixel is elegant and beautiful yet dead simple in design. Add in the fact that this gorgeous piece of technology is as durable as it is, yet only weighs 3.3 lbs. You'll be happy to know it's comfortable to carry around too. The only part that isn't squared off is that round piano hinge on back, which also adds comfort while carrying the device in hand running around campus – or walking into that Starbucks nearby. It's slightly thinner and lighter than the 13-inch MacBook Pro, but still loses to the Air. Now lets talk about the real hardware that's important. That being the astonishing display and the goods under the hood.
The Pixel features a 12.85-inch 'Pixel' display with a 2560 x 1700 resolution at 239 PPI and 4.3 million pixels – and it absolutely looks amazing. Sporting a Gorilla Glass 2 protected multi-touch panel it offers excellent viewing angles. Under the hood you'll be working with a 1.8 GHz dual-core Intel Core i5 processor, 4GB of DDR3 RAM, and a 32GB SSD for storage. That isn't all either. With your purchase users get 1TB of free Google Drive cloud storage. Basically Google wants us putting anything and everything on the cloud. Then you'll get two USB 2.0 ports and sadly no 3.0, Displayport, and 3.5mm for headphones all on the left edge, then a full SD slot on the right side for when you need more than the integrated 32GB of storage. The right also houses the Verizon 4G LTE sim slot for those opting for the 64GB 4G LTE model priced at $1,449.
Then we have that awesome notification light on back which has all sorts of glowing colors. It's blue during use, white while on standby, and will let the people behind you know the battery is low by glowing red. Sadly you won't see it, but the OS will let you know so don't worry. Then on open and close you'll get a neat little rainbow of Google colors. It's a neat little extra polish, and we like that Google's keeping things fun. Sadly we don't like the large and cumbersome charger that came included, however it also features a ring LED with green, yellow, and red for when you're charging.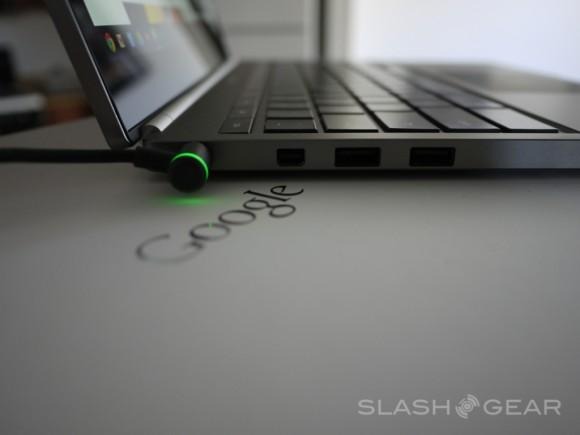 We'll talk more about the display and the actual performance below, this was just a quickie rundown on the hardware. One last time we'd like to mention how gorgeous the Pixel display is. It's sooo crisp, can't all things be this way? Google's certainly reached that higher level of hardware and design, that's for sure. The question is whether or not the rest can complete the picture.
Display
If you're going to call it the 'Pixel' and give it a multitouch touchscreen it better be amazing. Don't worry though guys, the display is the best thing this laptop has going for it, and surely won't disappoint. Again, front and center is a 12.85-inch 2560x1700 'Pixel' HD IPS LCD display. The pixel density comes in at 239 ppi which is slightly higher than the MacBook Pro Retina 13-inch for being slightly smaller, and a few extra pixels. While comparing the two, the Pixel had a slight yellow hue compared to the MBP Retina, but that would be the only negative – if one at all – that we can hold against it. Everything else is just stellar. The screen obviously is amazingly crisp, colors are bright, vivid, and pop, and the brightness was excellent. You truly have to see it to enjoy it.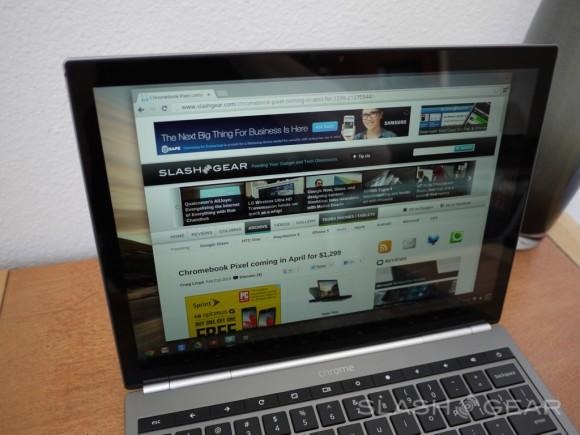 Before the touchscreen hands-on video below we did want to mention a few things about the display. Sadly the Chrome OS is pretty plain and that amazing HD resolution is wasted by lots of blank white space inside the OS. Being a simple web-based OS there's really nothing to fill it up. Of course that's why you go to SlashGear and enjoy a good read. The second thing being screen glare. Uhh, it's awful. Apple did an excellent job with reducing glare almost making that a feature in itself on the Retina. Sadly Google didn't do the same. It handles fingerprints amazingly well since you'll be touching the screen, but the glare is something we couldn't look past.
Screen glare aside, the display is still the star of the show here and will certainly stand out to anyone that uses this device. While we wish the Chrome OS had more use for a touchscreen display, here's a quick look at what you'll be working with on the Chromebook Pixel.
As you can see our smartphone and tablet-aimed minds will feel right at home with the Pixel. Flipping through webpages was fun, easy, and smooth. Then of course using pinch-to-zoom in Maps and such works as you'd expect. Sadly there wasn't too many other moments where this is extremely needed – at least not on the Chrome OS – but all the apps and games surely will benefit from the option. For now the OS doesn't fully need a touchscreen, or at least we don't think so, but hopefully that will change in the future.
Overall we don't want to keep beating the horse here, but the screen is truly top notch. We absolutely love it! Viewing angles are great being an IPS display but get too high or to the side and they quickly wash out with yellow and pink, but for day to day use we had absolutely zero issues. Compared to anything else available nothing compares expect the MacBook Retina's – which have already been readily available for some time.
Keyboard & Trackpad
Google certainly put the Pixel in a class of its own here too, on multiple levels. The chiclet or island style keyboard is present, and even features backlit keys. Adjusting the lighting could be easier instead of a keyboard combo, and randomly my backlight was off for about 2 hours – that aside the backlit keys are excellent. Make no mistake about it, the keyboard closely matches that of Apple's. They sit in a slightly recessed area but float up and are easy to hit, comfortable, and as we mentioned above just gives users a stellar typing experience. The keys have a perfect blend of spacing, and the same perfection is there for the pressure and resistance while typing. However, the top row of quick-keys were slightly more resistant than the rest, for whatever reason.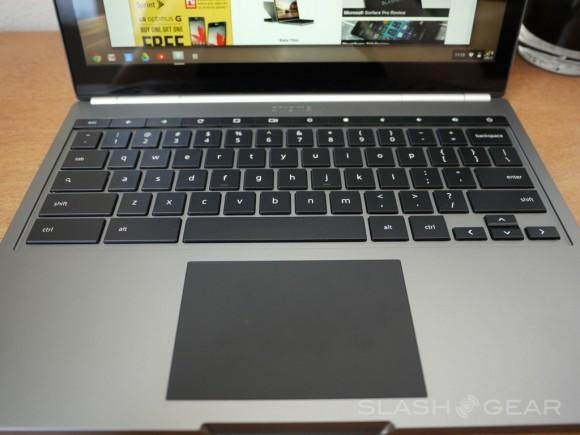 The only complaint about the keyboard would have to be the slightly tougher and not spaced top row of keys. On the other hand everything we enjoy about the keyboard and display is mirrored with the Trackpad. Made of etched glass the trackpad works as expected. It's smooth, accurate, and comfortable although many HP's still just feels better in my opinion. It has a nice black matte finish that slightly makes it not as smooth to the touch, but don't worry you'll be using that glass touchscreen more than you think.
The last thing worth mentioning regarding the keyboard has to do with sound, in two different ways. One being the Chromebook Pixel has a few noise cancellation microphones to cut down on the keyboard typing sound if you're using a mic or enjoying a Google+ hangout, but this could be improved. Secondly, the built-in stereo speakers are calmly integrated under the keyboard. There's no speaker grills to make the device unnecessarily long, and the sound isn't hindered by that either. I was actually extremely impressed with the Pixels overall volume levels. Obviously you'll still get that laptop tin-can airy sound, but the sound quality and volume levels are some of the best we've used.
Software & OS
Hmmm. Google Chrome OS. It certainly is a far more usable and enjoyable OS than it was a few years ago introduced with the CR48, but it's still far from being perfect – or capable for that matter. As we said above the Chrome OS is something we have a love-hate relationship with, and beautiful hardware can't change that. We're not going to get into a huge Chrome OS review here, since we all already know what to expect there. Amazing fast boot up and shut down times, worry free browsing, and essentially everything in the cloud. Is this window into the cloud worth $1,299 though. That's a tough sell.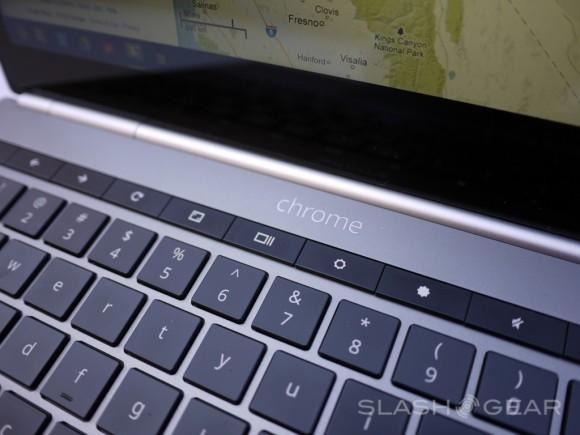 Again we're not going to get into the OS as a whole, but rather mention some things regarding it and the Pixel specifically. For one, the awesome touchscreen is great but not all that useful. You'd think Google would introduce more touch sensitive – or even supported – features and options to the OS to take advantage of this. They have not. Surely some are coming soon, but at the moment that feature will only be slightly useful for the web and a few web apps from the Chrome store. Secondly, the trackpad. Google offers a top-notch trackpad yet we have no gesture support in the Chrome OS. Two finger swipes to go back in the browser, quick minimize, pinch-to-zoom, or anything of this sort is all absent. You can't even pinch-to-zoom in the image viewer in Chrome OS to use the awesome trackpad. Why Google, Why?
However, in Google Maps a two finger swipe will zoom in and out, but pinching does nothing. Pinch-to-zoom works on Maps with the touchscreen, but not the trackpad. An epic failure when it comes to the possibilities here. Again, they're probably coming in the future but we need them now if we're paying top dollar for the machine.
Above is a small gallery of a few screenshots from the OS. Google's conveniently added a huge Chrome OS support page that's even better than before. Details on how to get the most usage and productivity from their web-focused OS, as well as what will help you with tasks whether they are work, play, and everything else. So one more time we don't want to review the OS as a whole here, but it's seriously underpowered for this piece of luxury.
With a built-in apps and things like Google Music, a minimal media player, as well as a file browser Chrome OS has the essentials, but that's it, the bare minimum essentials. Google Drive (with 1000GB of space included) certainly helps with these types of tasks and you can transfer from the Pixel to another device. Doing anything intensive for photo editing, video, or anything else for that matter the OS just doesn't support it. This brings us to something we mentioned in the video above. Chrome's webstore has tons of awesome games, most which don't work on the Chrome OS. They don't get filtered out and you'll install something on the Chromebook only to later realize it only runs on Windows or OSX. Google needs to clear this out of the webstore for those primarily on a Chromebook.
Last but not least, the software can and will be improved. There's absolutely zero doubt in our minds that Google has huge plans for the Chrome OS, tons of features coming soon, and will improve it with frequent updates. On another bright note, you can change out the Chrome OS for something like Linux. I don't know about you guys, but this would be the best looking Fedora or Ubuntu device I've ever seen. What do you guys think?
Performance & Battery
As far as performance go we can't really compare to anything from the Windows camp, and benchmarks aren't something we can do either. However, thanks to the Core i5 dual-core processor at 1.8 GHz and 4GB of DDR3 RAM this device is speedy at all times. The specs might be light compared to well priced Mac's and Windows 8 powerhouse laptops, but they are more than enough to run the Chrome OS. There's nothing that will tax this hardware to the full extent in its current form, that's for sure.
There's really not anything to say here about performance. The browser-based OS is blazing fast. The dual-core also handles HD video with ease, and any games that manage to be supported from the Chrome Store play without a hitch too. Things do get a bit hot though, we must say. The keyboard acts as vents, and the Piano-style hinge for the display Google claims acts as a heatsink to keep the device cool, but sit it on your lap and enjoy some 1080p video and it will warm up quick. On a cooler note, I actually only heard the fans once on the device. So that's a plus.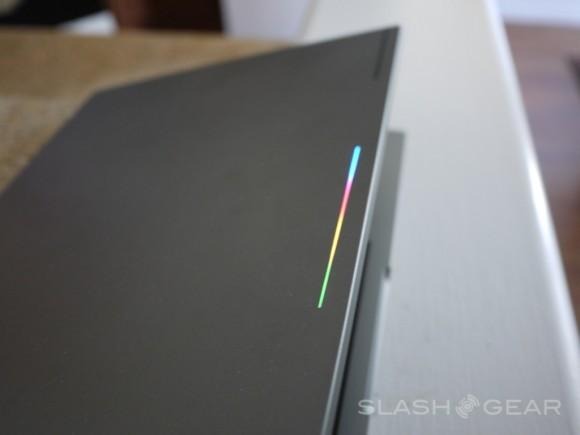 Battery life. Chrome OS sips on the battery, and the dual-core isn't strong enough to drain it too fast either. However Google states the Pixel will get "up to 5 hours of continuous use." As a comparison the Macbook Pro and most other laptops usually aim for at least 6. In real world usage the Chromebook Pixel with brightness at 65% viewing multiple videos, playing Angry Birds and a few other games I found, and browsing Reddit for a while it barely lasted 4 hours. Actually 3 hours and 57 minutes to be exact. I wouldn't call that great, but it isn't too bad either. Make sure to have that charger nearby if you're doing anything too intensive.
Pricing & Competition
There's only two options that will be available from good old Google, and that is the 32GB WiFi model priced at $1,299. Then the 64GB WiFi + Verizon 4G LTE for $1,449 so you're options are pretty limited. The competition however, options are nearly endless on all fronts. We'd rather not compare the Pixel to the Macbook Pro – because honestly there's no real comparison from the full view of things – but on a hardware level that's the closest thing. Not to mention some of HP's nice laptops like the Spectre XT.
The Pixel certainly isn't cheap, not one bit. In fact, that's actually pretty darn expensive for what's merely a window for the web. That 1000GB of free Google Drive cloud storage for 3 years costs more than the Pixel in general, so you could look at it from that way. To be honest though comparing the Chromebook Pixel to others, especially a Macbook Pro just almost doesn't seem fair given the limited OS. This certainly will not be replacing my MBP anytime soon, if ever, but on a hardware level it certainly comes close. I hate to be so blunt but there's just no way in good conscience compare the two fairly given the extremely limited OS compared to the powerhouse that is OSX. There is really no comparison.
Wrap-Up
Unfortunately for Google the Chromebook Pixel is grounded by the OS, but make no mistake they've crafted one beautiful computer. We've always had a hard time recommending or giving a thumbs up overall to a Chromebook of any type, except for someone that absolutely needs a minimal computer experience. So while the Chrome OS works great for that, there's multiple devices with ALL the same shortcomings for much less money. You could pay $199 for Acer's C7 Chromebook and have the same experience and get all the same things done. You just won't look as classy doing it, the screen won't be as crisp, and the very limited touch features won't be available to you. You'll have a heck of a lot of cash leftover in your pocket though. Enough for months and months of Starbucks.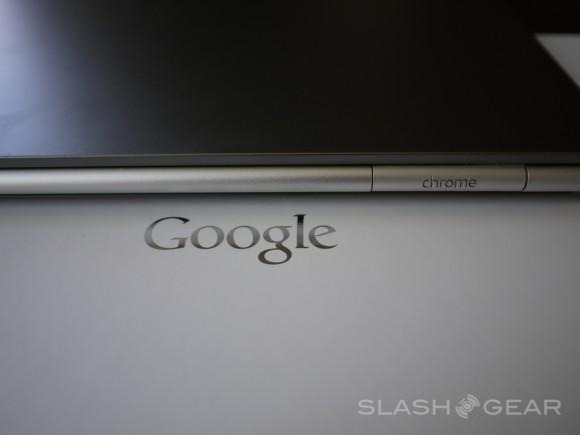 In the end what makes the Pixel a winner and absolutely amazing also makes it a loser – and that is the price. There's no doubt that the Chromebook Pixel very well could be what the future of laptop computing holds for many, but at the same time it's here too early, and will dent our pockets way more than anyone would like. The Pixel is an amazing piece of hardware but no matter how amazing it is, the $1,300 price is an extremely hard pill to swallow.
So just like we asked in our initial Pixel hands-on: Does Google tempt the daring? For us the answer is sadly a clear as day no, but others might feel different. It saddens me to say it but this is a Ferrari with a 4-cylinder engine. We can't wait to see what the future holds for cloud computing, Google, and the Chrome OS, but this is too much too soon.