Google Cr-48 Chrome OS notebook review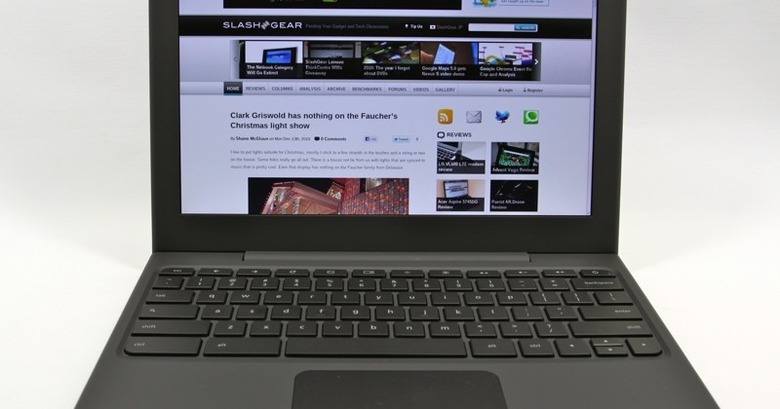 Google's first Chrome OS notebook, the Cr-48, has landed on the SlashGear test bench, and to say it's an interesting machine would be an understatement. The stealth-black 12.1-inch ultraportable is, like the color-scheme suggests, intended to fall into the background and let the Chrome OS platform take center-stage. Check out our full review after the cut.
Hardware
The Cr-48 isn't for general sale, instead being distributed as part of Google's preview program for Chrome OS, and as such there's not a huge amount in terms of accessories in the decorated cardboard carton. The removable battery, AC adapter and power lead – together with the Cr-48 itself – just about covers it, in fact.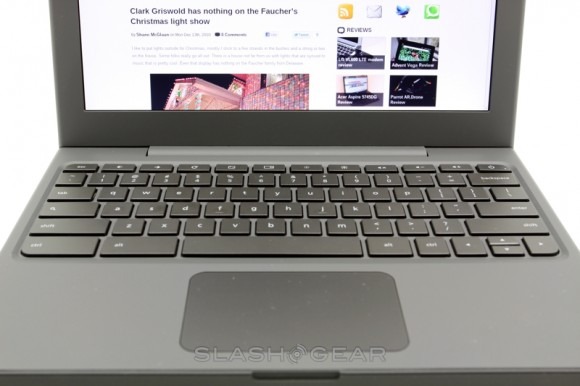 At 3.6 pounds it's not the lightest ultraportable we've seen, though we're big fans of the rubberized matte black coating applied to the chassis and keyboard. At first glance you could easily mistake it for a Colorware-treated MacBook, in fact, and build quality seems strong. The 12.1-inch display runs at 1280 x 800 and is a fair panel, if not the best we've seen; its matte finish makes colors appear a little more muted than we're used to from glossy displays, but we'll gladly trade that for more resilience to reflections. Unfortunately the webcam above it produces dark, generally murky photos unless you give it plenty of light.
Google's keyboard modifications extend to the function key row – which has been replaced with a line of navigation controls, window, brightness and volume buttons – as well as the Caps Lock key being swapped for a dedicated Search button (that opens a new tab in the process) and oversized CTRL and ALT buttons to the left of the spacebar. It's a decent typing experience, too, thanks in no small part to the textured coating. Underneath, the single-panel trackpad isn't quite up to Apple standards, but is still reasonable; you can call up a context menu with a two-finger tap.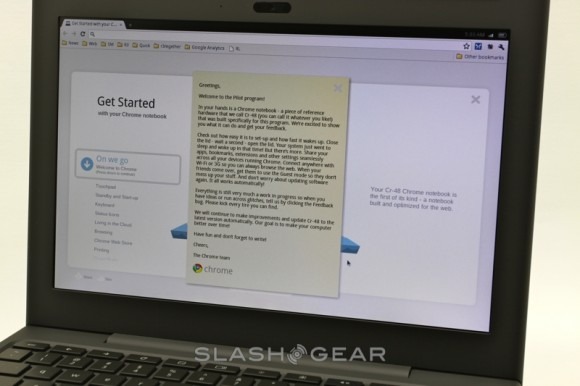 Ports are limited to a single USB 2.0, a VGA output (you can either use the Cr-48's LCD or an external screen, but not both simultaneously), a full-sized SD card reader and a headphones socket. No optical drive, obviously. The SIM card slot for the Gobi combo EVDO/UMTS modem lives inside the battery compartment; Verizon grabbed some attention by promising 100MB of 3G data per month to Cr-48 users. That deal is good for the first 24 months of ownership, after which you'll have to pay if you want to use it.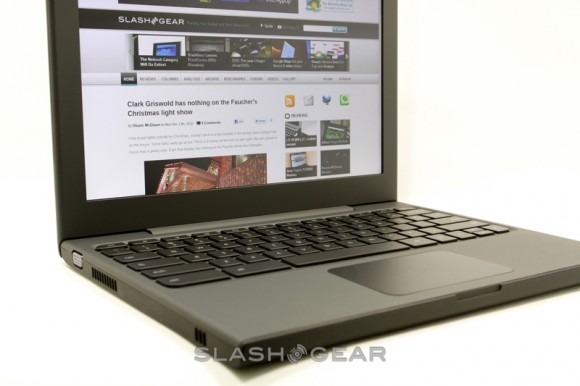 Plans start at $9.99 for a single day's access (and unlimited usage), or you can opt for a Verizon monthly agreement. $20 gets you 1GB per month, $35 gets you 3GB or $50 gets you 5GB. It's worth noting that, even if you don't plan on using anything more than the bundled data, you'll still have to enter billing details and a credit card.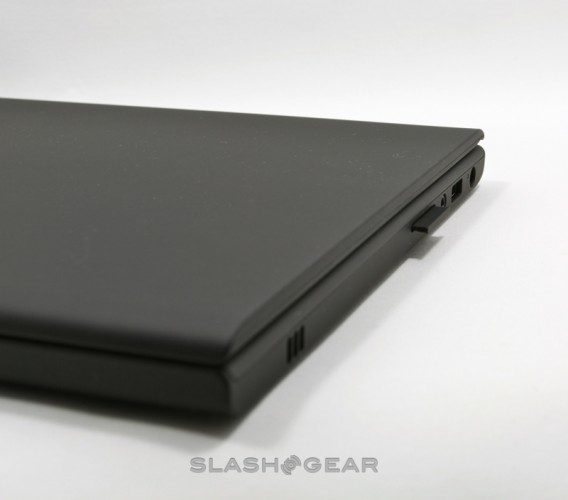 Software
A cold boot takes around 15 seconds to reach the login screen, and the Cr-48 takes your regular Google credentials. Subsequent resuming from standby proved almost instantaneous. The Chrome OS software environment takes some getting used to; for the first few minutes we found ourselves pushing the mouse to the edges of the display, trying to call up a hidden Start menu or Dock. Neither exists, however: instead, you get a grid of apps, most recently visited sites and recently closed tabs similar to the regular Chrome browser's launcher tab. Verizon's 3G and the Cr-48's WiFi are easily managed with a drop-down panel in the top right hand corner; that's where the clock and battery status also live.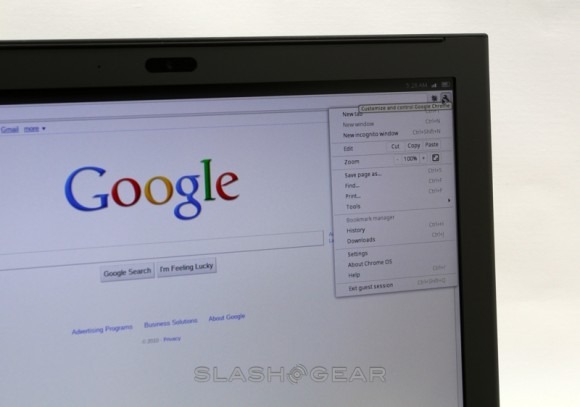 If you're familiar with Google's web app offerings, you'll probably feel at home in Chrome OS. Internal storage is just 16GB of SSD memory, but you'll keep all of your content in Google's cloud since there's no provision for actually saving media files like photos, video and music to the drive. Unfortunately, there's a distinct lack of applications in Google's Chrome App Store – unsurprising, perhaps, given the relatively young age of the platform – but it leaves using the Cr-48 difficult for anything more than the basics.
For mainstream consumers, the glaring omissions usually kick in when you try to integrate the Cr-48 into the rest of your digital life. Although a digital camera was recognized over USB, and we could upload photos to Picasa, there's no support for iTunes sync with iPhones, iPods or iPads; similarly, there's no Windows Phone 7 sync client or Zune Desktop app, and no provision for Android management suites like DoubleTwist.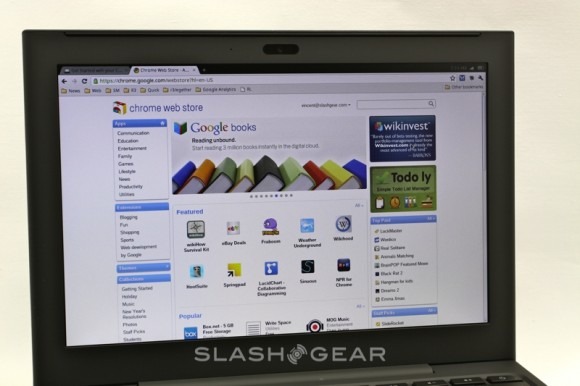 If you need FTP access or anything slightly out of the ordinary for business, such as VPN support, you'll also have a tough time getting things done on the Cr-48. Skype won't run, and right now there's no USB drive support. Document creation and editing is catered for with Google Docs, but if your company requires any specific software then you'll soon find yourself reaching for a regular PC or Mac.
Performance
Performance is mixed, with Gmail feeling snappy on the single-core Atom N450 processor but Flash-based sites, although functional, proving less than impressive. Adobe has confirmed it's working on Flash 10.1 for Chrome OS, but until then there's no hardware acceleration of Flash content. That means jerky YouTube video and higher-bitrate video on sites like Vimeo are often non-starters.
It's not the only streaming media issues we've faced, though at times it's Chrome itself that's the stumbling block. Some sites – such as Netflix – simply won't work with Google's browser, instead suggesting you use another; obviously that's not possible on the Cr-48. In time, we'd expect content providers would get up to speed with Chrome, but for now there's no workaround.
The limitations on local media shortage mean it can be similarly frustrating trying to work with your own photos, video and audio too. Since you have to upload it before you can work with it, you're reliant on a decent network connection; there's no slapping in an SD card from your camera and quickly cropping and tweaking a few stills.
That given, it's easy to burn through the 100MB of bundled data if you don't have WiFi access. Thankfully Chrome OS prioritizes WiFi over cellular data, but the limitations of the platform are stark when you're out of your allowance. Cached data for things like email and calendar mean you're not entirely cut off, but relying on cloud storage for multimedia does leave the Cr-48 feeling underwhelming when you're offline.
Battery
Google estimate around 8hrs of runtime from the Cr-48's battery, or alternatively up to eight days of standby. In practice, the frugal Atom CPU and the fact that the notebook automatically goes to sleep after three minutes of inactivity meant we were able to reach that target.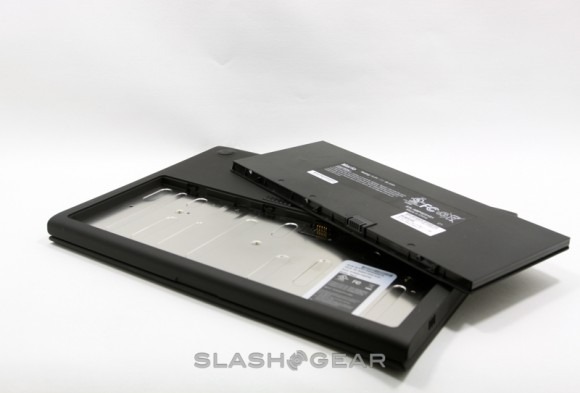 Wrap-Up
It's going to take time to get used to seeing the notebook as merely a window to the cloud, but the Cr-48 certainly has us curious. The hardware itself isn't the story here – after all, it'll never actually go on sale, only be used to bring developers up to speed. We're hopeful that by the time Chrome OS notebooks are launched commercially in mid-2011, the dual-core processors Acer and Samsung intend to use will leave the experience brisker. By then, too, Adobe should have been able to polish GPU support for Flash Player, tidying up the online media experience.
Nonetheless, the audience for whom Google Chrome OS is suitable is surprisingly small. Only the very basic of business use is catered for, and we imagine most network admins will shy from the prospect of entrusting Google's servers with all of their users' data. Mainstream consumers would ostensibly seem a better fit, but Chrome OS' absent support for PMPs and other devices undermine its usefulness as a main computer.
Like with the iPad, Chrome OS doesn't do enough to replace your notebook or netbook full time. Yes, you could take the Cr-48 away for a weekend and get along fine, checking email and the like, but you'll likely return with a list of tasks – media editing, etc – that you'll have to reach for a regular computer in order to complete. Too often we began tasks on the Cr-48, only to give up part way through and return to our regular notebook when the limits of Chrome OS became clear. As a concept it has clear strengths, but Google has plenty to do before the full Chrome OS launch next year to make the platform a realistic competitor.