Chromebook Pixel hands-on: does Google tempt the daring?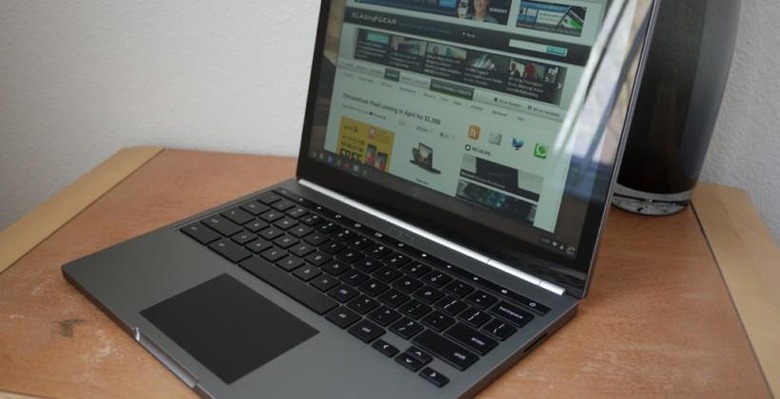 Google's brand new Chromebook Pixel wasn't entirely unexpected, but last week they blasted onto the high end laptop scene with the all-new device. With all previous models being aimed primarily at the low end, this Google-made Chromebook looks to change everything. With a stunning 2560 x 1700 HD 'Pixel' display, a powerful Intel Core i5 processor, and a beautiful design is it worth $1,299? Read on for our first impressions.
Google's Chromebook Pixel was certainly needed, with all their previous devices being extremely budget-oriented laptops, but is Google and their OS ready? We'll have to spend more time with it and let you know in our full review. Chrome OS aside, this device is stunning on all sides. From the display, design, build quality, and even the integrated speakers. Lets dig in!
The Chromebook Pixel is finally a Chromebook with specs to match some of the competition, which also surpasses them on many levels. The Pixel features a 12.85-inch 'Pixel' display with a 2560 x 1700 resolution at 239 PPI and 4.3 million pixels – and it absolutely looks amazing. It's rocking a Gorilla Glass 2 protected multi-touch panel and offers excellent viewing angles, but out of the gate we'll let you know the screen glare is pretty awful. Under the hood you'll be working with a 1.8 GHz dual-core Intel Core i5 processor, 4GB of DDR3 RAM, and a 32GB SSD for storage. As well as a 64GB 4G LTE option coming later. That isn't all either. With your purchase users get 1TB (1000GB) of free Google Drive cloud storage. Essentially putting anything and everything on the cloud. Then you'll get two USB 2.0 ports, Displayport, and a full SD slot among other things.
It's pretty safe to say our initial impressions on the screen are good. It is certainly on the same level as a MacBook Retina. The colors are amazing, but the viewing angles weren't quite as good as we expected, and Apple has a leg up here. Using the touchscreen for our limited time with it we don't have too many thoughts. The video below you'll see how smooth the touchscreen operation is, but we're not sure how useful real world usage will be. The actual device is blazing fast and the most smooth and fluid Chrome OS we've seen or used to date. That's all thanks to the Core i5 processor and 4GB of RAM of course. For now we'll just let you enjoy the video:
Everything about this Chromebook screams "premium high end product." The all aluminum design is solid and extremely sturdy, the Gorilla Glass protected display is sturdy and creak free, and the keyboard is a joy to use. Typing on this thing has been a wonderful experience so far. The backlit LED keyboard is nice, and the speakers are safely integrated under the keyboard to keep things sleek. We do want to make one thing clear, the speakers are exceptional for a laptop. It's loud, clear, and extremely crisp. I was blown away at the first video I watched.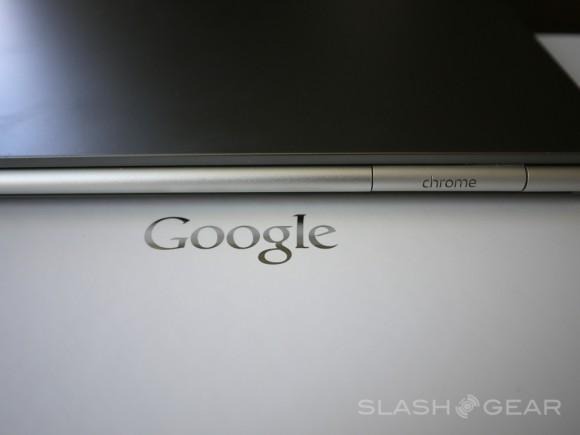 For those that missed the announcement the all new Chromebook Pixel is up now on the Google Play Store for $1,299 which gets you the 32GB model, and $1,449 coming soon with 64GB and 4G LTE from Verizon. Yeah.. it's certainly not cheap. Not one bit. Google needed a premium device, but this is really premium.
We'll obviously need a few days to enjoy the Chromebook Pixel. Find some of its strong points, and the quirks, and we'll report back shortly with a full review. Can this premium laptop be your daily device, or is Chrome OS too much in its infancy? Does Google tempt the daring with the Pixel – we're not sure. Stay tuned for our full review to see if this is a Ferrari with a 4-cylinder, or if it can be the real deal.