Tesla has a new entry-level Model X SUV, the 75D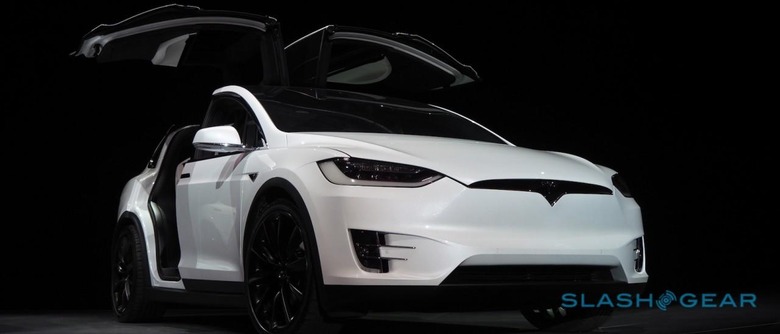 Tesla's big news today may have been the Model S refresh, but there's been a quiet shake-up in the Model X line, too, with a new entry-level car. The electric SUV now kicks off in the shape of the Model X 75D, an all-wheel drive truck with a 75 kWh battery.
It replaces the previous Model X 70D, which Tesla Motors had announced was part of the line-up back in November 2015. As the name suggests, that had a 70 kWh li-ion battery.
With the slightly bigger battery comes a slight bump in range. Where the 70D would go for 220 miles, according to Tesla's EPA estimates, the new 75D will manage 237 miles according to today's specifications.
0-60 mph time is unchanged, at six seconds, but top speed has increased by 10 mph, to 130 mph in total.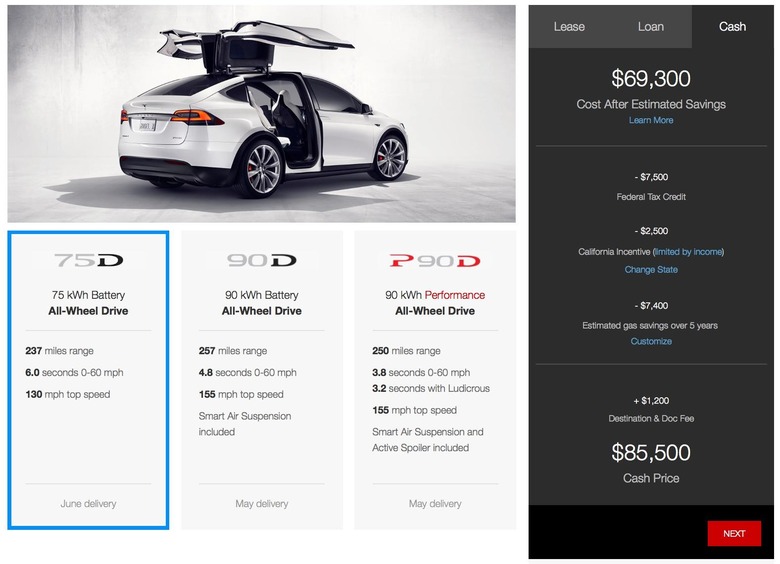 Unfortunately, the price has also increased along with the performance. The 70D had a cash price of $80,000, whereas the Model X 75D comes in at $83,000. Tesla points out that it's eligible for a $7,500 federal tax credit and a state-based, income-limited incentive, too, as well as potential gas savings.
Still, if you want serious SUV performance, it's the more expensive Model X 90D and P90D that you should be looking at. They – priced at $95,500 and $115,500 respectively, before incentives and credits – offer as much as 155 mph and 0-60 mph in 3.2 seconds.
According to Tesla's online configurator, orders of the 75D today should see deliveries being made in June 2016. If you opt for one of the more potent versions of the truck, they'll arrive in May the automaker says.
It's not been a perfect week for the Model X. Tesla was forced to recall 2,700 of the SUVs over faulty seat latches, warning owners not to allow anybody to sit in the third row until the mechanism was replaced.
Still, with the seat supplier coughing up to cover the cost of the new parts, and the huge number of reservations Tesla saw for its upcoming Model 3 sedan – which will be the most affordable car the firm offers, priced from $35,000 before incentives and credits, when it hits forecourts in late 2017 – April probably works out to being a good month overall.
For more on the Model 3, check out our full first-ride report from the launch at the end of March.