I tried the Tesla Model 3: Here's what you need to know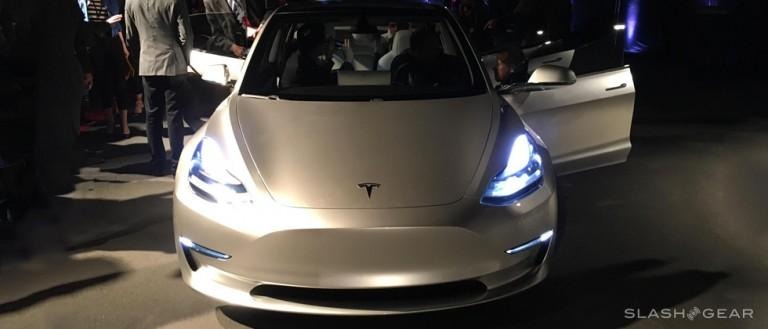 To say the Tesla Model 3 has been hotly anticipated is an understatement, and last night's unveiling in Los Angeles reached Apple-levels of excitement. CEO Elon Musk is still playing many of the details close to his chest, but after taking a brief ride in one of the latest prototypes, I do know a little more about the $35k electric car that could give the auto industry a serious shake-up.
The 2001: A Space Odyssey dashboard is cleared for production
By the time concept cars make it to the dealership, the space-age dashboard is usually the first thing to have gone. Tesla, though, promises that's not the case for the Model 3, insisting that the sparse and striking cabin of the car is already cleared for production.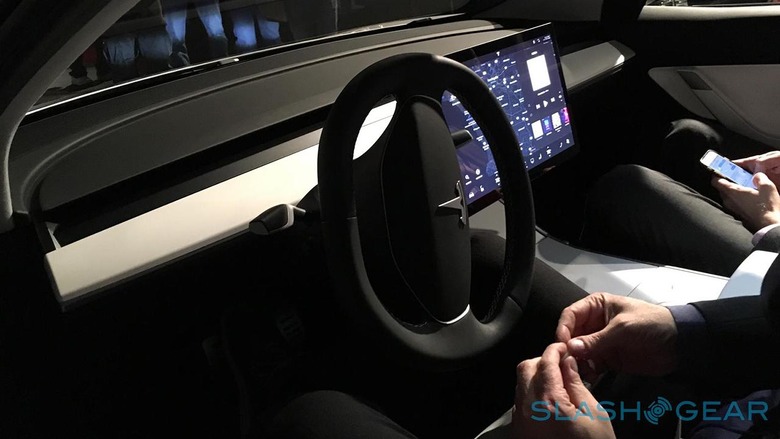 That means the 15-inch display, standing old-school anglepoise-iMac-style in the middle of the dashboard, isn't just a design conceit. Instead it'll be the hub for most of your interaction with the Model 3, with driving details like speed and battery status in the upper corner nearest the driver, and the rest of the touchscreen turned over to navigation, infotainment, and HVAC.
It's not just Tesla being different for the sake of it, either. By condensing all of the controls into a single point in the center of the dashboard, the company's engineers tell me, it can do "interesting things" with cabin airflow.
That basically means condensing the vents down to narrow slots, which can more precisely – and thus more economically – direct warm and cold air around the passengers.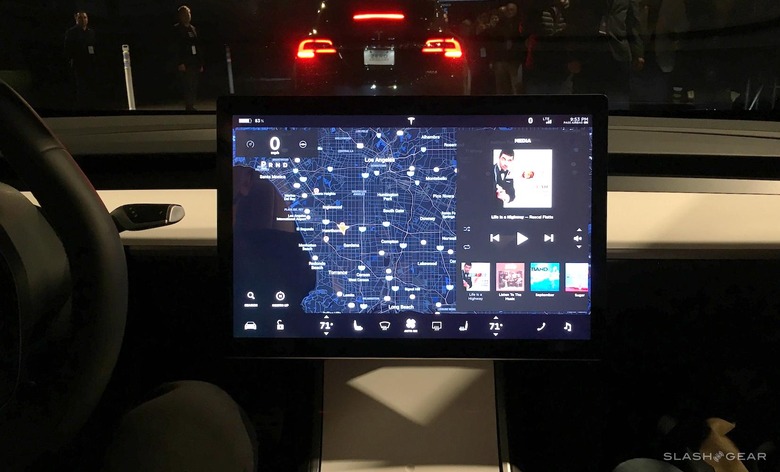 There are solid business reasons for it, too. Removing analog gages and separate secondary displays entirely cuts costs down to just that touchscreen; mounting it centrally means fewer dashboard changes when Tesla is reworking left-hand drive cars for right-hand drive markets.
Meanwhile, as the Model 3's update schedule has proved, going digital adds flexibility. Tesla's homegrown, Linux-based platform for the system can easily be tweaked and modified as new features are developed, rolled out over the OTA update system which has already seen the company's customers waking up to a car that suddenly does new things.
There'll be single and dual-motor versions
In Tesla-land, more motors equals more power and better traction. Just as is the case with the Model S, there'll be single and dual-motor options for the Model 3: the base cars will be rear-wheel drive, whereas the more expensive versions will get twin motors and all-wheel drive.
Interestingly, AWD can also mean greater range, another thing we've seen in the Model S. That's because when you have more motors involved, each needn't work so hard at any one time, potentially saving power.
It'll be fast, but not Insane Mode fast
Every Model 3 is going to do 0-60 mph in under six seconds, Musk has promised, and some will do it even quicker than that. Exact model breakdowns won't be revealed until closer to the car's arrival in 2017, but figure
In my test ride – which, notably, took place in a dual-motor prototype, not the $35k RWD base car – the Model 3 certainly showed that gush of torque we're familiar with from electric cars. It wasn't the organ-churning madness of the more comically-named performance modes from the Model S, however.
Those could be coming, mind, albeit at a price. Musk coyly hinted at the possibility during his presentation and, given potential Model 3 buyers may very well be cross-shopping with AMG and M Sport versions of Mercedes' C Class and BMW's 3 Series, a fired-up version of the small Tesla seems like a must-have for the range.
Autopilot hardware is standard, but Autopilot isn't
Every Model 3, Musk confirmed during the keynote, will have the Autopilot hardware installed. That's the package of various sensors – cameras, radar, and the like – which Tesla uses for lane-keeping assistance, adaptive cruise control, piloted driving, and crash detection.
However, just because the hardware is fitted, doesn't mean every Model 3 will be able to drive itself. Musk promised that the safety suite would be a standard feature across the range, but the convenience features – think self-driving on the highway – will require a paid upgrade.
Despite appearances, the Model 3 isn't a hatchback
The Model S looks like a traditional sedan, but is actually a hatchback. Ironically, the Model 3 looks like a traditional hatchback, but it's actually a sedan.
That long sweep of glass roof is to blame, since Tesla would've needed to split it for a hatchback opening. Instead, the metal trunk lid opens, suspended on two trailing arms which extend back up, either-side of the rear glass.
It's one of two external storage cubbies the Model 3 offers, with a trunk at the back and a "frunk" – or front-mounted trunk – up where the engine would regularly be in a gasoline car. Tesla isn't saying exactly how many cubic feet you'll get in total, but Musk did promise that transporting a 7-foot surfboard was a possibility.
The trump card is Supercharging
If there was a will-they, won't-they about the Model 3, it was whether the more affordable car would be eligible for Supercharging. On the one hand, the network of fast charging stations has become synonymous with the upstart automaker; on the flip-side, bundling free recharging with a far more affordable car than the Model S and Model X would be an expensive perk for Tesla to swallow.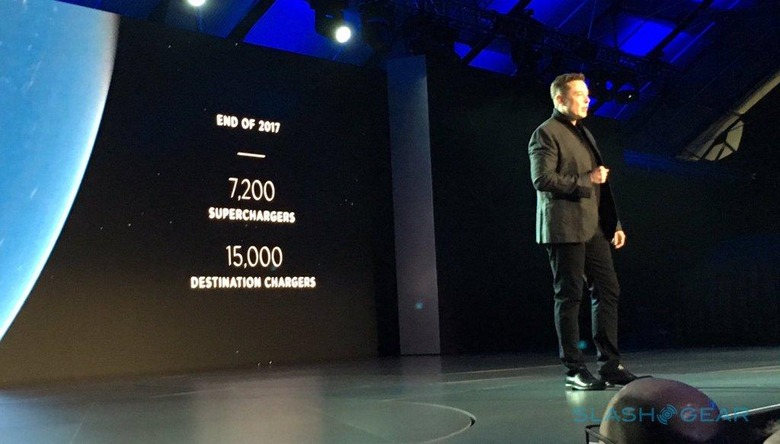 It came as a pleasant surprise, therefore, when Musk confirmed that the cheapest car in Tesla's line-up will get exactly the same Supercharger privileges as the more costly vehicles.
Since that's going to put a lot of extra strain on the Supercharger network, Tesla has plans to upgrade that, too. There'll be 7,200 Superchargers by the end of 2017, Musk promised, along with 15,000 Destination Chargers – the recharging equipment installed at parking lots, hotels, shopping centers, and other public locations where your Tesla might spend some time waiting for you.
You won't be able to jump the line
Preorders have been wildly successful. Elon Musk announced 115,000 while on-stage during the presentation, and that number rose by thousands more over the following few hours.
ALSO SEE: Tesla Model 3 first ride – Inside the $35k game-changer [Video]
It means that you could be in for a long wait if you didn't get your order in early, and even though Tesla is ambitiously targeting production rates of 500,000 cars a year, it'll take some time to ramp up to that figure.
You won't be able to buy someone else's place in the wait list, either, since Tesla has made the preorders non-transferable.
In short, the only way to get some of that Model 3 goodness is to trust Elon with $1k of your hard-earned. It seems it's a commitment many are willing to make.