Tesla Model X price revealed, pre-order options now up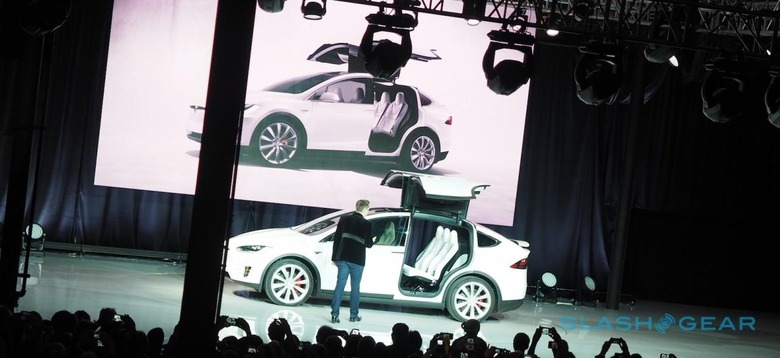 It seems that Tesla's first fully electric SUV is ready to hit the high gear in the production lines. The company has started informing pre-order customers that they can no go to the Tesla website to customize their Model X to their hearts content. And along with that is information on how much that will all cost you. The Tesla Model X all-wheel 70D model, while the "cheapest" of the brood, will set you back a good $80,000. From there, one can only guess how much the 90D and P90D models will cost.
$80,000 is definitely way lower than our estimated $100,000 price range, but that's because the 70D isn't exactly the model that Tesla has been boasting about the past months. That honor belongs specifically to the P90D with its Ludicrous Mode feature. The 70D has a range of 220 miles and accelerates from 0 to 60 mph in just 6 seconds. Top speeds are measured to about 140 mph.
In comparison, the 90D hits a 257 mile range with a top speed of 155 mph. The P90D might looked slightly gimped with its 250 mile range but it makes up for it with a shorter 3.8 second time from 0 to 60 mph. 3.2 seconds if you're in the insane mode. Tesla, however, has not yet revealed prices for these two models.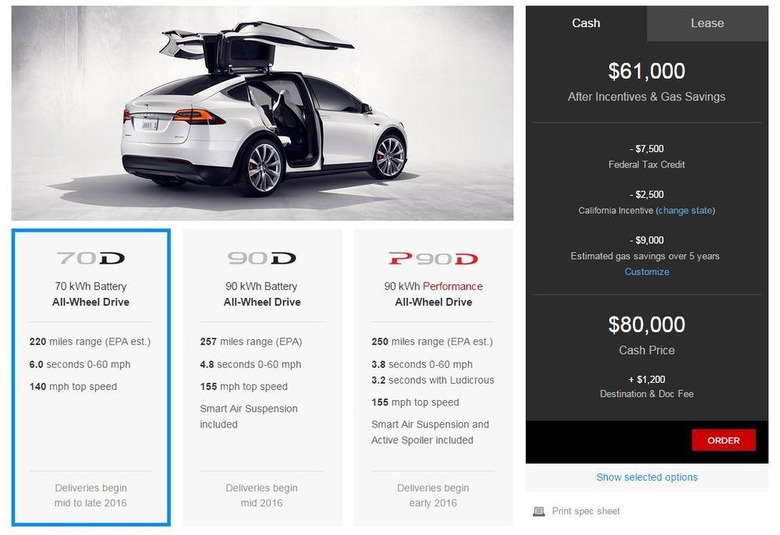 The price tag on the Model X 70D is, of course, only the baseline. If you want more features, you have to pay more naturally. Giving it six seats instead of the base five will add an additional $3,000 to your bill, while going for seven seats goes for around $4,000. Making your Model X smarter with Autopilot sensors isn't free and will add yet another $2,500 on top of that. Air suspensions, optional on the 70D but standard on the other two models, costs $2,500. If you hit all the other options, like premium sound system ($2,500), subzero weather package ($1,000), and towing option ($750), you get pretty close to the $100,000 mark. You might, indeed, be tempted to abuse that tax loophole, but don't count on it too much.
VIA: Engadget