SteamOS 2-years later: why you don't want it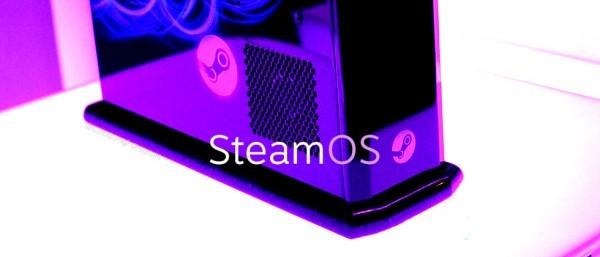 Back in September of 2013, Valve revealed SteamOS – now it's time for action. Here in June of 2015, just a bit under two years later, Valve's revealed the final iteration of the Steam Controller, the key to the system – the one component you can't buy anywhere else. Every other piece of this gaming environment can be had elsewhere, or run on a PC you've got at home. After months and months of preparation, Valve's presented a system they hope will take over your living room. Is it too late? Has the company lost all momentum? Is SteamOS dead in the water before it launches in ernest?
Back when SteamOS was revealed, I thought it was an awesome enough idea that Microsoft should be afraid. Now, not so much. Yes, Steam on the TV is a good idea. No, it's not going to displace the Xbox One
It's not going to outmode the PlayStation 4, either.
Instead, Valve is – or at least WAS back when it was first speaking about the system – preparing to command the living room with a Steam Machine that'd present a whole different aim. Not to run apps that are made just for the living room, but giving you the option to play the apps you already own – on your PC – anywhere you like.
That dream may have been lost in the many months since Valve's first announcements. Lost to none other than NVIDIA, one of their key partners in SteamOS's release.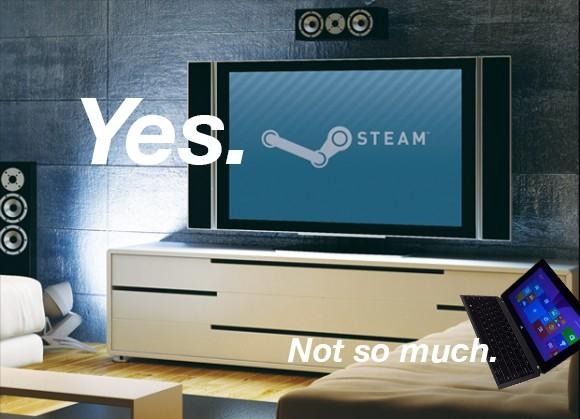 Yes, Steam on the TV is a good idea. No, it's not going to displace the Xbox One.
Not long after SteamOS was launched, we had a chat with NVIDIA's Brian Burke. Back then, only the first NVIDIA SHIELD had launched – that's the device now called NVIDIA SHIELD Portable.
NVIDIA SHIELD Portable – and the SHIELD Tablet and NVIDIA SHIELD Android TV after that – all worked with GameStream technology, allowing users to stream PC games to their TV.
The most recent NVIDIA SHIELD device, the one you see here, centers on the TV, providing gaming from Android, the cloud (see NVIDIA GRID), and your home PC.
Have a peek at our NVIDIA SHIELD Android TV Review to see what it's all about.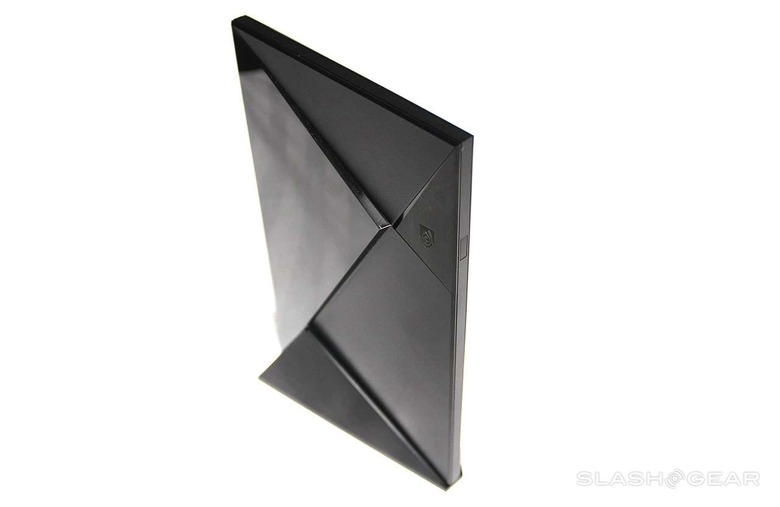 NVIDIA's GameStream works with Steam and Big Picture Mode, too.
This is similar to what SteamOS is doing – and in fact there's a device made by Valve called the Steam Link that does almost exactly the same thing as GameStream PC streaming. Valve will release the Steam Link in October when SteamOS launches with the Steam Controller.
When asked about whether or not NVIDIA SHIELD was, at one point or another, connected to SteamOS directly, Burke suggested the following.
"As far as the SHIELD/Steam Machine connection you reference, we feel SteamOS validates streaming as a use case," said Burke.
"And it is worth noting that with SHIELD and SteamOS are both open-platforms. Open-platform gaming is becoming increasingly more important."
Open-platform gaming is one of the KEY reasons why you might want to consider SteamOS. While the dream might have been realized early by companies like NVIDIA, the open nature of the Linux-based software SteamOS has lots of potential.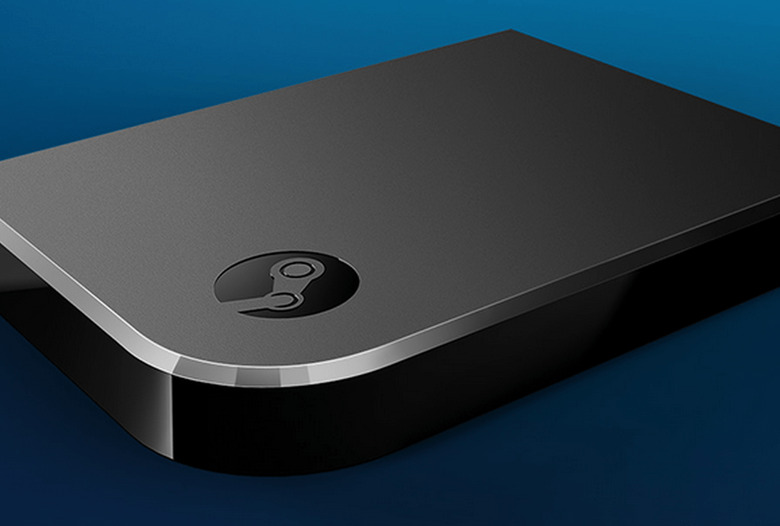 ABOVE: Valve's "Steam Link" device, prepared for release at the same time as the Steam Controller, this November for the public.
But it's been a long time since Valve first showed off SteamOS. Especially considering how it seemed – by all means – that we'd have Steam Machines by the end of 2014.
What's happened to SteamOS?
Is it dead?
Did SteamOS sputter and die?
Not so much.
Valve's used the time between September of 2013 and now to test SteamOS. Steam Machines have been in the hands of testers in the wild – and it's been available for download by the public for many months. SteamOS is out thee – you can load it to your PC right now if you want to – but Valve isn't quite prepared to bring Version 1.0 to the public as of yet.
Valve isn't going for a BIG BANG release.
They're making sure it all works before they push it all to the public.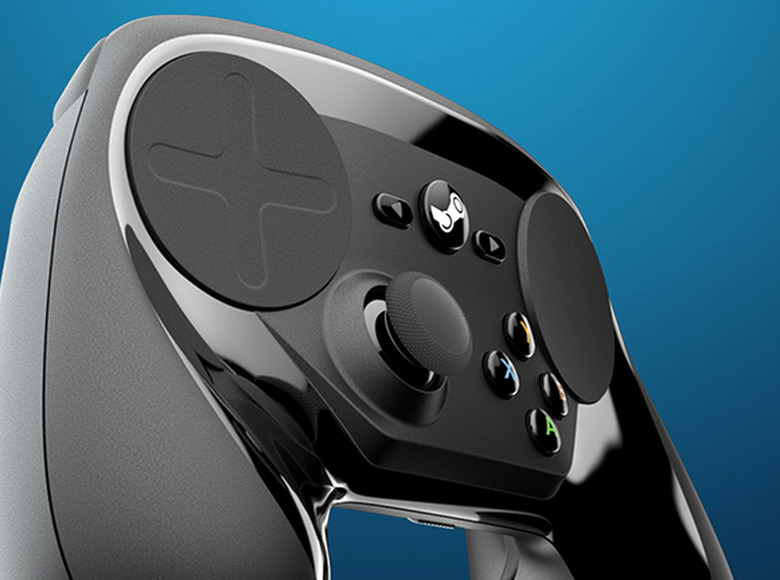 You might not want a Steam Machine, but you can make SteamOS work on a machine you already own right this minute.
Come October – if you've tapped into a pre-order of the SHIELD Controller, for example – you'll be able to roll with SteamOS in your home on a computer of your choice, just so long as it has minimum requirement components.
It's easy.DO IT YOURSELF• Processor: Intel or AMD 64-bit capable processor• Memory: 4GB or more RAM• Hard Drive: 500GB or larger disk• Video Card: NVIDIA graphics card OR AMD graphics card (RADEON 8500 and later), Intel graphics• Additional: UEFI boot support, USB port for installation
Valve has a full – super easy – Do It Yourself Guide prepared with downloads and everything. It's easy.
You can also purchase a Steam Machine – that's a device with SteamOS loaded to it by its manufacturer. Have a peek at our Steam Machine starting lineup article from back in January of 2014 for all the possibilities.
You might not remember why you were so excited about SteamOS when it was first revealed, but there's plenty to be pumped about. Even IF you've ran out of hype in the time between September of 2013 and now, Valve hasn't. You'll see what I mean (if you haven't already) the next time you log in to Steam.
This system is going to be like NVIDIA SHIELD, but a whole lot beefier. It's going to be radical. TV will never be the same.
Forget everything you know about jamming a massive PC into your TV stand.
Forget everything you know about PC enthusiasts using any other sort of smart TV equipment.
This is Valve's vision for a full home takeover. They've just not been too out there about how they want to make you adapt and adopt.
SteamOS is coming.
You might not remember why you wanted it, but you will.