Full Steam Machine 2014 starting lineup detailed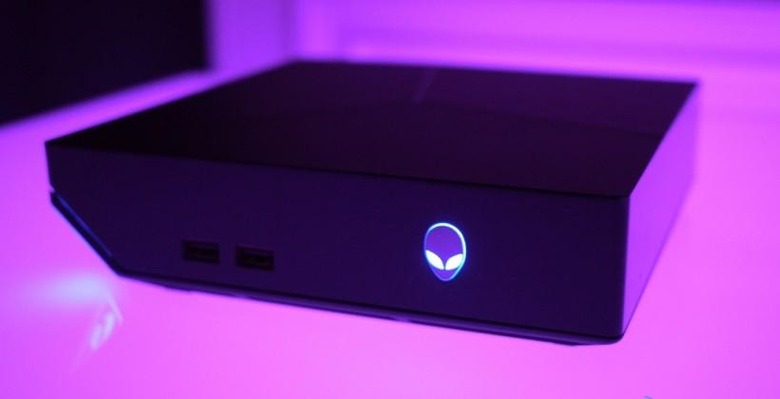 This week the folks at Valve have released information – basic information, that is – on their first full collection of Steam Machines from a variety of manufacturers. What we're seeing is one machine each from the following creators: Alienware, Alternate, CyberpowerPC, Falcon Northwest, iBuyPower, Next SPA, SCAN, Zotac, Webhallen, Materiel.net, Gigabyte, Maingear, and Digital Storm. While we've seen a couple of these machines revealed by their makers before, we've never seen the whole group at once.
First you'll find the Gigabyte Brix Pro, a mid-sized casing with an Intel Core i7770R processor inside with Intel Iris Pro 5200 graphics. The Brix Pro Steam Machine works with 2 x 4GB RAM and storage at 1TB SATA 6Gb/s. This Gigabyte machine does not yet have a starting price.
You'll find the Material.net machine coming in with MSI GeForce GTX 760 OC graphics and an Intel Core i5 4440 CPU. This machine works with 8GB of RAM, and storage at 8GB+1TB SSHD. This entry works with a starting price at $1,098 USD. With the Origin PC Chronos Steam Machine, you'll find a TBD price range as it's configurable. This device can have an Intel Core i7 processor, 2 x 6GB NVIDIA GeForce GTX TITAN, and unlimited RAM and storage – whatever you want, man.
The Webhallen machine stores an NVIDIA GTX 780 GPU, Intel Core i7 CPU, and a price range starting at $1,499 USD. There's a Maingear entry that's not quite yet detailed, but we can guess that it'll be in one of their fancy tall cases while we're at it. Zotac's machine is an especially inexpensive $599 USD working with an Intel Core, NVIDIA GeForce GTX graphics, and TBD everything else.
The SCAN NC10 works with a $1,090 price tag and NVIDIA GeForce GTX 765M graphics under the hood. Paired with 500GB storage and RAM at 8GB, this Intel Core i3-toting machine looks a lot like a silver external hard drive – but it is indeed a Steam Machine. The NEXT SPA machine works with a TBD price range and starts with an Intel Core i5 processor alongside NVIDIA GTX 760 GPU.
The iBuyPower Steam Machine works with Quad-core AMD or Intel CPU power, Radeon GCN graphics, and RAM a 8GB. With storage at 500GB+, you'll find this machine coding $499 USD and up. The CyberPowerPC entry works with a $499 and up price tag, AMD/Intel Core i5 CPU, AMD Radeon R9 270 / NVIDIA GTX 760 graphics, and 8GB of RAM + 500GB storage as well.
One of the more extravagant Steam Machines in the lot is the Falcon Northwest TIKI, working with a price range between $1,799 and $6,000 USD. That'll be the custom-painted all-tricked-out machine with highest-end custom-picked CPU, NVIDIA GeForce GTX TITAN graphics, and the rest. Alternate's entry works with Intel Core i5 CPU, a Gigabyte GTX 760 graphics, and 16GB RAM, along with 1TB SSHD storage.
The Alienware Steam Machine works with details unknown. You will find a rather fancy looking case to its name, however with a relatively small form factor, the Alienware logo alien head, and the Steam logo at the edge in bright lights.
We're also to understand that Valve isn't ruling out the possibility of making their own Steam Machines to sell to the public. They've also got their first wave of test machines for those brave enough to test them. Have a peek at our collection of up-close eyes-on with these machines above, and have at em!