SlashGear 101: Apple CarPlay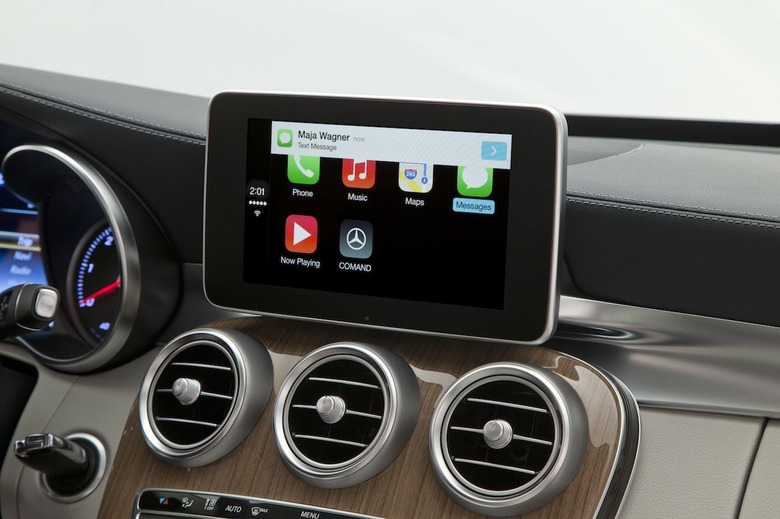 The closest you'll get to an iCar, and what Apple claims is the future for the dashboard, CarPlay represents Apple's play in the next big battle around mobility. Dubbed "the best iPhone experience on four wheels" and already gaining the support of some big names in automotive, Apple CarPlay bridges the iOS experience with the center console and promises both greater functionality and greater safety than the native infotainment systems you'd usually find while behind the wheel. Read on past the cut for the full low-down.
Wasn't this "iOS in the Car"?
Apple first mentioned "iOS in the Car" as part of its iOS 7 presentation at WWDC 2013 last June, a way to bring iPhone functionality in a cohesive and non-distracting way to drivers. A long list of car makers interested in the technology was confirmed, along with some basic details on functionality like streaming music, navigation, and calls.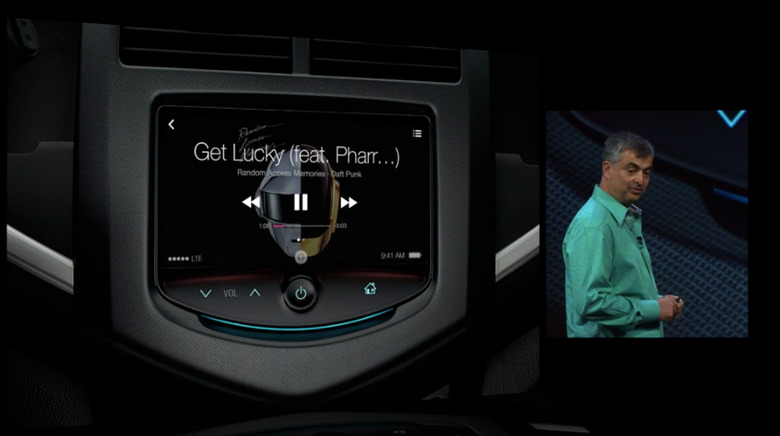 However, since then, official chatter of iOS in the Car had all but dried-up, though that didn't stop the rumors from circulating as to when the system might reach showrooms. Evidence of early code was spotted in pre-release iOS 7 betas, and earlier this year canny developers even managed to coax a walkthrough out of the none-final code.
What can it do?
Effectively, the core features of iOS, only redressed to be used while driving. After connecting your iPhone to your car via a Lightning cable – though wireless connections will also be supported eventually, using WiFi – it loads the smartphone into CarPlay mode and pushes its graphics to the car's own dashboard display.
Different cars will display that in different ways: Volvo, for instance, will frame CarPlay with its own touchscreen controls for HVAC and other core features, while Mercedes-Benz will give over its entire LCD to CarPlay. However, no matter what, there'll be support for incoming and outgoing calls, sending and receiving messages, playing music, and getting navigation instructions from Apple Maps.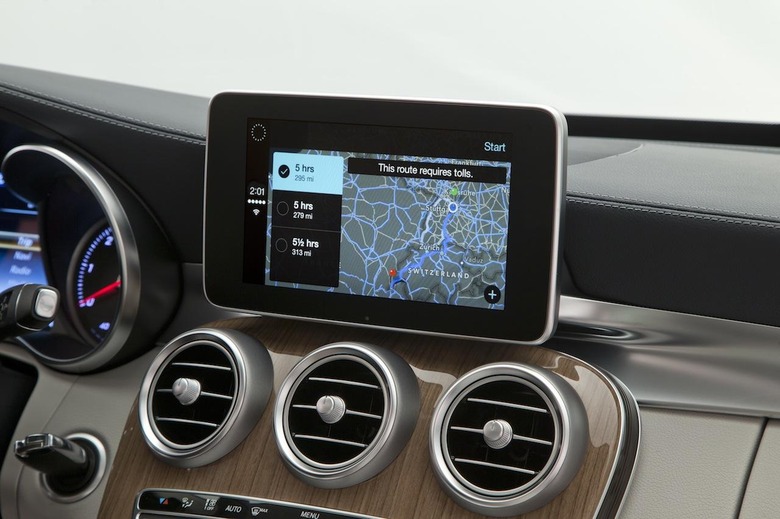 The car's own native controls – touchscreen, buttons on the steering wheel, scroll wheels down in the center console, or whatever else the vehicle has – will work to remotely navigate through CarPlay. However, Apple expects Siri to be the primary method of interaction, triggered with the voice-control button on the wheel and then given hands-free instructions.
Can I use my favorite apps?
That depends on what your favorite apps are. Third-party app support is included, but only for a subset of titles. At launch that will include Spotify, iHeartRadio, Stitcher, Beats Radio, and the Podcasts app, with Apple promising more in the pipeline.

However, the portfolio is going to be slimmer than the full range of titles you can install on your iPhone from the App Store, and it'll also mean Apple can limit which developers reach you while you're driving. For instance, there's no guarantee that Google Maps will be allowed to run in CarPlay mode, and similarly there's no video playback support.
It'll also be limited to a selection of countries where iPhone and iOS 7 are offered. That will include the US, UK, Australia, Canada, France, Germany, Hong Kong, Italy, Japan, Mexico, Korea, Spain, and Switzerland.
It all sounds expensive
Apple's headline launch partners – Mercedes-Benz, Ferrari, and Volvo – do have a reputation for producing expensive cars, but there are other on the list that span the gamut of pricing. Honda, Hyundai, and Jaguar are all planning to release models with CarPlay support sometime this year, for instance.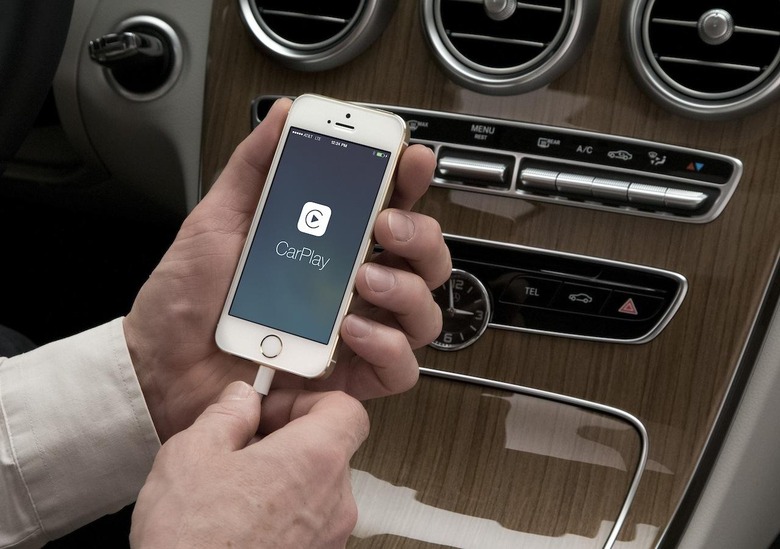 Affordability will increase after that, with BMW, Chevrolet, Ford, Kia, Land Rover, Mitsubishi, Nissan, Opel, Peugeot-Citroen, Subaru, Suzuki, and Toyota all committed to putting CarPlay in their cars.
Exactly which models will get CarPlay is only partially confirmed at this stage. Mercedes-Benz has demonstrated it on the new C-Class, its entry-level sedan, while Volvo will use it first on the XC90 SUV expected to launch later in 2014. It's unclear whether CarPlay will be a no-cost option or an upgrade, as has been the case with third-party iPhone integration from some marques in the past.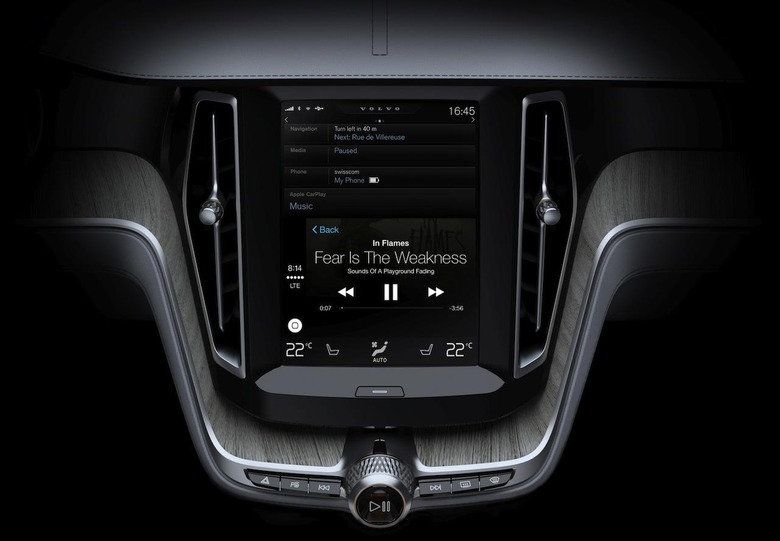 What there's no sign of is an aftermarket CarPlay system: a replacement head-unit that those happy with their existing car but wanting deep iOS integration could switch out their current infotainment kit for. It's not clear whether Apple will ever support that, given the need for at least some hardware controls like a steering wheel button for Siri.
Will it be distracting to drivers?
Apple insists no, and argues that in fact it's much safer running a small subset of apps with a car-specific interface – including pared-back features and bigger buttons – than iPhone users looking at their handset's display and trying to navigate on a phone, even if it's mounted in a cradle. Interweaving CarPlay with the car's own native controls also takes advantage of the manufacturers' own ergonomic research, rather than trying to reinvent the wheel.

Nonetheless, driver distraction is a hot topic right now, and CarPlay is only likely to stoke those discussions. The US National Highway Traffic Safety Administration (NHTSA) has already proposed limits to touchscreen use while driving, though the initial expectation is that they'd be voluntary not mandatory.
However even with Siri's assistance, the research around hands-free use isn't conclusive. Tests around voice controlled systems last year found they could be just as distracting as physical or touchscreen controls, in fact, with speech-to-text particularly cited as a concern. While the driver's hands were still on the wheel, the University of Utah research discovered, so-called "inattention blindness" could still lead to sluggish responses while using voice-controlled interfaces, delaying the reaction time to pedestrians stepping out into the road or hazards presented by other cars.
That's something that's not only going to impact Apple's CarPlay, however, and regulators are still unsure how strictly they'll need to govern the rise in smart car systems. Google too is believed to be working on a system piping Android phones to dashboard displays, and the search giant is already lobbying against proposed wearable technology bans that could force drivers to remove Glass before they start their engines.
So when can I get it?
CarPlay will begin showing up in cars this year, from Volvo, Mercedes-Benz, and Ferrari. You'll need an iPhone 5s, iPhone 5c, or iPhone 5 in order to use it.