Should you buy a new iPad or an Android tablet?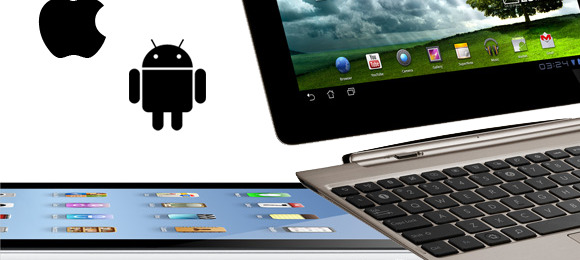 Welcome to the 2012 edition of "which tablet should I purchase this year?" Apple's new iPad has the resolution and the 4G connection, not to mention a brand new and improved A5X chip with two CPU cores and four GPU cores – is that impressive enough to sway you away from a brand new Android tablet such as the ASUS Transformer Prime? It's a tablet with rather similar specifications and one whole heck of a lot longer name, not to mention Android's newest version 4.0 Ice Cream Sandwich. Or is that not what you're looking for at all? Perhaps Apple is your one and only choice?
The brand new iPad is Apple's newest effort in the mobile space with a styling not unlike the iPad 2, save for some rather impressive specification improvements. The full list of improvements this device has over its predecessor can be found in the post known as The new iPad vs iPad 2. You'll find that this device has a battery that lasts for 9 hours on LTE, 10 hours on wi-fi, that the same as the iPad 2 but with twice the battery capacity, this meaning that the Retina display and the 4G LTE modem require a punch of power to be sure.
The ASUS Transformer Prime is a good example of a top-class Android tablet in that not only is it the first tablet on the market with an official build of Google's newest mobile software Android 4.0 Ice Cream Sandwich, it's in direct competition for chip power with NVIDIA Tegra 3 quad-core processor. Apple contended at the iPad event this month that their new A5X chip out-does the Tegra 3 in the graphics department without much for hard numbers to back it all up outside "4x vs 1x performance." NVIDIA has challenged Apple to back up their claims since that day, but we've yet to see the results of said battle.
Meanwhile both devices have massively impressive displays up front, the iPad having a 9.7-inch LED-backlit IPS "Retina" quality display at 2048 x 1536 pixels. There are several models at this point of the Transformer Prime, the one we've reviewed (the original) having 1280 x 800 pixel resolution, the newest model (the Transformer Pad Infinity 700) coming in at 1920 x 1200 pixel resolution. Each of these models has a 10.1-inch LED backlit IPS+ display, this meaning you'll get a bit brighter action than the iPad, but because they're not nearly as dense on the pixels, none are quite as sharp.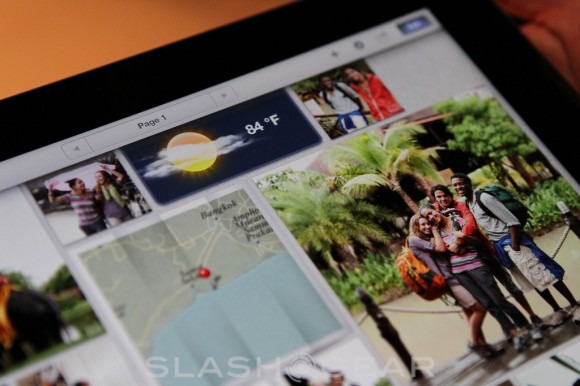 Both the iPad and the Transformer Prime have 1GB of memory inside – this is pretty standard these days amongst high-quality tablets, both the Samsung Galaxy Note and the Toshiba Excite X10 LE having this amount of memory as well. For internal storage on the Transformer Prime you'll have the choice of either 32GB or 64GB models with the option to expand by another 32GB with its microSD card slot. The new iPad has three models for size, 16GB, 32GB, and 64GB, but with no microSD card slot for memory expansion on any of them.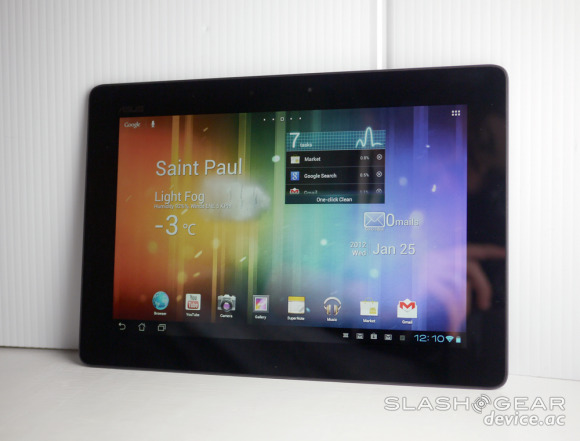 Both the iPad and the Transformer Prime have a headphone jack and their own proprietary dock connector to hook up with your PC. The iPad also has the ability to connect to HDMI with an Apple-made converter cord while the Transformer Prime has a microHDMI port built in. Both units also have a standard 3.5mm headphone jack for audio.
One place where the Transformer Prime really appears to shine at the moment is in its set of high-quality cameras. The front-facing camera for the Transformer Prime is 2-megapixels strong while the back is 8-megapixels capable of 1080p video as well as taking flash photos (with its LED flash bulb.) The 2012 edition of the iPad has vastly improved cameras over its older model iPad 2, and they certainly do seem to be taking strides towards an equitable set of video/photo machines, but still don't look at first to be equalling what Asus has presented. The new iPad has a VGA quality camera up front and a 5-megapixel camera on the back, also capable of 1080p video but having no flash bulb for flash photos. Apple is also very vocal about their "5-element lens" and IR filter made specifically for this camera setup for superior quality photos and video. We'll see about that soon!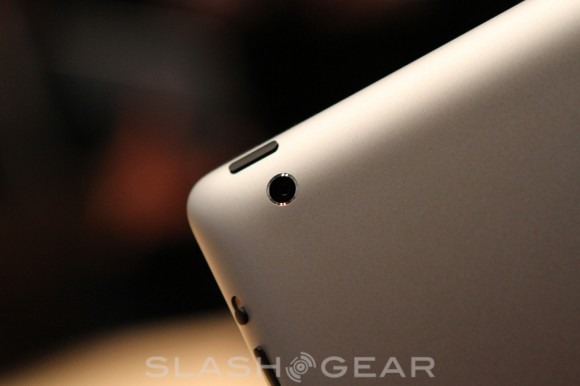 The Transformer Prime, the original that is, does not have the ability to connect to a cellular network, while its newest relative, the Transformer Pad Infinity 700, is able to work with either 3G or 4G – note though that the model that does connect thusly also has a dual-core processor from Qualcomm instead of a quad-core from NVIDIA. This Qualcomm processor is the MSM 8260A/8960 Snapdragon S4 on the other hand again, it being mightily impressive in what we've seen of it thus far. The 3rd generation iPad has the ability to connect to 4G LTE, either through AT&T or through Verizon, and we'll be seeing how fantastic these speeds really can be soon enough.
The Transformer Prime is 8.3mm thin and weighs in at 586g. The newest model iPad is 9.4mm thin and weighs in at either 652g or 662g depending on if you've got the 4G model or not. These sizes end up being basically inconsequential when you consider how tiny and impressively light they each are when handled on their own, so do not worry about the differences in anyway – tell them I told you so.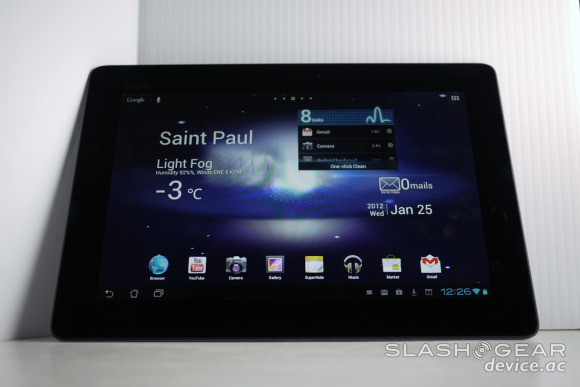 ASUS is unique in its offering of a tablet running Android that also has a custom-made keyboard dock that's meant to go with it. You'll be running a rather one-of-a-kind setup with your own laptop when you want it, tablet when you don't set of hardware. The iPad is, on the other hand, one of the most popular devices on the planet as far as 3rd party technology goes, with accessory makers around the earth trying to get in on the party with their own keyboard dock, case, or otherwise iPad-connected device of any sort. You'll be able to find essentially whatever you want to add on to this device is the long and short of things here.
You'll be able to find a Transformer Prime at essentially any large electronics store today for a total of $499.99 USD with no wait in line. You'll be tossing down a few more bucks for the keyboard dock if you like, but the tablet itself costs the basic $500. For the iPad you've also got the least expensive model sitting at that same price, $499.99. Apple also has its many other models ranging from that $500 spot all the way up to the 64GB version on 4G LTE for $829 – that's some hot potatoes!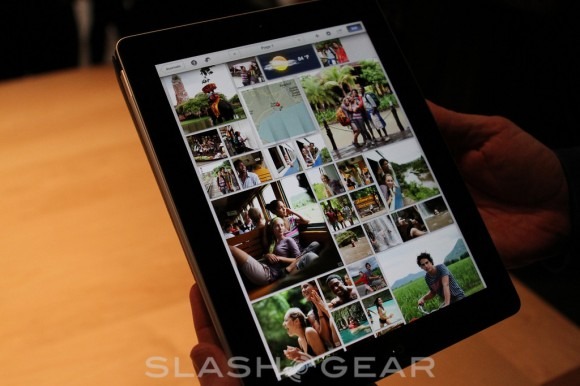 Which one should you choose? It really truly depends on what kind of experience you're looking to have. The Apple mobile operating system iOS is a very different beast from Google's Android, and they've both got massive followings in both the user and developer sectors. You're not going to be left out in the cold with either an iPad or an ASUS device, you can be sure of that.
If you're going for the Transformer Prime you can also check out our full review back before it had Android 4.0 Ice Cream Sandwich or right after it received the update that made it the first in its class. The new iPad we've got hands-on time with already and a full review will be coming in kind when we get our hands on one!
Also remember that we've got our very own iPad giveaway going on right now for those of you feeling lucky and desiring the prize more than any other person on earth. Join in now!