Apple new iPad hands-on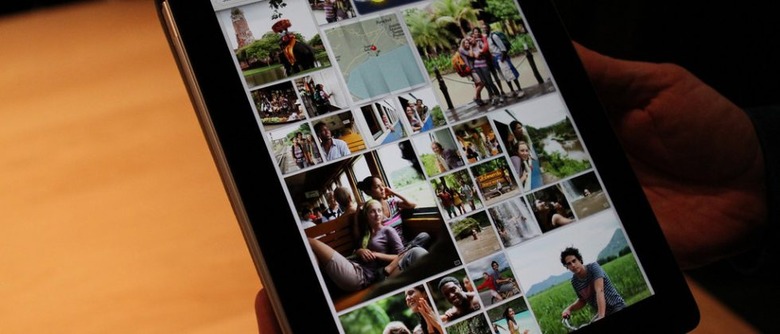 "It's Resolutionary" Apple says of the new iPad, and we have to agree. We've just grabbed some hands-on time with the new Retina Display iOS 5.1 tablet, and the difference from the iPad 2 – which, remember, stays on sale alongside it – is vast. The pixels in the 2048 x 1536 display are, at regular arm's length, completely indistinguishable: it's only when you get up close that you can make them out.UPDATE: SlashGear's review of the new iPad here.
Physically, it's 0.11 pounds heavier than the existing iPad 2, though it's hardly noticeable. In the hand the brushed aluminum chassis feels much the same as before, but the picture quality is so crisp it looks like a promotional mock-up. Viewing angles are huge, too, certainly on a par with what we've seen from Super AMOLED panels in recent months.
Performance from the A5X dual-core processor – with its quadcore GPU – is swift, with apps loading and multitasking flipping through with zero lag. That's pretty much what we're used to from the A5, admittedly; we'll have to wait and see how the heavy-duty games hold up, though, when more developers begin to test the limits of the iPad's abilities. From what we've seen of iPhoto and iMove, though, multimedia editing is potentially faster on the new iPad than on a regular desktop machine.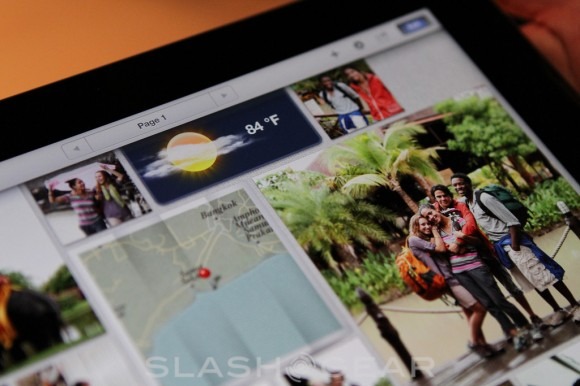 No Siri, but Apple has added voice dictation to iOS 5.1. Though it's not exactly quiet here at Apple's demo area, the voice recognition seemed as solid as we've come to expect from the iPhone 4S, though you'll need an internet connection in order to use it. That brings us neatly to 4G LTE, and we'll be very keen to see during our review whether the battery claims – 9hrs of active LTE – pan out.
The New iPad hands-on
Should you opt for the new iPad rather than the discounted $399 iPad 2? From our brief experience with the new Retina Display, it's hard to imagine going back to less pixel-dense panels. When third-party developers jump on board and begin crafting Retina Display-compatible titles, the iPad 2 may start looking like a poor choice for anyone but those on the strictest of budgets. Make no mistake, the new iPad has reset the bar for the tablet segment, leaving Android and Windows 8 OEMs playing catch-up once again.