All New iPad Giveaway courtesy of SlashGear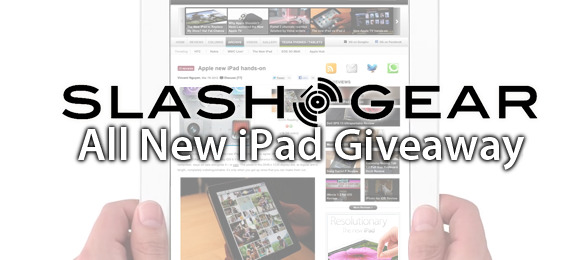 The day has arrived, details were given, and it's finally here! The all new iPad from Apple. Putting all those rumors to rest we now know everything about the new iPad (3rd Generation) and you can learn everything and more from our Apple Hub. Lucky for all of you we here at SlashGear decided to share with our friends, and will be giving a new iPad 16GB WiFi away to one lucky reader. Head down below for addition details and full giveaway rules.
This "Resolutionary" new iPad boasts an impressive full 1080p HD Retina display with a 2048×1536 resolution (264 pixel-per-inch) making it the best mobile screen we've seen yet — by a wide margin. Apple's also improved the processor with the new Apple A5X chip offering 4x the graphics performance over the competition for some truly impressive gameplay. All of this and more was detailed in our Apple Hub linked to above so I wont go into details. Instead lets talk about how you can win your very own directly from SlashGear.
UPDATE: We have a winner! His name is Richard H, and as he notes he'll be doing the following with his brand new iPad courtesy of SlashGear:
"The new iPad 3 would allow me to more efficiently use the government mandated electronic record and thus help me save more lives. Help me fight the power with power!" – RH
Thank you everyone for participating!
The rules are dead simple. Just follow the few guidelines outlined, and check out the instructions below and you could be the lucky winner of a brand new, shiny, fast, and beautiful, all new iPad 16GB WiFi model.
1. "Like" us on Facebook: /SlashGear

2. Leave a comment in [this Facebook thread] telling us one or more reasons why you want the all new iPad

3. We'll pick a set of our favorites and select a random winner from that group on March 19th!
It's just that simple guys! You may only submit ONCE, and only ONE comment of yours will be considered for the random winner if it's good enough to get into drawing. Then we'll choose the lucky winner and he/she will be enjoying that HD screen, blazing fast graphics and gaming performance, the new iPhoto features and more in no time.
Here's the full rules as well, if you're wondering about all the legalities of the situation:
Rules
Giveaway begins March 12, 12:01AM PST, and ends Monday March 19th, 12:01AM PST barring any complications finding the winner. A winner will be announced here in the main news feed and at our official Facebook page.

Competition is open to residents of the US over the age of 18. One entry per person. Family members of Apple and SlashGear/Android Community are not permitted to enter. Competition entries are only accepted via the specified SlashGear Facebook page; entries left in the comments section of this or any other post will not be recognized.

The winner will be contacted by a SlashGear staff member upon being selected and will be expected to respond to that staff member; they will be expected to respond within 24 hours else their prize may be forfeit and another winner selected. Editors decision is final and no correspondence will be entered into. Winner agrees that their name and details of their entry may be used for promotional purposes by, but not limited to SlashGear.

Prize consists of $499 in cash. The cash value for one Apple iPad 16GB WiFi (3rd Generation). There is no other alternative for prize winner unless this prize should become unavailable, in which case SlashGear reserves the right to substitute another prize of equal or greater value. Any questions can be directed to giveaway[AT]slashgear.com