Apple iPad A5X processor confirmed: 4x the performance of Tegra 3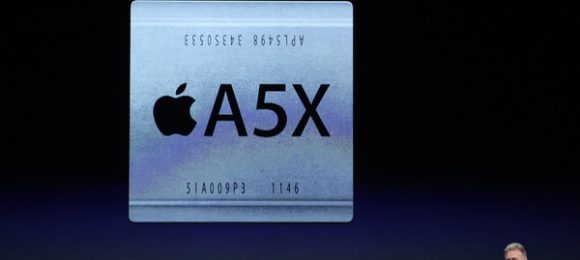 As if all the rumors and leaks weren't all but a sure sign today on stage Tim Cook has officially confirmed the dual-core Apple A5X processor inside the new iPad. While the tablet is still dual-core the X in the name stands for quad-core graphics. Mentioning that we don't need high power usage quad-core processors when we have a dual-core A5 that is excellent, and has now been improved. Then his focus turned to NVIDIA and their Tegra 3 quad-core processor that has seen so much hype as of late. Read on below for his thoughts on the new A5X.
Tim Cook immediately went into talking about the NVIDIA Tegra 3 quad-core processor in all those Android tablets when talking about their own new A5X. After confirming the processor under the hood he revealed that the X stands for quad-core graphics. Graphics that are capable of around 4x the performance of the Tegra 3.
Apple A5 was already twice as fast, this is a graphics powerhouse"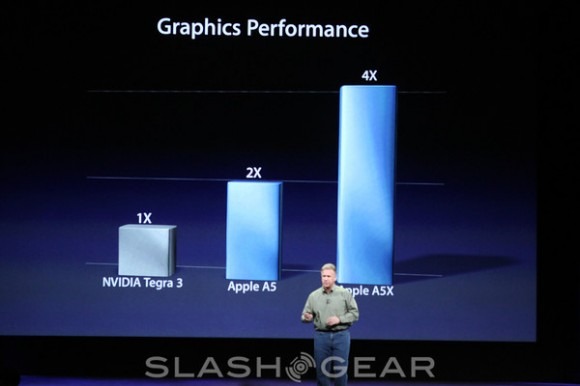 The graph above makes the Tegra 3 seem tiny in comparison. If that turns out to be completely accurate the Android tablet and gaming market will have some catching up to do. We have a feeling we'll be testing this very soon. His comments regarding the original A5 being twice as fast might not be completely true and when we compared the iPad 2 vs the quad-core Transformer Prime we didn't find the same results. Hit the links below for our gaming and benchmark comparisons of the previous generation iPad.
Either way the iPad 2 was already fast, smooth, and extremely capable. Adding more power to the graphics side will only open things up more and offer more games with even better performance than before. iPad has grown up as a device from media consumption to a production machine! Who wants one? Get all of the news, details, and pricing from our Apple Hub!