iPhoto for iOS Review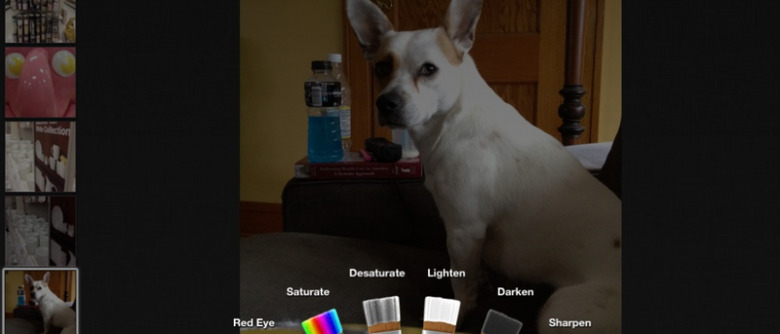 The photography application originally only available on Apple's desktop operating system OS X is now up for download for iOS devices as well: iPhoto, completely re-imagined for mobile! This new application has been released alongside updates for the other two iLife applications iMovie and GarageBand and offers up an interface and functionality made to take full advantage of your multi-touch interfaces and Retina-quality displays. You've got the ability to view, edit, and share photos in a variety of ways with Apple placing special emphasis on iCloud for ultimate syncing power between your collection of iDevices including your iPad, iPhone, and iPod Touch.UPDATE: SlashGear's review of the new iPad here.
For editing, this application allows you both simple and pre-packaged changes for your photos as well as more "full control" abilities where you are the master of the pixels you have before you. Apple designed effects make for one-shot over-all changes to your photos while fingertip brushes have you taking the parts of your photos you want to change and changing them at will. While this application isn't the end-all be-all of photo editing apps, it's certainly a powerful beast when it comes to working with the still photo media you're capturing with your iPhones and iPads on a day to day basis.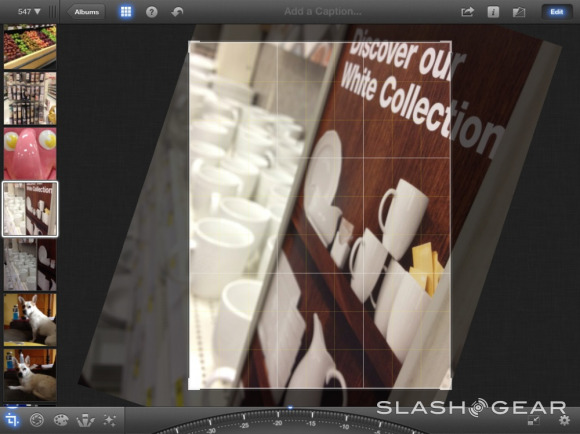 Some of the most excellent features in this app are in the sharing of your photos once they've been successfully edited. You've got organization galore to start with, your photos being separated into so many pre-made and automatically generated folders that your head will spin. Then you've got the ability to take each photo or each collection of photos and share them with such products as the Apple TV with AirPlay or the rest of your iOS devices with instant sync with iCloud.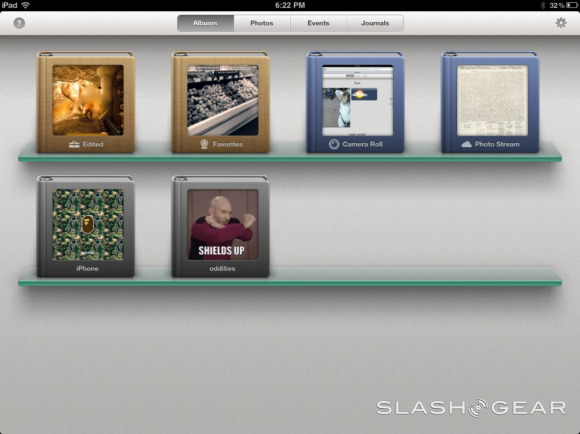 Then there's photo journals, a product of the ultra-simple pre-baked template organization style that's always been at the heart of iLive apps. You've got your photos, you've got tags, and you've got elements like Weather widgets, all of these collected in one little tool kit which you can use to make a journal. Perhaps a name that describes this process a bit better here is a scrapbook, because what you're doing is slapping your photos in a collection based on a pre-defined grid which you can then edit and adjust with tap to edit, pinch to zoom, and so forth.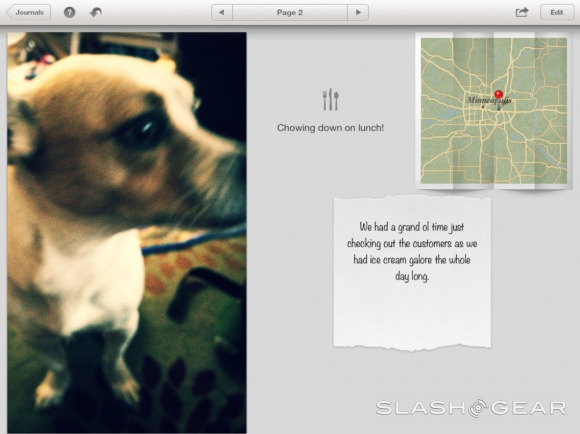 Your journals are able to be shared in a variety of ways, including the excellent share as webpage option which we've also outlined back in the post iPhoto for iOS allows permalinked webspace for Photo Journals. In this is another powerful iCloud proposition for the masses – anyone can see your work, and it's dead simple to accomplish.
iPhoto Hands-on with Photo Editing:
[vms bf22e1daae486fae3417]
iPhoto Hands-on with Organization and Sharing:
[vms d920c0dd5ad0a2a2d5e4]
This application is available from the iTunes App Store starting today for $4.99 USD and requires that you have iPhone 4 or later or iPad 2 or later, each of these requiring also that you have iOS 5.1 running as well – update today!