Samsung Galaxy Tab 8.9 Review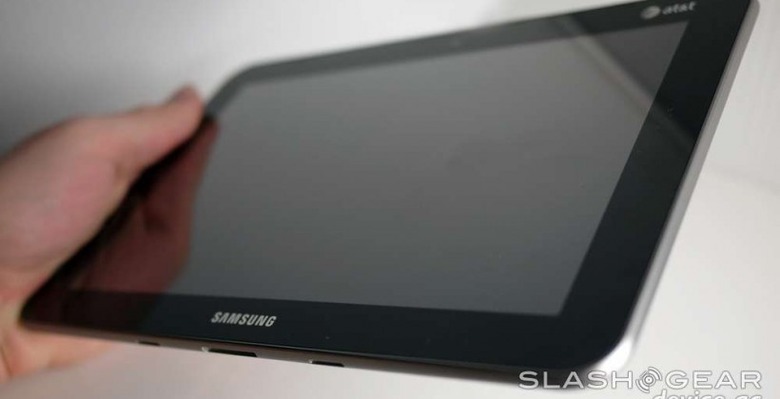 AT&T and Samsung have brought forth a tablet that adds to their set of sleek Android-based slates, this one the first to work with the carrier's 4G LTE network. Inside you'll find the rather powerful 1.5Ghz Qualcomm MSM8660 dual-core processor, Samsung's custom user interface TouchWiz UX made specifically for tablets, and either 16 or 32GB or internal storage. You can take 3 megapixel photos and 720p videos with the back-facing camera, slightly less impressive media with the front-facing 2 megapixel camera. As this tablet is thin, so is it speedy, and as there are now more than four different models of tablet running Android from Samsung on the market today, surely they've gotten the formula correct enough to warrant such an array by now – wouldn't you say?
Hardware
Like its predecessors the Galaxy Tab 10.1 and the Galaxy Tab 7.7, the Galaxy Tab 8.9 is monumentally thin, and just as it was when we first laid eyes and hands on the pre-production build back at CTIA spring 2011, this tablet is a winner when it comes to industrial design. It's simply lovely in its form, feeling like Samsung wanted to knock the tablet game out of the park with a simple set of matte black plastic along the back and silver plastic around the edge, with the entirety of the front being a tough layer of glass and a 1/2-inch border of black under the glass around the 8.9-inch display. This display is a PLS TFT capacitive touchscreen at 800 x 1280 pixel resolution and the whole device sizes in at 230.9 x 157.8 x 8.6 mm.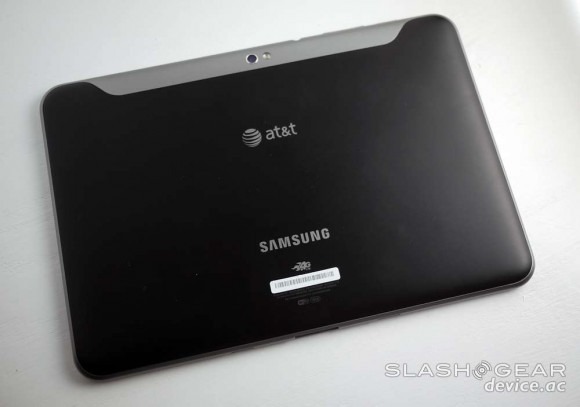 The display is no AMOLED, to be sure, but it is relatively bright and will suffice for your everyday indoor activities. This tablet is in a class with the iPad and the top-tier Androids when it comes to overall quality, and you'll know good and well where your $479.99 (with a free phone) went when you've purchased it. This tablet is the ideal size for those of you wishing for a tablet that's both compact but not so small to fit in your pocket, and certainly light and thin enough to keep in a purse. You'll want to think about purchasing a case for the tablet if you're carrying it around in your daily satchel, especially since you don't want the screen to get all nicked up by keys and coins.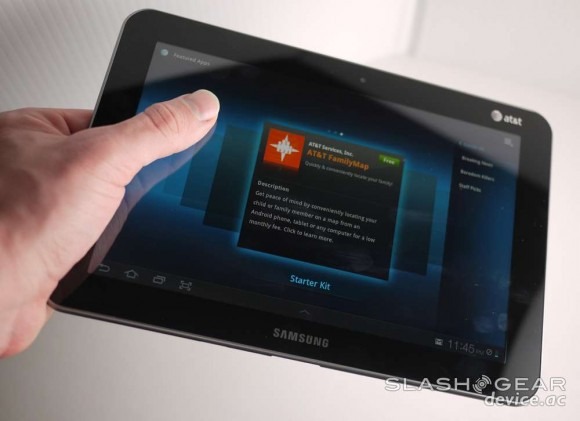 Software
Again take a peek at our review of TouchWiz UX for the Galaxy Tab 10.1 to see what this device is running more in-depth, otherwise feel free to see the hands-on video we've got here to check the size difference. This version of TouchWiz is running a bit more smooth than it was on the 10.1 when it was first launched, and it's certainly nice to have the screenshot feature at the bottom of the screen, but that bar sitting around at all times can get rather annoying. Where Android's tablet-specific operating system version Honeycomb and the soon to be prevalent tablet and handset-based Ice Cream Sandwich both have the feature where these buttons fade down to nearly invisible when you don't need them, Samsung has found it necessary to remind you that they're there at all times with a dedicated bar. This takes away a bit of your screen space for taps as well as for viewing space, mind you, so you may well want to consider this when looking for that perfect tablet.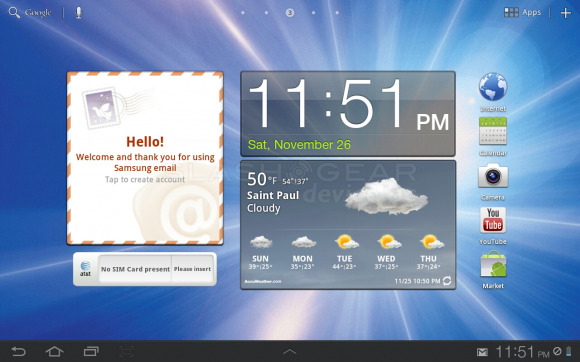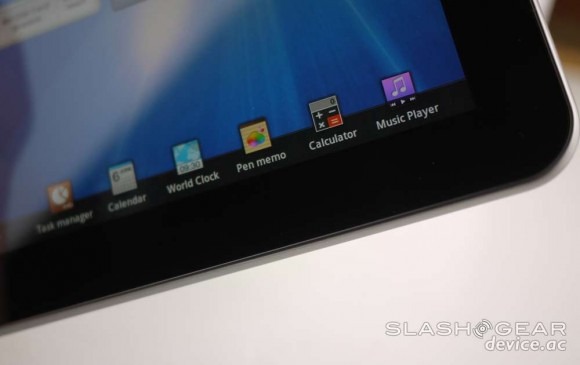 That said, if you've never used Android on a tablet before, you'll probably not notice the difference as compared to even the most massive smartphone, this display will seem like a monster. That's of course also assuming you've never held a tablet of any other kind either – you'll want to compare this tablet to a set of other Samsung devices to choose your true size (for 8.9-inch displays and smaller, of course): Galaxy Note vs Galaxy S II vs Galaxy Tab 7.7. For my own personal use, I'll stick with the Galaxy S II unless I'm playing some games, in which case I won't need an internet connection and will of course want the Wi-fi version of the 8.9 instead of this LTE-connected slate we're looking at today.
Camera
The shooter on the back of this device is decent for the 3 megapixels it packs. You won't be collecting the same masterpieces your Galaxy Note and your Galaxy S II are rolling with, but for Facebook images and sharing on Google+, you should be ok. Have a peek at a couple examples at 3 megapixels for photos and 720p for video below.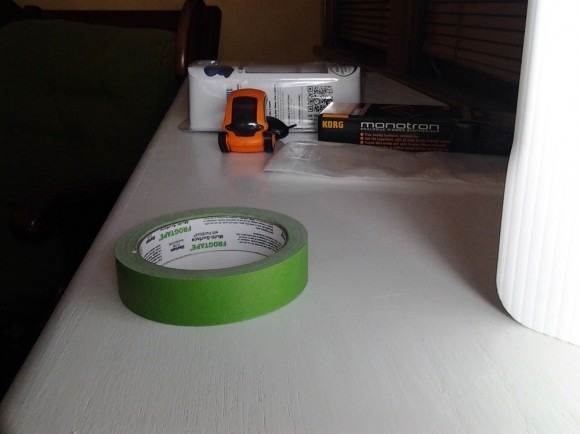 Battery and Speed Test
Like most tablets these days, the battery on this device appears to be doing quite well. You're working with a 6100 mAh lithium ion non-removable unit here, and since that's pretty massive and you're not going to be using this device nearly as much as you do a smartphone, you'll be good for AT LEAST a full day's work and play. When you're running streaming video, you'll be slightly less successful with around 7-8 hours. Enough for a few movies on a long car ride. Playing high-demand games will yield similar results, but in the upper 9-10 hour area if you've started with a full battery.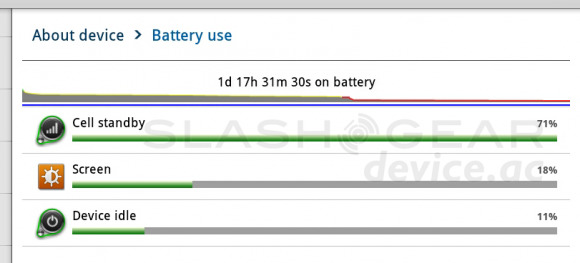 Have a peek at the LTE speeds as recorded in a real live AT&T 4G LTE city, one of the few in the united states today. Note that this device can also access AT&T's much larger HSPA+ network which also goes relatively quick.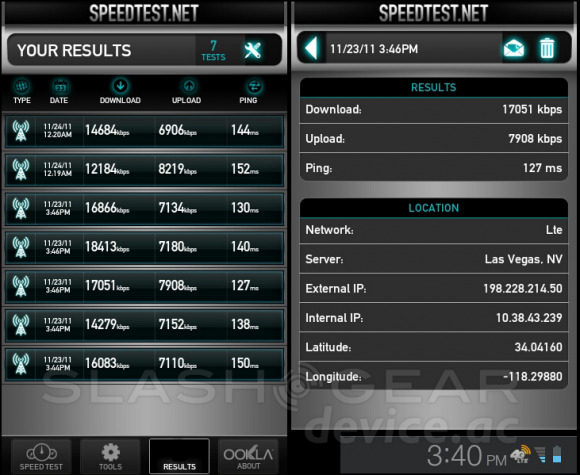 Hands-on Demonstration
What you've gotta know right this second about the first hands-on your humble narrator did on this device is that I was a complete idiot and made the device look like a wanker because I didn't realize it was downloading a ton of apps all at once. You can head back to that post and leave some incendiary comments, or have a look at a much more accurate hands-on demonstration here. No bugs found!
Wrap-Up
Samsung appears to be trying for every single size device here in the smart mobile world, with 10.1-inches, 8.9, 7.7, 7, 5.3, 5, 4.65, 4.52, 4.5, 4.3, and the list goes on and on. No matter what you want, Samsung has you covered in AT LEAST the display size department. The Galaxy Tab 8.9 is the nicest size I've seen for playing games – not too big, not too small, but I must admit I've not personally held the 7.7 in my hands yet, so we'll see how that ads up when it does.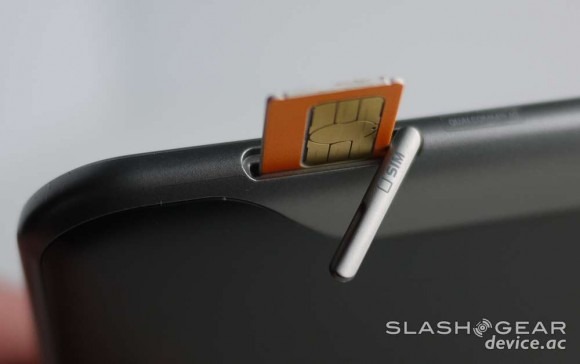 As far as connections go, Samsung doesn't seem too concerned with allowing you to hook up to anything but your personal computer via the USB cord they include – and note, this isn't a microUSB cord, it's one unique to Samsung's tablet line. You can purchase peripherals like the USB connector you can see in your humble narrator's review of a wireless gamepad controller on Android Community, but they all come separate. You can also plug in a headphone cord at the top of this tablet, but other than that, you'll be picking up extra converters to connect. Then it all comes down to size when deciding, otherwise it's the same great Samsung tablet you saw with the original Galaxy Tab 10.1.