Samsung Galaxy Note Review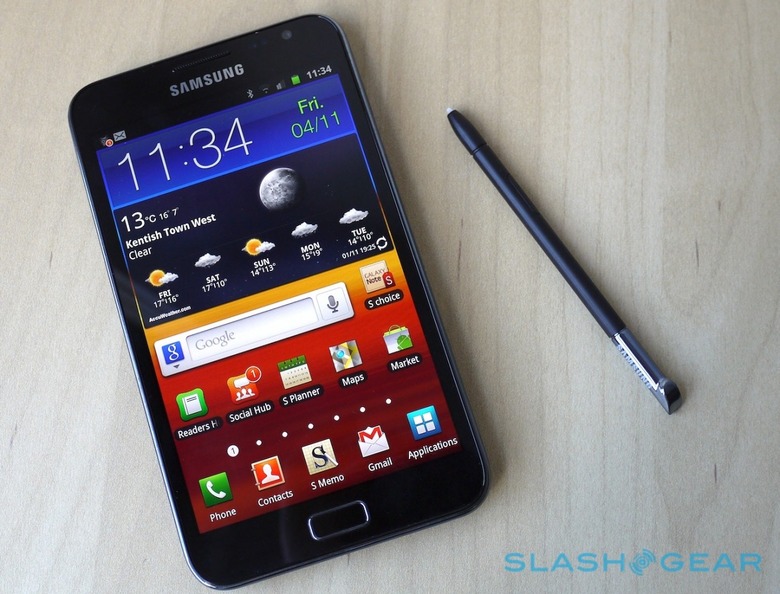 Big phone, small tablet, or unnecessary hybrid? Questions bubble up uncontrollably around the Samsung Galaxy Note; strangers can't help but ask questions. No, we don't have tiny hands; no, we didn't put our iPad through a hot wash; no, just because it has a stylus, doesn't mean it's running Windows Mobile. Is 5.3-inches of Android more than any man, woman or child should be expected to stomach, or has Samsung's scattershot approach to mobile device sizing struck gold this time around? Read on for the full SlashGear review.Update: Samsung Galaxy Note (LTE) Review for AT&T network
Hardware
The Samsung Galaxy S II looked vast when we first saw it; the Galaxy Note knocks its smaller cellular sibling into the proverbial cocked hat. At 146.85 x 82.95 x 9.65 mm and 178g it's certainly a handful, though the sub-centimeter thickness does mean it's still relatively straightforward to slip into the front pocket of your jeans, assuming they're not hipster-tight. It's also faintly ridiculous to hold to your head during voice calls, like you're resting your face against a broad Swedish cracker-bread, only smoother.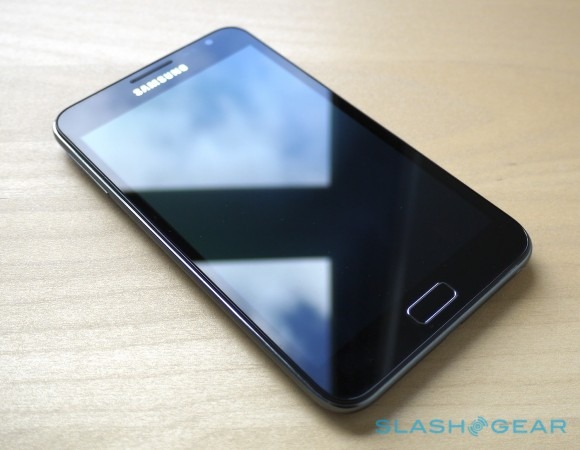 Still, you can't argue with why Samsung opted for such outré dimensions: the Galaxy Note offers a 5.3-inch Super AMOLED HD display running, as the name suggests, at an eye-searing 1280 x 800 resolution. Like all of Samsung's Super AMOLED panels before it, viewing angles are so broad that, from the side, the display looks painted on. Colors are vibrant, blacks as dark as a distant nebula.
Samsung had arguably been resting on its AMOLED laurels with recent GSII-variants, making do with WVGA resolution and counting on image quality to offset a shortage of pixels, but the Note quickly brings things bang up to date. The only criticism we can level – on paper at least – is Samsung's use of a PenTile display, which lacks sub-pixels and can leave screens with a color tinge. In practice, it's not something we noticed in our time with the phone.
Samsung Galaxy Note: Overview
Other specs are familiar from the Galaxy S II line, along with the design. The plastic chassis is sturdy, though the battery cover – as always – feels flimsy and delicate when you prise it off. A physical home button below the display is flanked by touch-sensitive menu and back buttons, while a 2-megapixel front-facing camera sits above the display. On the back is an 8-megapixel autofocus camera with LED flash and support for 1080p 30fps video recording. A microUSB port on the bottom handles charging/syncing, while the power/lock button is on the upper right edge – slightly too high and tricky to locate on first stab, in our experience – while the volume rocker is on the left edge – also slightly too high and slightly too short for entirely comfortable use.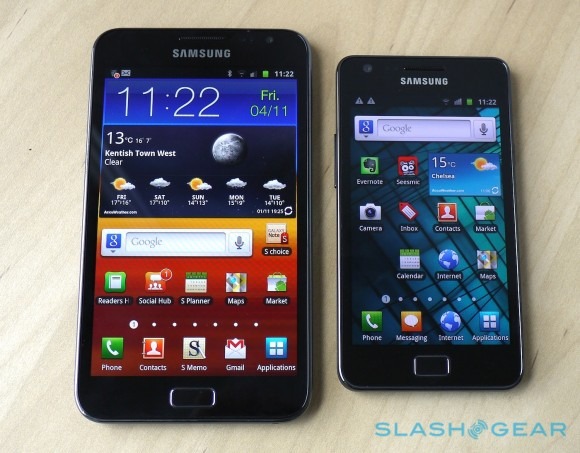 Inside, Samsung has opted for a 1.4GHz dual-core processor, paired with 1GB of RAM and either 16GB or 32GB of internal storage. A microSD card – under the battery cover, next to the capacious 2,500 mAh Li-Ion battery pack – can extend that by up to 32GB. Wireless connectivity includes quadband WCDMA/UMTS with support for up to 21Mbps HSPA+, quadband GSM/EDGE, WiFI a/b/g/n on the 2.4GHz and 5GHz bands, and Bluetooth 3.0+HS. No dedicated HDMI port, but the microUSB 2.0 port supports MHL HDMI with the correct – and not included – adapter. There's obviously GPS, a digital compass, accelerometer, gyroscope and the proximity/light sensors, together with an FM radio with RDS that uses your wired headphones as an antenna.
In short, it's a device that's at the top of its game when it comes to hardware, though Samsung hasn't left its screen to wow on merely proportions and pixels. Instead, the Koreans turned to Wacom and a clever digital stylus, to prove that there's still a place in mobile for the pen.
S-Pen Stylus
It didn't take Steve Jobs' comments on the stylus – "If you see a stylus they blew it" – to sour opinions on the mobile matchstick, but they certainly did pen-toting tablets and smartphones no favors. There's more than one way to implement a digital pen, however, and Samsung's system deserves more than a second glance.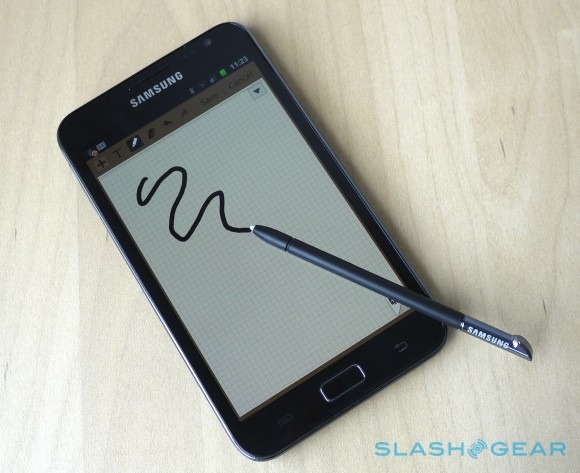 Rather than relying on a resistive touchscreen, or an inaccurate capacitive stylus, the Galaxy Note uses a Wacom active digitizer system. Wacom is best known for its artists' tablets, but the company also has a history of supplying Tablet PC manufacturers with digitizers for their pen-enabled Windows slates. Microsoft's platform may not be so hot with a pen, but that's not Wacom's fault: the company offers a digital inking experience that's silky-smooth, free flowing and accurate, not to mention pressure-sensitive.
Samsung Galaxy Note: S-Pen:
Samsung isn't the first mainstream mobile company to offer a digital stylus this year – HTC already released the Flyer which can be used with a special pen – but its implementation is the best we've tried so far. Unlike HTC's restrictive system, where the pen could only be used in certain places of the OS, Samsung allows you to pick either your finger, the stylus or both when you negotiate through Android. When you take into account how readable webpages are, even fully zoomed out, on the HD-capable screen, the fine nib of the pen is mighty handy to tap on a smaller link.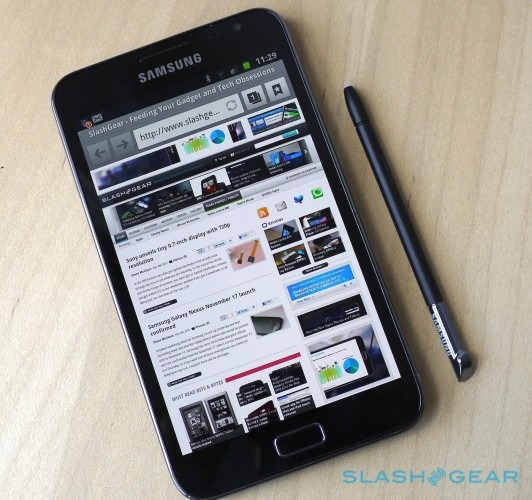 In addition to the pressure-sensitive nib, there's a side-mounted button that triggers secondary functions. Hold it down and double-tap, for instance, and one of Samsung's "Post-It" style notelets pops up. Hold it down and tap-hold, meanwhile, and you can take a screenshot. Press and swipe up opens the context menu, while pressing and swiping left goes back. The frustration is how small and tricky to press the button is – we often had to do some stylus-twiddling with our fingers before we could locate it with a fingertip, something which could've been addressed with some simply texturing – and on one occasion we tried to pull the pen from its silo on the bottom of the Galaxy Note and instead pulled off the top section. Some judicious twisting reattached both parts, but then seemed to block the side-button's movement; a little more twisting fixed that too.
Of course, Android 2.3 Gingerbread, as runs on the Galaxy Note, isn't set up for pen use, and Samsung has followed HTC in developing its own S-Pen APIs and custom apps to make the most of its extra input option. Those APIs will be opened up to developers with an S-Pen SDK in December, with Samsung already working with some art and enterprise developers to deliver pen-aware apps through its own app store on the Note.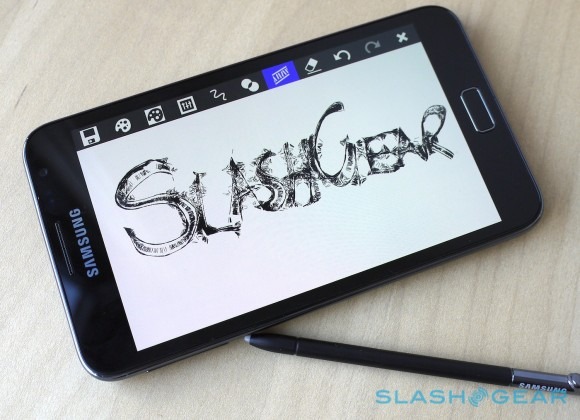 What's unclear at this stage is how Samsung's SDK will sit with the native pen support added to Android 4.0 Ice Cream Sandwich. The Galaxy Note looks likely to get an upgrade to Ice Cream Sandwich early in 2012, but so far it's not certain how much overlap there is between Samsung and Google's approaches to the stylus, or indeed where HTC's fits in. That could leave three different strands for developers to deal with – the official Google way and two ways where manufacturers have jumped the gun – and might leave them wary of producing apps specifically for the Galaxy Note.
Software
Samsung hasn't been shy when it comes to throwing colorful widgets at the Android 2.3 Gingerbread homescreen, and out of the box there are lashings of eye-catching tickers, calendar reminders, news alerts, weather panes, note shortcuts and more. In fact there's comparatively little room left on the first five of the seven homescreen panes for actual app shortcuts; TouchWiz offers five persistent icons running along the bottom of the display – the rightmost being a dedicated Applications key but the others user-customizable – but we had to ditch some of Samsung's chunkier widgets to squeeze our most-used apps within reach.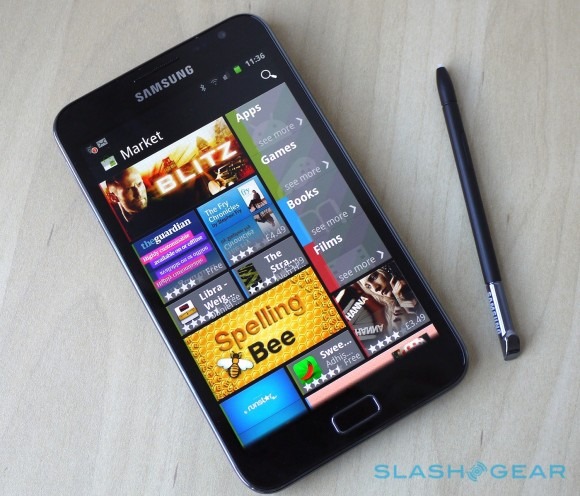 Obviously there are the normal array of Android titles, like Gmail, YouTube, Google Maps and the Android Market, but Samsung has thrown some of its own in too. The three Hubs – Social, Music and Readers – are brought over from the Galaxy S II, offering Facebook/Twitter/LinkedIn aggregation, MP3 downloads and ebooks/magazines/newspapers respectively, as has the AllShare DLNA media streaming app, for funneling across photos, music and video to a DLNA-compliant TV or other system.
Samsung Galaxy Note: Apps
Photo Editor and Video Maker have been upgraded to suit the Galaxy Note's boosted multimedia appeal, each becoming capable little editing apps in their own right. Photo Editor supports advanced selection, morphing, warping, special effects and other enhancements, while Video Maker allows you to not only combine video clips, music and photos into a trimmed down timeline, but jot handwritten notes on top of the results. Rendering then takes a short while, after which point you can upload directly to YouTube for sharing.
Kies Air, as we've seen before, allows you to wirelessly connect to the Galaxy Note from the browser of a computer on the same WiFi network, and access multimedia, contacts, read/send SMS messages and more. It's sluggish if you're trying to transfer the Full HD video the Note is capable of capturing, but otherwise can be a useful tool. Alternatively, you can plug the Note in via USB and mount it as an external drive.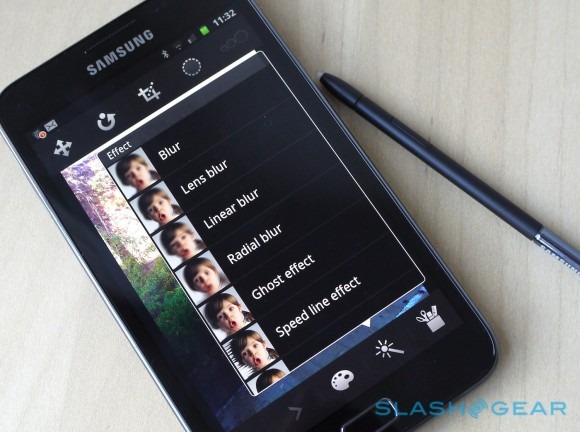 Polaris Office and Mini Diary round out the apps with which we're familiar, offering respectively a way to open and work on Office files – something surprisingly useful on the Note's big screen – and a rather gimmicky journalling tool that, unfortunately, hasn't been updated to handle ink input. Instead you can use the huge onscreen keyboard (which has auto-correction/prediction turned off by default, but is a lot more usable with it switched on) or the handwriting recognition. The latter handles printed letters reasonably, but struggles with cursive, and we quickly gave up on it.
The other preloaded apps are more specific to the Galaxy Note, having some interaction with the pen. Crayon Physics is a 2D physics puzzle, with cutesy graphics hiding some increasingly tricky challenges, potentially too difficult to use as a way to occupy your kids; instead, head into the Samsung Apps store – there's a S Choice app too, which at the moment redirects to the regular apps store – and you'll find some more child-friendly drawing options like Hello Color Pencil and Hello Crayon (the majority of which are free).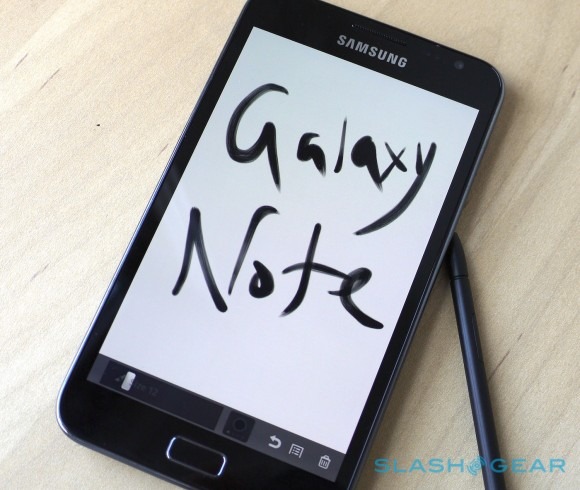 That's not to say that the Note only holds up as a kid's art tool. We downloaded OmniSketch, announced as one of Samsung's launch partners with the Galaxy Note last week, and it's a surprisingly capable art app. Multiple brush types, color manipulation options, pressure sensitivity and some interesting custom brush-heads were enough to keep our entirely-unartistic fingers occupied, and we've seen impressive examples of what proper artists can actually do with nothing more than the Note and its stylus.
Those more interested in business than pleasure get S Planner and S Memo. S Planner turns the Galaxy Note into a Filofax alternative, thankfully without the faux-wood that Samsung added to its custom calendar app on the original Galaxy Tab. Year, Month, Week, 3 Days, Day, Agenda and Task views are supported, flicked between by auto-hiding tabs along the right edge of the display. The Galaxy Note's huge screen comes in useful here again, making the Month view surprisingly usable – in portrait orientation you get the full month with enough space to make out individual appointment details on the agenda, together with a list of today's meetings underneath – in comparison to most smartphone calendars. Unfortunately you can't actually scribble a new meeting in using the pen, though you can attach (or create) a handwritten memo to each appointment.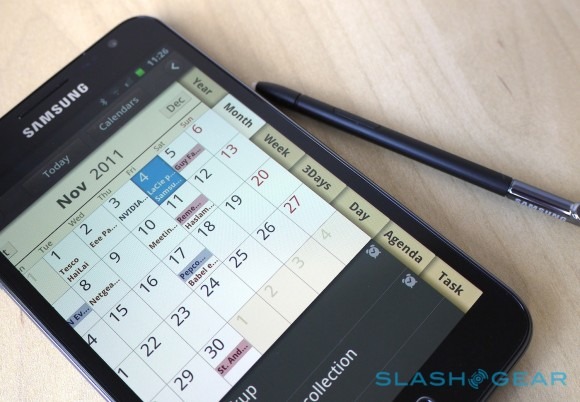 That's done with S Memo, probably the example of pen integration that general users will encounter the most. At its most basic it's a Post-It replacement – you can either do the stylus double-tap shortcut to call up a small notelet, or open the app itself and get a full-screen note supporting different color inks, types of pen (including highlighters) and the ability to mix together hand-drawn diagrams, pasted photos and even attach audio recordings.
What makes it usable is the accuracy of the digital stylus. The HTC Flyer struggled as a note-taking tool because its pen simply couldn't ink finely enough: that meant you could only fit a few words to a page. In contrast, the Galaxy Note is capable of very fine lines, and even though its display is smaller than the 7-inch Flyer, we were able to fit more text per line and per screen at any one time. Samsung has also integrated a two-finger panning system to move around larger notes. On the downside, HTC's useful Evernote integration isn't present, which means there's no ability to search through handwritten notes, nor easily access them from other devices.
Camera and Multimedia
Samsung's smartphone cameras have proved impressive recently, and the Galaxy Note is no different. Although its size means it's bordering on the somewhat ridiculous feeling you get holding up a tablet to take photos and video, it just about escapes that fate; brave the occasional second glance, and you're rewarded with colorful photos with plenty of detail to them. A rare sunny London day offered a chance for the Note to balance bright elements with more contrast-rich shade, though on a couple of occasions there was some odd focus hunting where the camera seemed reluctant to even try fixing on a subject.
Video, meanwhile, showed more of that jittery focus, struggling at times to handle the slow moving traffic in our sample clip below. Brighter parts of the scene suffer over-exposure, too, though when the frame is stable things are far more palatable. Audio is sensitive, perhaps too much so, but still within the bounds of acceptability. Once you've filmed clips, of course, you can slot them into your own mini-movies in the Galaxy Note's video editing app.
Video playback benefits from Samsung's usually broad range of supported codecs. The Note will handle 3GPP, H.263, H.264, MPEG4 and WMV (as well as 3GP, AAC, AAC+, AMR, AMR-NB, eAAC+, H.263, MP3 and MPEG4 audio) and then there's the Android Market with its various third-party media player apps if that's insufficient for you. 720p HD video in H.264, MPEG4 and WMV played back with no jerks or issues on the Note, and audio through the headphones jack was similarly strong. On resolution and scale, it's hard to imagine a better way to consume video on your smartphone than the Note.
Phone and Battery
We've already mentioned that the Note's outlandish dimensions left us feeling self-conscious using it for voice calls. We also struggled with earpiece positioning: the speaker is nudged right to the very top edge of the fascia, and we found ourselves shuffling the phone against our face during calls to find the sweetspot for audio. When we managed that, incoming and outgoing audio were both fair, while the speaker – on the back of the Note – is loud if subject to the usual distortion at higher volume levels. Of course you can also use a Bluetooth or wired handsfree kit, which leaves you free to stab at the Note's display mid-call.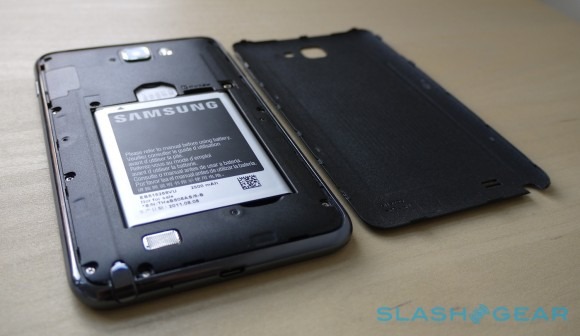 Given the processor, the size of the display and the active digitizer, we had low expectations of the Galaxy Note's battery life. Daily charging has become de rigeur for modern smartphones, and we had visions of making it to mid-afternoon and then being forced to rejuice the Note with a sneaky top-up. Even Samsung's predictions of up to 810 minutes of 3G talktime or 820 hours of 3G standby left us sceptical.
Imagine our surprise, then, to find that the Note bulldozered through our expectations. With a combination of web browsing on WiFi and 3G, some photography, push email turned on (and Twitter and Google+ updating in the background), use of the stylus and note/art apps, a little Google Maps navigation, a few text messages and a couple of short calls, the 2,500 mAh battery got us not just through a full day but well into the next.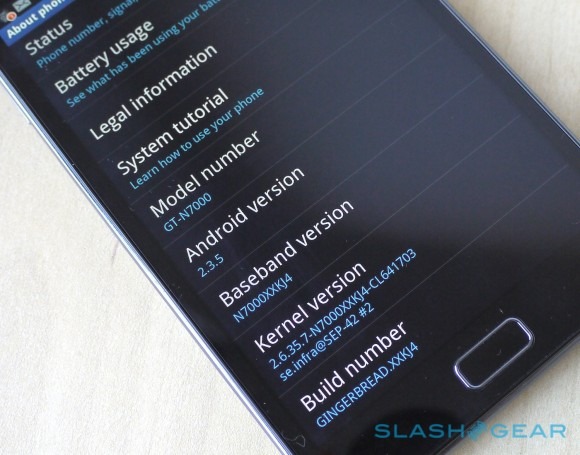 We're guessing that, as on the original Galaxy S II, Samsung is using some stringent processor throttling to achieve that, but while there were some occasional moments of lag common to all Android handsets, there was no real point where we felt we were waiting for the Note to catch up. Most importantly, apps where you need a reaction straight away – like calling up a new S Note to quickly jot something down – were on-screen without hesitation.
Wrap-Up
Bigger isn't necessarily better. The Galaxy Note will automatically be out of contention for many, simply because of its size. For the mainstream, 5.3-inches – even with 1280 x 800 resolution – is simply too much to pocket. Sure, a tablet-resolution matching display is great for watching video, or browsing the web, or replacing your standalone PND with Google Maps Navigation, but it's a little less appealing when you factor in portability.
There were times, in public with the Note, when we felt a little too self-conscious to be entirely happy pulling it out of our pocket. This isn't a discrete smartphone you can cradle in your hand as you check directions or thumb out a quick text message: it's big and obvious. All those extra pixels are nice, but the Galaxy Nexus – with its 1280 x 720 display measuring a comparatively compact 4.65-inches – will deliver much of the same in a form-factor that's a lot more user-friendly.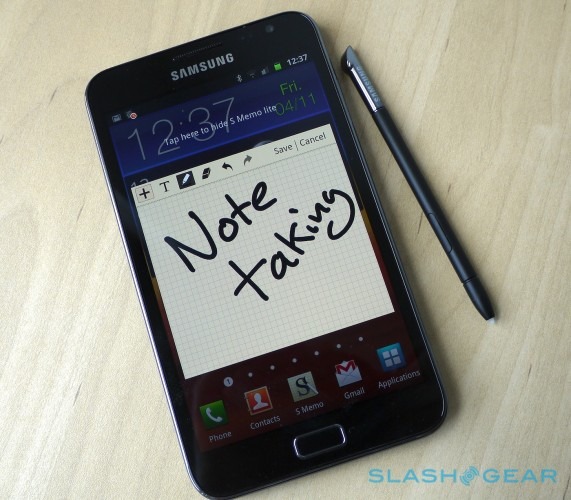 Still, the Galaxy Nexus – even with Ice Cream Sandwich – doesn't give you the clever S Pen, and that's the Note's real charm. Bundling a stylus isn't sufficient in and of itself to make a mobile device special, but when it works well – accurate, precise, easy to use – then it undoubtedly adds something to the user experience. If you've been looking for an excuse to ditch your paper day-planner but don't want to bundle a small tablet with your phone, then the Galaxy Note happily steps in to replace both.
Niche? Certainly, but Samsung hasn't allowed fears of that to stop it from targeting pretty much every segment of the mobile audience. Niche needn't mean unimpressive, either: what the Galaxy Note does, it does exceptionally well. Right now, if you want the precision an active digitizer gives you, plus more than all-day battery life, top-tier multimedia credentials and the range of apps the Android platform is blessed with, it's your only choice. If you want a compact tablet that you can actually carry out of the house without needing a bag, it's your best option. And if you want a smartphone that allows you to work and play and replace your paper notebook, it's hugely compelling in many senses of the word "huge."
Not for everyone, then, but that's part of the Android charm: a huge array of devices catering to those for whom the "one size fits all" approach doesn't fit. The Galaxy Note may not prove to be Samsung's best-seller of the quarter, but those who succumb to its sizable charms will have a smartphone/hybrid that's attention-grabbing in every sense.