Samsung Galaxy S6 Active Review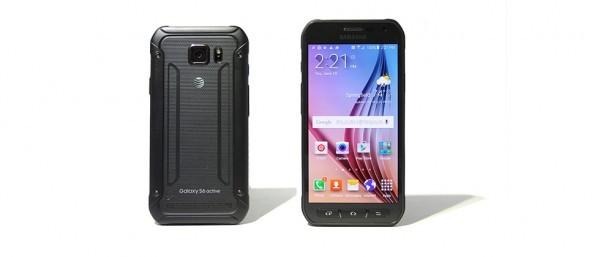 Today we review the Samsung Galaxy S6 Active from AT&T. This device takes the innards of the Galaxy S6, expanding the exterior bits to make a device that's resistant to the elements as well as shock. You can drop this one. While the original Galaxy "Active" device wasn't quite as resistant to the one truest danger of all, dropping the darned thing, here we've been given a reprieve. And a good sign for the future. This device has everything the Galaxy S6 has, and more – a bigger battery too.
This is why it's hot
The Galaxy S6 Active has both IP-68 and MIL-STD-810 certifications. The military specification means the Galaxy S6 Active has been tested against a set of 18 specific environmental conditions, including temperature, dust, sand, shock, vibration, low pressure/high altitude.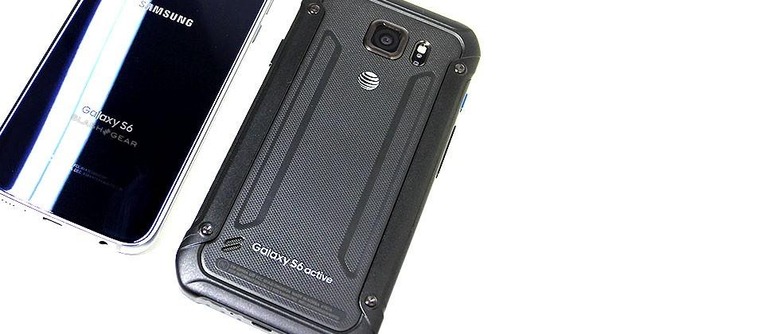 See our full Samsung Galaxy S6 and S6 Edge Review as well.
"IP" stands for Ingress Protection, here meaning it's able to withstand water immersion between 15 cm and 1-meter for 30 minutes at a time.
To withstand these situations, the Galaxy S6 Active is going to need to have all of its covers tightly closed. This isn't going to be as big an issue as it was with the first Galaxy Active device because it does not have a removable back cover.
Here you only need to worry about the SIM card slot, which you might not ever open in the first place.
The USB port has been coat-protected so you needn't worry about its safety in the field. Unless you're jamming tiny rocks in there, which you obviously shouldn't be doing anyway.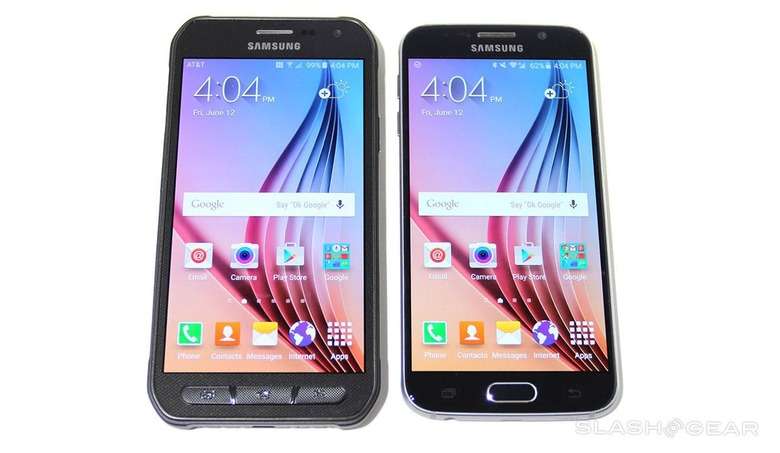 This Active device has the same display as the Galaxy S6. It has nearly the same software, as well. The only real differences are in the underwater camera system software* and in the Active Key.
The first time you press the Active Key – that blue button you see here – you'll be brought to an "Activity Zone."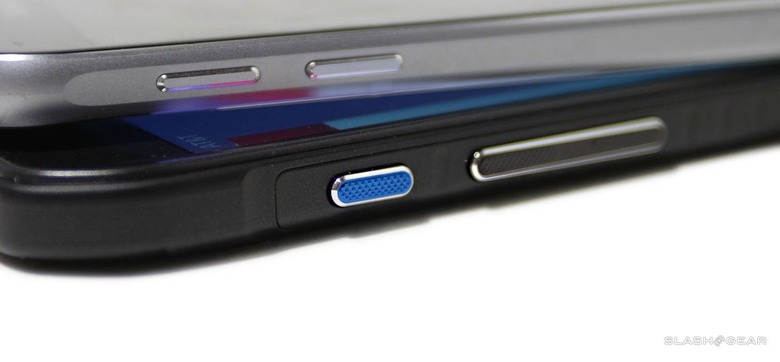 This is a menu of items that give you quick access to your LED (on the back near the camera) as a flashlight, stopwatch, Compass, S Health app, Milk Music, built-in Barometer, and Weather app.
This launcher window is actually really useful.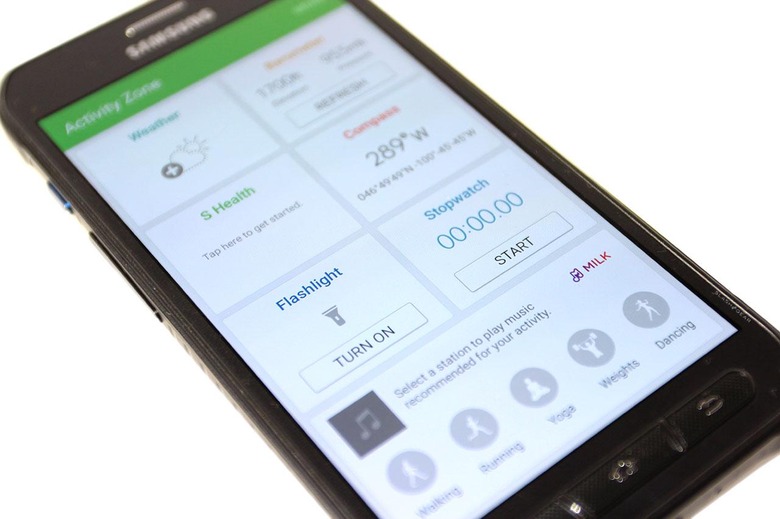 While I'm one to seek out and place my own apps on smartphones of all sorts, having a general distaste for hardware manufacturer-added apps, Samsung is really turning the tide here.
The same is true for apps like Milk Music and Milk Video.
Samsung's big enough now that they're able to launch their own apps that are worth their salt. They've got content enough and they're easy enough to use that they're worth using.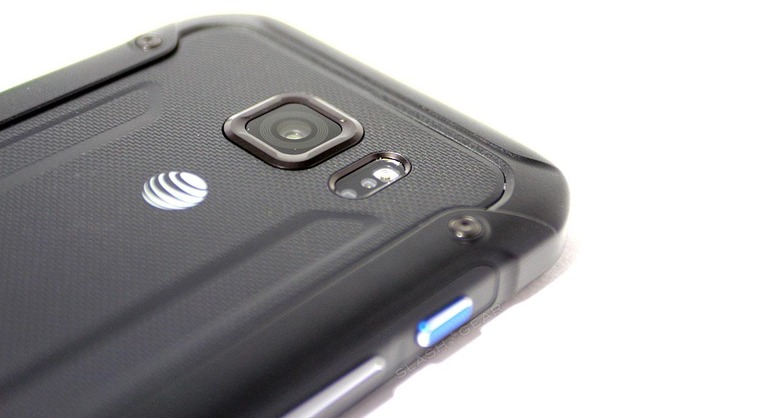 The camera on the Active is just as excellent as it is on the Galaxy S6 or Galaxy S6 Edge. They're all the same, as far as we can tell.
This means some of the best photo quality we've ever seen in a smartphone. Ever.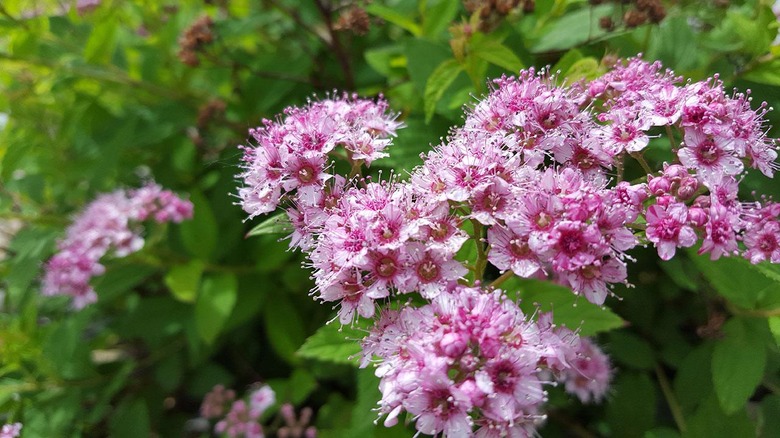 The Samsung Galaxy S6 Active's camera produces good photos in ideal lighting situations and in relatively unfriendly darkness, both indoors and in out.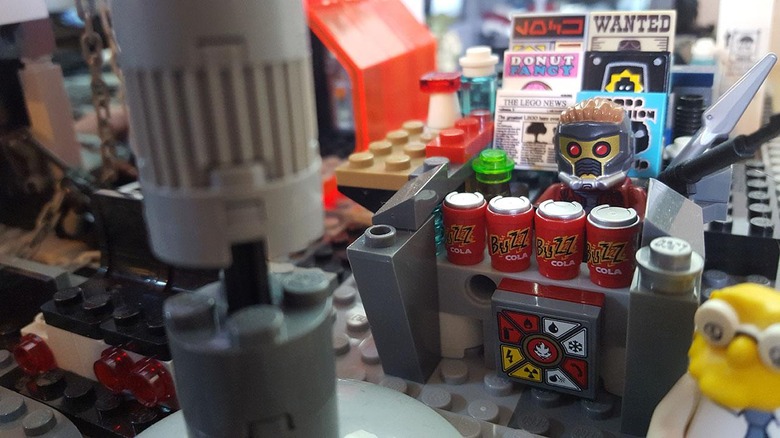 Above and below you'll see a variety of images shot with the Galaxy S6 Active. Let us know if you'd like us to test this device in any other unique locations or lighting situations.
*The image of the drain plug here was taken underwater using the Active's "Aqua" setting. This setting turns on auto-focus and makes several adjustments behind-the-scenes to accommodate for the unique nature of underwater photography.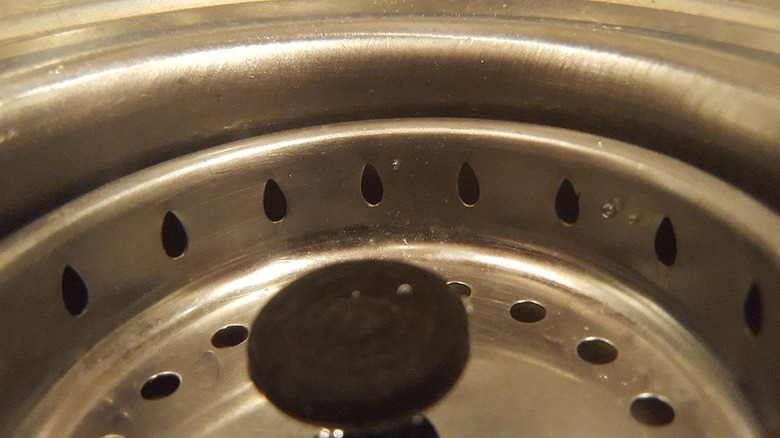 The battery on the Galaxy S6 Active is great too. It's bigger than the Galaxy S6 – another reason why the phone is larger overall.
While the Galaxy S6 has a 2550 mAh battery, the Active gets a significant bump with a 3500 mAh battery. With this larger battery, a fantastic standby life, and a Battery Saver mode to boot, you're going to have a tough time draining the juice in less than a day.
You've also got wireless charging – QI-standard like the rest of Samsung's wireless charging-friendly devices.
Inside this device you'll find 32GB of internal storage. There's no micro-SD card slot, so you're going to need to be OK with just 32GB on-device. If you're all about cloud storage, you're in luck, as this device does provide a free 115GB of OneDrive space.
This is why it's not
When you hold a Galaxy S6 Active in one hand and a Galaxy S6 Edge in the other, you know instantly which one Samsung had to bend a bit more to make way for a more rugged set of abilities. The Active does more, but it's design has a lot more going on than the original S6.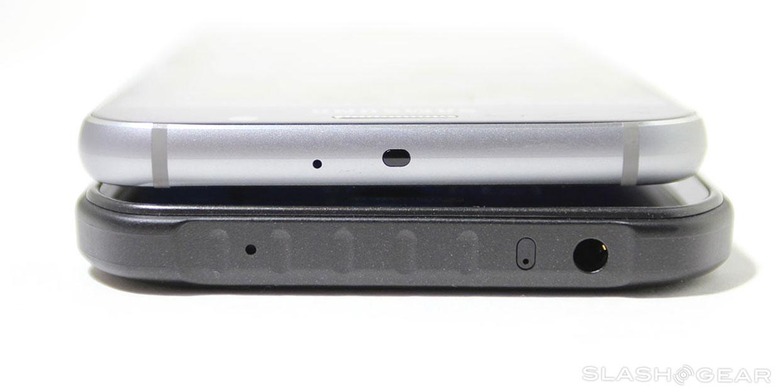 It's not that the Active looks bad. It absolutely doesn't. Compared to MOST smartphones on the market today, the Active is a beautiful piece of machinery. It's only compared to its closest brethren that it pales in outer aesthetics.
While most users aiming for a Samsung device aren't about the tiniest of devices, the Active can be a bit cumbersome. It's larger than the Galaxy S6 by a bit – enough to make a difference if you've got limited space in your pocket.

It's not overly massive, on the other hand. It's not as if the Active has a bunch of unused space in it – it's all there for the protection of its innards. But it is there.
This device does not have a fingerprint scanner. You can still use Google Wallet (and eventually Android Pay) as you still have NFC, but you're not going to get that added bit of security fingerprint scanning on the Galaxy S6/Edge brings.
Wrap-up
There's a whole lot to love about the Galaxy S6 Active. If you're not about the elegant look of the Galaxy S6/Edge and you want the utility of a device with three extra hardware buttons. the Active is the device for you.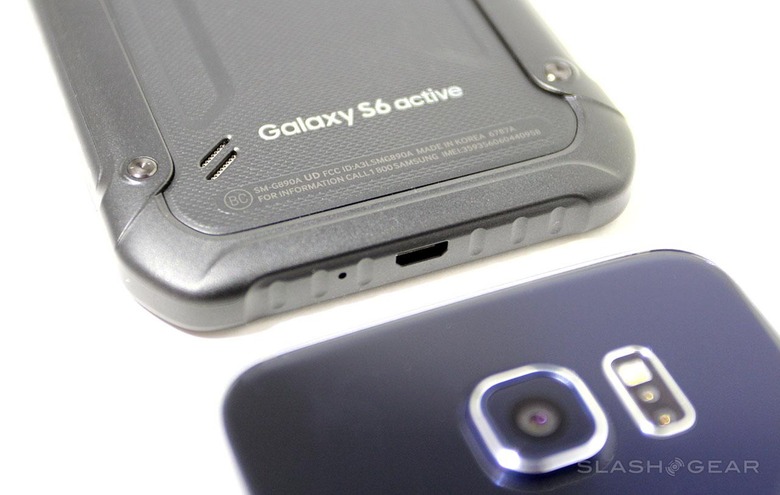 We wouldn't be surprised if Samsung fond a way to incorporate the Active abilities of this device in to their standard hero smartphone when the Galaxy S7 is released. Until then, this is the hardcore phone you're going to want to take a peek at.
Head to our Samsung Galaxy S6 Active AT&T details article for more information on release and pricing.