Samsung Galaxy S6 and S6 edge Review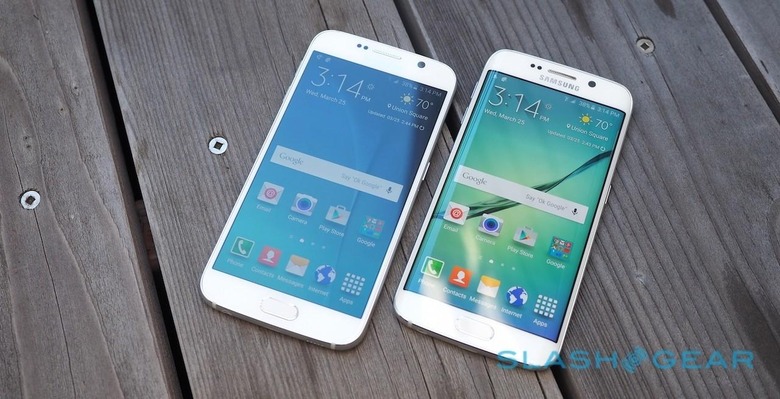 Samsung has a lackluster track record making flagship smartphones with serious lust-appeal. Its plastic-bodied Galaxy range was the Camry trying to play in Mercedes and Audi territory, earnestly ticking the boxes on the spec sheet, but failing to grasp that owners care about a sense of prestige as much they do a roster of the latest functionality. The Samsung Galaxy S6 and its flashy Galaxy S6 edge sibling are a lesson hard-learned, then, with both patchy sales and increasingly vocal criticism in 2014 demanding changes be made. 2015 might well be the fiercest year in phone tech yet; these two are evidence of Samsung's A-game.
Design and Hardware
No more plastic textured like an elephant's butt. No more chrome-effect trim, pretending unconvincingly to be real metal. The Samsung Galaxy S6 gives up on materials trying to masquerade as other materials, and the result is not only a more rewarding design, but a more authentic one, too.
The frame is metal, curved and carved to maintain that familiar Galaxy silhouette and then finished off with an anodized finish that's smooth yet easy to grip. Front and back are topped with sheets of Gorilla Glass 4, toughened and scratch-resistant. The seams between them are near-invisible, Samsung's tolerances producing a device that looks hewn from a whole rather than assembled.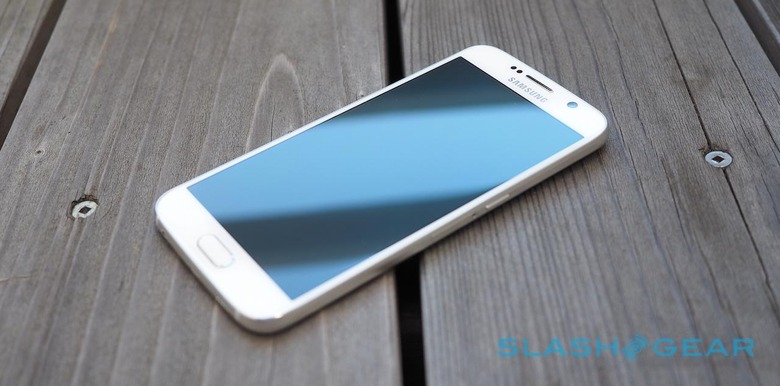 There are two glaring issues to my eyes. The first is the bulbous camera on the back, a jutting lens that protrudes through the glass. Second is the bottom view, where the headphone jack, microUSB jack, and drilled speaker holes skirt notably close to how Apple designed the base of the iPhone 6.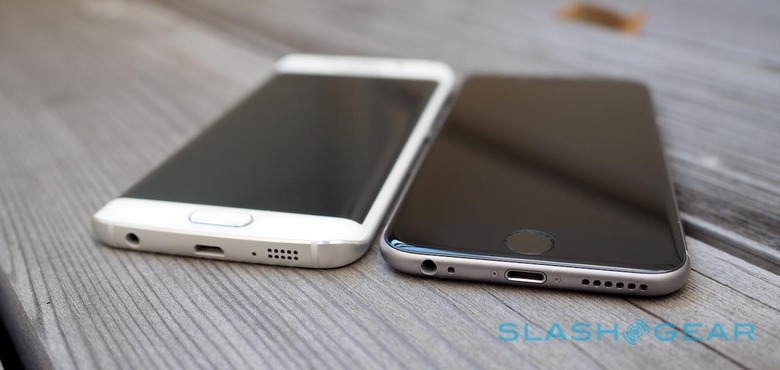 Conscious borrowing or inadvertent style overlap? Given Samsung's track record – and the court cases that spawned – it's no surprise that many aren't willing to give the company the benefit of the doubt. I wish Samsung had done something different, but only really because the argument distracts from the huge improvement in build quality in the phone itself.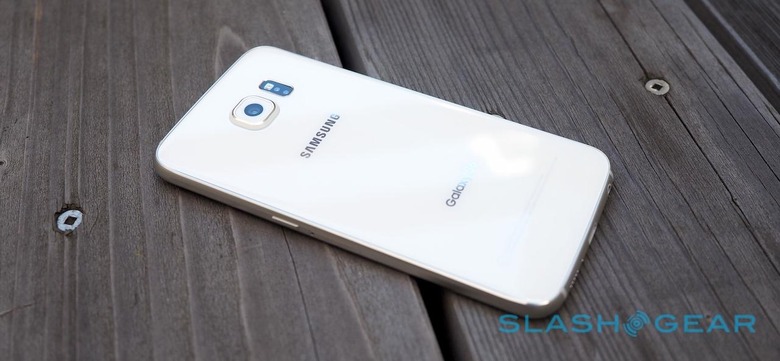 Samsung's aesthetic reawakening has also demanded functional compromises, however, some of which the Galaxy-faithful are yet to get over.
For a start, theres no removable battery. Samsung has opted instead for a fixed Li-Ion pack, since that means it can seal up the rear panel and make things slimmer. For similar reasons, there's no microSD memory card slot. Meanwhile, the useful waterproofing of previous phones has been dropped by the wayside, too.
Samsung is, ironically, a victim of its own marketing success here. For the past few generations of Galaxy, the company has been happy to slam its rivals – the iPhone particularly – for not including either a removable battery or a memory card slot. Even those who don't actually use them have been told, repeatedly, that they should expect them.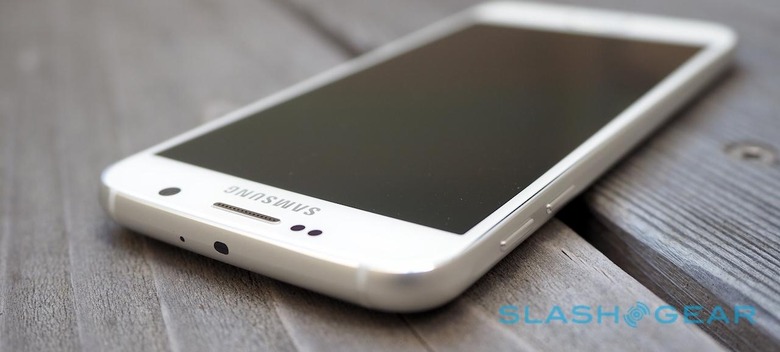 My own bias is toward onboard storage, and even when I've had the option to swap out batteries, I've never taken advantage of it. Still, there are plenty who feel differently – and they're plenty vocal about it, too – for whom Samsung's decision feels like a betrayal. Personally, a combination of 32GB minimum, cloud storage, and streaming services like Spotify are enough to keep me happy; if you feel differently, then you'll have to vote with your wallet and hope Samsung gets the message.
You'd be missing out, though, since to my mind the Galaxy S6 is perhaps the first phone to get the power issue right. I don't want to have to bother keeping a second battery charged, or carry it around with me "just in case"; far preferable is the S6's combination of both common wireless charging standards as well as support for fast-charging on a higher-power AC adapter.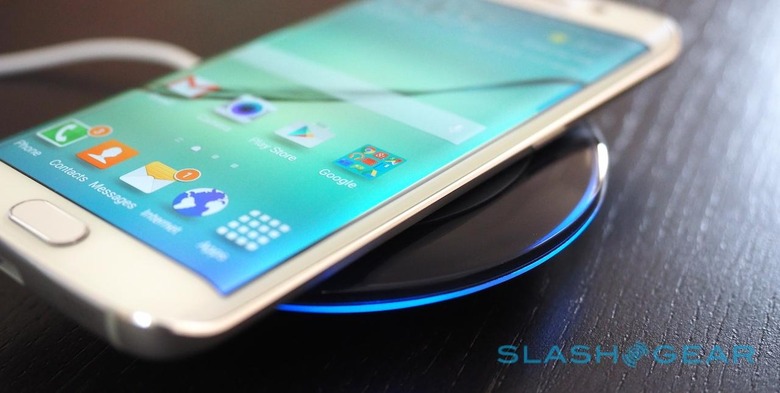 Stopping by Starbucks? Drop the S6 onto one of the integrated Powermat charger plates increasingly showing up through the coffee chain, without having to plug in one of the little plastic dongles first. Drive a car with a wireless charger built into the center console (still fairly rare, but growing in number all the time)? It doesn't matter if it's Qi or Powermat, the S6 will just get on with it.
Sure, a single wireless charging standard for the world would be preferable, but at least Samsung isn't passing the frustration on to the consumer and making them pick a side. If "it just works" is the mantra to good design, then here the S6 rates top of the list.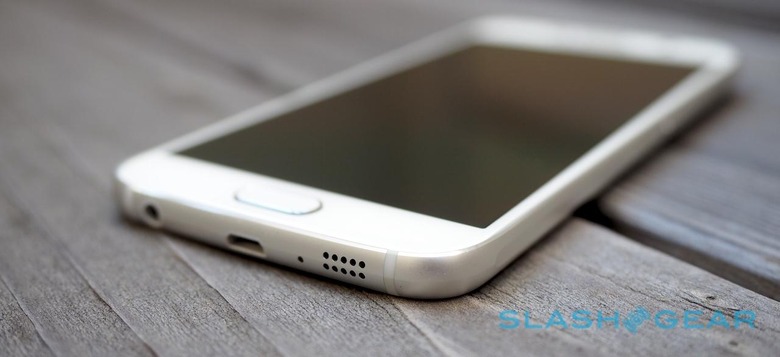 Meanwhile, when you do have time to plug into an outlet, Samsung not only supports rapid charging but provides the right adapter to do it in the box (unlike, say, HTC which shamelessly nickel-and-dimes you on the boosted version of its charger).
Elsewhere, the S6 experience is dominated by the incredible display. Samsung has used a Super AMOLED panel, unsurprisingly, measuring in at 5.1-inches and hitting resolution-du-jour, Quad HD (2,560 x 1,440). Sure, you've got more pixels than the human eye can individually perceive, but more importantly colors are rich and vibrant, blacks inky and deep, and – pleasantly – whites cool but not so much as to take on a blue tinge in the process.
Viewing angles are vast, too, and you can jump into the settings and change from the default "Adaptive" – which promises to change color tone depending on the type of content being shown – to something even more saturated or, conversely, more muted.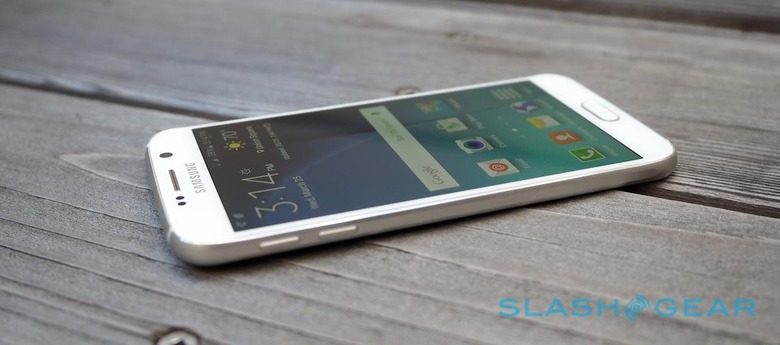 Inside Samsung has cut its flagship ties with Qualcomm, opting for its own Exynos 7420 chipset instead of the Snapdragon 810, and pairing it with 3GB of memory. You get LTE, WiFi a/b/g/n/ac, Bluetooth 4.1, NFC and GPS, in addition to the usual array of sensors.
There's also a new fingerprint sensor, and it finally catches up to where Apple is with Touch ID. The S6 isn't the first Samsung to unlock with your fingertip, but earlier versions required a swipe across the sensor, something that could be ergonomically tricky if you were trying to use the phone one-handed.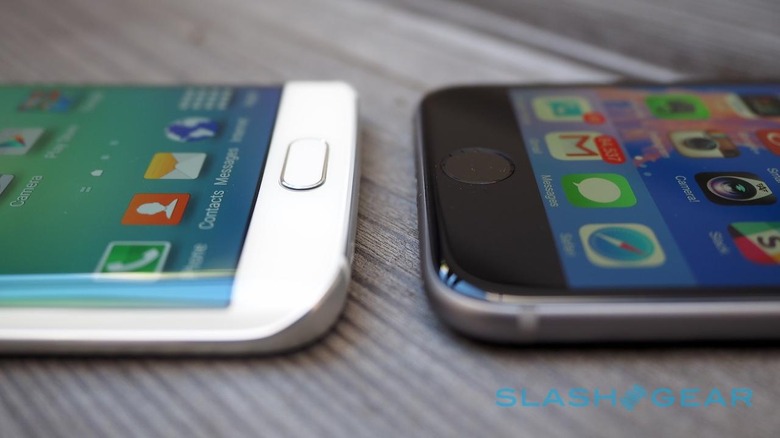 For the S6 and S6 edge, however, a simple stab at the home button is sufficient, and from any angle too. After running through the basic training process, you can have the phone lock and the security of certain individual apps – like PayPal – handled by fingertip rather than passcode. It works great, though on one occasion the sensor on the S6 edge decided it would no longer recognize a fingerprint and demanded a restart and the backup code before I could continue.
The sensor will also be the gateway to Samsung Pay, expected to be enabled later this year. Samsung may be relatively late to the game in mobile payments, but its apparent ability to mimic traditional magnetic strip credit and debit cards could give it a boost in catching up. We won't know for sure until Samsung rolls it out, however.
Software and Performance
I'm not averse to software modifications by phone manufacturers, if they add value. HTC showed how that could work back in Android's heyday; since then, however – and as pure Android has improved exponentially – handset companies have been reluctant to let go of their urges to modify, and invariably some of it feels like change for its own sake.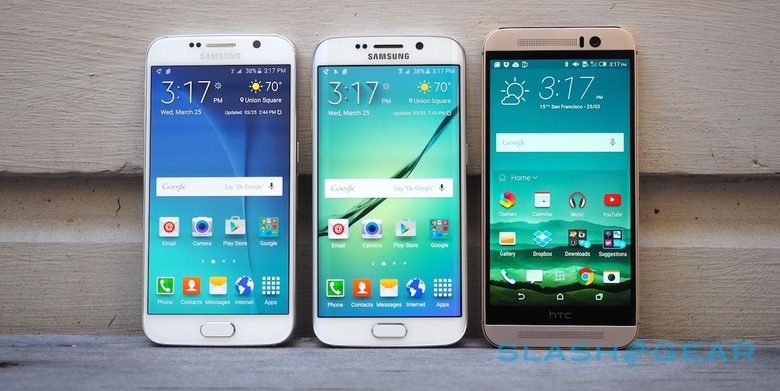 Samsung still skirts the line between useful and unnecessary with this latest iteration of TouchWiz, but the good news is that the balance is skewed for the most part away from what's frustrated me – and others – in the past.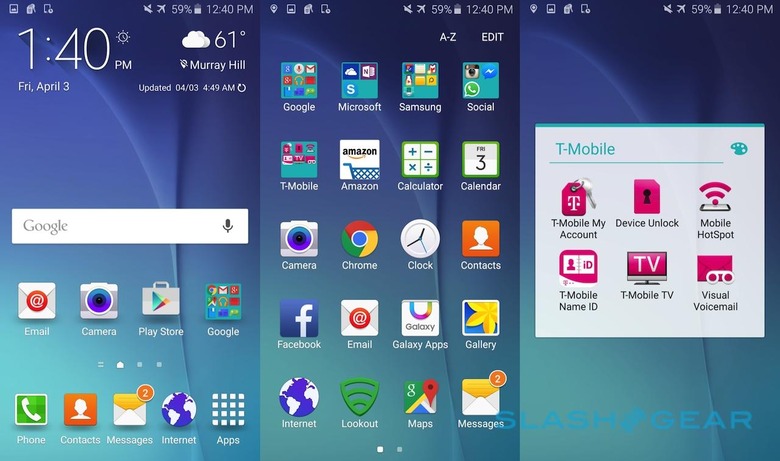 A big part of that is the shift toward Material Design, following Google's example as set by Android 5.0 Lollipop as on the S6. Its flatter, less ornamented graphics are so at odds with Samsung's own design language on previous devices, that it has seemingly forced a fairly comprehensive revamp that leaves the new flagship feeling cleaner and lighter.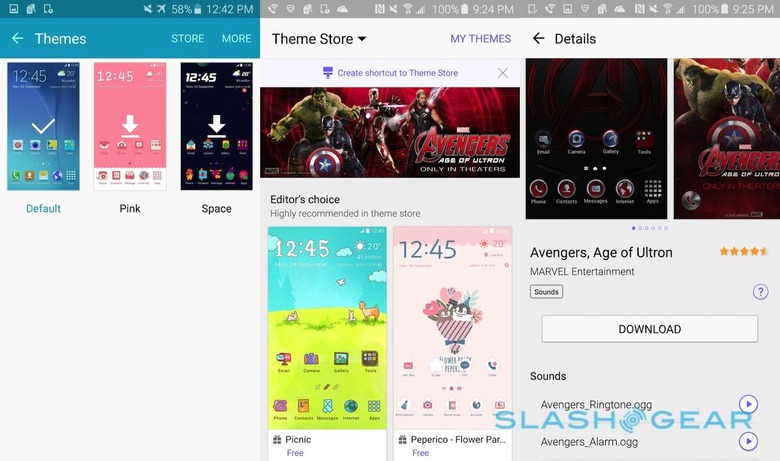 It's not to say all of Samsung's tweaks, fettlings, and general feature exuberance has been left behind. Instead, you generally need to go hunting for them, rather than having them thrown in your face from the outset. If you really, really want the screen to control itself based on whether the S6 thinks you're staring at it, or call whichever contact is on-screen by lifting the phone to your ear, you can, but Samsung will wait until you seek the function out rather than shouting about it like a proud toddler holding up a freshly-filled potty.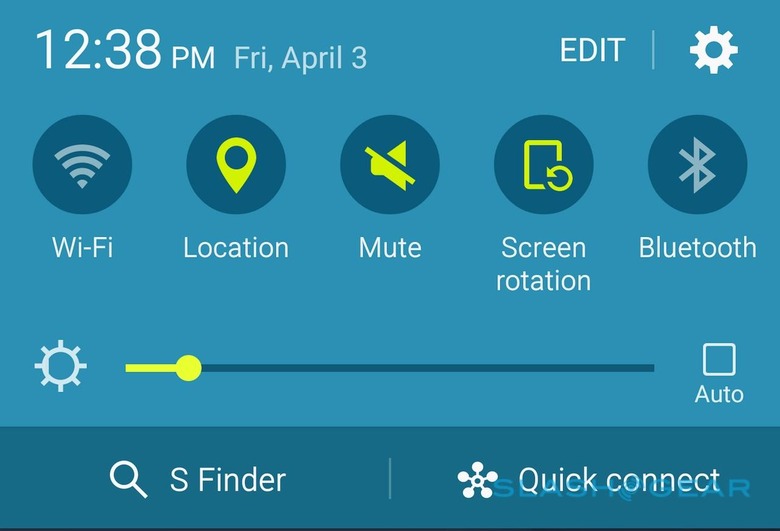 What you're left with are, for the most part, more usable changes. The drop-down notification shade feels full – by the time the various shortcuts, status bars, and other panes are added, you're left with only the bottom half of the screen for actual notifications – but I found myself using them for the most part.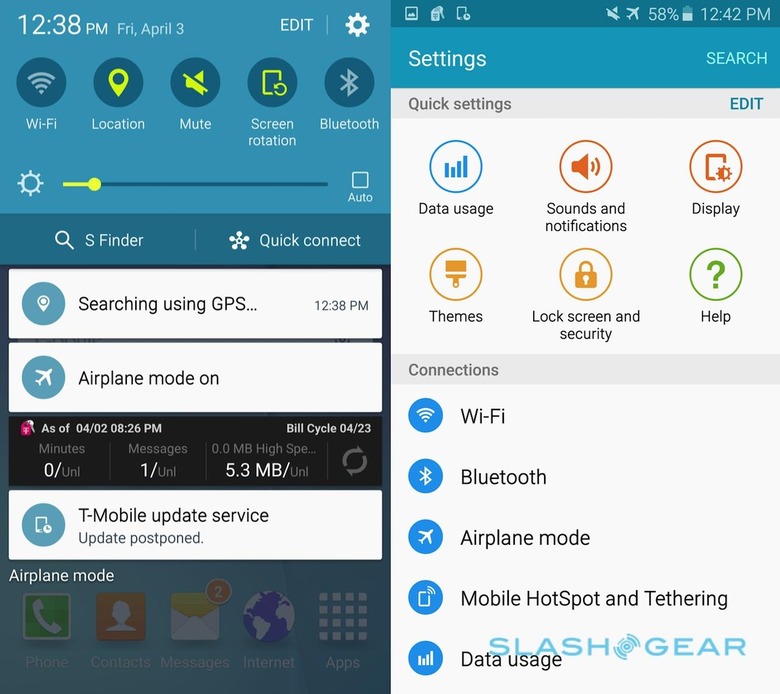 Samsung seems to have cottoned to the fact that the most valuable customizations save time. The ability to quickly jump into the camera by double-tapping the home button is something I quickly came to rely on (and missed on rival phones), while the cluster of settings shortcuts saved me from dredging through the full list on more than one occasion.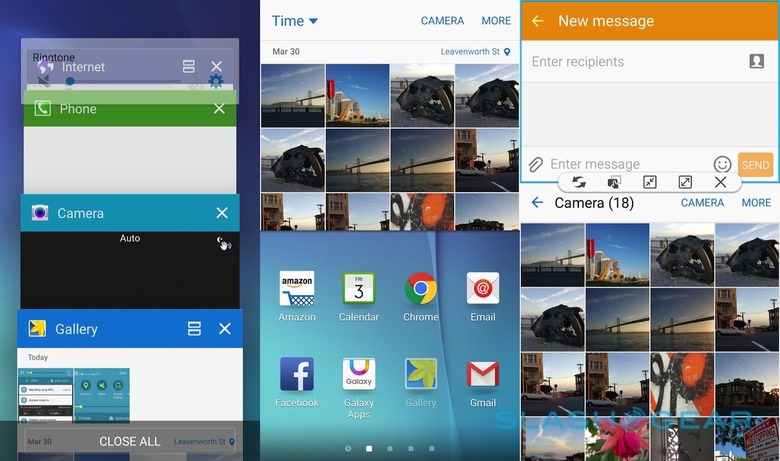 Split-screen support, or the ability to float a mini-app atop whatever it is you're doing, continue to make more sense on the business-minded Note range to my mind, though it's easier to access now that the controls have been integrated into the app-switcher carousel. More important is the speed and fluidity at which the S6 multitasked: jumping between apps was seamless.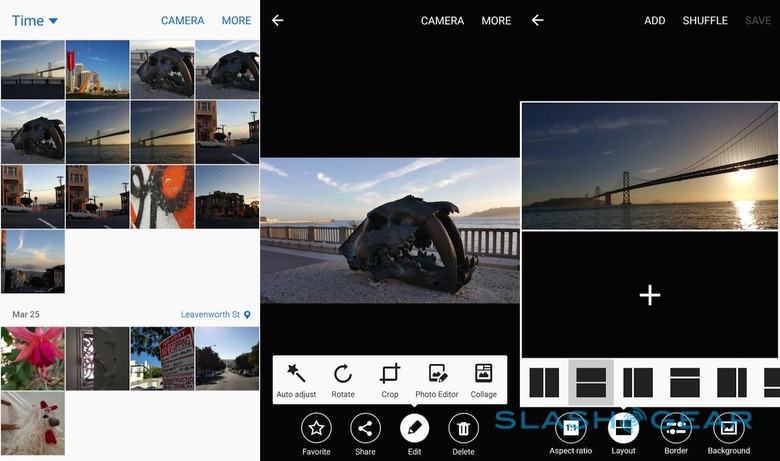 I'm of the opinion that benchmarks are of limited value these days, despite the posturing between the Exynos and Snapdragon camps. More useful is the discovery that, day to day, I experienced only the rarest of slowdowns, with the S6 essentially lag-free. That's not to say a poorly-written Android app can't perform sluggishly, but I'll level the blame there are developers, not the phone itself.
Camera
Samsung has been on something of a run with solid cameras in its recent Android devices. I was impressed by the photos from the Galaxy Note 4, and the S6 has proved even more capable.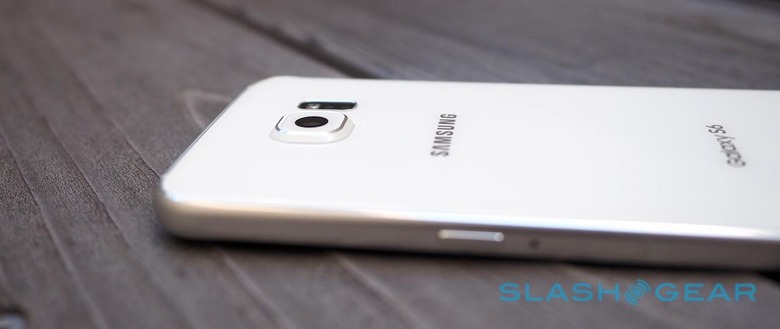 For a while, it seemed like Samsung had opted into the megapixel race like many other smartphone players, chasing bigger numbers in the hope of impressing on-paper at the point of sale. Happily, the S6's abilities don't end at the sensor, though, and its 16-megapixels are paired with an f/1.9 lens and even optical image stabilization (OIS).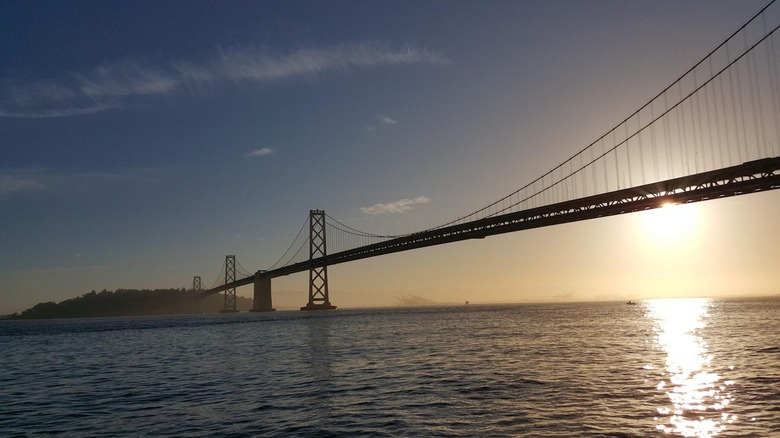 Combined with that solid hardware is software that finally feels like it has come of age. Previous Galaxy phones certainly haven't lacked in options and settings; in fact, if anything they've been swamped by them. What the S6 does, and does well, is cut through much of the user process and simply focus on taking great pictures.
When supplied with decent natural light, the results are fantastic. Colors are accurate, without the tendency to over-saturation I've encountered in previous Samsung phones. As things get darker, the S6 does lean toward further brightening shots than some rival phones, but the real-time auto HDR works well (and, if you're aiming for moody, turning HDR off can help with the richer contrast).
Make no mistake, this is the best camera I've used on an Android phone recently. Oh, certainly, in the right setting and with the right tweaking, you can coax fantastic shots out of many of the the S6's rivals. What I appreciate about the S6 is that it doesn't demand that coaxing: you can generally leave it to its own devices and it'll spit out images that are often on a par with those from the iPhone 6.
As for video, the S6 will shoot up to 4K clips, though at that resolution you're limited to five minutes recording time per session. The phone did tend to get a little warm during recording, too, though never uncomfortably so, and it always cooled down quickly afterwards.
Phone and Battery
Both of my review units are on T-Mobile USA's network – and have both the unlimited data and annoying bloatware apps to show for it – and held up well for both voice calls and data speeds. In-call audio was crisp, and I had no problems when using a Bluetooth headset, either.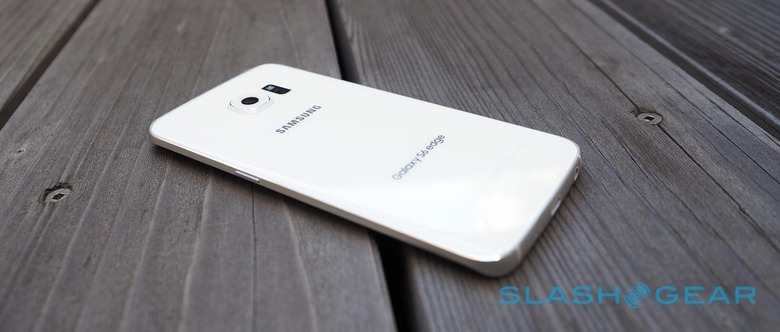 The speaker is loud and bright, too, belaying its size, and while the positioning on the bottom edge may have added fuel to the "iPhone-alike" commentary, there's no denying it sounds much clearer there than in its old position on the back of Galaxy phones.
Battery size is one of the few places where the S6 and the S6 edge differ. The S6 gets a 2,550 mAh Li-Ion pack, whereas the S6 edge goes a little larger, at 2,600 mAh. Samsung provided its own wireless charging plate for my review, too, a circular pad which uses the Qi standard. Of course, if you already have a wireless charger, then most likely the S6 will work with it.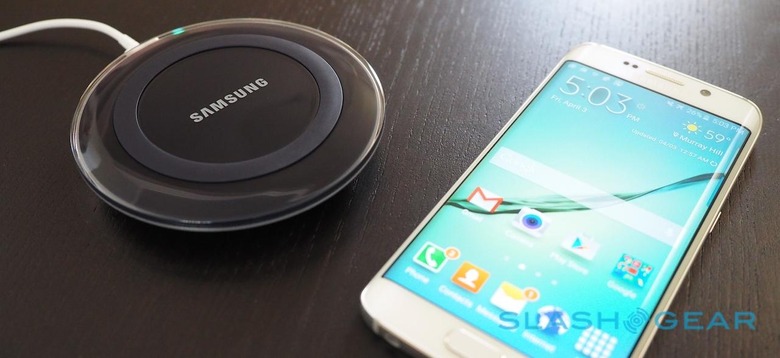 I'm a user at the heavy end of the spectrum; my normal day includes several push email accounts, instant messaging, a fair amount of browsing and Google Maps, some photography, and a little streaming music. It's a load that's enough to have an iPhone 6 calling out for a top-up by early evening having been taken off the charger at 6am, and both the S6 and S6 edge have fared similarly.
It's clear that the display is the primary culprit for power consumption. I relied upon the S6 edge for WiFi tethering while out at the New York Auto Show this week, but despite more than eight cumulative hours of such use – and almost 3GB of data – I made it through to the late evening with 4-percent on the meter. That was with all my usual apps updating in the background but minimal time with the screen actually turned on.
What I got into the habit of doing was dropping the S6 onto the wireless charger when I was at my desk, something which seemed quicker to adopt into muscle memory than remembering to plug in a wired charger.
S6 edge
If Samsung had only given us the Galaxy S6, we'd have undoubtedly marveled at its display and construction. Sadly for the S6, its aesthetic charms are overshadowed by its eye-catching S6 edge sibling.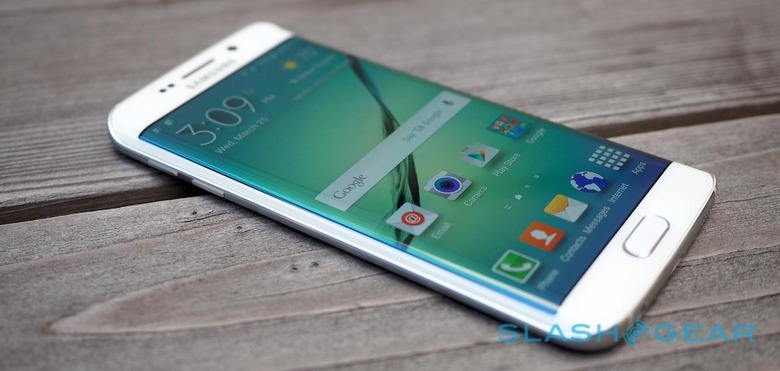 Its display is the same size, and the same resolution, but it curves sinuously around the left and right edges of the handset, which themselves taper to a crisp metal rim. While Samsung already tried the same trick – or at least half of it – on last year's Galaxy Note Edge, the S6 edge fits the hand more neatly.
What undermines the S6 edge's charm is how little Samsung makes of the curved display. In fact, the new smartphone does even less with the technology than the Note Edge did before it, despite having twice the curve to play with.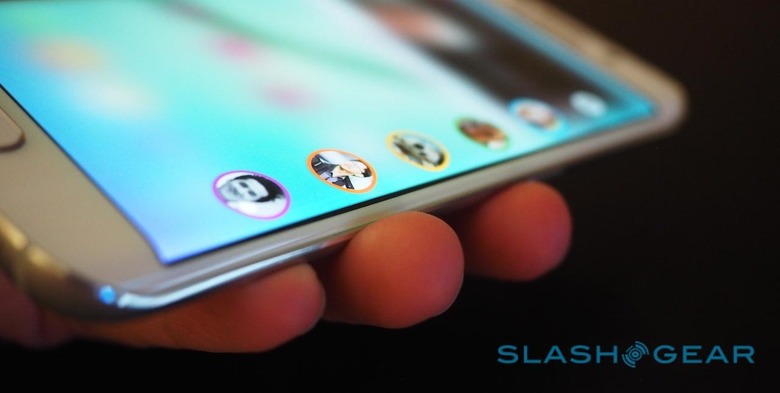 Gone, for instance, is the Note Edge's quick-launch bar, a swipeable carousel of app shortcuts. Instead, you get five quick-access slots for your favorite contacts – along with color-coded ripples across the edges when they call, as though the S6 edge was some sort of shimmering deep-sea jellyfish – and an amorphous missed-notifications blob that can be dragged out with a fingertip to review and reply.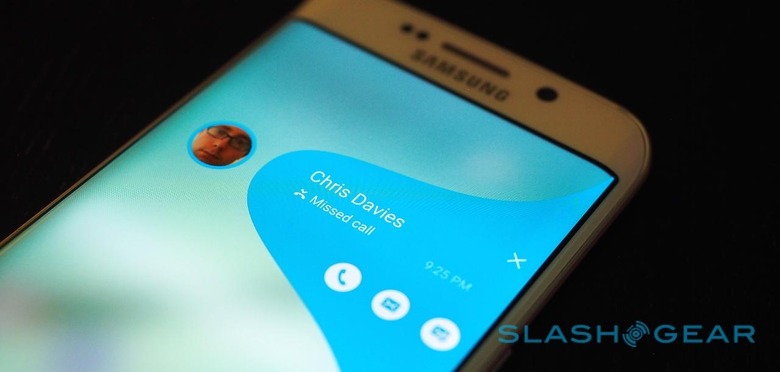 Otherwise, the panel – you can choose whether to use the right or the left side, but not both – serves as a notifications and status pane as Samsung originally suggested curved AMOLED might, albeit heavily diluted.
At night, a dim clock can hover on the side, useful for glancing at on your nightstand. During the day, you can have a ticker of news headlines, currently from Yahoo, as well as notification icons.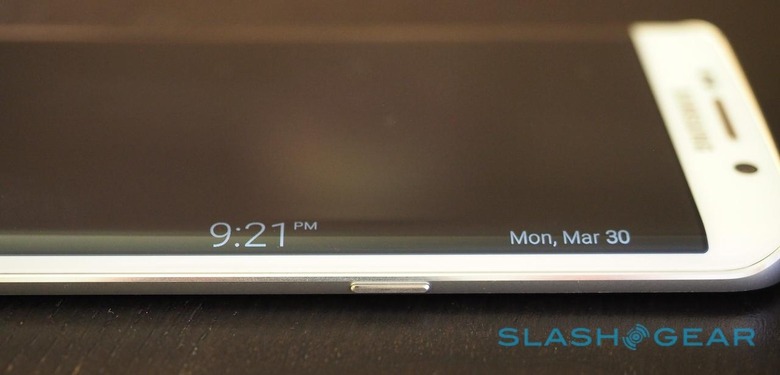 What's galling is that the whole thing seems so half-hearted, as though Samsung's designers were so self-satisfied by the technological achievements in the S6 edge, they neglected to plan for owners actually wanting to use them. None of the Note Edge applets will work on the S6 edge, either, so it's effectively back to square one.
Don't get me wrong: side by side with its flat-fronted fellow, the S6 edge is the first device people reach for. I can't knock Samsung's geek cred there. Yet when they inevitably ask "so, what's it for?" I've found myself struggling to answer.

Meanwhile, the technology introduces a couple of compromises of its own. There's an occasional moire effect to photos or the UI through the curve, depending on the angle you're looking from, for instance. And, though the issue hasn't been as commonplace as I found it with the Note Edge, at times I would inadvertently hit the touchscreen with my palm or my fingertips simply while holding the phone.
I want, almost desperately, for the S6 edge to be worth the $100 premium Samsung charges above the regular S6. In the end, though, its appeal depends on how much Samsung – and third-party developers – build out the functionality that depends on it, and how long you're satisfied by the gimmick factor in-between then and now.
Wrap-Up
At first glance, it should be easy to make a flagship smartphone. Scoop off the cream at the top of the component chain, throw in some premium materials – you can take your pick, but metal and glass seem good places to start – and bingo. Problem is, not only can that piecemeal approach leave a phone feeling soulless, but the actual user-experience can prove perversely underwhelming compared to the bulging feature list.
There have been earlier moves to step off the specification treadmill and generate appeal in a more fundamental way, with varying degrees of success. Apple is the giant in the room on that front, having carved an enviable marketshare by positioning the iPhone not only as a capable device, but a covetable and cohesive one.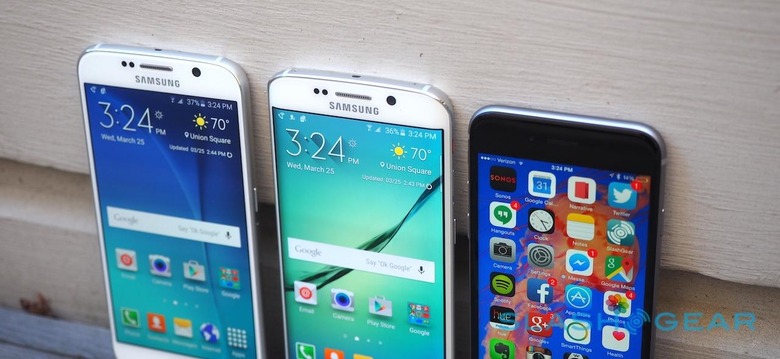 HTC has attempted the same strategy with its One series, though with less effective results. As I found when I reviewed its latest One M9 recently, although the concept of timeless design makes for an attractive phone, the reality still involves compromise when all the components aren't up to scratch.
If there's a takeaway, it's perhaps this: Good design isn't just about cherry-picking the latest parts and throwing them together, it's about selecting the right components and using them to their best advantage. It's why the mediocre camera on the One M9 is so intrinsic to its shortcomings, despite its 20-megapixel resolution, and why the iPhone 6's mere 8-megapixels aren't, in practice, the limit that they might first appear on paper.
Samsung has finally woken up to that lesson.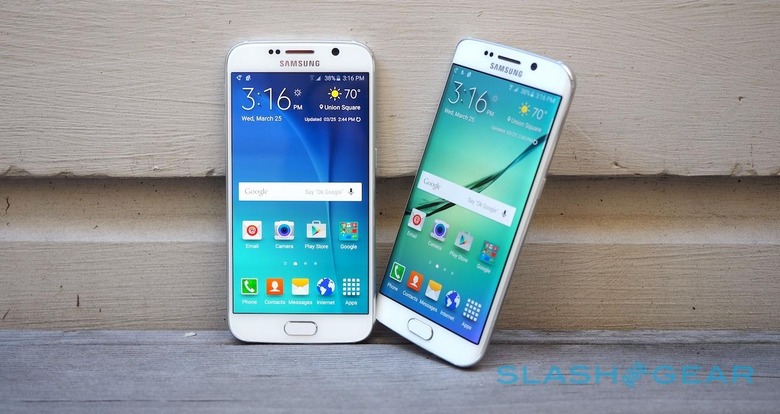 Previous iterations of Galaxy S have more than demonstrated the worth of the South Korean behemoth's supply chain, but it's taken until now for those pieces to add up holistically. A camera that not only has the megapixels, but the lens and software to produce legitimately great results with minimal effort. A design that leaves you in zero doubt that you're holding the top of Samsung's range. And software that works with you – and with the hardware.
Certainly there are some lingering rough edges, and the cleanly executed construction arrives under the cloud of slightly derivative design, but there is no perfection in the smartphone world, only the chasing of it. On that basis, though the Galaxy S6 edge is a stunning example of technological proficiency – and its painful under-utilization – it's the Galaxy S6 which provides ample retort to Apple's iPhone, and which is certainly the best Android phone around today.