Samsung Galaxy S6 Active released as AT&T exclusive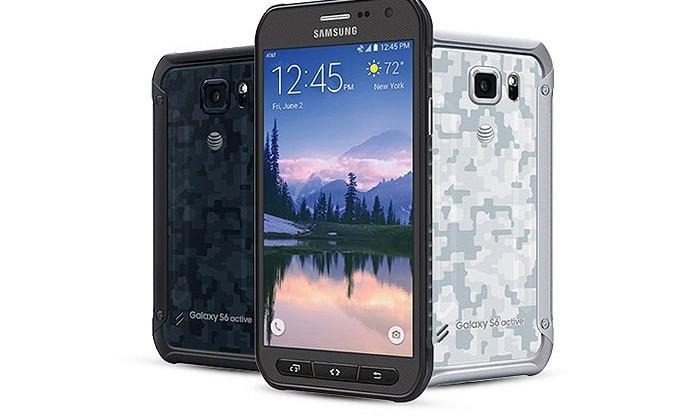 This morning the Samsung Galaxy S6 Active was revealed by AT&T, the exclusive carrier of this product inside the United States. This product will be offered in three relatively unique colors: Camo White, Camo Blue, or Gray. This phone will be released in a fashion similar to previous "Active" devices, coming with features very similar or identical to that of their Galaxy S6 brethren, same processor, same camera, same display. Wireless charging is also in play here, as evidenced by AT&T's pushing of the official Samsung Wireless Charging Pad in a bundle deal.
Samsung's Galaxy S6 Active works with IP68 certified casing. This means that the device is shock resistant, dust proof, and water resistant. You can dunk it in, if you do so wish. The Galaxy S6 Active is water resistant up to 1.5 meters for 30 minutes.
Inside you'll find Android 5.0.2 Lollipop operating system and a Samsung Exynos octa-core 64-bit processor – the same you'll find in the Galaxy S6 and Galaxy S6 Edge.
This release comes with 32GB internal storage and a 3500mAh battery with wireless charging. This is Qi-standard wireless charging, the same as the Galaxy S6.
Working with AT&T, this device also has HD Voice calling for ultra-clarity.
The Galaxy S6 Active will be offered with AT&T's Next 24 plan – $23.17 for 30 months. You'll also find it with Next 18 for $28.96 for 24 months, and with Next 12 for $34.75 for 20 months. This device is also available on a 2-year contract for $199.99 USD.
Note – the "Next" plans numbers, like Next 12, do not indicate how many months you'll be paying. Next 12 here, for example, works with 20 months of payments, not 12. Keep that in mind.