Samsung Galaxy S II Telescope Teaser Sent to Publishers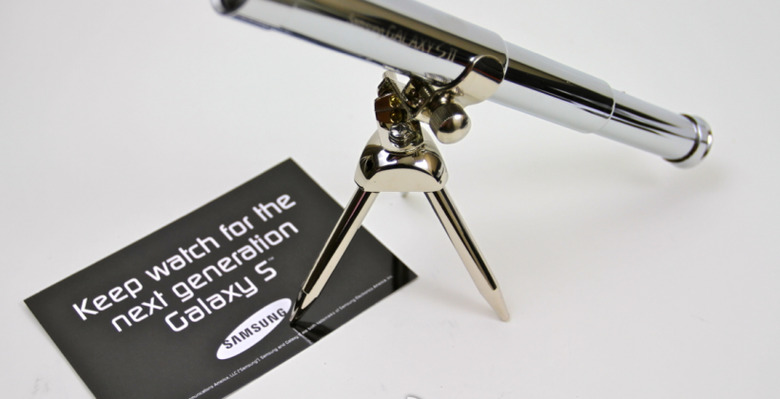 We've received a surprised in the mail today, one that we certainly weren't expecting as no solid facts on the following device have been set yet. In a regular ol brown box with a big Samsung logo pasted on top, there was a small black box. Was it what the top of the box said it was? Was it the legendary Galaxy S II here in America?! No way, it's something much more strange. Samsung today sent us a Galaxy S II Telescope. A tiny little reminder that the Galaxy S II was soon approaching, coming soon to a carrier (or carriers?) near you!
You'll also notice a note that says that we're to "Keep watch for the next generation Galaxy S." Beyond that, nothing more than the most awesome mini telescope in the history of the world. What we're thinking this means is that the Galaxy S II is coming on quickly as the box itself looks rather similar to what the first release of the Galaxy S II looks like, that being the one you can see in Chris Davies original Samsung Galaxy S II review. This of course also lines up with the release rumors we've heard recently saying the device would be coming to multiple carriers, perhaps Verizon first of all.
This device has already passed 5 million in worldwide sales, and quicker than it's best-selling predecessor, too! We've seen a photo of a Galaxy S II Slider on AT&T, a note that says the device might come out inside of August, and of course that secret SII Angry Birds level.
What do you think? Is the world's greatest Android right around the corner?