Samsung Galaxy S II Slide from AT&T Pictured in Photos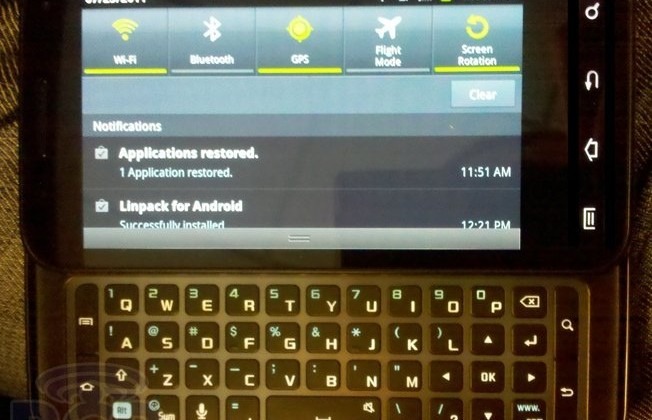 It appears that in addition to the HTC Puccini 10-inch tablet having its press images leaked today, there's another AT&T-bound device hanging in the rafters. This handset is a Samsung device by the looks of it, employing a slide-out keyboard, an 8-megapixel camera on the back with a flash and speaker grille, textured battery cover, and by the looks of its model number SGH-I927, may well be a variant of the hottest Android device in the world, the Galaxy S II.
This device appears to have the same 4.3-inch display the Galaxy S II is sporting currently in Europe, but because of the slide-out keyboard, will certainly not quite have the same Thinnest Smartphone on Earth prize attached to it. Additionally, the camera, flash, and speaker panel on the back of the device is a departure from what we're used to with the original Galaxy S II, this time appearing to take on a much less stylish form – perhaps this is just an early model? This device also appears to have Android 2.3.4 installed with a build number that's half blurred-out, which of course will bring up suspicion in the hearts of many.
Check out our review of the original Samsung Galaxy S II as it exists in Europe today and enjoy the utter awesomeness while we continue to wait for it to drop here in the USA.
The keyboard, if it does end up being a true release, does not add up to the rest of the device. Unrefined and blockish in comparison to the smooth excellence that is the original Galaxy S II. Furthermore you'll notice that the back cover is pushed out rather than being flat and inward-leaning like the original Galaxy S II. In so many more ways than one, this BGR leaked device is certainly not your beauty queen winner when placed in the same class as its predecessor. But it's got a keyboard! Maybe that's all anyone ever really needs.
[via Mobility Digest]