Samsung Galaxy Note III model details show Exynos Qualcomm split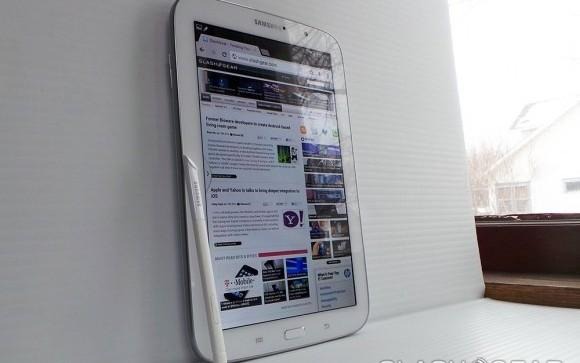 There's a bit of a split appearing this week in a set of leaked distribution lists for the upcoming release of the Samsung Galaxy Note III. This set of lists tipped by SamMobile has the device split into two major categories, the first of which is headed for the UK and a variety of European markets with a Samsung Exynos OCTA processor – an updated model, at that. Inside the USA, on the other hand, there'll be a Galaxy Note III with a Qualcomm Snapdragon 800 quad-core processor – just as expected.
There's a Samsung event set for the 4th of September – right in amongst the IFA 2013 festivities, mind you – that'll almost certainly play host to the release of the Galaxy Note III in a grand display. This special media event may also be home to the first reveal of the Samsung smartwatch – a new one, that is – in the Samsung Galaxy Gear. That device will likely be released internationally, tested for greatness, then brought in to the USA based on performance.
ABOVE: The Samsung Galaxy Note 8.0, revealed at this year's Mobile World Congress and released both internationally and inside the USA this Spring.
The Samsung Galaxy Note III's two major models will also be joined by a third which lends itself to the growing popularity of dual-SIM ability-toting smartphones in and around China. That third model is tipped to be called Samsung Galaxy Note III Duos, and will be delivered with another Samsung Exynos Octa SoC.
The two major models are suggested by the release schedule run-down as follows:
SM-N900 – Samsung Galaxy Note III 3G
• Samsung Exynos 5420 (Octa-Core)
• ARM Mali-T628 MP6 GPU
• 3 GB LPDDR3 RAM (Channel A+B – 12.8Gbit+12.8Gbit)
SM-N9005 – Samsung Galaxy Note III LTE
• Qualcomm Snapdragon 800 (MSM8974)
• Adreno 330 GPU
• 3 GB LPDDR3 RAM (Channel A+B – 12.8Gbit+12.8Gbit)
Both are quite similar to the bits and pieces laid out in our recent Unofficial Samsung Galaxy Note III vs Galaxy Note II run-down, complete with the suggestion for multi-carrier LTE. Now we've only to see if a single SKU appears, like the Nexus 7, or if we'll be seeing multiple radio configurations – even though we know the Snapdragon 800 can handle the whole lot.