Samsung Galaxy Note III arrival hinted in September event teaser
Samsung has always had a big presence at the annual IFA convention in Berlin. It's where they've unveiled a number of notable devices, including the Galaxy Camera and the Galaxy Note II. This time around, the company is teasing "UNPACKED 2013 Episode 2," and if their clever "note the date" phrase is any indication, we could be seeing the Galaxy Note III at that time.
Samsung tweeted the news this morning, revealing that part two of their 2013 UNPACKED event will take place on September 4 during the IFA conference in Berlin, and while we can't be 100% sure that we'll see the Galaxy Note III, it's almost a given that we will, considering that IFA has been the place that Samsung revealed the first Galaxy Note, as well as the second iteration of the device.
During the first part of Samsung's UNPACKED event, the company unveiled the Galaxy S 4 on Broadway, where they mildy entertained the crowd with a demo of the new device with a Broadway spin that featured dancing, singing, and other embarrassing acts that almost topped Qualcomm's CES 2013 keynote.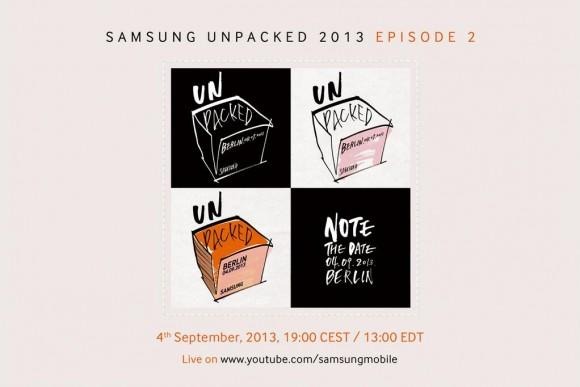 As far as what we might see in the Galaxy Note III, it's rumored that the device will pack in an Exynos Octa core chip, with some regions getting a Qualcomm Snapdragon 800 quad-core processor. The phablet is also said to sport a 5.7-inch screen with a 13MP rear camera with a Xenon flash.
Of course, we'll be live at IFA to bring you the details as they arrive, but we still have just under a month before the show begins. Hopefully Samsung packs away the Broadway stunts and aims for a more traditional approach to announcing its new products.