Samsung Exynos 5 Octa update teased (in time for the Galaxy Note III)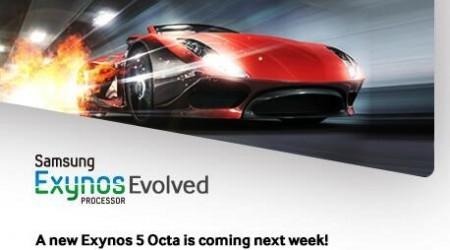 Samsung is teasing a new version of its flagship Exynos 5 Octa processor, the eight-core chip found in some versions of the Galaxy S 4, with a full reveal of the "more powerful" SoC next week. The new chip, Samsung took to Twitter to gloat about, is billed as an "evolution" of the existing Exynos 5 Octa, though aside from unspecified performance improvements the South Korean company is vague as to what changes we can expect.
The original Exynos 5 Octa went into production back in March, the first example of ARM's big.LITTLE architecture. Although the chipset has eight processor cores in total, only four of them are ever active at the same time, depending on what the device is being asked to do.
In high load situations, such as when running games, the Exynos 5 Octa runs as a quadcore Cortex-A15 processor, for maximum performance. However, when less grunt is required – such as polling data connections while the phone or tablet is otherwise idle – a quartet of Cortex-A7 cores are switched on instead, which are less powerful but also more frugal.
There's more on the Exynos 5 Octa chipset in our SlashGear 101.
One possibility is that the new version of the Exynos 5 Octa will simply increase the clock speed of the two sets of cores. Currently, the A15 cores run at 1.6GHz, while the A7 cores run at 1.2GHz. However, it could also be to do with LTE support, which is only found on select models of the Galaxy S 4 running the Exynos 5 Octa.
According to recent rumors, Samsung's upcoming Galaxy Note III will use the Octa chip in at least some of its variants. We'll know more about the chip next week, when Samsung details it fully; the Note III will have to wait until September, at least according to the rumor-mill, and its expected IFA 2013 unveil.