Samsung announces production of Exynos 5 Octa chip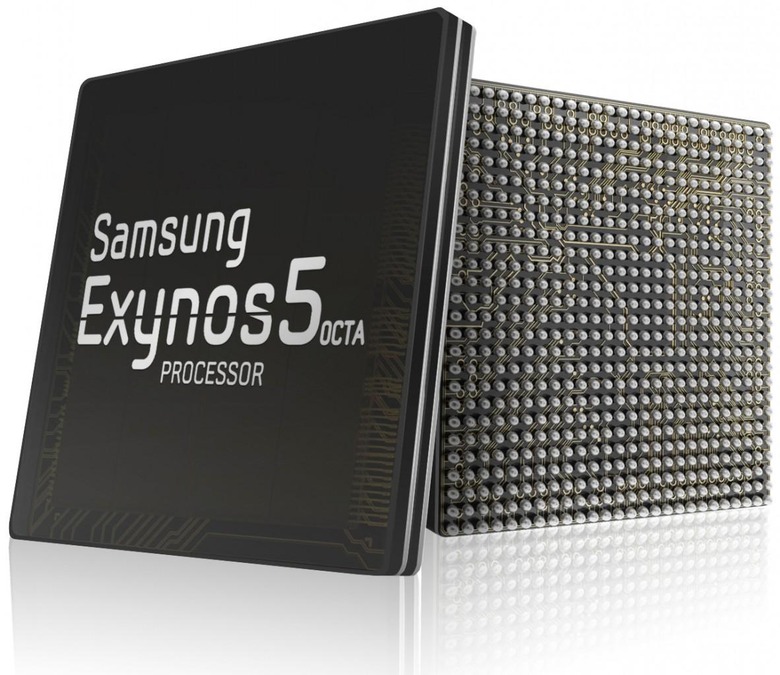 Samsung announced its new flagship GALAXY S 4 last night in New York City in full broadway style, and just today we confirmed that the new device runs Qualcomm's newest Snapdragon 600 chipset in the US, while other regions will be getting Samsung's new Exynos 5 Octa processor, which the company will be putting into production starting sometime in Q2 2013.
New details are pretty slim, but the new chip's architecture is based on the Cortex-A15 chip, and the Exynos 5 features a mixture between the Cortex-A15 and the A7 to offer the best of both worlds: four Cortex-A15 cores for intensive tasks, along with four more Cortex-A7 cores that handle the lighter stuff.
Samsung claims that this setup offers up to 70% more efficiency compared to using only Cortex-A15 cores. Samsung says that the new Exynos processor will be manufactured using the company's latest 28-nanometer design, which increases power efficiency and produces less heat — two things that are crucial for a good chip.
The GALAXY S 4 is obviously the first device to sport the new processor, and we're positive that more devices will make their way to the forefront sporting the new chip. If you're not familiar with Octa-core processors, don't worry, as we'll be posting an in-depth "SlashGear 101" primer later today. Stay tuned!