Novatel Wireless MiFi 2352 HSPA review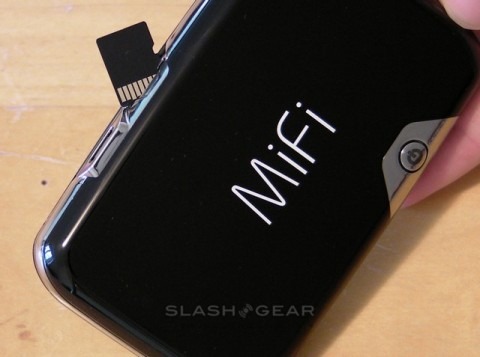 Novatel Wireless' MiFi intelligent personal hotspot was one of our top 5 gadgets from ShowStoppers back in April, and had floored us a few months earlier in Barcelona.  Having released their CDMA EVDO Rev.A MiFi 2200 on Verizon and Sprint to very positive reaction, the company is now launching its GSM 3G HSPA model, the MiFi 2352.  As well as the ability to share a single mobile broadband connection among up to five WiFi users, the MiFi 2352 brings a few new tricks to the table; check out the full SlashGear review after the cut.
For the full rundown of what's in the MiFi box, check out our video unboxing.  Basically, in its SIM-free form as you see here, Novatel Wireless supply a global power-adapter with various plug inserts, a USB to microUSB cable, rechargeable 1,530mAh battery and a small printed Getting Started guide.  The MiFi 2352 supports various connection speeds, from quadband (850/900/1800/1900MHz) GPRS/EDGE up to triband (900/1900/2100MHz) UMTS HSUPA/HSDPA.  Network-depending, you can theoretically see up to 7.2Mbps downlink rates and up to 5.76Mbps uplink rates.
There's no driver disc, because there needn't be any drivers.  As standard Novatel require no connection manager – the software Verizon supply with their CDMA MiFi is their own decision; Sprint's version uses no such app – presuming you're using the 2352's WiFi connection.  Setup is as speedy as dropping in your SIM, holding down the single button until the lights begin blinking, and then waiting for the MiFi to start spitting out a wireless connection.  The default SSID is a sensible "MiFi_2352" and by navigating to "http://www.mifi" you access the device's locally-hosted homepage showing the number of connected clients (up to 5 are supported simultaneously), connection details and battery status. 
Since sharing a capped HSPA data connection via an unsecured WiFi network seems a recipe for overage charges or disconnection, the first step for most users will be accessing the admin pages and setting up WEP, WPA or WPA2 encryption.  Thankfully that's straightforward with the MiFi's basic but speedy UI; there are also options for MAC filtering and recording various logs of WiFi connections and modem events.  The MiFi can be loaded with up to six "internet profiles", each with corresponding settings to a different SIM; that way, if you regularly switch between carriers (say, if traveling) then it's simple to flick between the presets.
As on a full-sized router, there's also port filtering support, the ability to set custom permitted applications, port forwarding, a switchable DHCP server and VPN pass-through support.  Unlike a normal router there's also an optional power management setting which can shut the MiFi down after between 2 or 60 minutes of idle time.  Once you've made all the tweaks you want, you can backup the settings to a connected computer.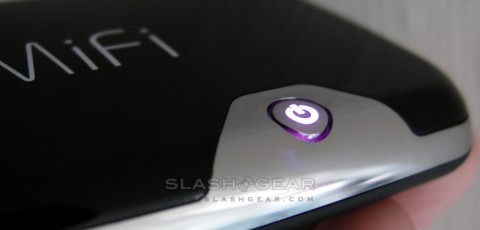 Buttons may be in short supply on the MiFi, but blinking colored lights are not.  To be fair, there are only two: one single blue WiFi logo hidden in the chrome strip running the modem's waist, the other a multicolored light integrated into the power button.  The former lights solid when WiFi is on, then flashes when users are connected.  As for the latter, that cycles through various hues to indicate GPRS/EDGE, EDGE/WCDMA or HSPA connections (green, blue or violet respectively) together with flashing red to show low battery and amber to show charge status (flashing when charging, solid when full).  There's no obvious way to see more granular battery status; that requires accessing the MiFi's status page. 
One of the main differences between this HSPA MiFi and the CDMA versions available in the US is its microSD slot, according to the documentation happy with up to 16GB cards.  With this, it's possible to turn the MiFi into a miniature, portable NAS of sorts; access can be set as read-only or read/write, though there's no granular password control over different users as you'd find on a full-scale NAS.  From talking with Novatel, it seems this might be addressed in a future update.  Access, though, is limited to anybody with encrypted WiFi access, which is likely enough control for most users, making the MiFi ideal for storing commonly-accessed files and documentation.  It's also ideal for use with a netbook, UMPC or MID, which might sacrifice internal storage for portability.  A few 16GB microSD cards are a whole lot cheaper than paying for an SSD upgrade on such a device, plus they're then of benefit to any WiFi-connected computer.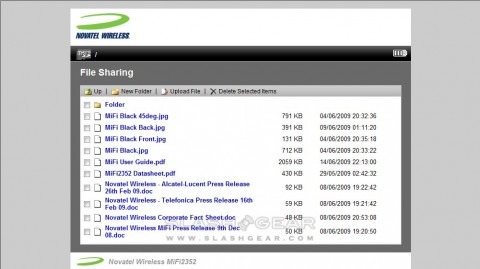 So far it's a pretty basic NAS, though.  You can upload files (one at a time), open or delete them from the web interface, but there's no way to transfer files already on the card between folders.  We were also unable to map the microSD card as a network drive.  On the up side, each folder can be given separate read-only or read/write status.
It's also possible to use the MiFi as a standard, USB modem, with the supplied cable and the drivers available to install from the device itself.  Novatel's connection manager offers the usual connect and disconnect choices, with basic stats, plus an SMS app and address book.  Unfortunately using a direct connection kicks the MiFi 2352 into non-WiFi mode, something Novatel's quick start guide seems to imply is intentional but that we'd prefer was a user option.  There's no provision for topping up the MiFi's battery via USB while also sharing its 3G connection, though of course most OSes will let you broadcast the connection over the notebook's own WiFi.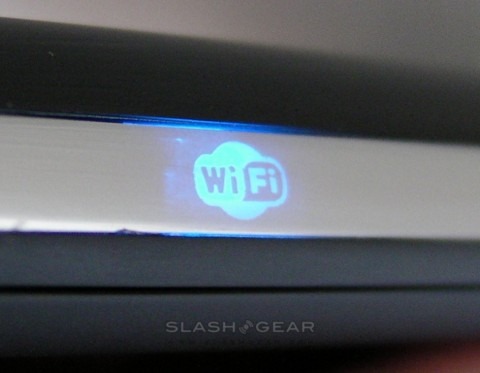 Also new to this particular MiFi model is its processing capabilities.  Novatel have given the 2352 a separate 900MHz ARM app processor, RAM and flash storage, with the obvious expectation being that there'll be a growing catalog of third-party and homegrown mobility software that can run on the device itself.  As with any new platform, however, the limitation is primarily a shortage of cooperating developers.  There's seemingly just one third-party app on offer right now, an enterprise-level device manager from Alcatel-Lucent (which we didn't have access to for testing), while Novatel themselves have apparently developed a "basic" VPN client.  With no MiFi App Store or equivalent, however, distribution seems left to carriers or hardware providers, not individual users, and there's currently no publicly available SDK.
That's unlikely to stop the intrepid from delving into the MiFi 2352's Linux roots, albeit on a small scale.  Having been told that the intelligent hotspot "doesn't support Android at present, but runs an OS selected for its potential for Android installation at some point in the future" we're feeling cautiously optimistic that – likely as the Google OS itself develops, and becomes more suited to non-smartphone devices – future MiFi units could end up with an Android Market injection.
All early days, though, and right now the bigger question is how those extra components might impact on battery life.  Novatel quote the same 4hrs use/40hrs standby for the 2352 as the Sprint and Verizon MiFi 2200 units, which lack the app processor, and supply a bigger, 1,530mAh battery than the 1,150mAh in its simpler cousins.  In our testing the 2352 managed a little over Novatel's active usage estimates, complete with some standby downtime; your experience will vary on how strong the 3G signal is, and we did notice the MiFi became quite warm after extended use, particularly when it was struggling to keep a grip on a connection indoors.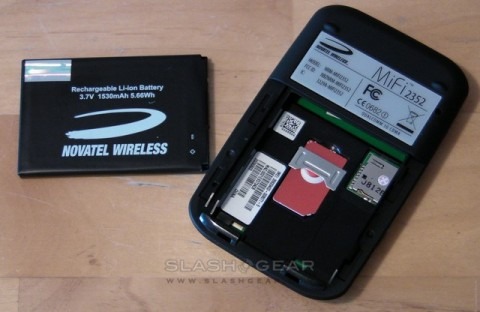 Officially, the MiFi 2352 is only available through one European carrier at present, Telefonica in Spain.  It's unclear if they've made use of the MiFi's A-GPS abilities; there doesn't appear to be any obvious way to access it in our non-carrier unit.  Sprint's 2200 MiFi can be set to integrate location data with such things as Google searches, automatically bringing back nearby listings ahead of more general ones.  That appears to be a carrier-specific function.
Speaking of carriers, Novatel have a GSM version of the MiFi intended for US 3G bands.  The MiFi 2372 is yet to show up on the company's own webpages, but its been spotted clearing the FCC complete with support for the 850/1900MHz bands; that suggests we may be seeing an AT&T version sometime in the near future.
There's little not to like about the Novatel Wireless MiFi 2352.  It's slightly thicker than the EVDO versions, and that's partly because of the discrete app processor that, right now, we're not seeing much use of, but future implementations could righten that balance.  Similarly, the microSD functionality may not be as flexible as a traditional NAS, but it's a nice bonus and a quick way to share information between devices or users.
None of that distracts from what the MiFi does best, though: sharing a single connection in a straightforward way.  With a reasonable HSPA link it's possible to fool yourself into thinking you're at home or the office, as devices automatically hook up to the MiFi 2352's connection and leave you to focus on what it actually was you wanted the internet for.  We're not sure on UK pricing for the 2352 (nor US pricing for the 2372) but importer Mobilx.hu are offering it, unlocked, for €220 including tax ($315/£186) and in Spain Telefonica are charging €29 or €59 per month.  Considering you can realistically replace a smartphone data package, and multiple traditional USB or PC Card modem contracts, for just one MiFi connection, road warriors and traveling families could do a lot worse than checking out the 2352.  Its certainly found a permanent place in our kit bag.
Novatel Wireless MiFi 2352 unboxing video:
[vms 7304975ccb23337bb576]