Novatel MiFi And MC996D-SlashGear's Top 5 Products At Show Stoppers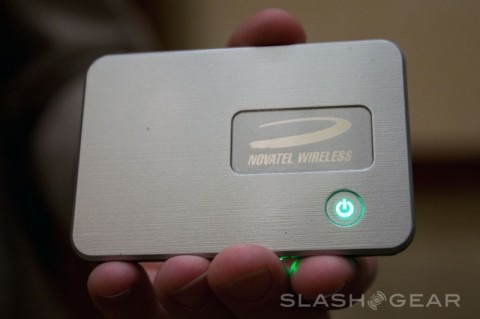 Continuing our list, we have a company offering products that are well known around the cellular world. Novatel Wireless was showing off two of its hottest new devices, both of which are exciting for anyone who ever needed an internet connection on the go.
First up is the MiFi. This handy little device broadcasts a wifi hotspot to connect up to 5 users to the EVDO Rev. A cellular connection.  The battery lasts 4 hours for active use, and 40 hours of standby. The MiFi was a lot smaller than I thought it was going to be. You can literally stick it in your pocket and lose it if you're not careful.  The version in the video below is the CDMA version, and there will be a GSM version released soon.
We saw the MiFi in action, and it was sweet. It worked like they said it did, and the internet connection was fast enough to satisfy the mobile users of Slash Gear. There haven't been any official announcements for which US carriers the MiFi will be available on (CDMA, think about it) but we were told we would be seeing the MiFi in stores "very soon."
Novatel's next product was as equally exciting as the MiFi. The MC996D Wireless card is a HSPA+ capable wireless modem that can handle, in theory, up to 21.6 megabits per second. No word on release date or pricing, but you can assume it will be on a GSM carrier sometime in the near future.
[vms d3c3b8269faf0ba7491d]