MiFi 2352 HSPA Intelligent Mobile Hotspot video unboxing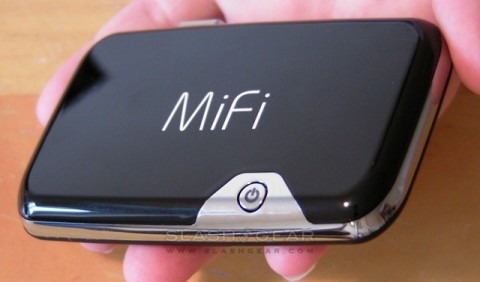 Novatel Wireless' MiFi 2352 is the third of the company's "Intelligent Mobile Hotspots" that we've unboxed here on SlashGear, but unlike Verizon's and Sprint's the 2352 is a GSM/UMTS device rather than EVDO Rev.A.  Launching today on Telefonica Espana [pdf link], the MiFi 2352 features 7.2Mbps HSDPA and 5.76Mbps HSUPA, sharing that connection out for up to five WiFi b/g clients.  We caught up with Novatel in London today, to find out what else makes the MiFi 2352 special; you can also see the first video unboxing of the portable 3G router after the cut.Unboxing video after the cut
As with the Sprint and Verizon models, the concept behind the MiFi 2352 is simple: pay for one 3G mobile broadband connection, and share it between your various WiFi-enabled devices.  The MiFi 2352 supports triband HSPA (900/1900/2100MHz) and quadband GPRS/EDGE (850/900/1800/1900MHz) together with A-GPS, WiFi b/g and WEP/WPA/WPA2 security.  There's also a microSDHC slot, which you can use to share files between the WiFi clients.
Novatel are particularly proud of the MiFi's ability to quickly serve up a landing page.  The complexity of that page depends on the carrier: Sprint and Verizon have used the default setup system (and Verizon also use a connection manager, though Sprint's MiFi does without) whereas Telefonica have gone one step further and created a new landing page with full microSDHC access, shortcuts to the carrier's support pages and widgets.  Right now the widgets include geotagging and geosearch, but Novatel talked about cloud-based storage back at CES and it seems likely that an enabling widget for that will arrive soon enough.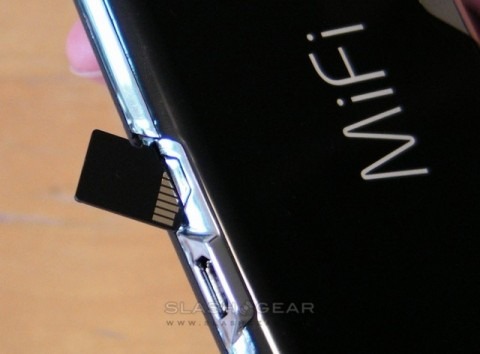 Where the MiFi 2352 differs from the Sprint and Verizon 2200 models is in its application capacity.  Novatel have given the GSM model a separate Linux OS, application processor with memory, and flash storage; these mean that the MiFi 2352 can host and run third-party applications, accessible to each of the WiFi-connected clients.  Alcatel-Lucent were the first to announce an app for MiFi, a version of their Nonstop Laptop Guardian software for enterprise users that allows system admins to remotely manage, monitor and even freeze users' computers and mobile devices.  Novatel themselves will be supplying a basic VPN client that can be run on the MiFi 2352 itself.
It's early days for the MiFi 2352's app capabilities, but from talking with Novatel it seems they have big plans for the platform.  They've obviously thought carefully about which OS to put on the hotspot, to give their developer partners the best start; interestingly, while the current device does not yet support it, the company told us that the MiFi has been designed with a mind for future Android compatibility.  It's not difficult to envisage plenty of scenarios where an always-connected 3G device capable of sharing information with a variety of WiFi clients could be deployed, and we've high hopes for the "intelligent" direction Novatel plan to take the MiFi in.
First-impressions of the MiFi 2352 specifically are, as with other models, very good.  It's surprisingly light, at 81g – it feels as though there's no battery inside – and setup is as straightforward as powering it on, waiting for the LED status light to indicate a connection, and then connect via WiFi from your laptop, netbook, smartphone, PSP or whatever other device you want to use.  We'll have our full review once we've had the chance to put the MiFi 2352 through its paces; until then, enjoy the unboxing video and gallery below.
[vms 7304975ccb23337bb576]