Moto G5 Plus Review : Mid-tier Phone Authority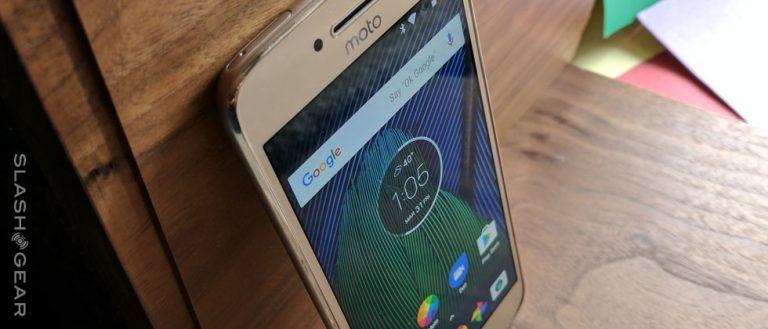 The 5th generation of Motorola's Moto G series returns to a place of extraordinary accomplishment. What Lenovo's Motorola crew have done is to design a device that does exactly what its originator intended for the series. Like the Moto G, the Moto G5 Plus is delivered with highly acceptable hardware and software for an extremely reasonable price. Plus it has the same image sensor as one of the very best smartphone cameras ever released.
Hardware Design
As it is with all non-rugged smartphones, so too is it true of the Moto G5: if it looks good on the outside, a lot can be forgiven about the inside. I did not expect this smartphone to be as quick as a Google Pixel – and it's not. I did not expect the display to look quite as brilliant as the Samsung Galaxy S8 or LG G6 – and it's not.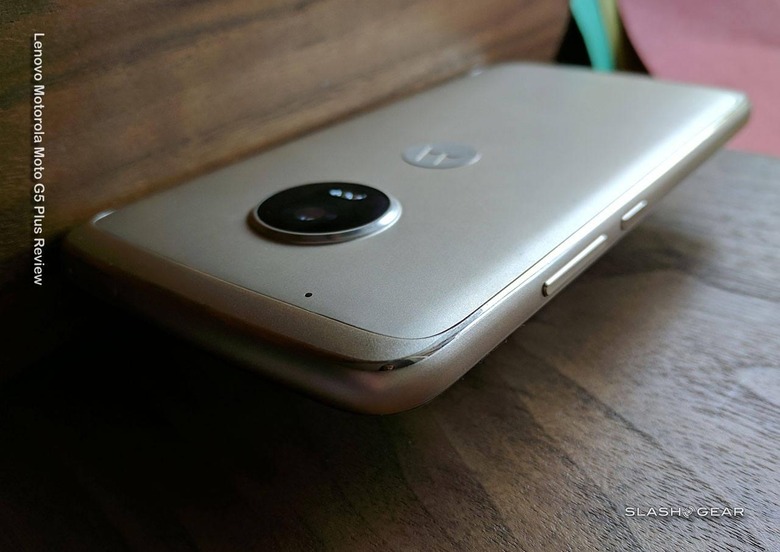 Instead, this is a smartphone whose development cost went majorly into the design of its exterior. Without looking excessively like any previous smartphone (outside of the Moto Z,) the Moto G5 Plus proves that Motorola's hardware game is once again on-point.
Moto G5 Plus : what no other phone has
The industrial design of the Moto G5 Plus is miles ahead of what was released in the Moto G4 from the year 2016. The 2015 G smartphone Moto G (3rd Gen, that is) looked rather similar to its predecessor, the Moto G 2014 and the original, the first Moto G from 2013. The original Moto G was the best-looking industrial design of the bunch, if you ask me.
The original Moto G would be all but unusable today, what with its low-resolution display, older connectivity, and processor that's not quite adequate for today's apps. But the device still feels good to hold and remains a beautiful part of tech history. Fast forward to 2017 and Motorola is back in the driver's seat with hitting that fine balance between cost and fine design.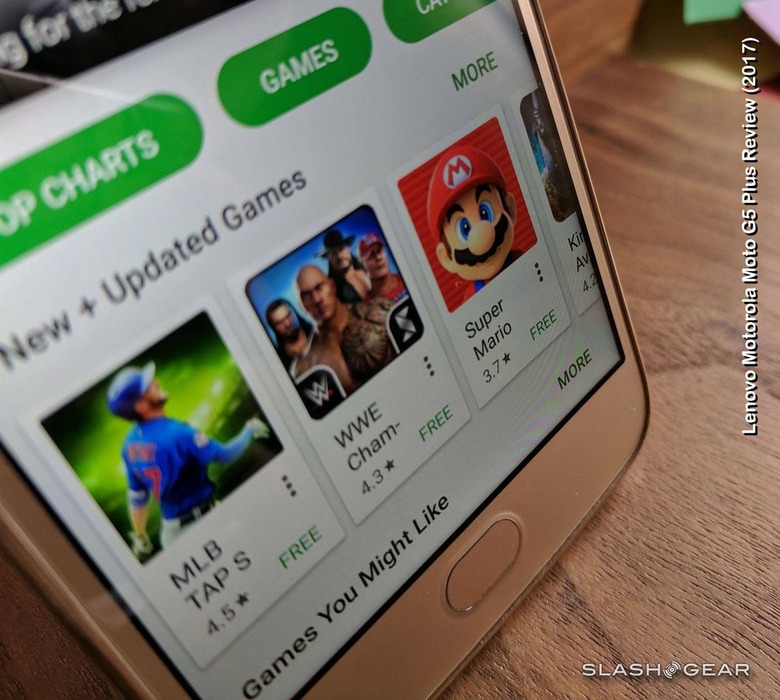 The display on the Moto G5 Plus is extremely good – again, not as bright or as sharp as the LG G6, but highly decent. This display is more than merely usable – it's amongst the best 1080p displays on a smartphone today.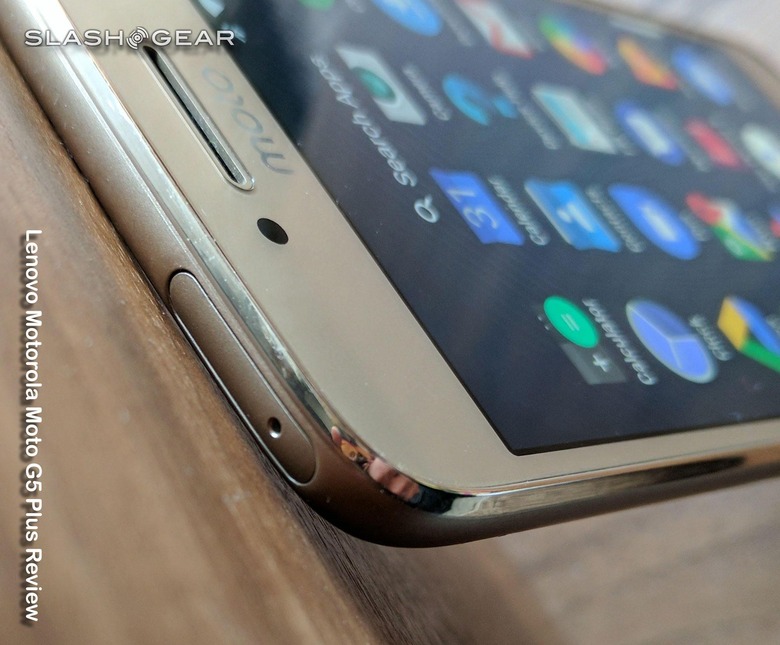 Software and Apps (and how less is more)
Inside this device is Android 7.0 Nougat, Motorola's ever-so-slight modified version of the most basic new Android. Motorola has been so kind as to tow the line, offering what amounts to the most vanilla version of Android outside of a Google Pixel phone sans its Pixel launcher. If Google still sold a Nexus smartphone, it'd be a more pure Android – but they don't currently sell any Nexus, only Pixel.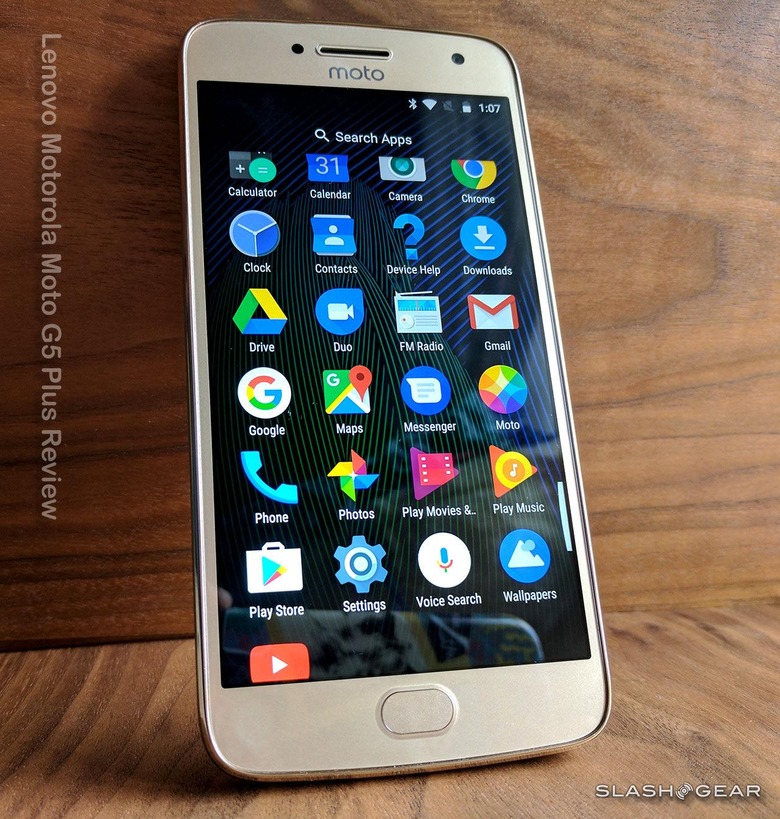 As such, it's almost as if Motorola saw the opportunity to be the manufacturer that sells the least expensive basic Android phone on the market. Motorola's modifications are all non-intrusive – and in most cases, a welcome addition to Android. Most are included in their full set of gestures – some new, some that've been around for several generations of Moto phone.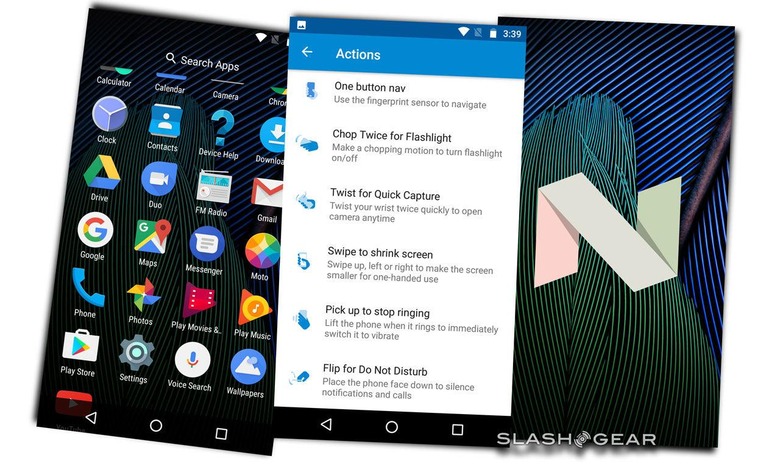 Included with the gestures is a set of swipes that can be used with the device's fingerprint scanner. That's the pill-shaped indentation under the display – not a button, but a scanner. The power button and the volume button both still reside on the right side of the phone.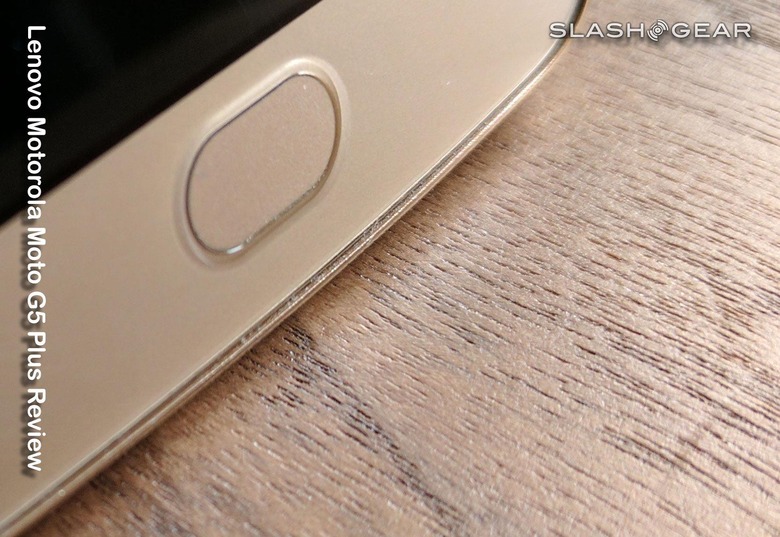 In short – it's GOOD that Motorola has included only the bare essentials with this smartphone in apps. They've got their own app to control gestures and their own notifications display, a Motorola-made camera app, FM Radio, and a very basic Q&A app called Device Help – but that's it. They've allowed the consumer to be trusted finding their own apps if they do so require them.
Google provides the following: Calculator, Calendar, Chrome, Clock, Contacts, Devices, Downloads, Drive, Duo, Gmail, Google (search), Maps, Messenger, Phone, Photos, Play Movies, Play Music, Play Store, Voice Search, and YouTube. This is about as basic as a collection of Google apps gets on a Google-certified Android smartphone. More apps can be downloaded from Google Play as the user wishes.
Camera
The quality of the camera on this device is well above what the price might make most expect. Surprisingly good color can be captured – even in low light – and with this build the entire photography experience just feels a lot better than it did last year with the G4 Plus. Have a peek at the specifications for the camera on the back of this years Moto G5 Plus below.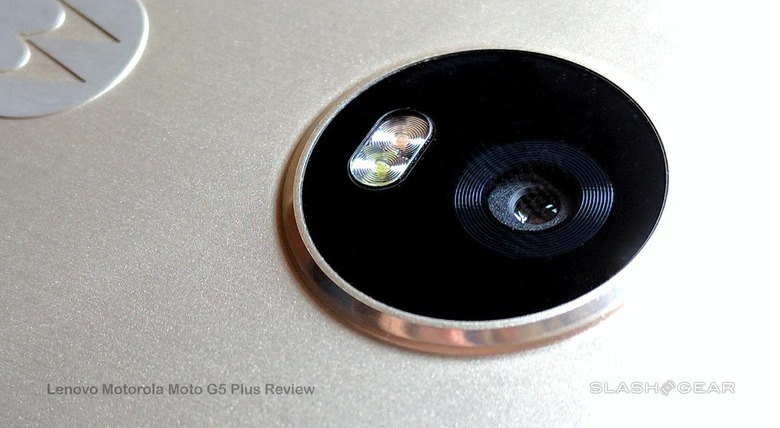 Moto G5 Plus Back-facing Camera Specs:
• 12MP CMOS sensor with 1.4µm pixel size
• Dual Pixel autofocus
• F1.7 aperture
• 8x Digital Zoom
• On-sensor phase detection
• 1080p video
• Dual-LED Flash
• Sony IMX362 Exmor RS Image Sensor
The Moto G5 Plus uses the same Sony Exmor RS image processor as Samsung's Galaxy S7 and S7 Edge. Because of this, I expected exceptional image quality from this smartphone. I expected to be able to capture fine-looking photos in whatever environment (dark, light, odd included).
For a $300 smartphone, the photos I can capture with the Moto G5 Plus are fantastic. The photos are great for a more expensive smartphone, too. The Galaxy S7 still costs $600 USD – at least – and has the same image sensor inside.
To be clear, we have not tested the non-Plus Moto G5 – that has a different image sensor inside. That smartphone costs around $100 less than the Plus, and we're not going to assume it has just as high a quality camera without giving it a close once-over. For now, we're giving a couple of big thumbs-up to the camera setup on the Moto G5 Plus.
Battery Life
As we're familiar with all the gear inside the Moto G5 Plus – processor, manufacturer, software – there was no reason to expect anything less than the best from the battery. Battery life has turned out to be top-notch, lasting at least a full day with mobile data and a relatively intense amount of work being done. Streaming videos with a full-brightness display will result in considerably less uptime, but this phone has QuickCharge abilities, so a charge back up to 100% won't take a large amount of time.
Wrap-up
Because this smartphone looks rather nice, feels good to use (metal!), and takes decent photos, it's a good phone. For the price it's being offered at, the Moto G5 Plus is more than a good phone, it's a great phone. Lenovo's Motorola has hit the right speed with this device, its price, and its presentation.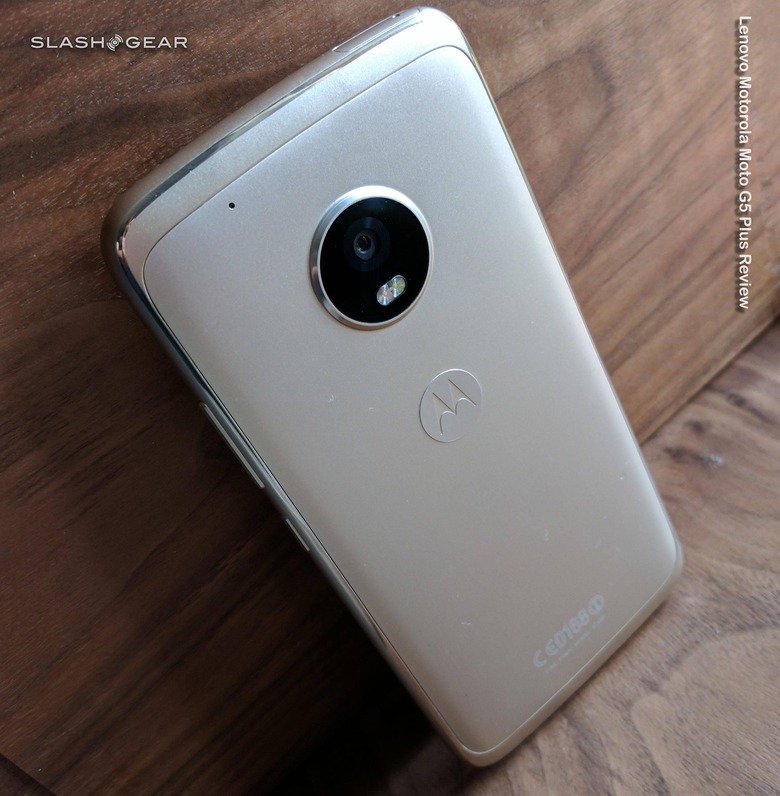 The Moto G5 Plus was made available for sale on the 31st of March, 2017, at a variety of dealers both on and offline. Through NewEgg, Republic Wireless, Frys, Flash Wireless, B&H, Costco, Amazon, Best Buy, Target, Ting, Walmart, and Motorola dot com, this device was made available off-contract. The phone was available for $229 with 2GB RAM and 32GB internal storage or $299 with 4GB RAM and 64GB internal storage.
This device was also made available through Amazon Prime as a Prime Exclusive Phone. With that system, Amazon Prime members were able to get the device with 2GB RAM/32GB for $184.99 for Prime members, and 4GB RAM/64GB for $239.99 for Prime members. With that price comes an Amazon experience – apps, primarily – and not the same software experience as we've reviewed here.