Moto G4 Review 2016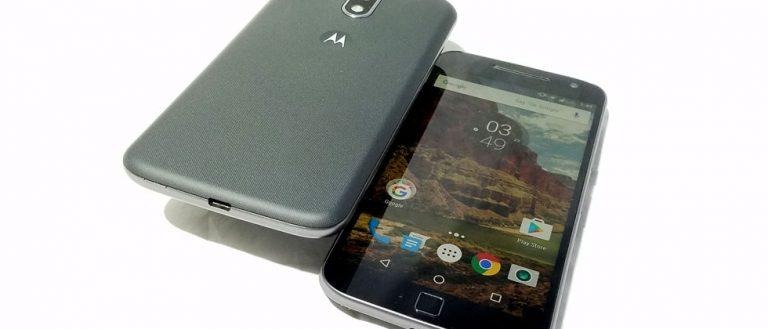 It's time again to review Motorola's budget king devices, starting with the base device Moto G. Two devices come this year – for some odd reason – both the Moto G4 and the Moto G4 Plus (or Moto G4+ if you prefer). These devices have very similar specifications to one another and could easily be mistaken for one another, as it often is with a two-phone family approach. Here we're not dealing with two screen sizes as we do with Samsung and Apple's two-phone release pattern, here we've got upgrades in camera quality and fingerprint recognition.
Hardware
The basic specifications of this device family are sound – for prices they're offered at, both the Moto G4 and the Moto G4 Plus are well worth the cash. Both devices have 5.5-inch full HD displays,
Screen size: 5.5 inch full HD screen
Processor: Qualcomm Snapdragon 617 with Adreno 405 GPU
RAM: 2GB (4G Plus also has 4GB option)
Camera resolution: 13 MP
Front-facing camera: 5 MP
Storage capacity: 16 GB, 32 GB (4G Plus has 64GB option instead of 32)
Expandable storage with micro-SD: Yes, up to 128GB
Base colors: Black, White
Users can select from a variety of additional colors – front, back, and accent around camera array – through Motorola's homepage.
The differences are in the camera, RAM, internal storage, and in the Moto G4 Plus' fingerprint scanner. The Moto G4 does not have a fingerprint scanner while the Plus does. That's the difference there.
The Moto G4 has a 13MP camera while the Moto G4 Plus has a 16MP camera with a couple extra features (you'll see in the camera section below). Moto G4 comes in 16 or 32GB internal storage size while the Moto G4 Plus has 32 or 64GB internal storage, while both have microSD card slots for storage expansion.
The Moto G4 has 2GB of RAM while the Plus has 4GB of RAM.
Above you'll see several photos of the Moto G4. Below you'll see several photos of the Moto G4 Plus.
You might mistake one for the other on the street – they're nearly identical when they're both working with the same Moto Maker outsides.
Both devices feel decent. They don't feel like low-end smartphones, that's for certain. Motorola and Lenovo designers seem to have dismissed some of the advances Motorola made in the last couple of generations of making the Moto G feel like a far more expensive phone than it was, but the end result is still decent.
Software
What was great about Motorola's Moto G collection, the first three years at least, was the fact that while the devices were inexpensive, they were still treated with respect from the company. They got updates extremely promptly. Motorola brought Android updates to Moto G first – before competing brands' flagships had the same Android updates.

Part of restructuring at Motorola over the past several months had Motorola's prime software and services team cut from the picture. These were the folks responsible for bringing swift updates to Motorola devices – and they did their jobs very, very well. Confirmed by Phandroid in August of 2015, the team were also responsible for Moto Voice, Moto Display, and Moto Assist. You'll notice these apps and features absent from the most recent round of Motorola devices.
Despite this, the Moto G family remains swift and smooth. The software experience is fine – in fact it's downright good. Lenovo has kept the near-vanilla experience of the Motorola family, sticking very close to the software Google delivers on its Nexus smartphones. For now, everything runs great.
We'll check back in after a few months – or a half year from now – to see how well they've kept up.
UPDATE: As mentioned by Ars Technica, Moto G 2014's latest update was a Marshmallow update in January of 2016, while the Moto G 2015 has Marshmallow update from January of 2015. It does not seem like either device is going to be updated any time soon.
Camera
Moto G4 has the following rear camera specs:
13 MP
ƒ / 2.0 aperture
Color balancing dual LED flash
Professional Mode
Quick Capture
Best Shot
Tap (anywhere) to capture
4X digital zoom
Burst mode
Auto HDR
Panorama
Drag to focus & exposure
Video Stabilization
1080p HD video (30 fps)
Slow Motion video
Moto G4 Plus has the following rear camera specs:
16 MP
ƒ / 2.0 aperture
Color balancing dual LED flash
Professional Mode
Quick Capture
Best Shot
Tap (anywhere) to capture
4X digital zoom
Burst mode
Auto HDR
Panorama
Drag to focus & exposure
Video Stabilization
1080p HD video (30 fps)
Slow Motion video
+ Laser auto-focus
+ Phase detection auto-focus (PDAF)
Both devices take decent photos. Both devices take more-than-reasonable photos for the cash you'll pay for the device. Both devices suffer in darkness.
Above: Photos captured by Moto G4.
Below: Photos captured by Moto G4 Plus.
Have a peek at the possibilities in the gallery above. Users that want to substantially improve their ability to take high-quality photos should skip the Moto G4 Plus. Adding laser auto-focus and phase detection auto-focus does not add $50 worth of photo capture quality.
Battery Life
Battery life on both models is almost identical. No significant differences could be found between the Moto G4 and the Moto G4 Plus when it came to battery life in the field.
Both of these smartphones work with a 3,000-mAh battery which is more than enough for a full day of heavy use – at and above 12 hours of use with mobile data and display brightness on auto.
Both devices work with Motorola's branded version of Qualcomm's QuickCharge – that's Motorola's TurboPower, which allows a device to charge up to around half battery capacity in less than a half hour.
Wrap-up
If you want to spend no more than $200 (plus whatever tax is in order) on a smartphone, Moto G4 is still the best smartphone on the market. Motorola's industrial design may have become a bit more bland this time around, but the device is right on the money for cash value.
If you need a fingerprint scanner and you want to start getting into better camera features, skip over the Moto G4 Plus and head straight for Moto X.
While I'm not certain that the software updates will continue the way they have been over the past few years with Motorola smartphones, the Moto G3, as they're calling it now, is well worth the $180 they're charging at the moment. This is the same device as you saw last year, called Moto G (2015), the same one you saw us review here and give accolades to in excess.
We're expecting that the Moto G4 Play will be very similar to the Moto G3 – and that it might end up being a bit cheaper than the Moto G3 is now. That's where Lenovo and Motorola will, we wager, be putting their real "king of the lowest end" stakes.