Moto G Review 2015 (3rd Gen)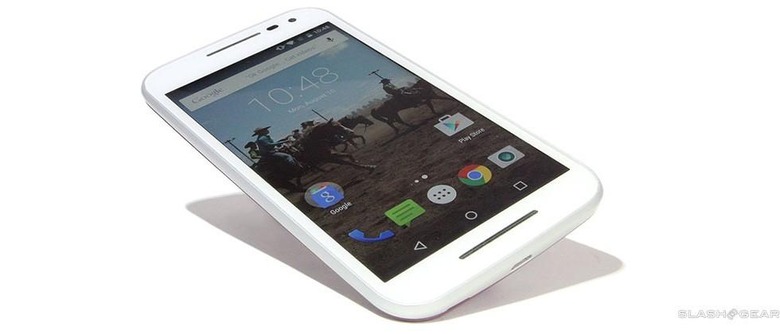 Motorola continues to run the low-cost mid-range smartphone game with their 3rd-generation Moto G here in the year 2015. When they released the first Moto G we were skeptical – how could a smartphone that doesn't cost more than a couple hundred dollars be worth using? As it turned out, the device wasn't half bad, and with Motorola's continued software support YEARS later, we've grown nothing but more confident in the company's ability to create the best low-cost smartphone line around.
Hardware
Up front you'll find a 5-inch display. This isn't the tiny palm-sized toy you remember from the time your aunt got her first iPhone. This device is relatively large. The display isn't mind-glowingly sharp, but it's certainly good enough for a first-time smartphone user at 1280 x 720p (294 pixels per inch).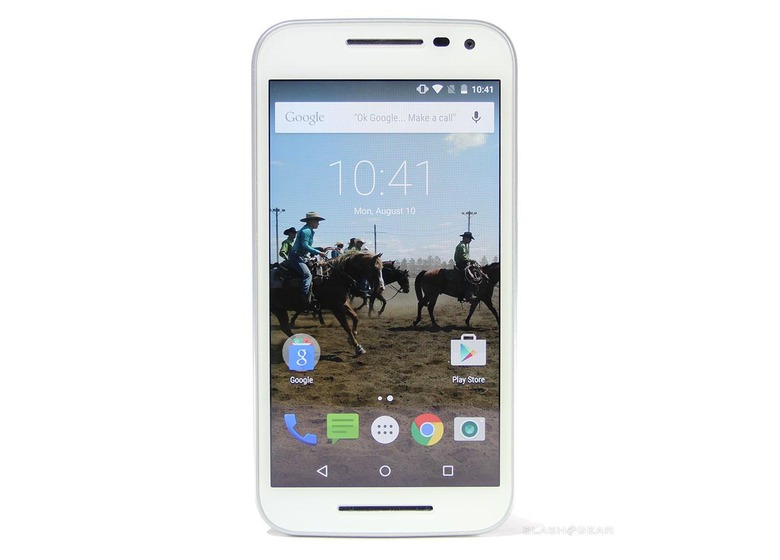 Up front you've got Corning Gorilla Glass 3, around the edges you've got hard plastic that's made to look like metal, on the back you've for a soft-touch replaceable cover that snaps in place and allows you access to micro-SD and SIM card slots.

This is the first time Motorola has gone all-out with moto maker on the Moto G. You can now order this device with an alternate colored front color, back color and cases, get your device engraved, and get a different colored "accent piece" around your back-facing camera and dual-LED flash.

That back-facing cover is a Motorola Shell, a piece of plastic that'll be available differently based on market. While this device is not rustproof, it is waterproof. It's designed to withstand immersion in up to 3 feet of fresh water (not the ocean) for up to 30 minutes, just so long as the back cover is sealed properly.
You're not meant to be using the device under water, nor are you supposed to keep it in your pocket while swimming, but it is nice to know you can drop it in a river and fish it out no problem.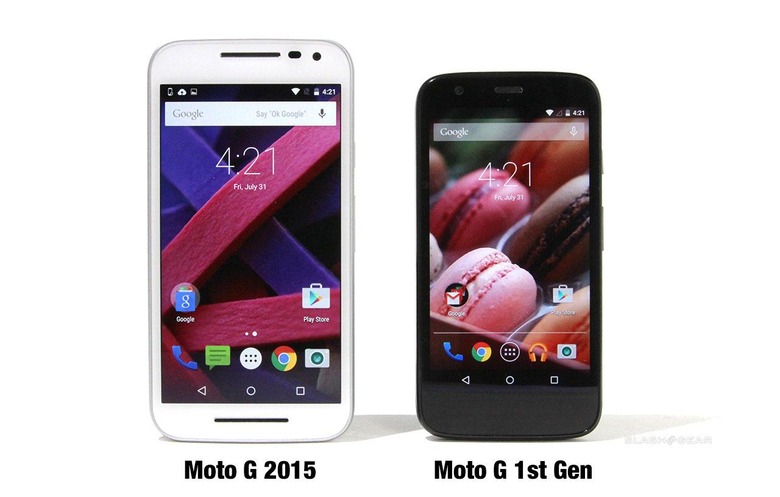 While it would appear that this device has two front-facing speakers, in fact it is not a stereo speaker system. You have one speaker above the display dedicated to your phone, while the other, below the display, is a mono media speaker.
The speaker system is good – not great, but certainly good enough for your occasional video playback.
Software
The Moto G 2015 edition works with Android 5.1 Lollipop. If Motorola's past attitude toward customer support and software updates is any indicator, we'll expect to be on the newest operating system within weeks of reveal by Google from Motorola for the next couple of years.
Software here isn't all that different from what you'd get on a Nexus device. It's basic. It's extremely clean. Motorola has its own Gallery here, its own unique Camera interface, and a few other oddities it's been developing and improving for the past several generations of the Moto G and Moto X.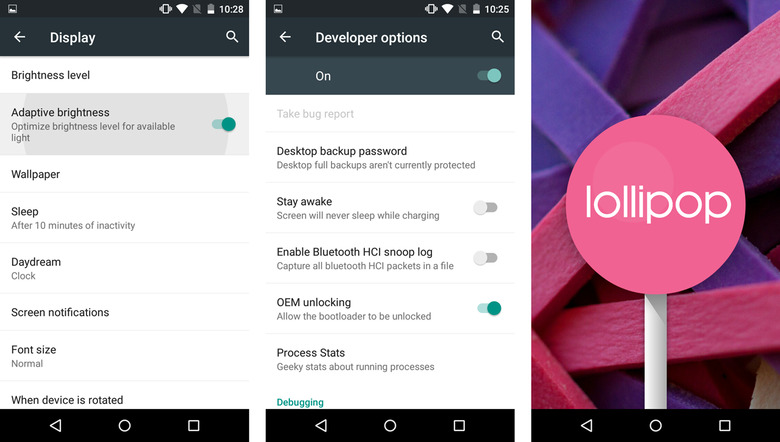 This device works with an Adaptive Brightness setting. This means that based on the amount of light coming in to this smartphone's front-facing light sensor, your display is bright or dim.
Inside developer options you'll find your "OEM unlocking" option ready to be tapped – just so long as you didn't buy this device through a carrier.
If you'd like help with your device, Motorola is more than ready to provide it. Signing up with a Motorola account requires only that you submit your email address, then you're able to call or text the company for support for your device whenever you like.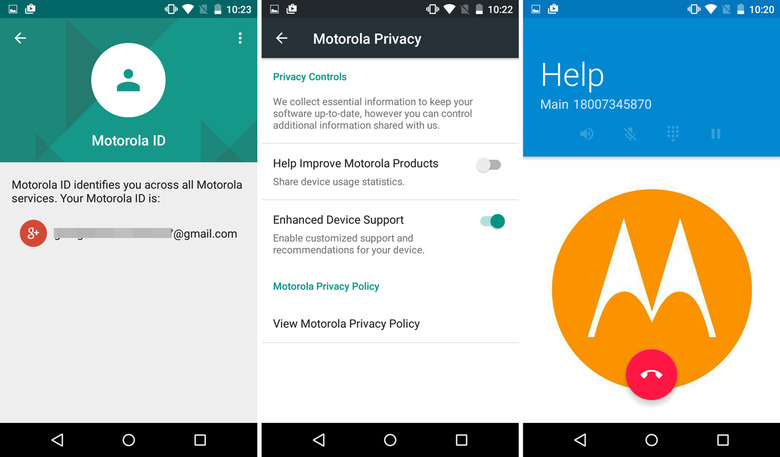 As it has been with the past several Moto X machines, here the Moto G works with an app called "Moto" as well as Moto Display and Moto Actions. Perhaps the most helpful of the additions that've been made to this Moto G in 2015 is the Moto Actions: "chop twice for flashlight" and "twist for quick capture."
Flipping your phone around in your hand turns the flashlight on (the LEDs at the back of the device) or launches your camera.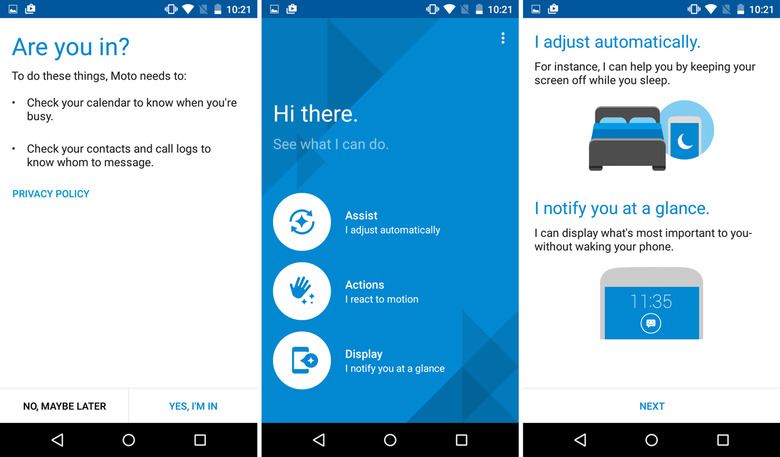 Moto Assist has your device turn certain functions on or off when you reach certain places – as tracked via GPS. You can set your device's "Home" to the place where you live, and as soon as you get there, your device will go to "silence all" mode.
You've also got functionality like "Battery saver", which kicks your processor down a notch and shuts down background data to keep your device running as long as possible.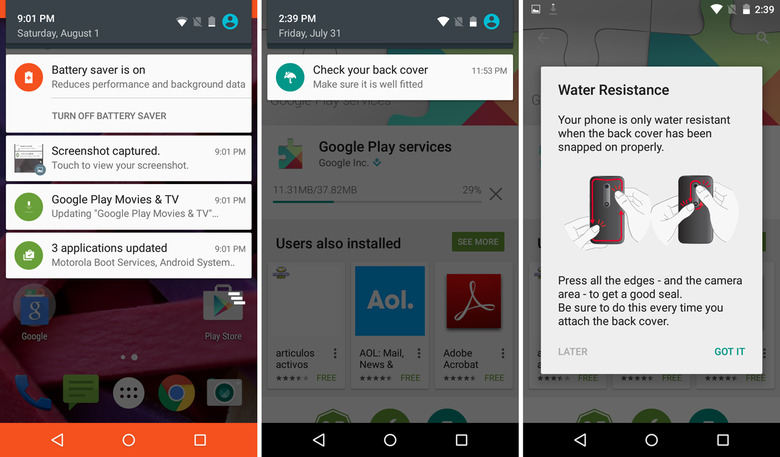 Because your device will die if you toss it in the water without its back cover securely fastened, this Moto G comes with reminders to lock it down whenever you turn the device on.
Camera
We've gone over the ups and downs (mostly ups) of the camera on the Moto G 2015 in our feature Camera Test: Moto G 3rd Gen vs Moto G 1st Gen Original. We've also taken quite a few photos since we ran that article. We've even gone to a county fair and and a rodeo to take photos!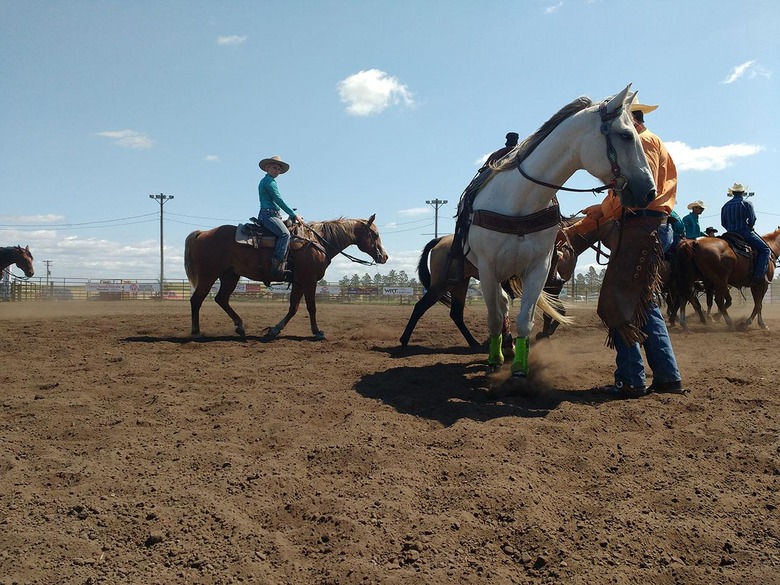 Above and below you'll see images captured with the Moto G 2015 (3rd Gen). Let us know if you'd like us to capture any other unique environments and lighting situations with this device.
Battery
The battery life on this device is surprisingly good. While we DO get an ever-so-slightly longer battery life out of the Moto E 2014, in this weight class the Moto G 2015 bats with the best. You'll be getting at LEAST one full day's worth of life out of this device, easy.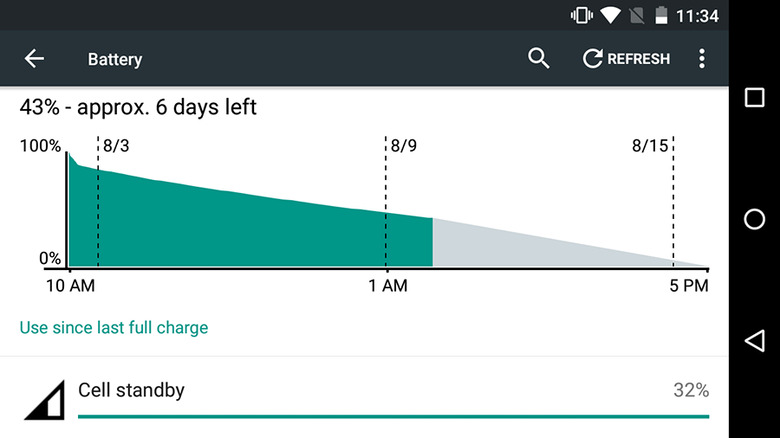 If you want to use this device as a data-less device, you're in for an even longer ride. Without a SIM card installed, we're getting 2-days of battery life or more out of the Moto G 2015.
Wrap-up
Motorola retains its championship belt for best low-cost smartphone in the world with the Moto G 2015 (3rd edition). While we were hesitant to upgrade from the Moto G to the 2nd edition Moto G, here the jump is great enough to make. Even those of you who own the original Moto G can rest easy knowing your cash is going towards a device that's worth the buck.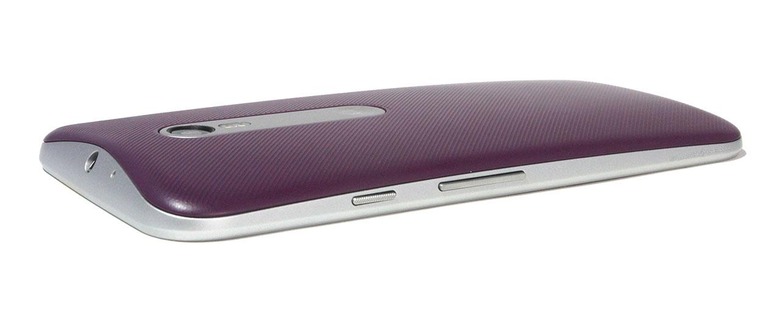 This device is great for anyone who purchased a low-end smartphone in the past few years as well as those that've never owned a smartphone before. Those of you that have top-tier smartphones from three years ago: this device is an upgrade.
Everyone else: the new Moto X devices coming out later this year are going to be real wallops to the top-tier smartphone market due to their high-quality build and slightly-lower cost than the competition. Stay tuned to our Motorola tag portal for more.