All hail the new Moto G, 2014's budget monster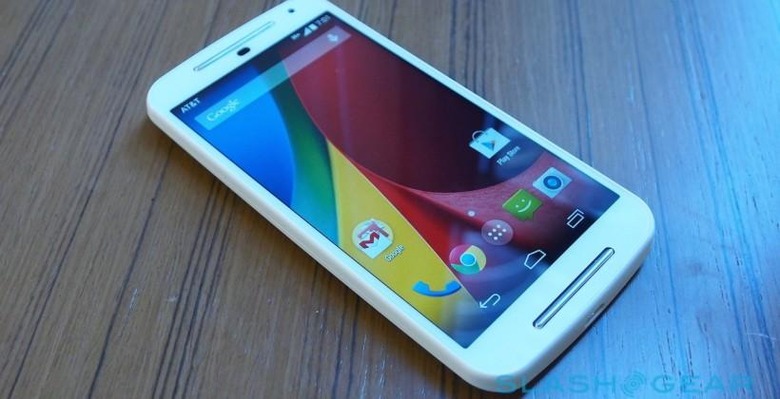 The Moto G is a hard act to follow. Motorola's best-selling smartphone of all time, and the poster-child for delivering a capable user-experience without breaking the bank in the process, it proved to be one of the most popular Android handsets of 2013. Now, for 2014, there's the new Moto G, promising to answer the key complaints about its predecessor while still keep its budget crown.
According to Motorola, Moto G users had four key areas they wanted to see change in. The most common complaint was the absence of a memory card slot: sure enough, the 2014 Moto G gets a microSD slot for up to 32GB cards. Many wanted a bigger display, and so the new phone has a 5-inch panel with Gorilla Glass 3, though still running at 1280 x 720 resolution.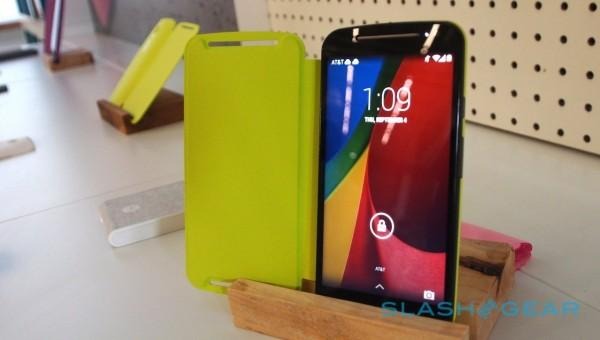 Then there was the camera. Motorola's research found 50-percent of consumers take photos on their phone daily, and a further 30-percent do so every week. The request was a better camera experience, so now there's an 8-megapixel main camera and a 2-megapixel one up-front, both of which can shoot 720p video.
Finally, people asked for better speakers for shared music listening, and so the Moto G 2014 has double 12 x 15 x 3 mm stereo speakers, which are front ported so that the audio is pointed at you, not out the back.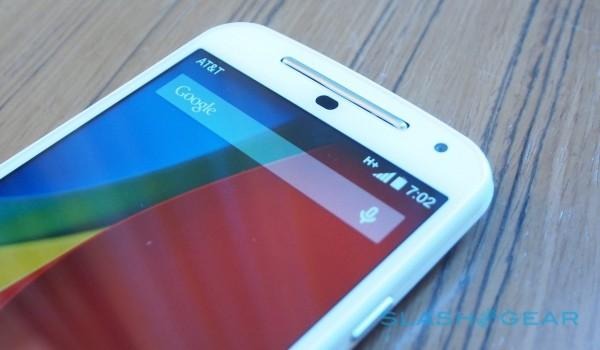 Otherwise, it's been a general refinement with an eye kept on pricing. Android 4.4.4 KitKat runs on the Snapdragon 400 1.2GHz quad core, with Adreno 305 graphics and 1GB of memory. There's 8GB or 16GB of storage and both single- and dual-SIM versions depending on geography.
The bigger screen means a slightly larger chassis, now 70.7 x 141.5 x 11 mm and 149g, though it's not vast; the screen bezels are a little chunky, admittedly, and emphasized with the white version.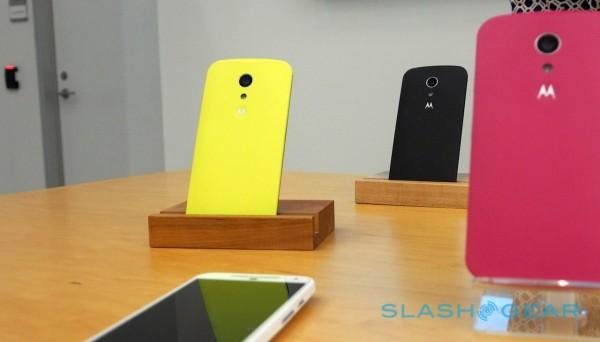 You don't get LTE, only HSPA+ at best, but there's Bluetooth 4.0, WiFi b/g/n, and GPS/GLONASS. Perhaps more interestingly, the whole thing has been given an oleophobic water repellent treatment, down to the circuitboards themselves. Even if moisture gets inside the plastic casing, it shouldn't be able to corrode the circuits.
A 2,070 mAh battery promises "up to 24 hours" of "mixed usage", again addressing another key request from current users.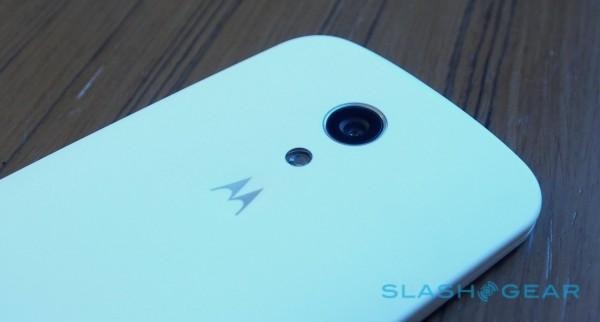 In practice, thanks to pure Android you pretty much know what you're getting with the 2014 Moto G. No needless skins, no dozens of preloaded apps, and no sluggish attempts to duplicate, replicate, or otherwise weigh down the phone with extraneous add-ons and tweaks.
It works, too. The perkiness of the user experience belies the conservative specifications, and the fact that Motorola is committing to delivering an Android L upgrade just as soon as Google lets it out the farm is a guarantee many flagships from rival firms haven't matched.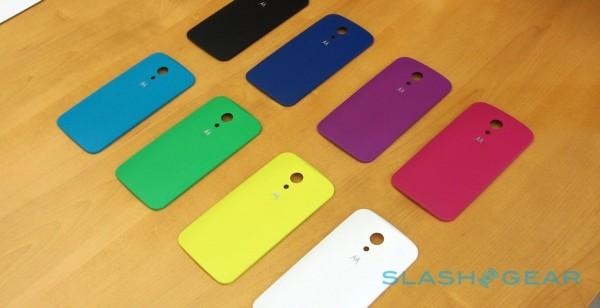 Black and white models will be offered as standard, with interchangeable Motorola Shells in a variety of hues to snap on instead. A Flip Shell with an integrated cover will be offered as well, with a magnet to keep the flap shut, as well as to turn the screen on when you open it. The plastic itself probably won't win any awards for premium feel, but it's sturdy and creak-free.
At $179.99 unlocked and SIM-free, direct from Motorola and available today, the new Moto G matches its predecessor's launch price but with an all-round polish for the new year. If the track record of the first phone is anything to go by, Motorola looks set to have a winner on its hands.