LG G Pro 2 Review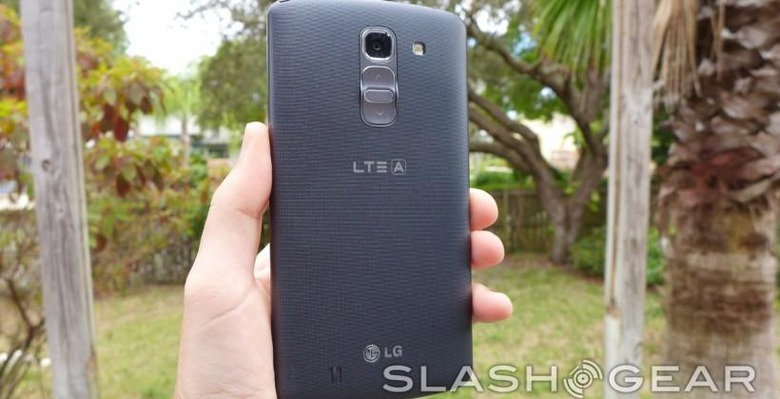 With the LG G Pro 2 we've got what's essentially a mix and upgrade to the LG G2 and the LG G Flex. This device is just as massive as the curved-display monster and it works with many of the same specifications of LG's first hero device to work with back-facing buttons. This LTE-A device also works with back-facing buttons, and this time it's humongous.
Hardware
The LG G Pro 2 is not a next-generation upgrade to the LG G Pro from last year. Instead it's building on the power of the LG G2 in a much more clear path – it looks just like a sized-up LG G2 and shares several of its specifications.
NOTE: See our LG G2 Review as well for greater insight into LG's basis for this family of devices.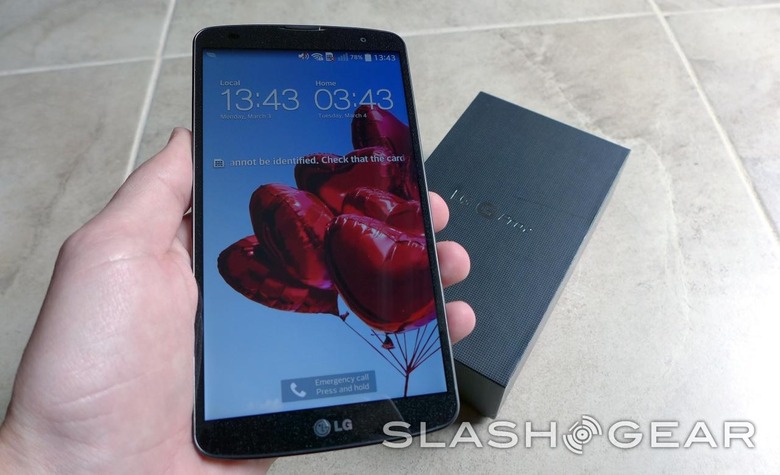 Inside the front of this phone is a 5.9-inch 1080 x 1920 (1080p) display with IPS LCD technology. Surrounded by a tiny 3.3mm bezel, this device feels like you're holding a screen with just a bit of white, black, "Titan" silver, or red above or below it. We've yet to see the red model, mind you, up close and personal.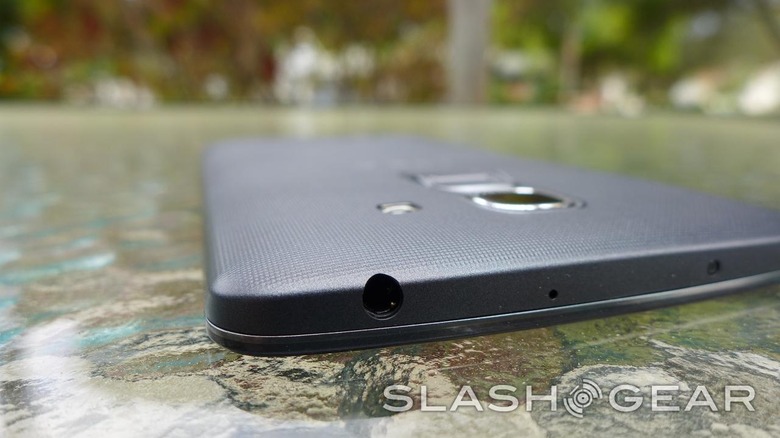 As you'll see in the photos in the gallery below, this machine is very, very similar in size to the Samsung Galaxy Note III. These two devices are also quite similar in capabilities, while the Note III boasts its unique S Pen capabilities and the LG device boasts the larger display.
According to LG, this device has 30-percent more volume power than the previous LG G Pro. We're not seeing a massive cross-section of users who owned the LG G Pro upgrading directly to the LG G Pro 2, so, more importantly, this device has a speaker system that's roughly similar to that of the LG G Flex, but here we're seeing it once again back-facing, but this time without the curve to make up for it – it's just straight-up back-facing.
Also on the back you've got a 13-megapixel camera with OIS and a single LED flash. This camera is capable of capturing 120FPS slo-mo as well at 4K video and has a number of effects which you'll also have seen in our LG G Flex AT&T Review.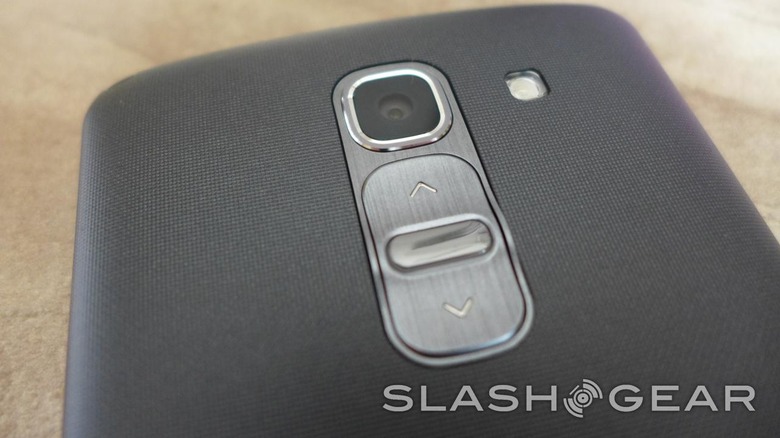 This device is surprisingly sleek – 8.3mm thin, as it were, working with a back-facing soft plastic covering that's nice and grippy. While some one-handed software features are included with the LG G Pro 2, you're going to want to use both hands during the majority of your "smartphone" adventure.
You'll be supported by a Qualcomm MSM8974 Snapdragon 800 SoC (8974-AA), the same as you'll find in a wide variety of devices either having just been released or being released in the near future, including the LG G Flex. Later in this article you'll see the LG G Flex out-doing the LG G Pro 2 in basic benchmark tests because the same processor on a device with a lower resolution screen inevitably does better.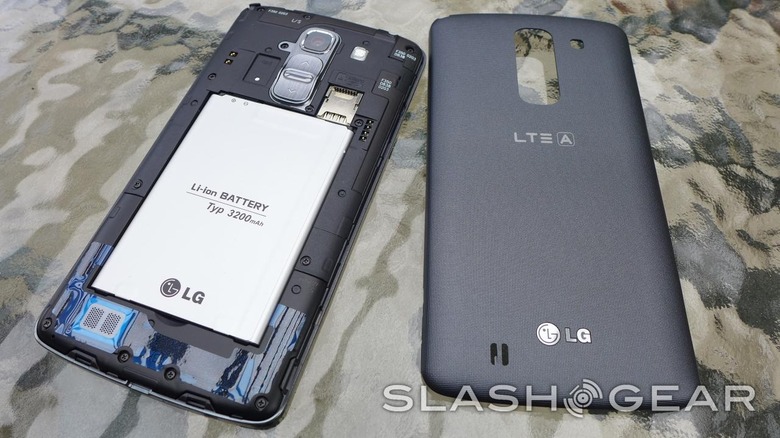 In practice, this Snapdragon 800 does incredibly well for everyday activities as well as high-powered games. With a clock speed at 2.26Ghz per each of its four Krait 400 CPU cores paired with Adreno 330 graphics, you'll be good to go for basically whatever mobile activity you want to roll with – especially since you've got 3GB of RAM to back it up.
Software
The review before you will be ever-so-slightly limited in the software department as we await a USA-based carrier model to come to our hands-on bench. Once that happens, a more accurate assessment of the apps at hand will be able to be made. The model we're working with at the moment is headed for an LTE-A network (that's LTE Advanced).
That said, we can get a basic idea of what'll be rolling out with our USA-based versions with this set of apps we've got currently. As it were, we're seeing a set of apps that's essentially identical to those delivered with the LG G Flex. It would appear that most of the apps in this device are made for the carrier it's headed to.
LG's camera app and gallery remain intact, as does the Life Square app for social networking. Google's apps are collected in a single folder, for the most part, while LG's unique implementation of voice commands with QVoice retains its usefulness.
There's also QRemote for commanding your television which, unlike the LG G Flex, still works with an IR-blaster that sits at the head of this smartphone rather than along its backside. This software/hardware combination made for a swift connection to every TV we tested – LG and non-LG included.
Above you'll see a number of benchmark tests run on this device. You'll notice scores that aren't quite as impressive as they were on the LG G Flex – this is because the LG G Flex works with a 720p display while the LG G Pro 2 works with 1080p, therefor having a larger arena to command.
Camera
With a 2.1-megapixel camera up front and a 13-megapixel camera around back with single LED flash, LG starts off with high numbers for the common user. Under the surface, LG continues to ramp up their camera features, bringing about some impressive results in this device which does at least as well as the LG G Flex or LG G2.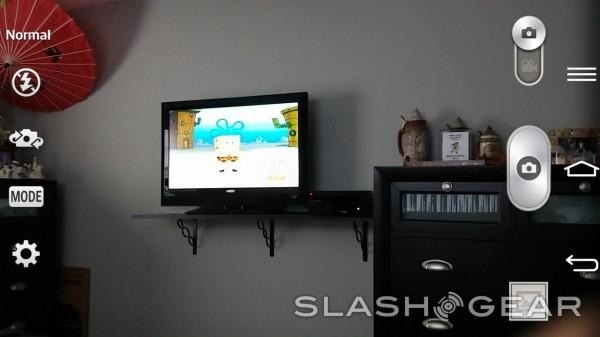 ABOVE: The basic camera interface for the LG G Pro 2. BELOW: LG G Pro 2's extended family of camera feature toggles.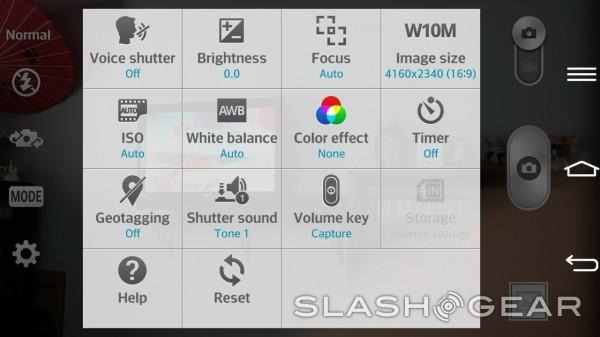 One of the more stand-out features for the camera is with the LED flash, believe it or not. Here you're seeing a photo we've taken of a snake in the dark with "Natural Flash" in play. Quite smooth indeed.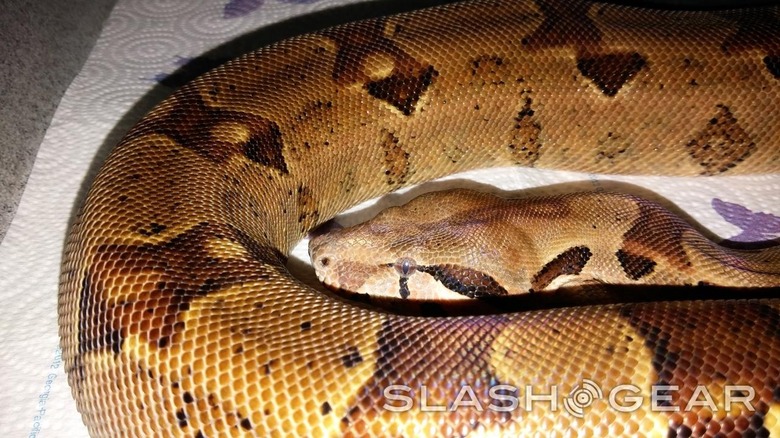 Other than the occasional outdoor photo coming out a little cooler (temperature-wise) than in real life, we've found color reproduction to be of some fine quality with this device's back-facing camera. We've come to expect social networking-grade photography from the front-facing camera as well, and that's what we've gotten.
Above and below you're seeing a collection of images and video captured with this device's back-facing camera. Let us know what you think, and note that we're considering this to be LG's finest smartphone-based camera to date.
Wrap-up
LG has taken a great device in the LG G2 and has blown it up to a much larger size in the LG G Pro 2. Again, this isn't so much a follow-up to last year's LG G Pro, but a compliment to the LG G2 instead. Working with one of the finest processors on the market and a display that's both sharp and bright in essentially any environment, there's little to dislike about this handset.
We'll be reserving final judgements of the US-based product for when the device is released in the USA on carriers this side of the shore, but for now, things are looking good. Any and all battery tests and phone (voice) tests will be kept for that time as well.