Samsung Galaxy Note 3 Review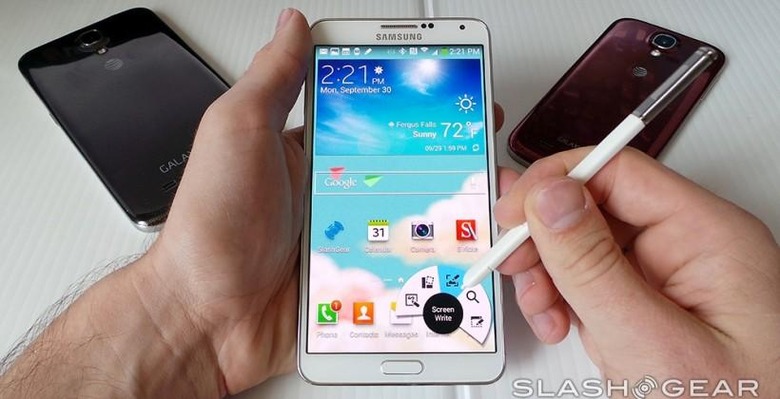 In the Galaxy Note 3 you'll find the re-solidification of the idea that this device category was both invented by and continues to be piloted by Samsung. You wont find this company resting on its laurels when it comes to adding and refining both software features and hardware bits and pieces. This is easily the finest not-quite-tablet-sized smartphone on the market – but what does that mean in a market with little to no competition?
Hardware
Unlike the Samsung Galaxy Note II, the Galaxy Note 3 works with a body that's divergent from the model set by the hero smartphone Galaxy S. In this case, that means that though the Samsung Galaxy S 4 works with a set of edges that are rather similar to that of the Galaxy S III, and last year's Galaxy Note looked like a large version of last year's Galaxy S, the Galaxy S 4 and the Galaxy Note 3 at last look to be forging their own unique hardware paths.
The Galaxy Note 3 works with 1080 x 1920 pixels across its 5.7-inch Super AMOLED display face, coming in at a cool 386 pixels per inch in sharpness. This is the same amount of pixels as the Galaxy S 4, but spread over a larger face, therefor resulting in a slightly less sharp (though barely to the human eye) yet just as brilliant panel.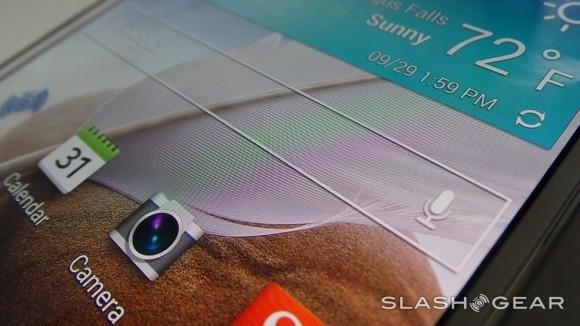 As this device works with a lightly textured back panel with faux-stitching and plastic rim with several thin ridges, you'll find a slightly more hearty feel than the Galaxy S 4. While the Galaxy S 4 remains almost surprisingly plastic-y in practice, the Galaxy Note 3 makes up a lot of ground with what feels like a more unique approach around the rear and rims. The additional weight in the Note also makes the whole device seem more substantial – in other words: this is not a toy.
The S Pen too has found itself refurbished. This pen still fits in nicely under the back rim down below the smartphone, here able to do so facing front or back – no more fumbling to figure the right way to slot it back in to place with this third generation. In practice, on the other hand, you'll find the Galaxy Note 3's S Pen to be largely the same in size and feel to the unit in the Galaxy Note II – if you loved it then, you'll love it now, and vice versa.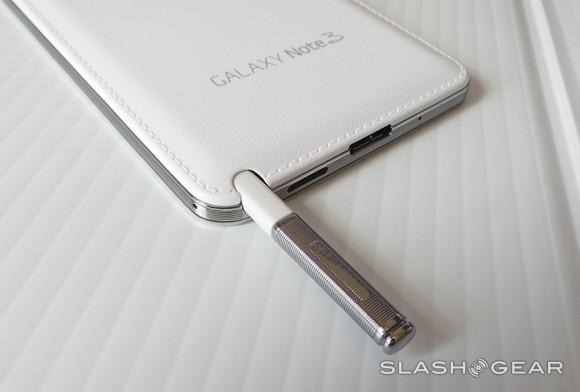 This machine doesn't feel any more massive than the previous generation – in fact it feels a lot better filled-out due to the slightly larger display real-estate up front vs the amount of space not taken up by screen. Like previous generations, you're really going to need to know what you're getting into with this Galaxy Note – this is a massive device for a normal user's pocket, no matter how you spin it.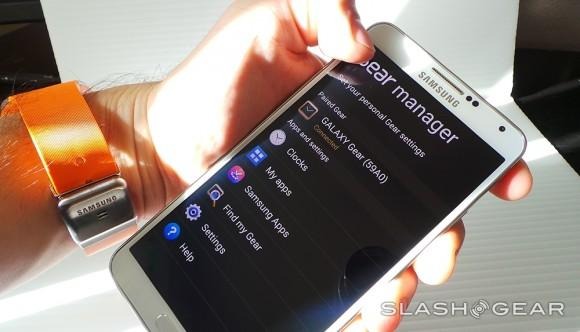 The Samsung Galaxy Gear does a lot to rectify the oddity in checking your notifications, text messages, and even making phone calls with its wrist-based syncing with the Galaxy Note. While you'll have to head to our full Samsung Galaxy Gear Review to see our in-depth judgement of this smartwatch, this much is true: not having to pull the Galaxy Note 3 from your pocket every time you get an email is a big improvement over past generations – especially if you're the sort of person that can't deny the draw of the beast but feel awkward having it make an appearance on the subway.
If you've used past generations of Galaxy Note, you'll be glad to find the performance on this generation to be better than ever. This is due in a large way to the Qualcomm Snapdragon 800 quad-core processor (we're reviewing the T-Mobile USA edition of the phone here, if you did not already notice) and the 3GB of RAM under the hood to more processing power than you'll know what to do with.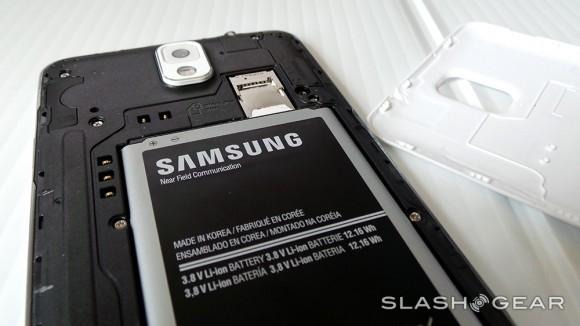 While you're inside you'll also notice a 3200 mAh battery (removable) and a microSD card slot able to roll with up to 64GB of extra storage space. This is in addition to the already hefty 32 or 64GB of internal storage space the Galaxy Note 3 comes with.
Performance
The Galaxy Note 3 either works with a Qualcomm Snapdragon 800 quad-core processor or a Samsung EXYNOS Octa processor depending on which iteration of the smartphone you buy. As we're rolling with the T-Mobile version here, you'll find these results coming from the Qualcomm processor architecture. While these benchmarks aren't the end-all be-all of performance measurement, you'll find the results to be quite impressive.
In the real world, you'll find performance to be essentially the same as any other modern smartphone for your average, everyday apps. If you're looking at Twitter, you're going to have just as quick an experience here as you did on the first Galaxy Note.
The real change comes in displaying and processing massive video files. It comes in the capture of 4K video with the back-facing camera on this device. Performance measurement with the Galaxy Note 3 can be seen in the ultra-quick appearance of S Pen features and performance of the pen as its detected without the device even touching the display – you don't see the slickness of the performance shown with Air View on devices from several years ago. It was simply impossible back then.
The Samsung Galaxy Note 3 is a workhorse if you want it to be – output video with an MHL adapter to HDMI and see massively dense video on the fly. Use Allshare and Action Memo and PEN.UP and get your S Pen on with envious previous generation Galaxy Note owners. Out-do your friends that bought the Galaxy S 4 earlier this year – the Galaxy Note 3 can do everything that smaller machine can do, and one whole heck of a lot more.
Software
The Galaxy Note 3 must hold the record for most custom-fitted apps and features – unique features, that is – for a smartphone in the whole history of smartphones. There's more here for the S Pen to do than you'll ever find time to make use of.
Both the Samsung Galaxy Note 3 and the Galaxy Note 10.1 (2014) work with a new Air Command feature. What appears onscreen when you pull the S Pen from the body of the Galaxy Note is a little disk sort of console with several buttons. These buttons can be highlighted with the S Pen in an impressive display, this whole set of what Samsung calls "window fans" appearing also if you hover near the display with the S Pen and tap the single button on this stylus.
From here you're able to launch a variety of apps or features: Scrap booker, Action Memo, Screen Write, S Finder, and Pen Window. Most impressive of all of these bits is Pen Window – and not least strange of all too. Once selected, Pen Window asks you to draw a rectangle on the display.
Once you've drawn a rectangle, you get a choice of apps you'd like to launch inside said window. While we've yet to figure out a real compelling reason for this function to exist other than user-made use-cases of the future, the action's initial swiftness and execution seems reason enough. This feature is slick – and really stands to show the brilliance of the evolving state of this unique device ecosystem.
Likewise you'll find Action Memo to be a rather compelling reason to upgrade from previous generation Galaxy Note devices. Launch Action Memo, write a note, and tap "Link to Action". A row of icons will appear with the following choices attached: Phone, Contacts, Messaging, Email, Browser, Map, and Task (inside a calendar, that is). Your best choices here will be phone (launching a phone call with the number you wrote) or contacts (adding the name and number you wrote to a new contact entry).
Action Memo works quick and accurate enough that it's immediately become the first reason I'd choose to work with a Samsung Galaxy Note device. Even the ability to draw fabulous illustrations pales in comparison to the possibilities with Action Memo.
Scrapbooker and S Finder go hand-in hand for functionality and usability. While earlier Galaxy Note devices could simply circle items with the S Pen and save those clips to a gallery, Scrapbooker brings additional elements to the environment. If you circle something on the internet, Scrapbooker attaches the URL to the image by default. If you circle (or "Clip" as Samsung calls it) a video in YouTube, you'll be asked if you want to add that bit of media to your Scrapbooker page.
Each item Clipped with Scrapbooker can have attached text memos and tags, added either on the spot or at a later time once you've got a collection started. These notes and tags can then be searched by S Finder. Creating a collection of Clips in Scrapbooker now makes taking notes and making reminders for yourself as you browse the web is now a realistically complete experience.
For creating notes – or writing text anywhere you'd normally need your keyboard – the Galaxy Note 3 (and 10.1 2014, mind you) add a simple feature for handwriting. This feature has existed in past Galaxy Note devices, but it's a lot more all-encompassing now: anywhere you could normally type, you can now hover your S Pen. Hovering your S Pen brings up a small box in the corner of the display, and tapping this box brings up a transcription window.
Writing in this transcription window has this Galaxy Note device instantly turning your handwriting into text on the fly. This feature does not require the internet to function. Write a book in the comfort of the middle of nowhere if you do so please.
Camera
The back-facing camera on the Samsung Galaxy Note 3 works just as well or better than the shooter on the Samsung Galaxy S 4. While we've become accustomed to assuming the Galaxy Note's hardware and abilities will essentially match those of their smaller sibling in the Galaxy S over the past couple of years, here you're getting a bit more bang for your buck.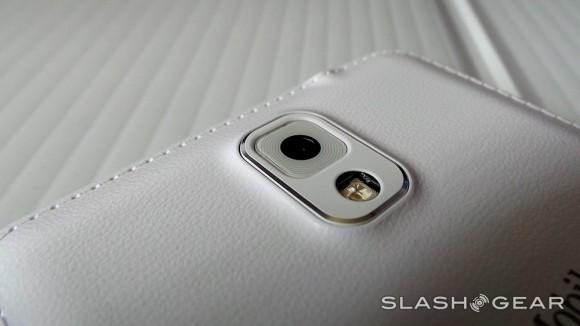 One example of this – and the key example, as it were – is the ability of the Galaxy Note 3 to shoot video in 4K Ultra HD. This means you're capturing video sized in at 3840 pixels wide and 2160 pixels tall. That's a step up from the previous best-in-class "1080p video" you've heard so much about, that being a cool 1920 x 1080 pixels sharp. You'll also want to take note that you will not be able to see 4K video playback at full size on the Galaxy Note 3 itself – for that you'll have to actually send the file elsewhere and play it (likely on your massively dense television set, you lucky 4K TV owner you).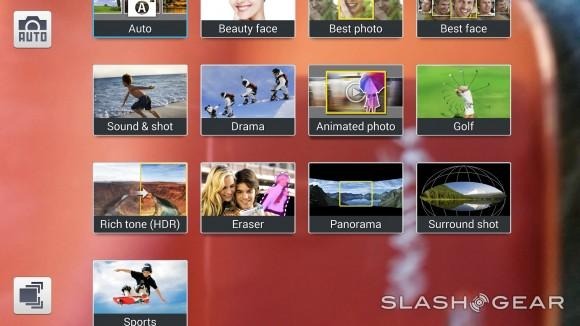 There are a collection of photo modes that exist on this device that you'll have seen on the Samsung Galaxy S4, plus a couple of additions you'll likely see on the Galaxy S4 in the next big software update the device receives. One of these is Golf mode – taking a photo automatically when you've centered a golfer taking a swing.
The other is Surround Shot, Samsung's attempt at the photo spheres introduced with Android 4.2 Jelly Bean. LG also has a mode like this with the LG Optimus G Pro and the LG G2, examples of which you can see in our Barcelona photo tour from earlier this year. In all cases, the results are fun, cool, and unfortunately not up to snuff when it comes to competing against the likes of Photosynth, an app made by Microsoft for Windows Phone devices and iOS – no Android-based solution has come close to the swiftness and accuracy of that system.
Meanwhile the Samsung Galaxy Note 3 works extremely well for your everyday average photos and video. You'll find in the examples here that performance is right up amongst the finest smartphone cameras out on the market today, and though Samsung works with "Smart Stabilization" here rather than OIS, we've found the whole setup to be more than quick enough to capture common oddities on the street and in the wild (wherever that may be for you).
Battery Life and Audio
Battery life on the Galaxy Note 3 has been rather impressive. While we've not found this unit to be coming in at any longer a life than the likes of, for example, the Galaxy S 4, this unit certainly doesn't burn itself out in any less than a day. If you plan on using this device to stream HD video using your mobile data, you can expect to get through a couple of movies.
If you're working with the device for checking email, notifications, writing yourself notes, and the like, you'll only have to charge this smartphone once a day. Call quality, meanwhile, is really quite excellent. We've been in quiet and relatively loud areas with no complaints from callers from the other end of conversations and we've had no trouble listening in, as well.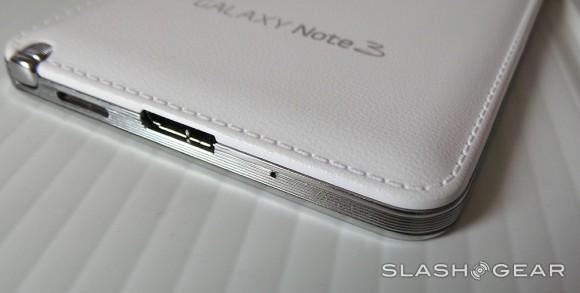 Meanwhile the quality of this machine's voice recorder goes above and beyond the pale. As I personally found out back when I first started using smartphones as backups for interview sessions like those of The Amazing Spider-man and Total Recall, Samsung smartphones make an effort to create a great voice recording experience. The Galaxy Note 3 creates a noise-cancellation setup (with three individual microphones) that can't be beat on a smartphone (or hasn't yet, it would seem).
Wrap-up
The Samsung Galaxy Note 3 is far and away the most mature smartphone of this size on the market today. More than that, Samsung has outdone themselves in this category – with the likes of Air Command, the S Pen suite becomes a solid experience that I'll no longer have to explain to relatives is just for writing notes and drawing pictures. Here there's a real solid draw.
The Samsung Galaxy Note 3 is appearing with several carriers in the imminent future, and at the moment we've got no reason to believe that the T-Mobile experience will be significantly different from any other hardware save – perhaps extremely importantly for you – the speed at which data is delivered. The pricing structure is a bit different too – at $199.99 up front with $21 USD a month for 24 months, you're paying $703.99 full retail price in the end. Working with AT&T, on the other hand, has you paying $299.99 with a 2-year contract, $724.99 off-contract, or $35 per month for 21 month (aka $735 USD). One way or another, you're going to be paying a hefty sum for this device – but as the same is true with most devices of this caliber, you've got our thumbs up.
Have a peek at the timeline below for additional Galaxy Note 3 bits and pieces and don't hesitate to continue asking us questions about this device well into the future!