AT&T LG Optimus G Pro Review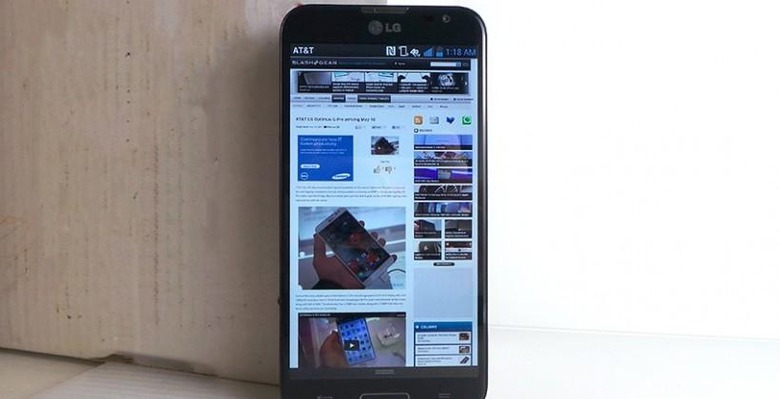 The LG Optimus G Pro brings a massive upgrade to the LG Optimus G, a device put together so well that Google decided to use it for its most recent hero smartphone, the Nexus 4. The LG Optimus G Pro has been released internationally with essentially the same hardware build as you're seeing here, AT&T's additions being largely app-centric. That leaves the same high-powered processor, 5.5-inch display, and collection of odd software abilities that draw us in just as much as they did in the original.
Hardware
Up front of the LG Optimus G Pro is a 1080 x 1920 pixel display across 5.5-inches of IPS LCD. This equals 400 PPI resolution and the same amount of pixels the HTC One and the Samsung GALAXY S 4 have spread over a slightly larger area. The display reaches out to the sides of the device with a bezel that's extremely narrow, this giving the phone the illusion of having a near-edge-to-edge screen.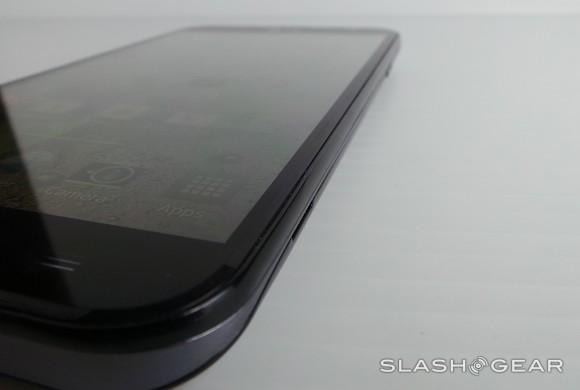 The front of the device is covered by a single piece of reinforced glass from top to bottom with a bent-in flat edge that, with flat sides and rounded back, give the whole package a unique feel. While the design comments in our LG Optimus G Review suggested LG's hardware to be a bit more slippery than the average phone, the Pro's shape and size allow for a bit better grip.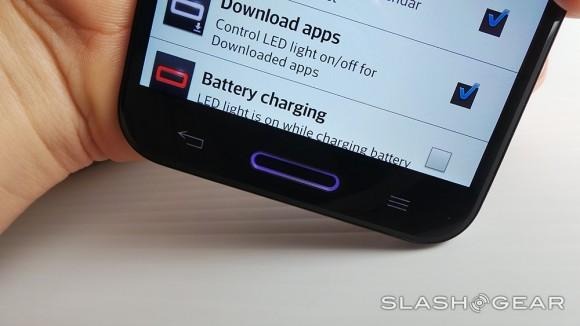 The front panel is interrupted only by a single plastic bit up top to make way for the earpiece for phone calls and a physical button on the lower front surrounded by multi-colored LED light. This pulsing spectrum of color is easily one of the most well-implemented bits of finesse ever implemented on a smartphone. This feature alone pushes the hardware design over the edge: from Pretty Good to Unique and Cool.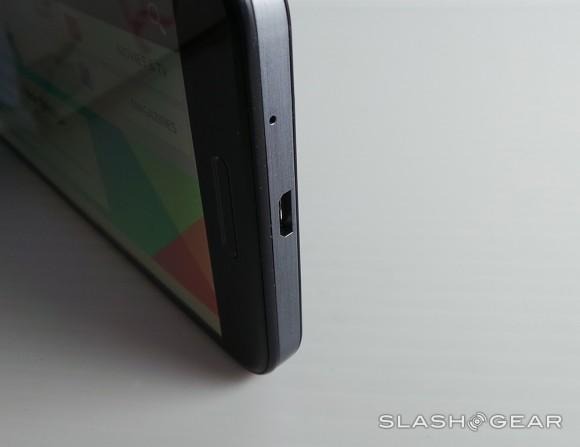 Along the sides of the device you'll find two mic holes (one on top, one on bottom), a standard-sized headphone jack with Dolby Digital audio technology for all your headphone music blasting adventures, and a microUSB port below. Also on top you'll find a tiny black piece of plastic – this is your IR-blaster, aka your key to using this device as a remote control for a variety of electronics around your home, including but not limited to your television (most televisions, not just Smart TVs), stereo system, projector, Blu-ray player, and air conditioner.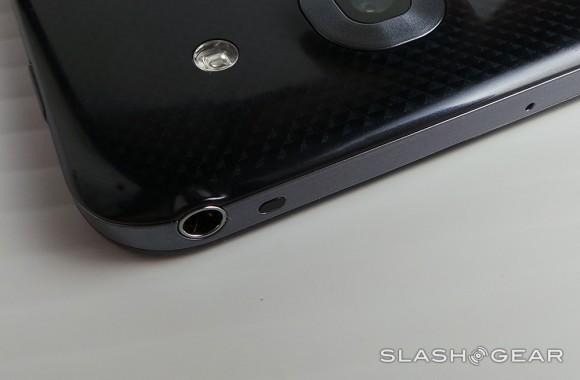 On the right you've got your power button and on your left you've got your volume rocker below a third button. This last button is what LG calls a Quick Button. With this Quick Button you'll be able to "get quick access" to whatever app you like. If you're a photo-taking sort of person, set it to your camera. If you'd rather it connect to Google Search / Google Now, that's an option as well. If you do decide to set it to Camera, the Quick Button also acts as a shutter button inside the camera app – just as it should.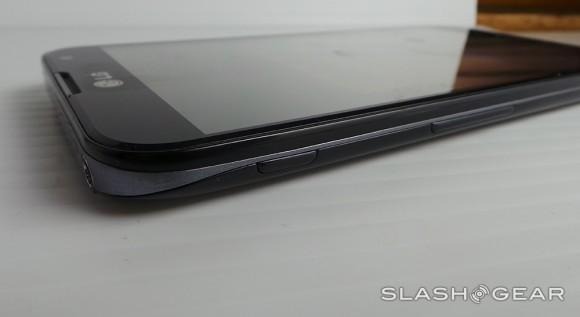 This device feels nice to hold and, unlike some of its competitors, isn't larger than the average adult's hand grip. Where the LG Intuition fell a bit flat due to it's massiveness, the aspect ratio of the LG Optimus G Pro allows it to be even larger yet fit in your hand far more naturally. Here we've got a phablet with a size that's not too wild.
Software
Inside you've got LG's newest approach to Android, complete with their complete utilization of the full processor power under the hood with oddities galore. One example of a simple – yet impressive – use of the power this device's processor presents is the massive bubble that pops up when you unlock your screen. It and flipping through screens with a door-like drag happen so seamlessly that you'll scarcely realize how slick it is. Until you use a phone later on with a lesser processor, of course.
LG's software here keeps with the nice parts of Android 4.1.1 Jelly Bean, including Google Now, and push forward with features like QSlide apps. While I'm not entirely sure when the ability to have an app appear above the fold and accessible as a window in a desktop operating system app would be, here you've got the future right in front of you. This sort of floating app functionality is also seen in the Samsung Galaxy and Note line of smartphones and tablets in a just-as-mystifying implementation.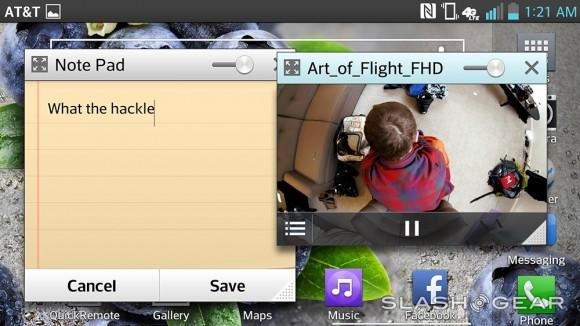 The notifications pull-down menu is utilized by LG in a variety of creative ways the likes of which no other hardware company has pushed to a smartphone. You've got brightness control, notifications, access to full settings, quick settings (toggles), QSlide apps, Music control (when music is playing), and Quick Remote. Each of these is customizable too, of course.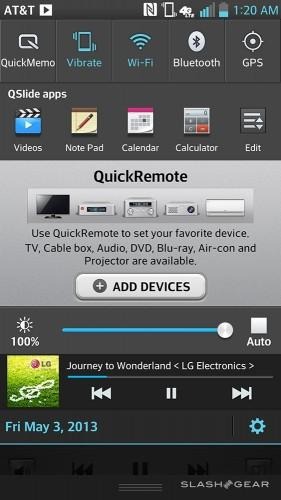 QuickRemote is LG's current app interface for remote controlling your home hardware. This app allows you to work with the infra-red blaster that sits at the top of the device and allows you to control your TV, Cable box, Audio system, DVD player, Blu-ray player, Air conditioner, and projector. You'll have to go through a short trial-and-error process to connect this control to each device around your home, but in general, anything that's controlled by a normal universal remote can be controlled here.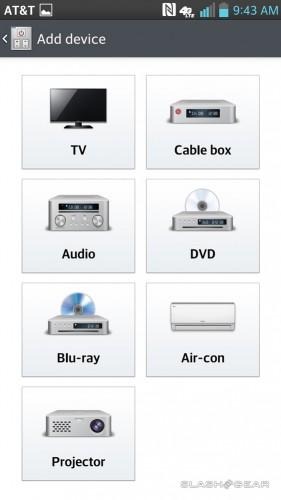 Though you don't have the Rubberdium Pen you did with the LG Intuition here with the Optimus G Pro, you still have access to apps like Note Pad and Notebook, both of which allow you to draw and take notes on your display with your finger. You also get a simple task manager to keep yourself on-point with notifications of to-do items, Video Wiz to edit your own self-filmed videos, and LG Tag+ to create your own unique NFC tags (not included in the box this time around).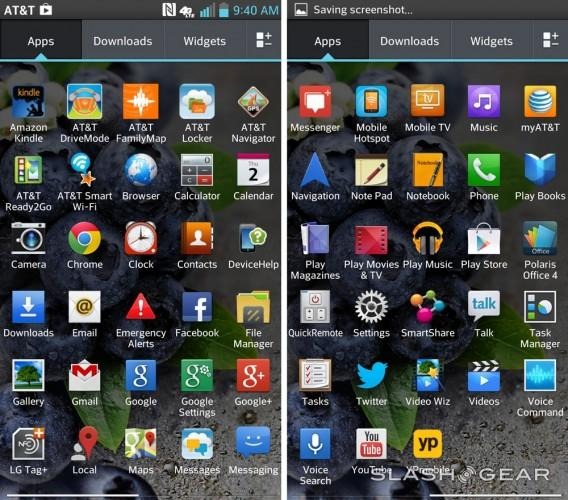 In display settings you'll find Smart screen, similar to a feature Samsung has been pushing with the last several smartphones it's released, here detecting your eyes and keeping the device's display awake so long as you're looking at it. You can customize your home button LED light colors and alerts from this screen as well.
In Share & Connect in the device's Networks tab in Settings you'll find an NFC switch (off and on) aside Direct/Android Beam. With Wi-Fi direct you'll be able to share files between mobile devices (that also have such connectivity abilities) and with NFC this connection is made extra-easy. You'll also find File Networking to connect to your local network (if you're sharing files via your PC, for example), and with SmartShare Beam you'll be sharing files back and forth between LG devices specifically.
Then there's Miracast – this being the first time we've seen the system named specifically since Google implemented this connectivity in Android Jelly Bean earlier this year. With Miracast you'll have a new industry standard for wireless connectivity of devices, in this case allowing you to mirror your Optimus G Pro's display to your high-definition television at high speed.
Have a peek at a demonstration of LG's "World's First Wireless Ultra HD Transmission Technology" filmed earlier this year at Mobile World Congress 2013 in Barcelona. You're seeing this hands-on with the LG Optimus G, this letting us know that the ability isn't just there in the less-powerful of the LG hero devices, it's ready to go for 4K televisions as well! Now we just need a 4K television to test it on with LG's final implementation of the connection between on device and the other.
You'll find the LG Optimus G Pro out-performing most devices on the market today regardless of the slightly larger display size it works with. Above you'll find a gallery of benchmark results run on the device, many of which we've run for similar devices in the past. As you'll see, this device's biggest competitors are the HTC One and Samsung GALAXY S 4, the whole bunch running the same Qualcomm processor under the hood – the battle continues!
Camera
While we've done a slightly more extensive exploration of the abilities of this device's camera earlier this year in our LG Optimus G Pro Photo Tour: Barcelona, you'll also find a new set of examples below. This device uses a 13 megapixel camera on its back, a 2.1 megapixel camera on its front, and a set of odd abilities you'll have a good ol' time working with. NOTE: we'll be including further examples of the Dual Recording feature in the near future. For now: courage!
Battery
With a 3,140 mAh battery it's not easy to knock the power out of this device in one go. That said, if any display was going to do it, it'd be this beast's. As you can see in the example here, you can either keep the device running actions for hours on end and kill it in less than 8 hours, or you can let it sit idle for many days. This appears to be the case with most devices running Qualcomm processors in this newest generation – we're expecting this trend to continue.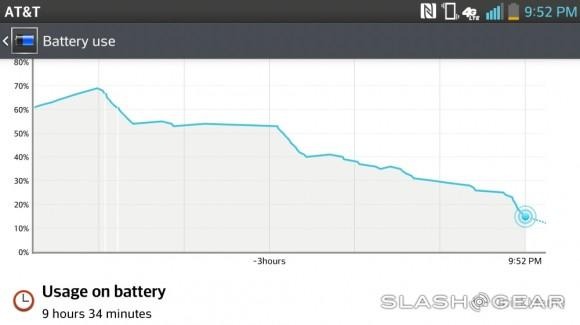 Wrap-up
The LG Optimus G Pro is a rather fine piece of machinery. It's offers you an alternative to the HTC One and/or Samsung GALAXY S 4 here up on the top tier with its similar display (larger, though again, with the same amount of pixels), identical processor, and surprisingly similar set of features. It also offers you a unique hardware build and a camera that'll go very nearly toe-to-toe with the leaders.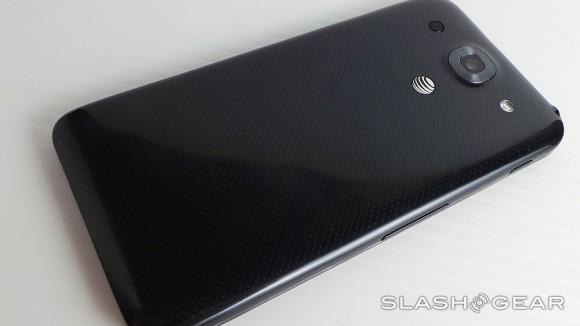 You'll find the LG Optimus G Pro costing the same or less than the competing top-tier smartphones out with AT&T right this minute and/or in the near future, and its feature set makes it a solid package in the battle against the other titans of this mobile industry. Here in this massive smartphone, LG has created an amalgamation of elements that'll satisfy legacy LG lovers and newcomers to the size, all the same.