LG Wireless Ultra HD Transmission hands-on: quick as a whip!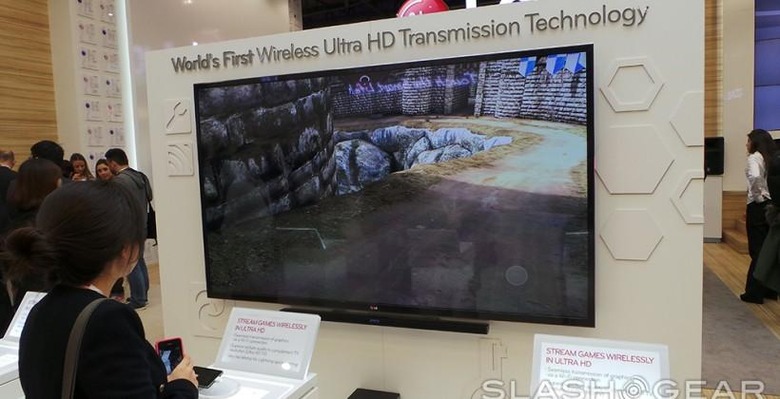 This week we've had the opportunity to take a peek at – and play with – LG's brand new Wireless Ultra HD Transmission technology – the world's first! Of course such claims are a always a bit subjective, but from what we've experienced here, they're not kidding around with this technology being mightily impressive. The demonstration came from Mobile World Congress 2013 where LG had an LG Optimus G connected (wirelessly) to a rather high definition LG television, playing a fabulous first-person game to show the instantaneousness of the transfer of information.
This technology is working via a wi-fi connection – especially amazing here at Mobile World Congress as massive amounts of connections are being blasted to and fro from device to device without end. The transmission of graphics here are said by LG to be superior to all other similar technologies that've appeared in the past – we'll have to see about Miracast when it takes hold in the near future to compare. LG also maintains that it uses "less than 50 percent" of the power that competing services offer.
LG makes this claim saying that the amount of power needed by the smartphone's processor and associated hardware is less with their solution, therefor draining the battery slower. They also say that the picture looks correct each time you connect because of instant screen formatting – no matter what display you're connected to, your picture will be optimized. A compression of video is also claimed between the camera and the television – though how it works when it's a live-in-action game, it's not quite clear.
We've seen some rather beastly things coming from LG this week, and more than just phones, mind you. Have a peek at the timeline below as well as at the LG tag portal for more information on LG's releases in the recent past. And don't forget to check the Mobile World Congress 2013 portal for more up to the minute news blasts and hands-on action than you can handle!