LG G Flex Review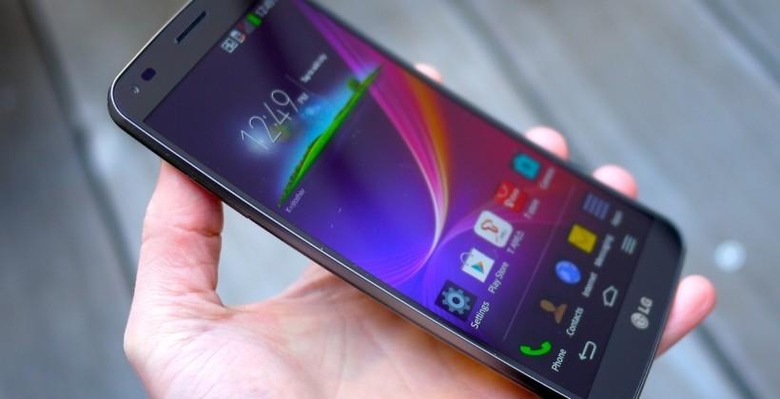 Every new niche has to start somewhere, and LG says the G Flex is the start of the flexible smartphone revolution. Why should our phones be flat when everything else around us is curved, so the company's theory goes, with ambitious dreams of folding handsets and collapsable tablets in the next decade. Today, though, the G Flex is paving the way: a 6-inch phablet with a premium price-tag and a sexy curve to its profile. Question remains, is this a gimmick or a true taste of tech to come? Read on for the SlashGear review.
Display and Design
Your eyes do not deceive you: this is about as close to the modern banana-phone as you can get today. The G Flex actually has a relatively gentle curve to it – the culmination of around 300 prototypes, LG claims, with various different extremes tested out – though the combination of its overall size, with a 6-inch touchscreen, and the unusualness of the form-factor means it's still eye-catching.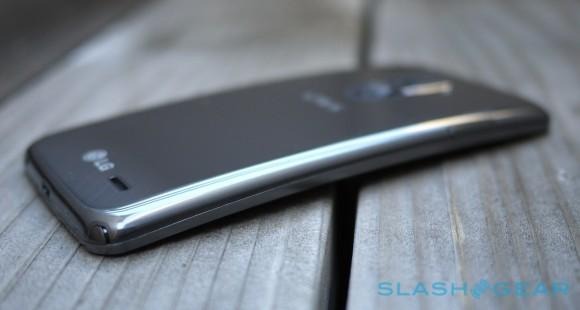 Then again, you could be excused for being confused about exactly what the LG can and can't do. The name might be "Flex" but any actual bending the 6.32 x 3.21 x 0.34 inch, 6.24 ounce handset does is relatively incidental: LG says its been tested with 88 pounds of weight on the back panel, flattening it out, and surviving around 100 rounds without lasting physical damage, but that's more about withstanding being sat on occasionally than anything else.
What it isn't, then, is a handset that actively bends, and LG says that's probably not likely to change for another few years at least. The company does envisage a time of truly foldable phones, but while we've seen flexible prototypes before, the difficulties in translating them to production devices are still too great.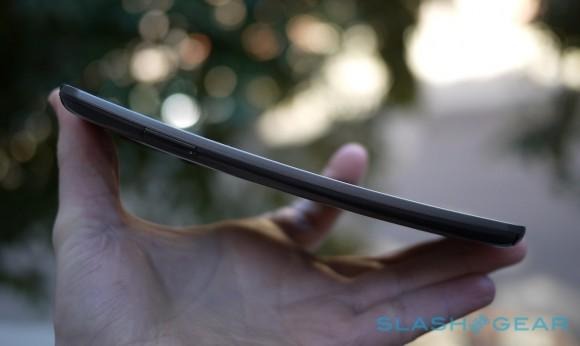 Is the degree of flex the G Flex offers enough? LG argues that, rather than being a gimmick, there are several good reasons why you might want a curvy Android, some that feel more legitimate than others. Most compelling is the slight improvement in single-handed usability that you get: with the G Flex cradled in your fingers, it's a little easier to reach up and down to the extremes of the touchscreen without feeling like the LG will fall out of your hand.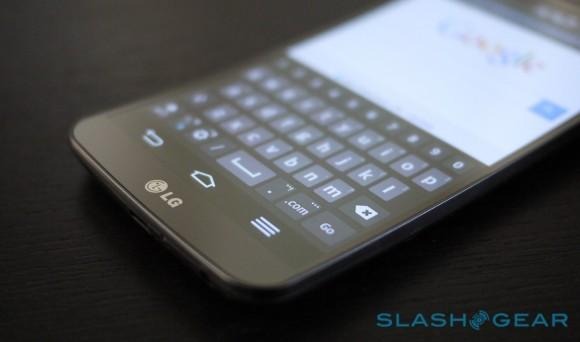 In contrast, the similarly 6-inch Nokia Lumia 1520 and 5.9-inch HTC One max feel resolutely like two-handed devices, suggesting that a little curve might be beneficial to a full-on phablet. The LG's display is a 720p HD OLED that comes in at 245ppi resolution, low in comparison to the smaller, 5.2-inch LG G2 which still manages to deliver 1080p and 423ppi.
LG G Flex video review:
LG insists that's actually a benefit not a compromise, however, allowing for a Real RGB OLED panel to be installed rather than a 1080p PenTile screen as might be commonly found on Samsung devices. The upshot, LG says, is better color accuracy since each of the individual pixels are the same size; sure enough, it's a bright and colorful display, falling short of the super-saturation we're used to on Samsung Galaxy phones, and actually a little cooler than on the G2.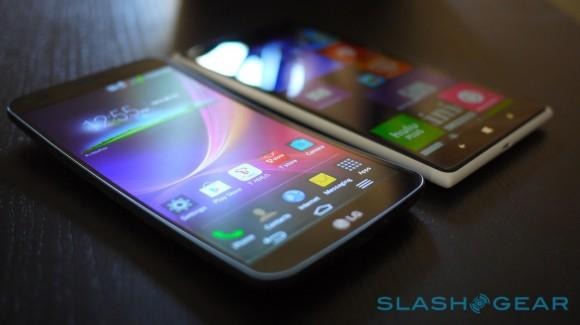 LG actually offers three different screen modes – standard, vivid, and natural – to adjust the vibrancy, but we'd prefer to see the G Flex follow in Nokia's footsteps and offer more granular control over display settings. On the downside, there's more graininess to the panel than we've seen on other OLED phones lately, particularly in low-light conditions when there was a striking degree of speckling when the auto-brightness was left to its own devices, and outdoor visibility isn't as strong as on the Lumia 1520.
The other big reason LG says curved displays make sense is for multimedia consumption. Lay the G Flex down on a table, the company points out, and the rear speaker is lifted slightly off the surface rather than being muffled. It makes a little difference, but the fact is that LG only opted for a single, small speaker in the first place; if you want the best smartphone audio, we'd still point you to HTC's One or One max with their front-facing BoomSound speakers.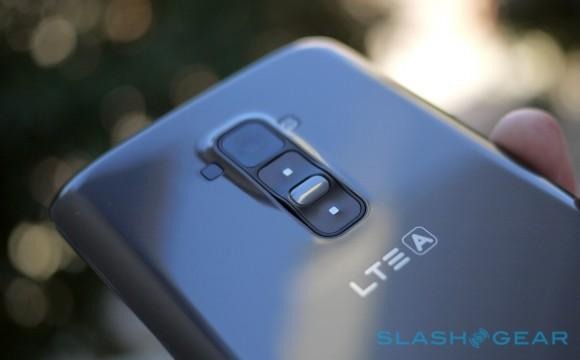 What the One max isn't is curved like LG's latest curved OLED TVs. While you might watch a 55-inch curved set from 10 feet away, LG argues, you'd watch a 6-inch curved phone from around a foot away, getting the same sort of immersive experience. In practice, the G Flex is certainly one of the better video consumption devices we've had in our pocket – LG's two-fingered QTheater unlock gesture, which allows you to "draw aside" the lockscreen when in landscape orientation and automatically load up the media browser for photos, videos, YouTube and, on our Korean review sample, digital TV, is a gimmick but a cute one nonetheless – and we had fewer problems with reflections and glare while watching.
Scratch-Resistance
LG's other promise with the G Flex is that it's scratch-proof, thanks to a special coating to the back panel that claims to "heal" the sort of small scarring that might come from sharing a pocket with keys or coins. Given the phone also balances on its middle-rear point when sat on the desk, that's another point of potential marking.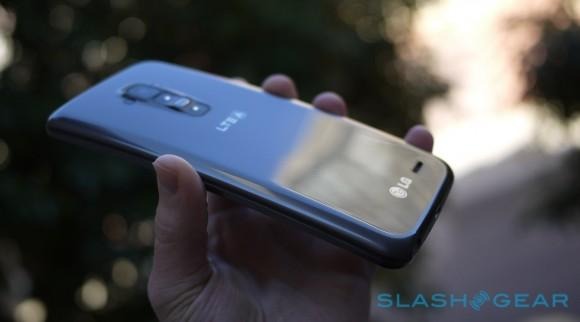 Though LG is a little coy about the science behind it, in effect the scratch resilience is down to the molecular sub-structure "popping out" any dints or grain, a process which happens faster the warmer it is. There are limits to what it can recover from, however. The treatment is just a thin coating over the (non-removable) back cover, and so LG warns that if you take a knife or something more aggressive to the phone, you'll eventually cut right through and mar the plastic underneath.
In practice, we were able to give the G Flex a light scratching with keys and even a plastic scouring pad, and after some waiting the phone largely recovered from it. It's not magic, but it should keep the LG looking fresher for longer if you're not the sort to immediately coddle it in a case.
Hardware
With the G Flex commercially available in very few locations right now, LG provided us with a South Korean unit to review. A US release still hasn't been settled – an LG USA spokesperson said the company was hopeful to have a launch sooner rather than later, but that there was nothing specific to announce right now – and so there are currently no versions of the phone to suit US LTE networks.
As a result, we were able to use 3G data on AT&T but not 4G, while a Verizon SIM wasn't recognized. There's WiFI a/b/g/n/ac (2.4/5GHz), Bluetooth 4.0 LE, and microUSB 3.0, along with WiFi Direct, an FM radio, and GPS/A-GPS/GLONASS. As we mentioned before, the Korean model gets a DMB TV tuner with a pull-out antenna on the lower corner, but we obviously weren't able to test that.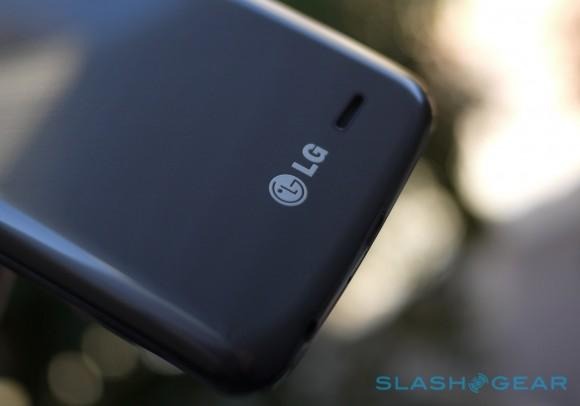 Inside, there's Qualcomm's Snapdragon 800 MSM8974 2.26GHz quadcore, paired with Adreno 330 graphics, and 2GB of memory. Internal storage is 32GB – our unit had just short of 24GB available out of the box – and like on the LG-made Nexus 5, there's no microSD slot to expand that.
Also fixed is the 3,500 mAh Li-Po battery, itself something of an engineering marvel. Regular batteries aren't particularly keen on bending – the tightly folded nature of the different layers of substrate mean the edges end up bearing the brunt of extra force – and so LG reworked the construction for the G Flex. The oversized (and non-removable) power pack is designed to be curved from the outset, with different discrete layers forming a stable sandwich rather than a twisted concertina. As a happy byproduct, it also allows LG to fit in more capacity.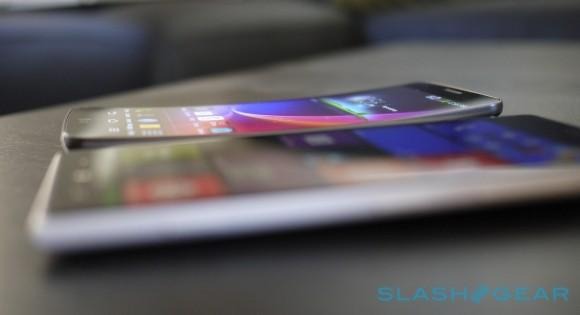 Like the G2, LG has put the G Flex's primary controls on the back of the phone, underneath the camera. Up and down buttons – generally for volume, though working as a scroll in some circumstances – flank an illuminated center lock/power key. The system arguably works even better than on the G2, since the larger form-factor of the G Flex makes reaching to its extreme edges more tricky.
Software and Performance
LG's customization of Android 4.2.2 Jelly Bean is by now a familiar one, an at-times cluttered UI that nonetheless has a few gems that we wish other OEMs would "borrow" for their own phones. We're big fans of LG's tap-to-wake gesture, which brings up the lockscreen with a sharp rap on the display, and the split-screen Dual Window mode makes more sense on a bigger panel. It's straightforward to bring up, say, the email app and the gallery, and drag photos from one to the other.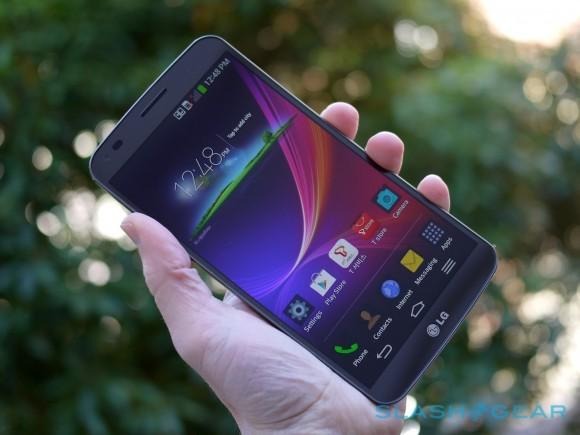 The tweaks don't end there, either. There's Guest Mode, which allows a second lockscreen PIN or pattern to be set up, accessing a limited account which can be only permitted to open certain approved apps. Slide Aside uses a three-finger swipe to multitask, while Plug & Pop triggers certain apps when accessories are plugged in, like Spotify when you jack in your headphones. Quick Remote, meanwhile, turns the G Flex into a universal remote control; somewhat unusually, the IR blaster is on the rear of the phone, to the left of the camera, rather than on the top edge, so you have to hold it out flat toward whatever you're controlling rather than point as you might a regular remote.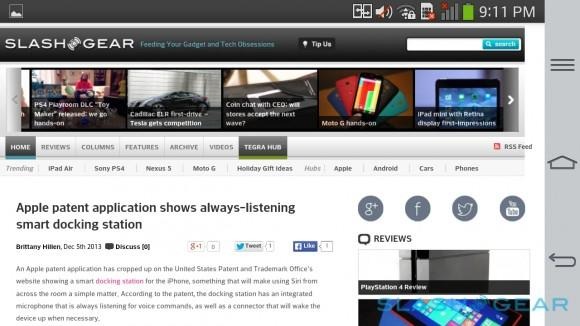 Some of LG's new features are intended to highlight the curved display, however. The Swing Lockscreen uses the accelerometer to pan through a 180-degree vertical panorama ranging from sky to sea, as well as changing according to the time of day. It's visual gloss, certainly, but it's more interesting than the standard lockscreen you'd find on most phones.
Smartphone benchmarks are a contentious topic these days, though if you're of a mind to judge a device by how it ranks, the G Flex shouldn't disappoint. In Quadrant, the phone scored a hefty 18,621, the Snapdragon 800 quadcore again demonstrating its mettle, while in AnTuTu it came in at 35,848. Still, the 895.7ms SunSpider result (where faster is better) is an outlier in the grand scheme of things, the LG taking roughly twice as long to finish as Apple's iPhone 5s. Nonetheless, in day-to-day use, the G Flex simply flies, giving us no issues with jumping between apps, HD playback, and even split-screen multitasking.
Camera
LG is of the "more megapixels" school of smartphone photography, and so the G Flex gets a 13-megapixel main camera with autofocus and an LED flash, while a 2.1-megapixel secondary camera lives on the front above the display. Unfortunately, unlike on the G2, there's no optical image stabilization.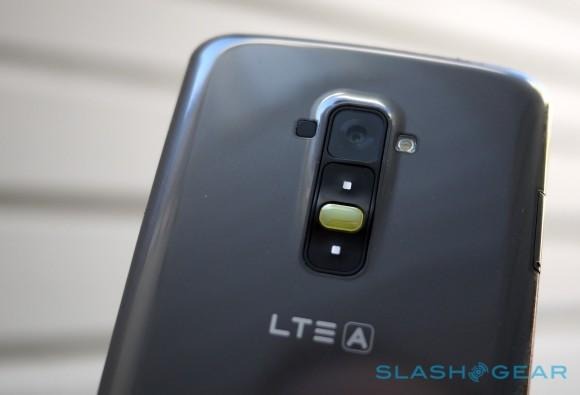 What the G Flex does borrow from the G2 is its camera app, which supports various shooting scenes, panoramic shots, an HDR mode, and more gimmicky options like a dual-camera mode which can combine images from the front and rear cameras simultaneously, and a "time machine" mode which introduces motion blur.
New to the G Flex is a special "selfies" mode, which takes advantage of the color-changing rear button. While the front-facing camera can be used for vanity shots, the rear camera is higher resolution, and so when the camera app is set to "Face Tracking" focus it blinks the LED yellow during focusing and then lights it green when you're properly framed. A similar system is used for timer shots, the LED blinking ever second of the countdown, and then flashing repeatedly when it's just about to take the photo.
The end result is much akin to the G2, as long as the ambient lighting is decent. Outdoor shots are well balanced, with accurate colors and brightness. Macros do well, too. Unfortunately, the absence of optical image stabilization makes itself known when the lighting dims, with more grain appearing and a greater chance of blur than we saw on the G2. It's good, but we miss the OIS.
Phone and Battery
Though LTE was out of the question, we had no issues with 3G data and talk on the G Flex, and the phone proved tenacious with a signal. The speaker is reasonably loud, though lacking in the bottom end – which, to be fair, you notice more in music than hands-free calls – and callers reported no issues hearing us. Whether that's down to just sensitive microphones or, as LG might have it, the curve of the G Flex better hugging the side of your face is unclear; either way, oversized device aside, we've no complaints.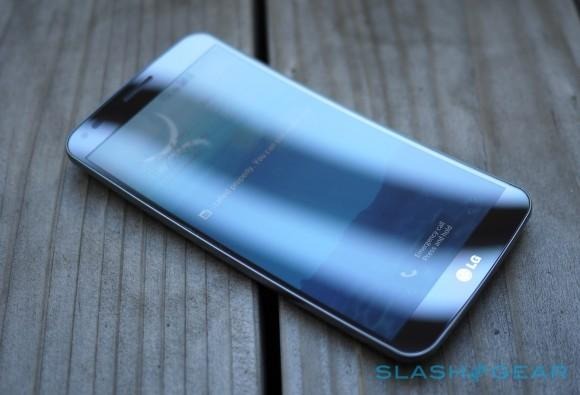 As for battery life, we had high expectations from LG's oversized, custom-created Li-Po battery, and the G Flex didn't disappoint. With heavy use, including push email, some calls, browsing, photography, media playback, streaming music, and GPS in Google Maps, we got through two days on a single charge. That's more than admirable for a modern smartphone.
Wrap-Up
Does the world need a curved phone? LG may be gung-ho about the potential of flexible displays in the future, but today the G Flex feels more like a gimmick in many ways – albeit a gimmick with no small degree of appeal – rather than a legitimate turning point in smartphone usability. It's fast, certainly, and has a decent camera, but then again so is LG's own G2, which throws in a Full HD resolution screen and optical image stabilization too.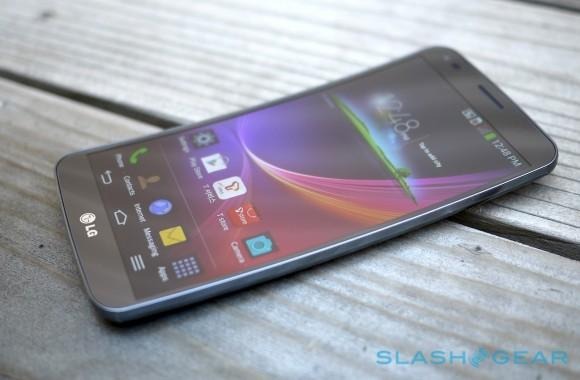 As the limited release and premium price tag suggest, LG isn't seeing the G Flex as setting sales records. Viewed as a precursor to things to come, however, and it gets a whole lot more interesting: there are legitimate usability benefits to a display – perhaps a little smaller – which curves in the same manner that your thumb sweeps, for instance, and the reflections other, flatter phones suffer during video playback become far more noticeable after you've used the G Flex a while.
It's tough to get past that huge price, however. Unsubsidized, in Korea the G Flex comes in at the equivalent of around $940; LG points out that the subsidized pricing in the US will be undoubtedly lower when the launch details are staked out, though it'll still likely be at the top end of the market given the unusual features. Hard to recommend to the smartphone audience at large, then, but while the LG G Flex is an experiment, it's no folly. Every new form-factor has to start from somewhere, and we may well look back at the G Flex as the device that first overthrew flat phones.