Lenovo LePad K2 Tegra 3 tablet benchmarks look to take on ASUS

We're all well aware by now that the first quad-core Android tablet in the world will indeed by the ASUS Eee Pad Transformer Prime, complete with NVIDIA Tegra 3 – but here comes the second, a Lenovo device that this week has appeared in benchmark tests showing its upcoming might. What we've got so far for specifications on this yet to be formally announced device is a 10.1-inch display, NVIDIA Tegra 3 Quad-core processor, and indeed the code-name LePad K2. While this may end up becoming the real release name of the tablet, we'll just have to wait and see, as believe it or not, ASUS still has the only announced and official device out there thus far with Tegra 3 onboard.
The benchmark from OpenGL we're seeing here shows off the fact that this device is running a screen thats a massive 1920 x 1152, just like the Acer Iconia A700 Tab that also remains in the shadows as of yet. We can also see that this device currently runs Android 3.2 Honeycomb, but we must wager a guess that we're starting to enter Ice Cream Sandwich territory as the first device with Android 4.0 in full final release mode has already been sent out to reviewers and is in users hands over in the UK. Note also here that the cores this benchmark is seeing has a minimum CPU freq of 102 MHz, this showing how low the device can go, as it were, as well as 1.4GHz (aka 1400 MHz), this tying in precisely with what we've heard from NVIDIA as to what their non-overlocked SoC will be working with out of the box.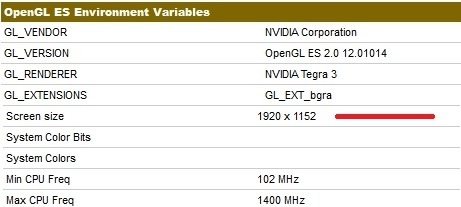 We can expect this processor to stay the same throughout its lifespan as the Tegra 2 has, as NVIDIA has kept their clocks on the same dial from start to finish thus far on mobile devices – as evidenced by the start of the Tegra 2 in the LG Optimus 2X and the Motorola XOOM and its most recent house in the Samsung Captivate Glide: all dual-core 1GHz, the lot of them. This Lenovo tablet is also said to be coming with 2GB of RAM and of course will be a powerhouse in the making. Can't wait!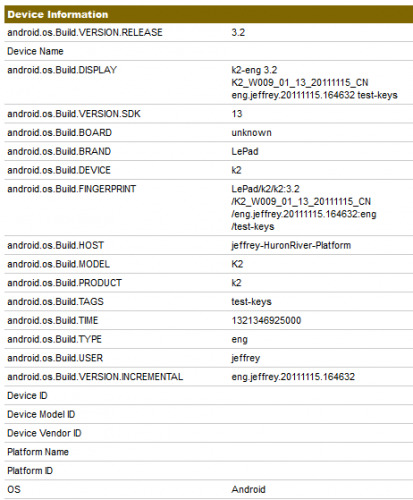 [via Android Community]