Acer Iconia Tab A700/A701 Full HD Tegra 3 tablet revealed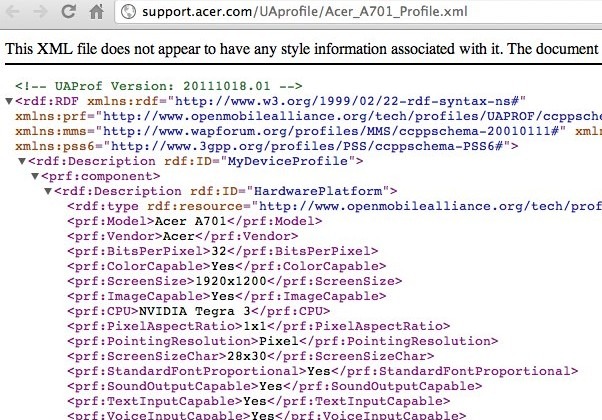 Details of an Acer tablet running NVIDIA's Tegra 3 processor with a Full HD resolution display have emerged, hot on the heels of the apparent confirmation of the mid-range Iconia Tab A501/A511. The Acer Iconia Tab A700/A701 was spotted in amongst profile documentation on the company's support site, complete with a pixel-dense 1920 x 1200 WUXGA display and NVIDIA's new quadcore chipset.
The actual size of the A700/A701 is unspecified, though we're assuming it would come in at around the 10-inch mark otherwise the resolution might end up counter-productive. The A700 is listed as being WiFi-only, while the A701 has a 3G radio integrated, as is Acer's usual pattern for its tablet line-up.
OS could be Android Honeycomb, going by the browser user agent, rather than Android 4.0 Ice Cream Sandwich; still, Acer has promised ICS upgrades early in the new year. Other hardware isn't detailed, though dual cameras are likely, along with HDMI connectivity and the usual array of Bluetooth and GPS.
No word on when Acer might make the Iconia Tab A700/A701 official.
[via Notebook Italia]