iPad Air sparks iPad Pro tablet talk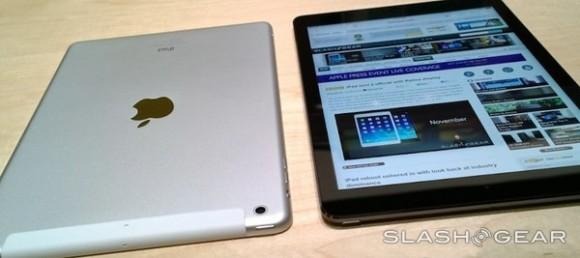 Almost immediately after Apple's iPad Air was revealed earlier this week, talk of the next generation began. With the name "Air" in Apple's notebook lineup, one of two different naming conventions, word sprung up that an iPad Pro could be in the works. While we've seen more than our fair share of leaks and tips over the past several weeks (and months, believe it or not) of the iPads that appeared officially just this Tuesday, word of the iPad Pro comes only from precedent.
Apple's move into the 64-bit processing universe with their Apple A7 chip had the technology news publishing world abuzz about the possibilities. With iOS 7, Apple makes the 64-bit processing hardware in their iPhone 5s and set of new iPads optimized for the future. Meanwhile the Android software universe is ready for 64-bit hardware just as soon as it comes to market.
Have a peek at our hands-on with the iPad Air and the iPad mini with Retina Display right this minute.
Microsoft revealed itself ready to combat – or at least speak up against – the idea that Apple would move their iPad Air and iPad mini devices into the desktop "work" environment this week as well. Suggesting the newly-free iWork and iLife software suites were not good enough to be compared to the Office suite, Microsoft suggested that the Surface and Surface 2 were to be looked upon as the supreme tablets of today.
But what happens when you've got iOS with the processing power in chip architecture to run desktop-level apps? And perhaps more importantly – what's the difference between a mobile app and a desktop app to the average consumer?
There's not one whole heck of a lot of difference to be seen between mobile and desktop apps, at the moment – certainly not outside aesthetics for your average Joe.
Until Apple sees the potential rise for developers to create apps for a significantly more powerful (and perhaps more expensive) iPad device called iPad Pro, the iPad Pro will not exist. This does not mean that developers will have to create artificial need for this combination of tablet and processing power from Apple, just that the potential for a wide acceptance of such a culture will need to appear before Apple moves forward.