Apple A7 chip detailed: first 64-bit SoC to hit a smartphone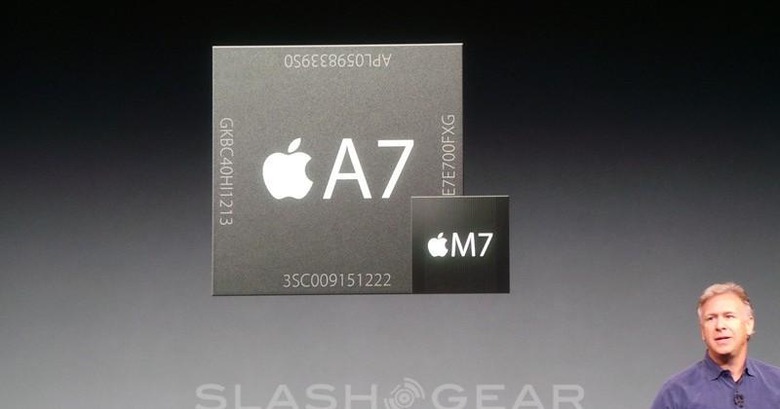 Along with the announcement of the iPhone 5S and iPhone 5C, Apple also took some time to discuss the new processor. This latest will be the Apple A7 chip and perhaps key — it will be the first 64-bit SoC to come available in a smartphone. This one will be found in the iPhone 5S and aside from the obvious jump to 64-bit, Apple is touting it as being "up to twice as fast" as its predecessor and in general, a "leap forward."
While Apple is describing the A7 as being a big step up from the A6, they also took some time to share a bit about how it compares to the CPU and graphics performance of the original iPhone. For this, the A7 is said to be up to 40 times faster in terms of CPU and up to 56 times faster in terms of graphics. And as one would hope, the software is also being brought up to standards.
Details coming from the event brought talk of how iOS 7 will be 64-bit and about how Apple's own apps have been "re-engineered" to take advantage. We suspect this means other developers will begin updating apps to take advantage of this new setup, however the average user can rest assured in knowing that the A7 chip (and the iPhone 5S) will still be able to offer support for 32-bit apps.
In addition to the processor, Apple also mentioned Open GL ES 3.0 for the latest in 64-bit graphics. It was said this means users will see "breakthroughs in performance for graphics-intense games and things we love to play and use all day long on our iPhones." To prove this point, a demo using Infinity Blade 3 was provided and it looked stunning.
In addition to the A7, there is also the M7, which is a motion co-processor. Basically, this M7 will be able to continuously measure motion data from the accelerometer, gryoscope and compass — all without waking the A7. The M7 will also allow for what is described as being a "new generation of health and fitness apps."
Bottom line here, it looks like Apple has taken another decent step forward in terms of the processor. And interestingly enough, it seems that iPhone 5S users will be able to benefit from and enjoy the new speed without having to worry about how many cores the processor has.