Intel-powered wearables by end of 2013 says Glass-owning CEO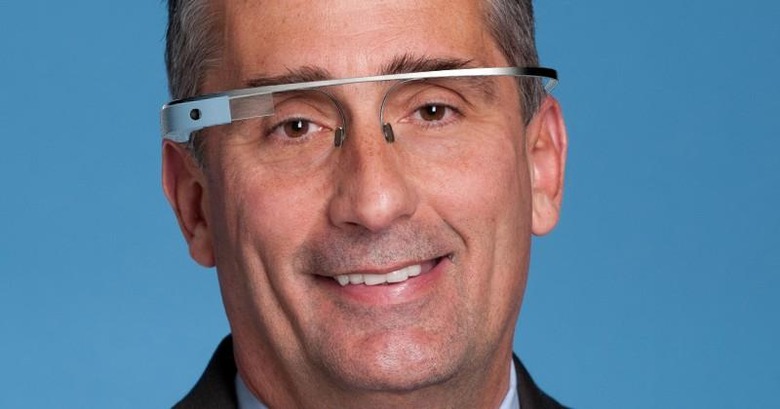 Intel CEO Brian Krzanich has been personally testing Google Glass and expects the chip company's silicon to show up in wearables before the end of 2013, though the freshly-installed exec is coy on his predecessors Web TV intentions. "We're being cautious" Kranich said on the IPTV plans Intel said would launch this year, despite his predecessor, Paul Otellini, being gung-ho about the scheme. Despite the high ambitions, and solid feedback from early testers, Intel is yet to ink a single content deal, it's believed. Instead, Krzanich is more confident in wearables.
"We're experts in silicon, we're experts in mobility, in driving Moore's law," Krzanich, who took the reins as Intel CEO in May, told press, Reuters reports. "But we are not experts in the content industry and we're being careful."
That caution is likely well-placed, with the TV segment notoriously tough for electronics firms to wade into. Apple is believed to have long been aiming to start up its own live TV service, differentiating itself by offering subscribers only the channels they particularly want, rather than forcing them to opt in to huge bundles of content.
However, the content owners still prefer those bundles, which are more lucrative than allowing access to the more popular shows and channels individually. Intel is reportedly struggling with similar issues, despite offering a supposed 75-percent premium over more established networks.
More likely is that Intel will see more movement in wearables. Krzanich admitted to having Google's Glass wearable in his bag while talking to reporters, and predicted that wearable hardware distributing computing power around the body rather than focusing it into a single smartphone, tablet, or laptop would become increasingly relevant as the years go on.
As for when Intel processors might be powering those devices, the CEO was ambitious. "I think you'll start to see stuff with our silicon toward the end of the year and the beginning of next year," he predicted. "We're trying to get our silicon into some of them, create some ourselves, understand the usage and create an ecosystem."
Last month, Intel's CTO Justin Rattner confirmed that the company was working on a smartwatch, though declined to comment on earlier rumors that it was a collaborative project with Apple. Rattner – who has since announced he will resign though plans to return to Intel at a later date – also declined to specify exactly what Intel's smartwatch would do.
Fettling its chips for wearables duty is a tall order for Intel. Historically, smartphones and other mobile devices have predominantly used ARM-based processors, as – among other reasons – they have generally been more power-efficient than the x86 chips Intel is pushing. In a wearable device, meanwhile, frugality is even more important, given that heavy batteries are anathema when you're expected to physically wear the gadget.
For that reason, Google's Glass uses a comparatively dated processor – akin to a 2011 smartphone, in fact – to squeeze the best out of its diminutive 570 mAh battery.
Both Krzanich and Intel President Renee James say that they will increasingly focus on Intel's Atom mobile chip line-up in an attempt to catch up with ARM processors. "We see that Atom is now at the same importance," the CEO insisted, "it's launching on the same leading edge technology, sometimes even coming before Core."