HTC teases first Beats-enabled USA device with event invite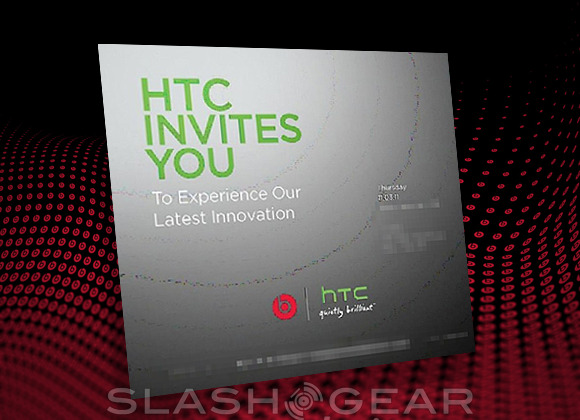 In what very well may be an invitation to be the first to see the HTC Rezound, (aka the HTC Vigor,) HTC tells of their "latest innovation." What we've got here is an invite as sent out to press which has the reverberations of sound emanating from the "HTC INVITES YOU" text in green down to two logos, one for HTC, the other for Dr Dre's Beats. Beats and HTC joined forces several weeks ago in an effort to bring greater sound quality to HTC smartphones everywhere and we've already seen Beats on HTC in Europe – could this be the ushering in of fine quality music on smartphones right here in the states? Yes, I think so.
Check out a device that's got Beats but more than likely won't be coming to US shores for a while, that being what's currently called the HTC Sensation XL, then note that even though HTC has joined forces with Beats, the Beats roll on in HP devices as well. Compare the invite above to the one received for England back in September and you'll find that this one isn't quite so blatant in its promises for music, but there's Beats all the same.
As for what's coming in this newest release, we're guessing it's the HTC Vigor, a Beats-enabled HTC device that'll be running on Verizon's 4G LTE network. This device has been rumored to be coming out at the same time as both the Motorola DROID RAZR and the Samsung Galaxy Nexus. Which one will you choose?