HTC Sensation XL hands-on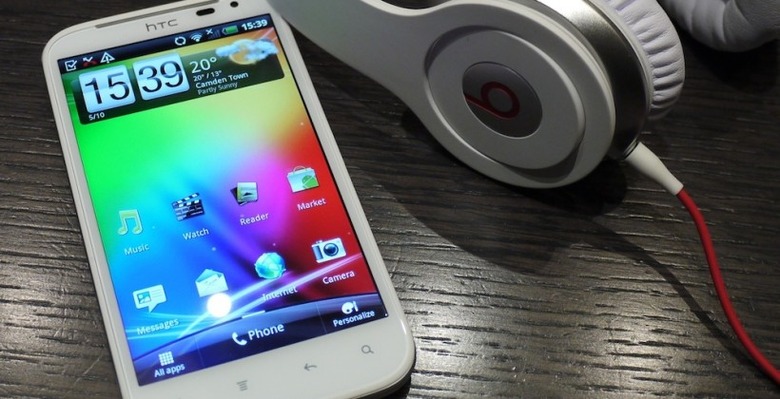 HTC has announced its latest Android smartphone, the HTC Sensation XL, and we grabbed hands-on time with the first of the company's phones to be designed with Beats Audio from the ground up. Slotting in alongside the Sensation XE, but packing 4.7-inch WVGA display, 1.5GHz single-core processor and 16GB of integrated storage, the Sensation XL is, HTC is resolute, a multimedia maven first and foremost. Check out our first-impressions, plus video, after the cut.
Broadly speaking, the Sensation XL is HTC's Android version of the HTC Titan. Neither has a dual-core processor, but there's HTC's slick unibody styling, some nice brushed metal on the back and an 8-megapixel camera with dual LED flash that's capable of 720p (though not 1080p) HD video recording. Up front is a 1.3-megapixel camera for video calls. Android and HTC Sense 3.5 are running on Qualcomm's MSM8255 processor, paired with 768MB of RAM and 16GB of storage (of which 12.64GB is available to the user; that's all you get, too, since there's no memory card slot), plus there's triband HSPA/WCDMA, quadband GSM/EDGE, WiFi b/g/n, Bluetooth 3.0 and GPS.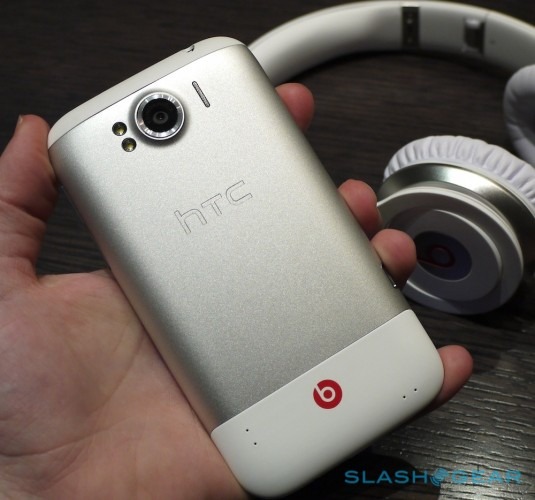 It's the Beats Audio that's the really special part, though. As on the Sensation XE there's a specially tuned audio profile that activates whenever Beats headphones are plugged in; the default set in the box are the special edition in-ear urBeats we saw with the XE, but select limited edition bundles in Europe will come with a pair of Beats Solo headphones exclusive to HTC (along with a neat little bag for them to fold up and stow away in). As always, the Beats tuning leans on the bass and is particularly suited to dance, RnB and hip-hop rather than classical, though you can manually adjust the equalizer if you prefer different settings.
HTC Sensation XL hands-on:
[vms de959380f91c01c3a293]
It's a broad, flat phone in the hand – 9.9mm thick – and though we were wary of the WVGA Super LCD display – having grown used to qHD resolution on the Sensation and Sensation XE – there's little pixelation. We found we could read article text on the SlashGear homepage even with the full width of the page showing, though the same could be said for the 4.3-inch panel on the smaller Sensation. According to Jeff Gordon, HTC's global online communications manager, the panel selection itself is part choice and part availability: 4.7-inch screens running at qHD (or higher) resolution are in short supply.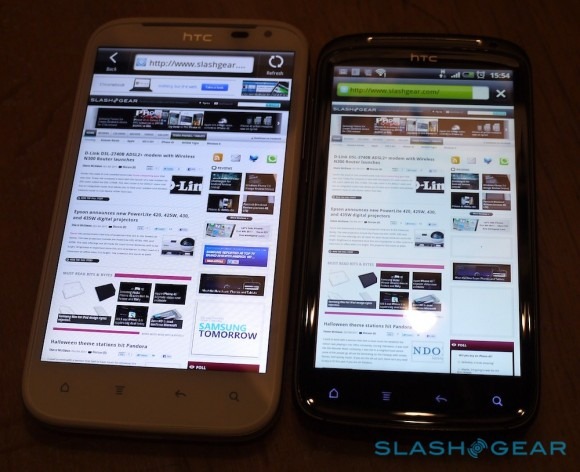 Nonetheless, it's bright and color-rich, and works well for viewing video – whether on YouTube, side-loaded or bought/rented from HTC Watch, the company's own movie service. Photos taken with the Sensation XL's own camera – which matches 8-megapixels with a 28mm wide-angle lens, f2.2 and a back-illuminated sensor for improved low-light performance – look good too, even without 1080p support.
The HTC Sensation XL will go on sale in Europe and Asia Pacific from November, with pricing yet to be confirmed. North American availability doesn't look to be on the cards, at least for this specific model, but we'd be very surprised if HTC didn't have a Beats Audio toting variant up its sleeve for the US and Canada.