HTC Rhyme Review [Video]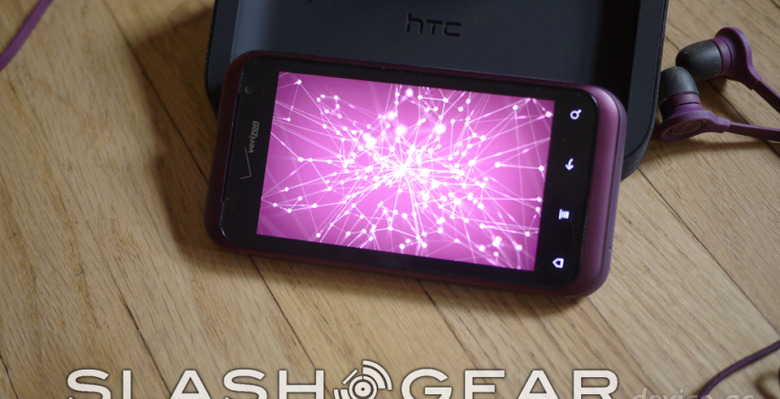 When it comes to unique Android devices, generally it's a manufacturer's job to make the biggest, the most powerful, or the most thin – all that's been thrown out the window with the HTC Rhyme. What we've got here instead is the world's first real effort to create an Android device that's specifically feminine in form. It's plum colored, it's got a light-up Charm that allows you to access the device even if its hidden deep in your purse, and it's the perfect size for a petite hand. Will all this (plus a bit more, of course), add up to be the perfect new generation device for HTC?
This is no ordinary device. It's designed to break through the undeniable trend of each smartphone needing to have the greatest specs possible to present a device that's one perfect package instead. Sound familiar? Will this device be able to compete with the iPhone? If you're asking that question, you're asking the wrong question. By the end of this review I'll have answered this perplexing question answered anyway, just for fun.
Also because this device's goal is to set itself aside from the rest of the Android pack, the way we're reviewing it will be a bit different too. One cannot take the same broad approach to a smartphone for review when the market for said handset is so specific. Let's have a look, right after you check out the original unboxing and hands-on video directly:
[vms 6075a9494772b58f9528]
HTC Rhyme Unboxing and Hands-on
Form
This device will be looked back on as a classic HTC 2011 design – it looks very similar to the rest of the devices HTC has put out over the months leading up to it, and it certainly has many of the best points of high-quality comfort HTC has been learning about from consumers throughout their time in this 2011 Android timeframe. At the beginning of the year I was looking at the HTC Inspire 4G, since then things have gotten much softer in the plastic, there's a metal bit on the back of the device that makes the entire package feel high-end, and of course, the camera and display have been amped up.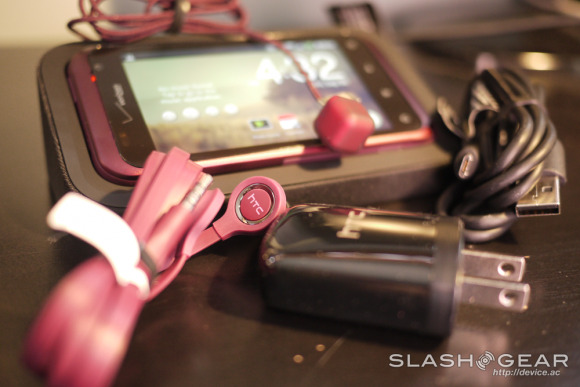 This device comes with several accessories – it is sold as a full package, including a lovely dock, headphones that are much higher quality than past releases by all manufacturers (on the whole), and there's a "charm" which essentially just lights up when you get a notification. The charm certainly does seem to be the most unique item here, and it's definitely well made.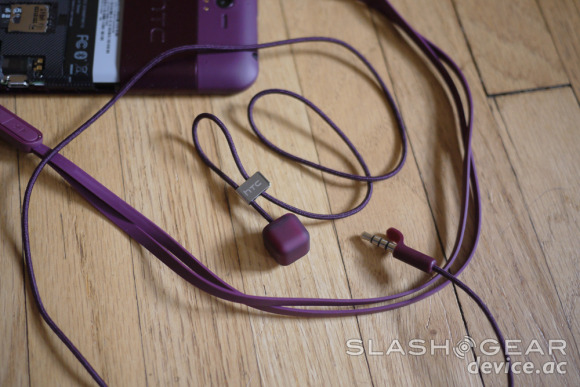 The cord between the rubber-covered light and the headphone-jack plug is nice enough to be pulled on, and pulled on it shall be as that's the intent of the entire peripheral. You plug one end into your headphone jack and it's kept secure by first a snug fit in the hole, then also by a lip that swings over the front of the device. You then toss the smartphone in your bag, leaving the charm to lay freely outside. When you get a notification (a phone call, a message, etc), the light lights up and you can pull the phone right out of your bag via the cord. Simple and helpful. Well done, HTC.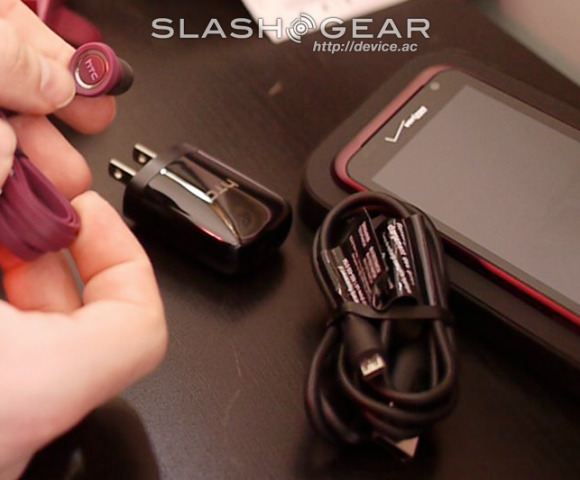 The headphones are the precursor to Beats integration. As you saw earlier this week with the HTC Sensation XL hands-on video by Chris Davies, HTC is already well on their way to releasing devices with the amped-up audio quality soon. That said, these headphones are quite nice. The feature a controller halfway down the cord to control music, and they've got a flat rubbery cord for ease in rolling them up AND because it just looks nicer.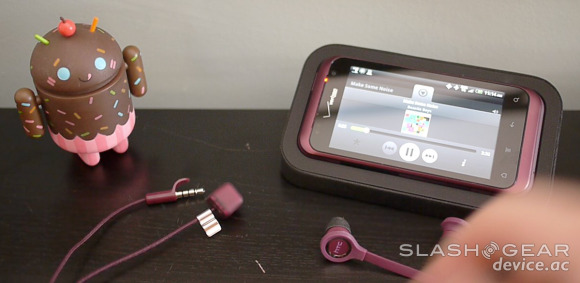 The dock is simple and amazing. You've got three pins popping out of the dock that meet with the three pins at the back of your Rhyme. All you've got to do is drop your device in the dock and let 'er go! Once the device is in the dock, you get the option to do several things. You can just have a clock up with weather, you can have calendar items posted, or you can have a lovely Ken Burns effect gallery playing of all your photos. The dock only requires that you plug it in at the back with your included microUSB cord, and its covered around all the edges by a nice black material that makes the whole thing look that much classier.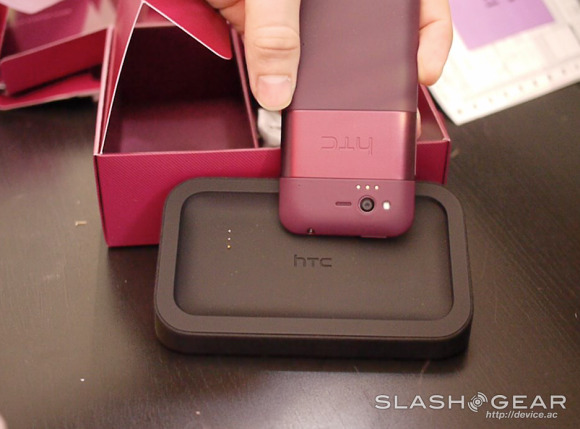 Contents
Inside the device you've got a small set of apps, thankfully, that only include the bare minimum of Verizon-added app and media stores as well as some HTC stores for video and music as well. While this does seem to some like unnecessary and unwanted adds to a device that should, by all means, only contain the apps that YOU want to add, it seems welcome here in a device that's meant to hold everything the user might want right out of the box. The usual set of Google apps are here also, one for exercising called Endomondo that we've previously seen working with JABRA headsets, and a lovely set of planning apps that you'll see outlined in the hands-on video below.
[vms 5aaf1604ff5e15593b00]
HTC Rhyme extra in-depth hands-on review
Also I've run a few benchmarks here for you lovers of knowing the exact way in which this device performs in such a classic manner. Again though, watch the hands-on video for a better idea of how well this device performs.
Usability
This device it too small for my big fat hands. That said, I am not the smallest fellow in the world hand-size-wise, and this device is certainly built for those people seeking a smartphone to fit in their more petite palm. If I consider this, then yes, it is completely comfortable to use, and with the high-end construction that HTC always brings to their devices, you'll never have a problem with a busted device after dropping it down a flight of stairs. Don't go out and try it, obviously, but you should be fine.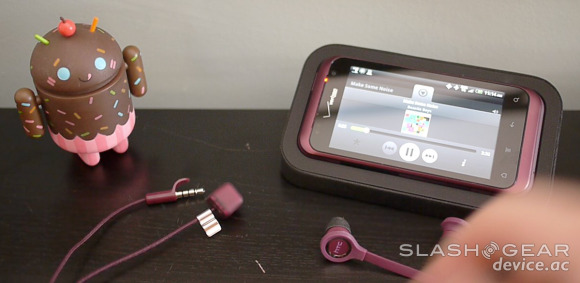 The accessories are half the picture here, and they're all top notch. If there were a contest for best overall package for the on-the-go needer of purse-related peripherals and a nice dock, the HTC Rhyme would certainly take the cake. That said, we can still wish for a special edition with Beats integration.
Wrap-Up
This device does exactly what Verizon and HTC have set out to do – create a device that appeals to the feminine side of any smartphone seeker. If they'd have released it in limited numbers at a certain time of the afternoon in only major cities, there'd be hoards of giddy customers tapping away at their old iPhone 3GS units at the doors, just waiting to trade up at the strike of noon. Don't believe me? Try it out with a special edition bubblegum pink edition, complete with Lady Gaga HeartBeats. You wont be disappointed.
ALSO NOTE: if you've got any questions you need answered about this device, PLEASE don't hesitate to ask below and I WILL answer, I assure you.