iPhone 4S World Phone revealed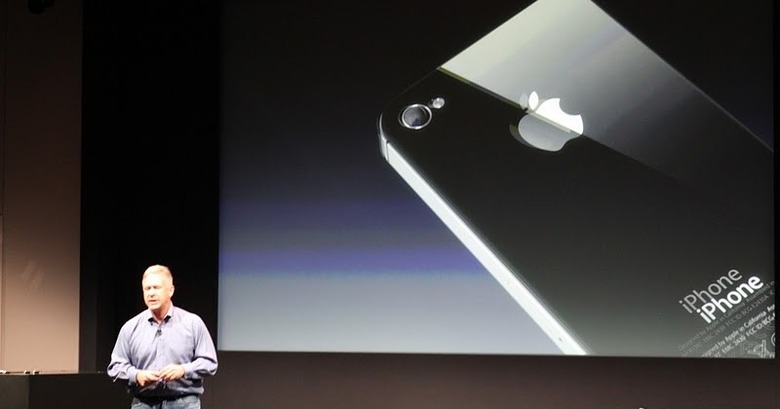 This week at the Apple event we've been shown the new iPhone 4S, and the details are pouring in. This is the number one smartphone in the world, now with a completely redesigned interior. The outside of the device is all the same, with a new A5 chip inside – that's dual-core graphics for "7 time faster [performance] than in the previous iPhone." To show off this new device, Mike Capps of Epic Games was called on stage to show off one of the most awesome games of all time: Infinity Blade. Here they show the newest installment, Infinity Blade 2 as played on the iPhone 4S. And it looks darn good, that's for sure.
We've previously looked at this game on the iPad but it seemed much too large to be working on the tiny iPhone – looks like we were wrong. This game will be out on December 1st for all you holiday shoppers. Once this presentation was done, Apple's Phil Schiller took the stage to re-introduce the A5 chip (you might recognize this chip from the iPad 2, btw). Dual-core processor (they say), up to 2X faster CPU, dual core graphics – and "up to 7x faster graphics." Sounds good to you?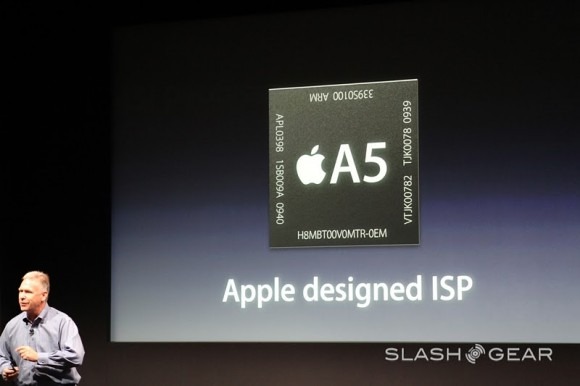 The battery on this new device was touted as well, battery times over several types of usage shown to be quite impressive – 10 hours of video, 6 hours of 3G browsing, and more (see image in gallery). The wireless system has been improved so that users can "intelligently switch between antennas for even better call quality." Phil continued by noting that maximum data speeds for the iPhone 4S were the same upload (at 5.8 Mpbs) but 14.4 for download, this doubling the iPhone 4 speeds.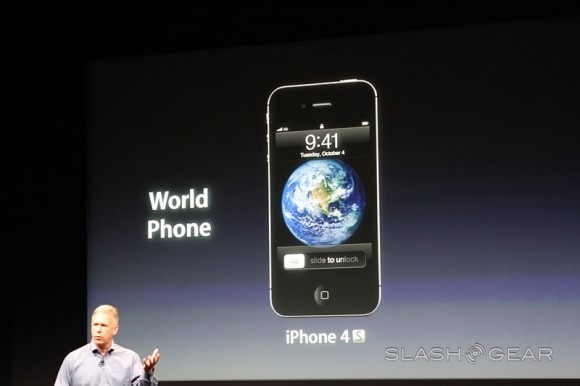 Where the iPhone 4 came as either a GSM or a CDMA phone, the iPhone 4S comes with both. There's a new camera system as well – the most popular camera on Flicker being the iPhone 4, you'd think they'd be concentrating on bringing an even better experience in the future. Truly they have, here.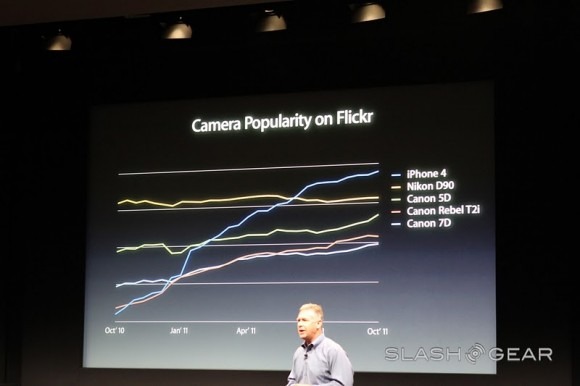 The new camera on the iPhone 4S is 8 megapixels strong and can shoot in 3264 x 2448 – "that's 60% more pixels than the iPhone 4." Yes it is, Phil, and with the new filter that's being introduced today, 73% more light can be captured than in previous models, and it's faster! Goodness, this seems like a rather cool improvement. There's a new Hybrid IR filter, better white balance, and face detection.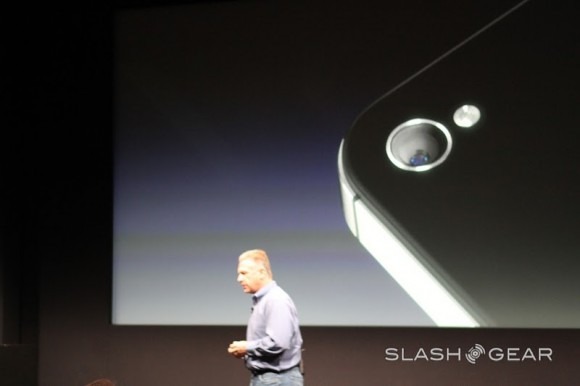 This new camera allows you to take a photo in 1.1 seconds, then just a half second more to take a second shot. Phil makes fun of the DROID BIONIC's supposedly terrible camera with a note: "I don't know what Droid Bionic customers have to do between taking pictures... like, go get coffee." And adds that the iPhone 4S camera will have 1080p HD video recording, video image stabilization, and temporal noise reduction. Winner!
[vms 414ab55a9fe495d555c0]
Check out the rest of our live coverage of the iPhone event this week in the iPhone portal here on SlashGear! We've also got live coverage of the event via our live feed at http://live.slashgear.com/ if it's still day of – check it out!