HTC Rhyme hands-on and unboxing [Video]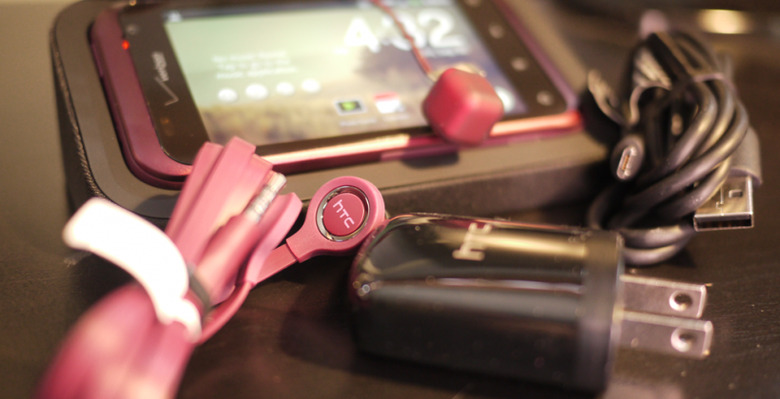 The most intentionally fashionable smartphone of all time has reached our doorstep, the HTC Rhyme in all its Plum-colored glory. Though there are several different color combinations coming in the future, this one is ours, and it is Plum. What we get in the box is, believe it or not, nearly everything you saw in the original HTC presentation of the device, including not only the headphones and the USB cord, but the cubical Charm and the power dock as well. Come on in and take a peek at the loveliest feminine-class* device on the market.
Our review of this device will give you a full look at what we've got going on here, so I'll be relatively brief and let the video we filmed do most of the talking. That said, this certainly one of the nicest all-around full packages HTC has yet delivered, it including each accessory in a way that makes it seem like they took the time to create each bit with care. While other devices include some stock earbuds, HTC includes some of the nicest rubber-tipped Plum-colored earbuds that are made specifically for this device. Similarly, the dock is not just rubber or plastic, its covered with a smooth fabric material that's rather nice to touch.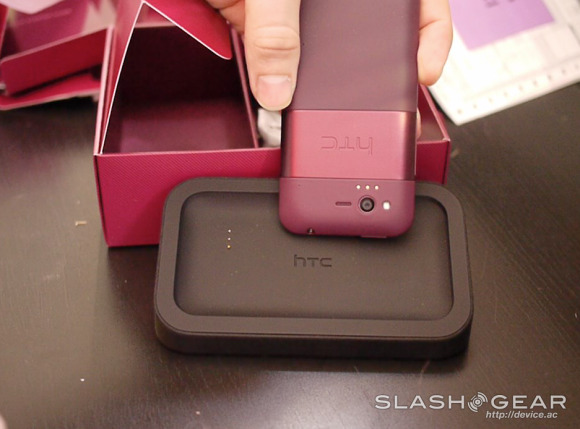 The device itself is not unlike the Wildfire S in appearance, but that's where the similarities end. What you've got here instead is a high-class HTC hero device that'll satisfy anyone looking for an Android device that also works to provide them with a fashionably connected companion all day long. You've got Android 2.3 Gingerbread, a 5 megapixel camera on the back, a 1Ghz Snapdragon processor, 3G connectivity on Verizon, and a 2GB microSD card installed (upgradable to 32GB if that strikes your fancy.)
[vms 6075a9494772b58f9528]
You'll see a rather limited amount of apps inside – and yes, this is a good thing, and HTC's most advanced camera interface for video and photos. The actual rating of the camera is 5 megapixels, again, making it not the top class camera in the world, but the interface and built-in effects library make it pretty sweet. Then there's the 3.7-inch super LCD display – it's bright, its sharp, and its very tall. The aspect ratio on this display plus the thinness of the left and right of the device compared to the top and bottom make you feel like you've got a rather tall and thin phone. HTC's newest Sense interface reinforces this fact with two corner-sitting icons for tapping instead of a full lower-screen bar full of options as we've seen in the past.
Have a look at the video above, the photos throughout, and let me know if you've got any specific questions or tests you'd like us to run on this device before it's reviewed. We'll do it!
*On the "feminine" factor here – HTC and Verizon will more than likely not want us to specifically say female phone, that being different from feminine phone, but have a look at their first big ad spot and see what it says to you:
Furthermore, if you'd like some more insight, take a look at our hands-on at the launch event for this device earlier this month:
[vms db07e7089f9b269c31f2]