HTC One 2015 Hima detail round-up: before the fact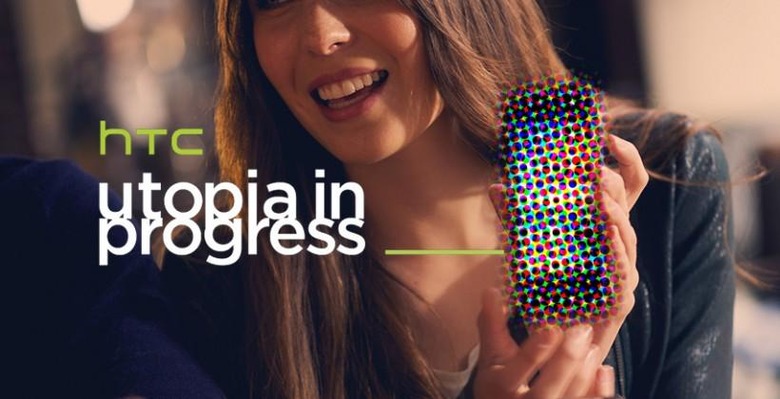 It's that time again – time to get onboard with the next generation in HTC's hero phone lineup. This time around, the device is going by code-name HTC Hima. While no mention of the name "HTC One" has been made in the rumor mill thus far, we wouldn't be surprised if HTC stuck with what's worked for them over the past several years, moving out with an HTC One (place some new name here) sort of nomenclature. After that, it's all about the generational change-over to the newest processor, the best display, and some high-powered camera abilities.
All of this comes on the same day we've gotten our invite to the HTC event set to be held during Mobile World Congress 2015 in Barcelona on the 1st of March. This event is in-line with previous releases for HTC for hero phones – over the past several years, the company has revealed their hero phone(s) during or very near this international-facing smart device event series.
• HTC One X and HTC One S – February 26th, 2012
• HTC One – February 19th, 2013
• HTC One M8 – March 25, 2014
• HTC (unknown) – March 1, 2015
Officially, HTC has given precious few clues as to what they'll be delivering to the masses on the 1st of March.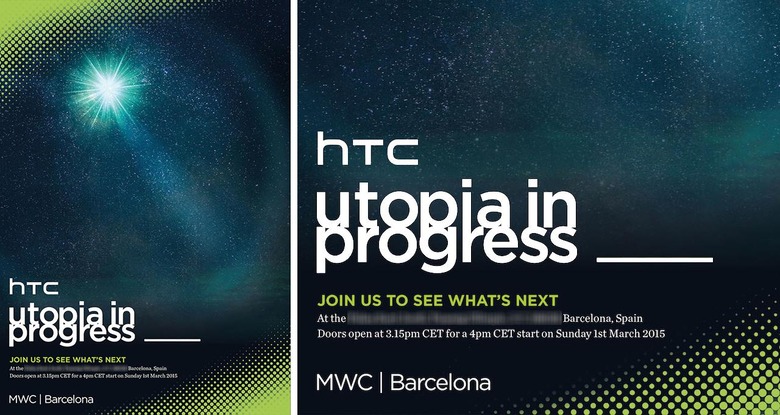 Thanks to rumors and leaks, we've got a fairly well constructed set of specifications that we can be at least halfway confident about being what HTC will run with.
• Display: 5-inch, 1080 x 1920 pixel Super LCD3, Gorilla Glass 3• Processor: Qualcomm Snapdragon 810 (64-bit)• RAM: 3GB• Battery: 2840mAh• Internal Storage: 16 / 32 / 64GB• OS: Android 5.1 Lollipop, Sense 7• Camera: 20.7-Megapixel, OIS, 4k@30fps, 1080p@60fps• Camera (FF): 13-Megapixel, 1080p@30fps
The one element we've been surprised about hearing multiple different sources suggest is the 1080p display. Not because it doesn't make sense from HTC manufacturing, but because the trend over the past couple of years has been to ramp up.
LG ramped up with a 2K display with the LG G3 – it's been graded the finest phone of 2014 by several sources. Motorola ramped up to 1080p with the 2015 Moto X – they'd been at 720p the year before.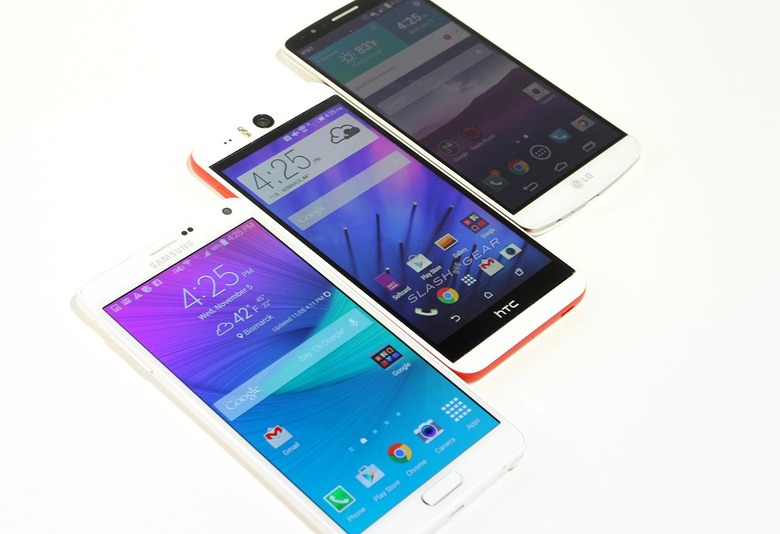 Samsung and HTC, however, have had 1080p displays for the past couple of generations – unless you count the Samsung Galaxy Note 4, of course. While Samsung has been rumored to make a break for 2K with the Samsung Galaxy S6, could it be that HTC will stay the course with a display size and quality they know works, instead concentrating efforts on camera power and software?
We wouldn't be extremely surprised if they did.
Have a peek at the timeline of HTC-related bits and pieces below and join us on the 1st of March, 2015 to see the full HTC release.