HTC One hands-on: UltraPixel Camera and Zoe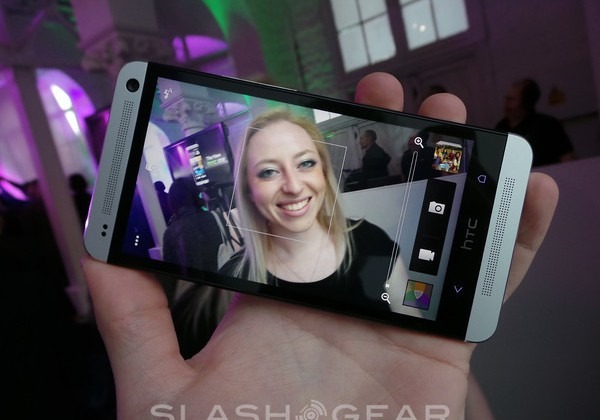 HTC's most controversial decision with the HTC One is going to be the choice of camera. In a market where "more" is so often seen as "better" the 4-megapixel equivalent main camera on the back of the One is going to raise eyebrows, no matter how hard HTC pushes its "UltraPixel" branding. Assuming the company can get would-be users to pay attention to the theory, though, there's a whole lot to like about the UltraPixel approach: increasing the amount of data for each pixel that makes up the final frame.
Unlike Nokia's original 808 PureView], the One doesn't use over-sampling. Nokia's system created roughly 5-megapixel shots from a vast 41-megapixel sensor, taking the "average" data from clumps of multiple pixels for more accurate images, and ironing out glitches along the way. The downside to that is you need a bulky phone to physically accommodate a high-megapixel sensor, something that simply wouldn't fit into the HTC One's slender frame.
Instead, HTC's custom-made camera sensor has individual pixels that are bigger than what you'd find in a typical flagship smartphone. In fact, the array is made up of pixels 2 micrometers to a side; in contrast, an 8-megapixel phone sensor, such as the one used in HTC's own One X, is more likely to use 1.2 micrometer pixels. Bigger pixels mean more room for light information to hit the sensor: more light means more accurate final shots, as well as the possibility of faster shutter speeds even in low-light settings. That reduces camera-blur (and is helped by the One's optical image stabilization, which controls pitch and yaw shake at 2,000 Hz).
When rivals like Sony are stepping up to 13-megapixel cameras on their new flagships, HTC's 4-megapixels seems an odd choice. However, the One's camera gathers up in excess of 313-percent of the light a 13-megapixel camera can squeeze through to its tiny pixels; in fact, the One's pixel size is bigger than that of Samsung's Galaxy Camera and Canon's S100 point-and-shoot.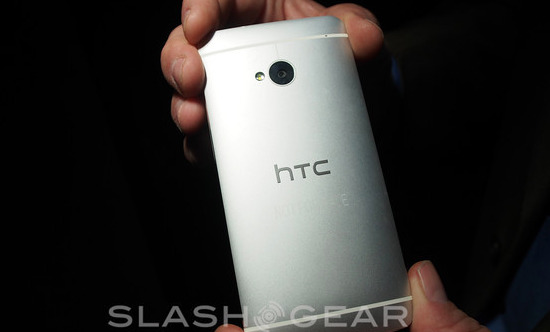 That data gets pushed to HTC's new ImageChip 2 – another custom part – which does its digital finessing on RAW data before JPEG conversion (most phones convert first, then process, which is less computationally demanding). There's lens compensation to adjust for any aberration of the f/2.0 optics, along with de-noise processing and ghosting reduction; the One supports continuous autofocus, with the camera locking in under 200ms, and uses dual-path encoding for simultaneous Full HD video capture and full-resolution photos (at up to 5fps) spitting out 1080p H.264 footage and 2688 x 1520 16:9 JPEGs at the other end.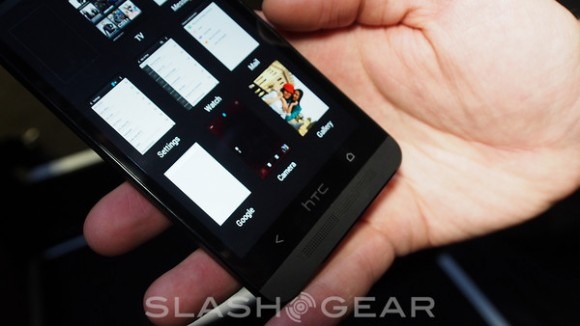 Does it work? It certainly looks that way, even in the prototype One handsets running non-final firmware we had the opportunity to use. Low-light shots are easily the most impressive: side by side with a Galaxy S III and an iPhone 5, the One captured images in a darkened room that were still clearly visible (though not artificially lit, as when you use an LED flash) while the Apple shots were murky. The shots from the Samsung, meanwhile, were basically frames of dark murk, with nothing visible. That the One's are lower resolution than either of the other phones can produce is, frankly, irrelevant: you'd only be hitting delete on the larger pictures anyway.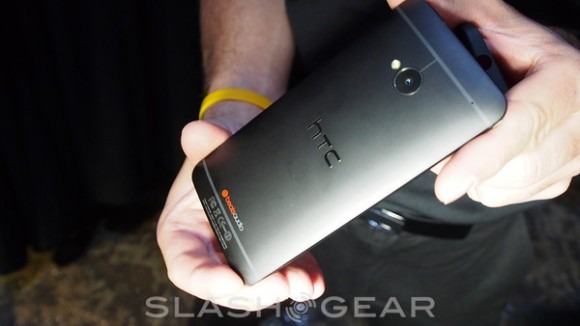 Yet it's when put into context with the new HTC Sense 5 and, specifically, HTC's "Zoe" photography features that the UltraPixel technology – and its ability to capture photos and video simultaneously – makes most sense. Zoe takes more than a little explaining (and as such is likely to be the second most misunderstood element of the One experience among consumers at retail) but, as HTC told us, it's basically "TiVo for your life."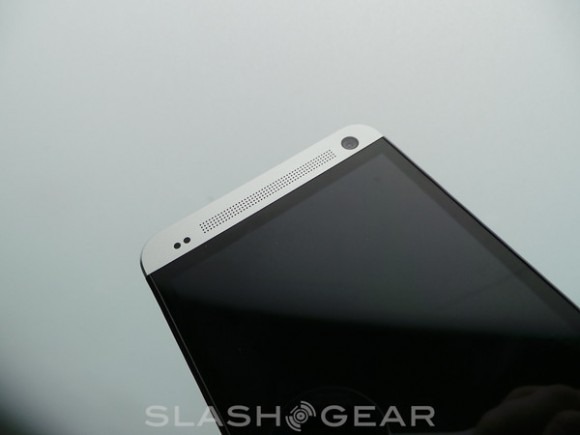 Photos, HTC explained, are easy to shoot, but only capture a static moment in time; they lose out on valuable context, which is missed altogether when you go back and review them later. Zoe content – the name deriving from the zoetrope, an ancient device for creating moving pictures from rapidly spinning stills, and from the Greek for "alive" – anticipates the convergence of photo and video, however, using the One's photographic prowess to snatch both stills and footage at the same time.
Hit the Zoe mode icon on the left of the redesigned camera app UI, and when you tap the on-screen photo button it progressively changes from grey to red over the course of around three seconds. During that time, it's snapping fifteen still frames as well as Full HD video; they're combined with the five stills and 0.6s of footage from just before you hit the button, and packaged up into what HTC refers to as "a Zoe."
So, when you browse through the Event folders in the One's gallery app, you see small animated Zoe thumbnails looping through the 3.6s clips. Alternatively, you can scroll through the twenty photos making up each Zoe, with various effects and tweaks to be made. These range from the Instagram-style basic, applying colored filters and such, to more complex real-time effects.
You can create a sequence shot, for instance, joining the action from four images into a single frame, or use face-recognition to take the best expressions from multiple images and combine them into one frame (similar to the Scalado-based technology BlackBerry 10 and Nokia's Windows Phones use, though HTC tells us it's a home-grown alternative). There's also object removal, and the face-recognition means the One can automatically identify eyes and selectively whiten them (if there are multiple people in the same frame, the phone asks which you want to edit), enlarge them, or smooth out skin tones.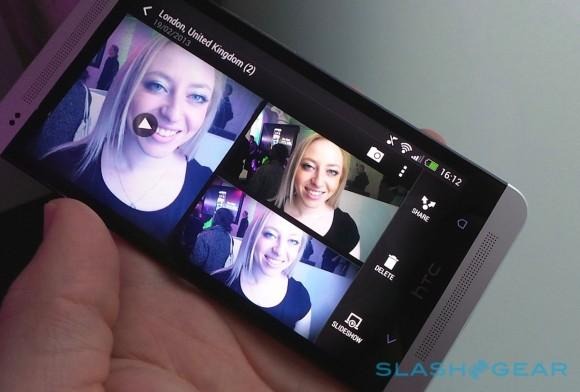 At the top of each Event view there's what HTC calls the "highlight reel": a 30 second edit containing chopped up content from the stills, videos, and Zoe clips from that event. The One creates these on-the-fly, identifying what it believes are the most interesting parts of any video – i.e. where there's action, or faces showing – into an instantly-sharable snapshot of that collection. The cuts themselves can't be manually changed, but there's a "Remix" button that automatically triggers a new assembly, and a choice of six themes which each have their own visual style, overall mood, and background music. Eventually, HTC intends to offer more themes, as well as the ability to load your own backing track.
Content that's included in the highlight reel is usually automatically selected, but the One's "smart curation" bases its choices, in part, on how often you've looked at specific photos, how you've rated them, and other meta-knowledge so as to educate the cuts it makes. Alternatively, you can select which photos, videos, and Zoeys get included, and merge different Events to give the phone more content to choose from; the One is clever enough to discard the first couple of milliseconds of the beginning of each Zoe clip, when you're likely to have experienced some camera shake.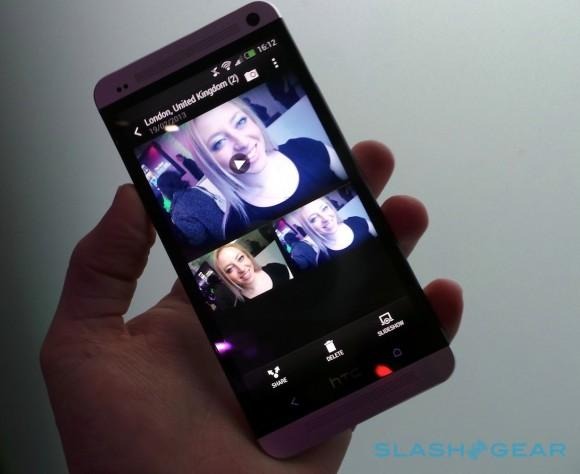 It feels, admittedly, like a gimmick at first. Then again, so did Instagram, and look how that caught on: HTC picked thirty second highlights as it felt people wouldn't watch anything longer, and we can see that being the case. The time-investment to watch through a half-minute showreel is minimal, and the immediacy of the system is worlds away from the generally clunky phone video editing apps other manufacturers are pushing.
Zoe and the highlight reel concept is still pretty raw, of course. Manual settings perhaps aren't in keeping with the "smart curation" idea, but we'd like a little more control over cuts and highlights; similarly, some sort of Remix history would be a nice addition, since right now it's only luck as to whether you get a better mash-up than you already have. A Zoe API for third-party apps to integrate with Zoe, or to offer their own extras, is in the pipeline, but likely won't be ready for the One's release.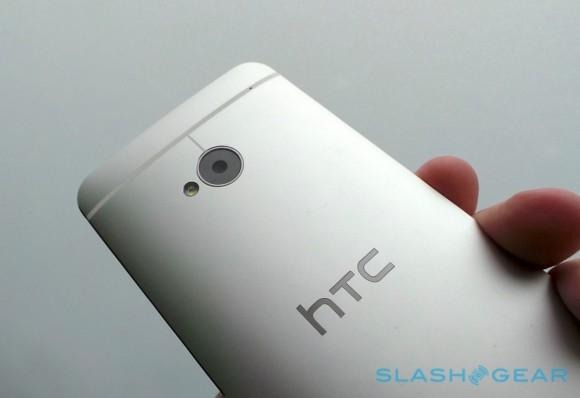 It's the Zoe Share service – an online gallery of highlight reels and select Zoe content – that we find most frustrating, though, at least in its first iteration. Getting videos there, and keeping them there, are both flawed processes: for instance, at the moment Zoe only outputs highlight videos in Full HD resolution (think 12-20MB apiece depending on footage) which means uploads aren't quite as snappy as creating the MP4 itself is. Meanwhile, HTC has decided to only store uploaded Zoe collections for thirty days: after that time, they're automatically deleted.
That, the company argues, is a concession to making Zoe Share a free service: with webspace so cheap – Dropbox is giving all One buyers 25GB free, in fact – we'd argue HTC loses more in goodwill than it saves in hosting fees. If I'm taking the time (and potentially paying the data charges) to upload a chunk of photo and video content, I probably want to know it's going to last for longer than a month.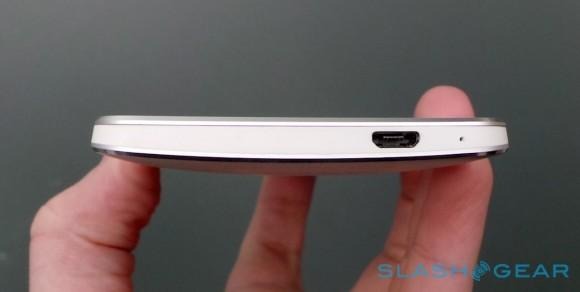 Changes may well be afoot, though, to address some of our concerns. HTC told us that it's testing out different output resolutions, thus decreasing file size and making it faster to share Zoe content. At the moment, individual stills can be saved from Zoe Share, but HTC is looking at more comprehensive archiving options for entire Zoe collections.
HTC's challenge will be explaining all this, particularly at the point of retail. Zoe makes more sense the more you play with it, and – once you grasp the idea of the total amount of light being more important than the number of points of light – the 4-megapixel camera sheds what confusion it initially prompts. Explaining them, though, will take time, and in the world of spec-sheet bingo, where comparisons are made on the size of numbers and not what they necessarily bring to the table, that's going to be an uphill battle. We'll know more when we have a chance to put the HTC One's camera through its paces properly for the full SlashGear review.